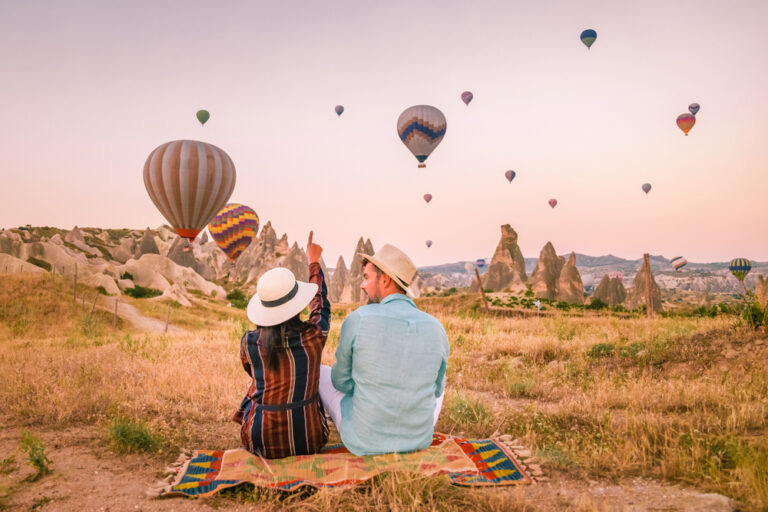 Travel is a fantastic way to respark the romance with your significant other — or get to know a new partner more intimately, depending on your circumstances. Either way, travel requires people to get out of their comfort zones, explore the world, and experience new things together.
Key Points
A romantic holiday can be a fun way to strengthen the bond between you and your partner
Discover romantic highlights to explore worldwide
Research destinations with your significant other to find the perfect option
Whether you're searching for a relaxing honeymoon destination or looking for an adventure-fueled outdoorsy holiday, there's something to suit every couple's style. The list below guide provides a list of 20 global highlights — from the United States to Africa and beyond.
10 States to Plan a Romantic Weekend Getaway
The United States offers many opportunities for romantic getaways. Read on for some of our favorite destinations!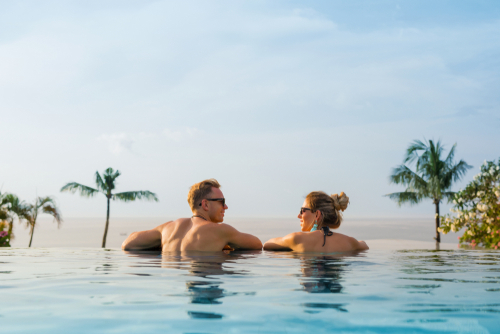 Hawaii
A Hawaiian holiday is probably one of the first things that come to mind when considering romantic destinations in the U.S. The state's romantic reputation is well-deserved. Head to Maui to enjoy water sports like snorkeling on Kaanapali Beach, take a helicopter tour over the island, or simply enjoy a couples massage after a day of adventure.
Molokai is another Hawaiian island worth exploring. The pace of life is a bit more subdued here, making it a cozy getaway. You can go kayaking, swim with sea turtles, and visit local farms for fun with your loved one.
New York City
The "City That Never Sleeps" might be known for its grit, but it also offers loads of romance. Share a kiss at the top of the Empire State Building, take in a Broadway show, or wonder at the American Museum of Natural History's marvels.
NYC also has plenty of fantastic restaurants for foodies to explore. In the winter, take a walk along Fifth Avenue to check out the glittering storefronts. If you want to live in a winter wonderland rom-com, grab a hot chocolate at Serendipity, or lace up your skates at Wollman Rink.
Arizona
Arizona offers impressive natural scenery you can marvel at with your significant other. Head to the White Mountains for hiking or sleep under the stars in the Petrified Forest National Park. This is a "dark sky park," so you can see the stars clearly because there's low light pollution.
When you're ready to get back to society, pay a visit to Sedona. The city has delicious restaurants and lovely spas. Scottsdale is another high spot worth the visit. If you're both earlybirds, schedule a dawn hot-air balloon ride over the nearby mountains.
Georgia
If "The Notebook" had you in tears, a romantic southern holiday may be the right choice for you. First, check out the lovely city of Savannah. A walk through Forsyth Park under the hanging Spanish moss is an unforgettable experience. As the state's oldest city, it also features historic mansions.
For a change of pace, check out Blue Ridge. This is an artist community in the rural mountains of Georgia. You can take a brewery tour, go apple picking in an orchard, or simply enjoy walking through the serene natural setting.
Oregon
If you love to get away from the hustle and bustle of city life and want to enjoy intimate moments for two, plan an Oregon road trip. The state's rugged coastline features awesome rock formations and stunning views of the West Coast.
Head to the small town of Bend, where you can explore hiking trails, enjoy lake activities, and take in the mountain views. There are also plenty of local breweries to explore. In the winter, you can go skiing on Mount Bachelor. In the summer, try horseback riding instead.
California
California is an enormous state that's well worth a romantic road trip. If you want to take in all that Hollywood has to offer, head to Los Angeles. The San Francisco Golden Gate Bridge is another highlight worth seeing. Stop by the city's famous Chinatown district for a bite while you're there.
For a quieter change of pace, head to beachfront Malibu. Palm Springs is another favorite romantic getaway and a great place to get away for a couples retreat at a spa. Last but not least, make sure to hit the Napa Valley for wine tasting.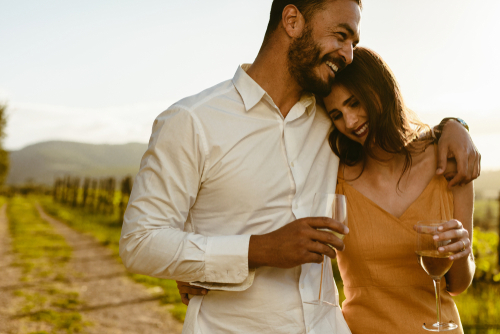 Massachusetts
This New England state offers many charming spots worth taking your significant other, with Nantucket as a definite must-see place. Rent bikes to explore the 30-plus miles of trails around the island, snap couples pics in front of the lighthouse, or pay a visit to the local brewery.
You can also visit Sconset, a historic fishing village. Of course, take time to enjoy some fresh seafood while you're there! New England is famous for its clam chowder, and it's a must-try when you're in the area.
Colorado
If you think your partner makes a cute ski bunny, Aspen is a great place to go. You can hit the slopes during the day and unwind in a spa in the evening. In the summer, pack a picnic and go for a hike.
For something more off the beaten path than Aspen, try Snowmass. This mountain town may be small, but it offers plenty of activities to keep busy, including fly fishing, rafting, and moonlight hiking. In the summer, check out the Snowmass Balloon Festival.
Washington
Start your trip to Washington State with a stop in Seattle to take in the urban charm. You can watch the sunrise over the water at Louisa Boren Park, take in the sights at Pike Place Market, or have a picnic at Waterfall Garden Park.
From Seattle, it's a short trip to Whidbey Island. Then, take a hike along the coastal bluffs of the Pacific Northwest coastline. If you're lucky, you'll see gray whales. Spring — especially May — is usually the best time for whale watching.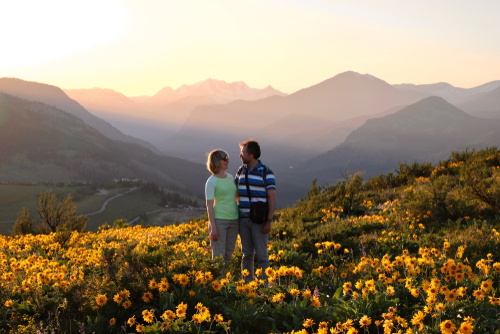 Florida
When you think of Florida, your mind probably goes straight to Miami. This nightlife hot spot is one option if you want to hit the party circuit. However, for a more intimate setting, head to Key West. Go biking through the picturesque town and admire the pretty cottages.
Then, head off to check out the old town, including Ernest Hemingway's former home — a highlight if you're a literature fan. You can also enjoy water sports like snorkeling and take a sunset cruise with ocean views to close out the day.
10 Romantic Places From Around the World
Looking to go further afield? Grab your passport and check out these far-flung locations, from Europe to Asia and Africa.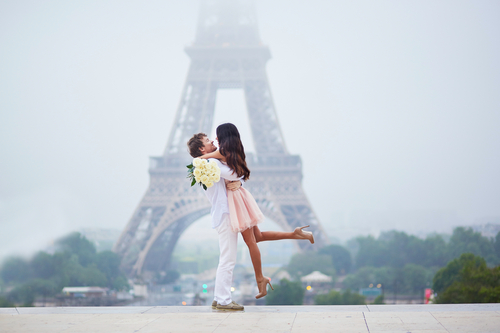 France
Paris is commonly known as a city for falling in love, and rightfully so. The "City of Lights" has many worthy sights, including pretty Montmartre and the unmistakable Eiffel Tower. Start your day with breakfast at a French patisserie and head out to explore.
If you love art, the Louvre Museum is a must-see. The city also has many lovely art galleries. Finally, make time for a candlelit dinner at one of Paris's picturesque bistros. From Paris, you can take the train to the French countryside for more adventures, like a wine tasting in Bordeaux.
Italy
Italy has so much to offer that you'll find it tough to plan your holiday. Rome offers historic sightseeing like the Colosseum, while the Italian Amalfi coast provides beautiful natural scenery, rugged coastlines, and delicious food caught fresh from the sea.
For the pinnacle of romance, however, there's only one place to go: Venice. The floating city is truly one of a kind, and you can spend hours exploring the winding streets. Rent a gondola and glide through the canals or go to a classical music concert. Another good idea is to time your visit to coincide with the Carnival of Venice — if you ever wanted a chance to attend a masked ball, this is it.
Greece
Start your romantic Greek adventure in Athens. If you're into historical sightseeing, you'll be thrilled with sights like the Acropolis, Temple of Olympian Zeus, and the Parthenon. To ramp up the romance, head on to Santorini, the island of panoramic views and sunsets.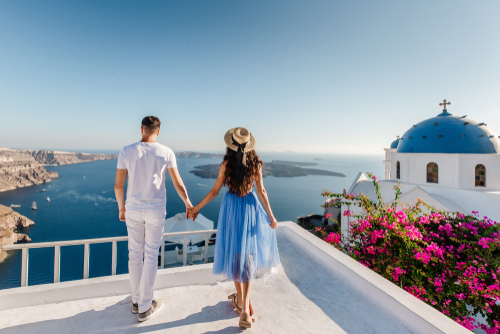 This picturesque island is a favorite among honeymooners, and it's clear why: With its white-and-blue buildings nestled along the cliffs, it's a picturesque setting. You can spend a whole day wandering the pretty streets and wrap up with sunset views over the water.
Argentina
When in Argentina, a visit to the bustling capital of Buenos Aires is a must. If your loved one is a culture junkie, they're sure to appreciate the many plays and musical events the city puts on every weekend. For a real treat, check out the famous opera house, Teatro Colon.
Take a tango class together to spice things up, and head to the La Boca neighborhood to put your new skills to the test. You'll see many couples dancing in the streets. This area also has small shops and street-side vendors worth exploring — perfect for getting your significant other a present.
Norway
If you don't mind the cold, head north in Europe to Norway. Plan your trip from fall to mid-April so that you can see the Northern Lights. This natural phenomenon is a breathtaking sight. Ramp up the romance by cuddling together under a blanket.
Norway is also renowned for its spa culture. You can enjoy a steam for two at one of the country's many saunas. Alternatively, soak up the country's natural beauty by heading to an outdoor hot spring. These pools are naturally heated by geothermal energy.
Turkey
For fairytale romance, check out Cappadocia in Turkey. This one-of-a-kind city is unique with its "fairy chimney" architecture — cone-like rocks and caves that dot the landscape. Book a hot-air balloon ride or admire the balloons floating over the scenic landscape from the ground (you've probably seen pictures of this on social media).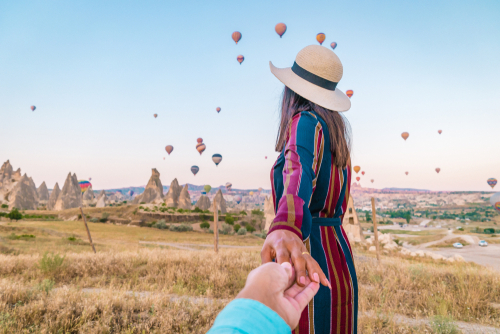 When in Turkey, also make time for Istanbul. The buzzing city offers food, nightlife, and culture galore. Also, the Hagia Sophia is a must-see. Finally, don't forget to check out the Grand Bazaar for one-of-a-kind shopping with textiles, spices, and sweets.
Mexico
Mexico has something for everyone. Foodies will love all that Mexico City has to offer, while party-loving couples will undoubtedly enjoy the nightlife of Cancun. Interested in Mayan or Aztec ruins? There are sites all over the country, from Chichen Itza to Teotihuacan.
For beautiful beaches, head to Tulum along the country's Caribbean coast. You can take day trips from here — for example, to swim in a cenote (a natural sinkhole) or visit the nearby Xel-Ha water park. Make sure to pack your snorkeling gear to discover new underwater worlds.
Tanzania
If you and your loved one are eager for some adventure, try Tanzania. The highlight of your holiday will likely be a safari — definitely a bucket list experience. So, if you want to see zebras, lions, giraffes, monkeys, and more, this is your chance to get up close and personal.
That's not all Tanzania has to offer, however. Head to the African country's coast to enjoy pretty beaches. Or, if you really want to take your love to new heights, consider scaling Mount Kilimanjaro.
Japan
Japan is a country of extremes and offers a lot of new sights and tastes worth exploring as a couple. Tokyo offers cutting-edge architecture and infrastructure, and unique nightlife experiences. Visit a cat cafe, try karaoke, or eat fresh sushi.
When you're ready for something quieter, take the bullet train to Kyoto. Here, you'll find serene temples and shrines. Kyoto is also known for the cherry blossom festival. Hakone is another option, giving you the chance to relax in hot springs. This is an easy day trip from Tokyo and is a great way to escape the city.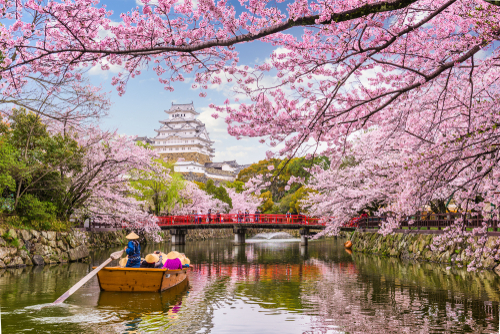 Indonesia
Bali in Indonesia is known as the Isle of the Gods, and once you glimpse its verdant landscapes and beautiful sand beaches, you'll understand why. This couples' getaway has it all. Spend your days hiking through the lush forests, spying monkeys, and admiring the rice paddies.
Prefer the beach? No problem. You'll find both black and white sand beaches to explore. You'll also find many opportunities to boost your physical and mental well-being, from meditation retreats to yoga classes, surf courses, and more.
Plan A Romantic Getaway With VacationRenter
As you can see, there's no shortage of options when it comes to romantic getaway opportunities! Before booking a holiday, talk to your partner about their expectations. You want to make sure you're on the same page in terms of what kind of getaway you want to enjoy.
Are you more interested in hiking Kilimanjaro or lazing on a Mexican beach? Everybody's idea of romance looks different, and you want to make sure you're both happy with your chosen holiday destination.
Wherever you decide to go, trust VacationRenter for your accommodation. VacationRenter is a one-stop shop for vacation rental properties, combining the inventory of multiple sites to give you a simple overview of all your options. Get started today!
Mentioned In This Article