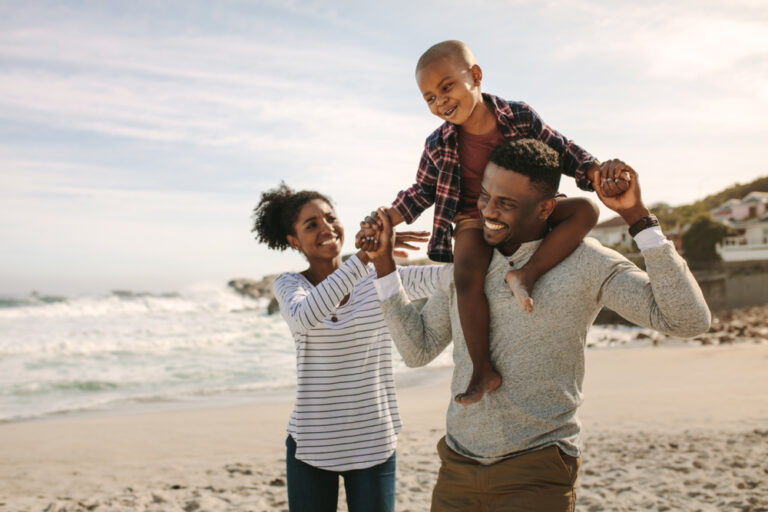 If your family is long overdue for a fun vacation, beach trips are always a popular choice. Your kids will love to frolic on the beach while you soak up some sun and relax.
But where should you go for your beach getaway? Think carefully about what you want to get out of the trip. Do you want easy access to outdoor activities or water sports? Are you looking to take in a little culture on your trip? Do you love to visit seashore boardwalks and other fun attractions? Do you want to hit up amusement parks while you're in town?
As you choose your next vacation destination, you'll find that each beach town in the USA has its own history, culture, and vibe. Below are some of the top destinations to consider for your family's next beach vacation.
Key Points
Find the next beachfront hot spot where your family can make memories to last a lifetime.
Learn about some of the best family-friendly vacation destinations on either U.S. coast.
Whether you're looking for a tropical getaway, water sports, arts and culture, or easy access to amusement parks, there's a destination on our list of top USA beaches for every interest.
East Coast Beach Destinations for Your Family
If you're looking for a destination on the East Coast of the United State, here are some choices to consider from Maine to Florida.
Outer Banks, North Carolina
The Outer Banks — referred to by many as OBX — is a top beach destination for families. This chain of barrier islands offers something for everyone: a rich, storied history (Blackbeard the Pirate fought his last battle in the area), plenty of outdoor activities such as snorkeling and scuba diving, plus endless natural beauty. Be sure to check out the Cape Hatteras National Seashore, Cape Hatteras Lighthouse, and the Graveyard of the Atlantic Museum.
Myrtle Beach, South Carolina
This South Carolina tourist destination is primarily known for two things: its 60-mile-long shoreline and its more than 90 world-class golf courses. You can hit the links in the morning, relax on the beach in the afternoon, and walk the Myrtle Beach boardwalk at night. Golf lovers will want to check out Dunes Golf and Beach Club and Barefoot Resort and Golf.
Nantucket Island, Massachusetts
This quintessential New England mainstay makes for quaint summer memories and family fun. Enjoy some fantastic fishing outings, amazing seafood — lobster rolls are a must on Nantucket Island — stroll through historic downtown, and see the popular Whaling Museum. At just 14 miles long, it's easy to explore this charming coastal town by walking or biking.
Clearwater Beach, Florida
Avid swimmers will love this family-friendly city on the Gulf of Mexico that's known for its white-sand beaches, kitschy Florida charm, and the world-renowned Clearwater Marine Aquarium. Clearwater Beach is also a short drive from Orlando, so make some time for a side trip to Disney World while you're in town.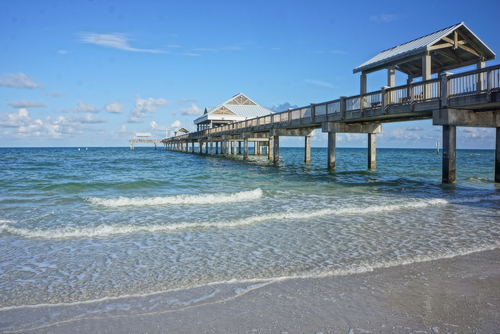 Ocean City, New Jersey
This barrier island in the Atlantic Ocean packs plenty of family fun. In addition to its amazing beaches, check out Ocean City's iconic attractions like the Ocean City Boardwalk, a 2.5-mile wooden boardwalk. And, of course, there's Gillian's Wonderland Pier, an amusement park established in 1929, and Playland's Castaway Cove, which offers roller coasters and themed mini-golf.
Cape Cod, Massachusetts
This laidback beach on the Massachusetts peninsula is known for its natural beauty. Hike the Great Island Trail and catch a glimpse of local flora and fauna. Nickerson State Park is a great place for kayaking and maritime history buffs will enjoy Cape Cod's numerous lighthouses, especially its most famous one: Nauset Light.
Hilton Head Island, South Carolina
Whether you're into golfing, beach volleyball, or water sports like parasailing and jet skiing, Hilton Head Island is ideal for the active family. The area also offers 12 miles of unspoiled beaches, where you can soak up the sun and surf.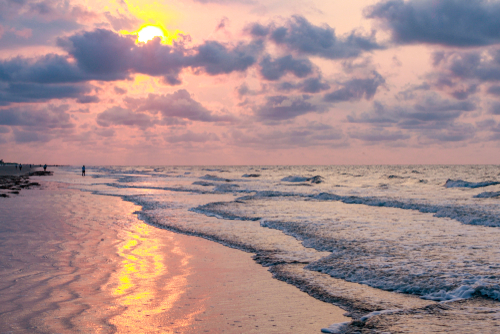 Ocean City, Maryland
Known for its family resorts and beachy fun, the kids will love playing along this 10-mile public beach, building sandcastles and enjoying the surf. The wooden Ocean City boardwalk boasts plenty of restaurants, shops, and attractions. Be sure to bring the family to Trimper's Rides of Ocean City and the Jolly Roger Amusement Park, two historic amusement parks near the boardwalk.
Virginia Beach, Virginia
This oceanfront destination at the mouth of the Chesapeake Bay is a vibrant coastal city with plenty of family-friendly beach activities. Relax on the area's amazing beaches, go on a waterfront adventure, stroll the historic boardwalk, or explore the city. Your family will love the King Neptune statue — a giant 34-foot-high bronze statue on the beach — the Cape Henry Lighthouse, and the Virginia Aquarium and Marine Science Center.
Montauk, New York
This easternmost point of Long Island really comes alive every summer between the Memorial Day and Labor Day weekends. Grab some ice cream and stroll through Montauk with your family. Soak in your natural surroundings by hiking, biking, camping, and horseback riding at Theodore Roosevelt County Park. And if you love fishing, this is the place to be!
There are many charter boats that will take you out for the day or anglers can simply surf cast from the beach. Don't forget to make a trip to Montauk State Park to check out the famous Montauk Lighthouse. Also, the entire East End of Long Island has plenty to offer visitors — from some of the best wineries in the world to quaint villages teeming with local shops, art offerings, and amazing restaurants.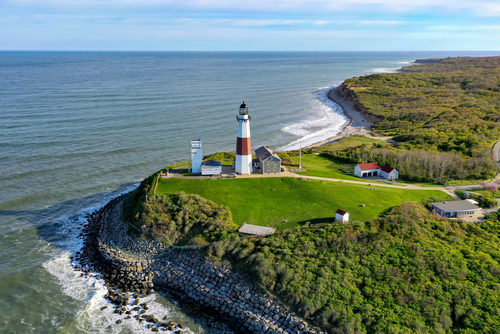 St. Simons Island, Georgia
Bring your family to the largest island in Georgia's Golden Isles. For an excellent overview of the island, make sure you go on a lighthouse trolley tour. There are plenty of historic sites that will capture your kids' imagination, including the ruins of Fort Frederica and the restored Harrington School House. Other must-sees include the St. Simons Island Lighthouse Museum and the Neptune Park Fun Zone.
Old Orchard Beach, Maine
This classic New England getaway has one of the last remaining oceanfront amusement parks in the country, making Old Orchard Beach one of the best Maine beaches for families. The popular Old Orchard Beach Pier is the centerpiece of this beach destination, boasting plenty of seafood restaurants. There's also a number of fun beach activities. Equine lovers can go horseback riding along the beach, and some fun ways to explore the waters include a variety of charter tours — rafting, lobstering, fishing, and others.
Miami Beach, Florida
Miami Beach might be known for its bustling nightlife but it's also a family-friendly destination. Your kids will love playing in and exploring the area's gorgeous South Florida beaches. There's also plenty to do beyond the beach. Children might enjoy checking out the various culinary options at family-friendly food halls like the Lincoln Eatery. Take them on a scenic walk through the lush, natural Florida landscape at Everglades National Park. Don't forget other top attractions in the region, like Zoo Miami, HistoryMiami Museum, the Miami Children's Museum, and the Frost Science Museum.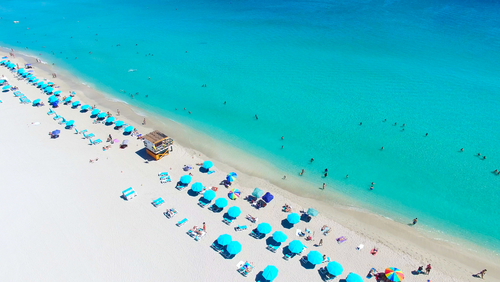 South Padre Island, Texas
This year-round South Texas beachfront resort town is popular for families, as there's plenty to do for everyone — beach activities, water sports, fishing, shopping, dining, live music, wildlife viewing, and fun attractions for all ages. South Padre Island is home to pods of dolphins that will amaze everyone in your family! Be sure to check out the South Padre Island Dolphin Research and Sealife Nature Center, which offers a touch tank and aquariums, dolphin tours, and special events.
Tybee Island, Georgia
This barrier island, offering five miles of public beaches, is a popular Georgia vacation spot. Bustling South Beach is the most lively part of the island, with an iconic pier and plenty of restaurants, bars, shops, and attractions. If you're looking for something a little different to do off the beach, Tybee Island is also a quick 20-minute drive from historic downtown Savannah.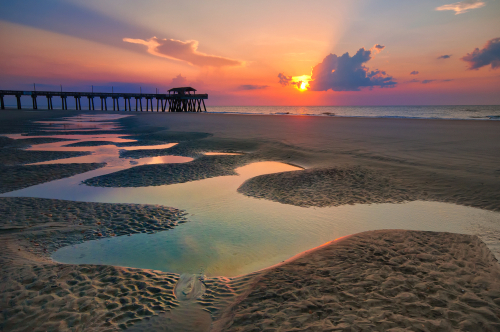 West Coast Family-Friendly Beach Destinations
If the East Coast isn't for you or if you want to try something different on the other side of the country, here are some top beach destinations to consider on the West Coast.
Monterey, California
Monterey is famous for its beautiful coastlines, connection to Mexican culture, and abundant marine life off the coast. Many visitors are drawn to the Monterey Bay Aquarium, whale watching tours, and wine tasting tours throughout Monterey County.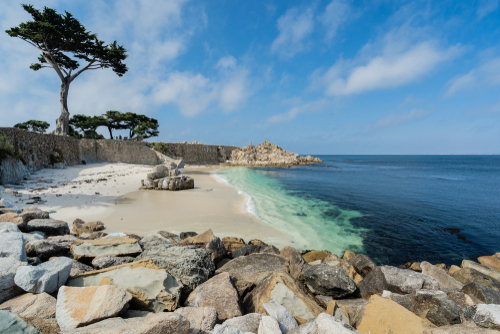 Santa Cruz, California
Known for its great weather, Santa Cruz is located about 75 miles south of San Francisco. Visitors travel from around the country and world to experience the beaches of Santa Cruz, the Santa Cruz Beach Boardwalk, and the awe-inspiring redwood tree forests just north of the city, among other great attractions!
Waikiki, Hawaii
Waikiki is a district within Honolulu and the island of Oahu's primary beach resort area. Global travelers flock to the relaxed island lifestyle and easy access to surfing and other water activities. When you're in Waikiki, the vibrant Kalakaua Avenue strip will play a large role in your trip. You won't want to miss the Royal Hawaiian Center, the International Market Place, or the Waikiki Beach Walk.
Maui, Hawaii
The island of Maui is often regarded as a great pick for travelers who want a variety of Hawaiian experiences on one island. From sunbathing on the famous Kaanapali Beach to exploring the dormant Haleakala volcano, there's a lot to see and do here. Golfing, snorkeling, and hula dancing events are all a possibility on the island of Maui!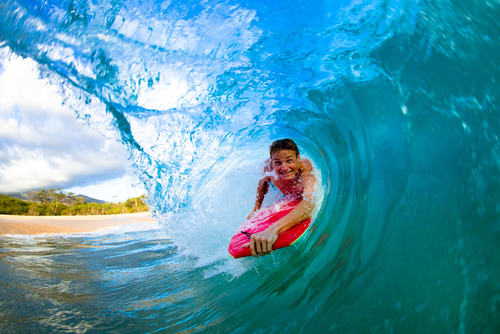 Seattle, Washington
A beach in Seattle? You heard right! Alki Beach in Seattle is a favorite among locals during the summer season. Located in West Seattle, Alki Beach Park offers an array of things to see and do. Take a stroll down the Alki Avenue beachfront path to see the Alki Point Lighthouse, visit the numerous cafes and ice cream shops, play beach volleyball, or just soak up the sun!
Secret Beach, Oregon
If you're looking for a beach with stunning surroundings, Secret Beach near Brookings, Oregon, is not to be missed. Secret Beach is located in the Samuel H. Boardman State Scenic Corridor and accessed by a trail entrance about a third of a mile south of milepost 345 on U.S. 101. A three-fourth-mile trail leads down to the beach where you'll be greeted by the Miller Creek waterfall into the ocean and sea stacks and sea walls along the shore.
Cannon Beach, Oregon
About 90 minutes from Portland, this Pacific Northwest beach is a great destination for families. When in Cannon Beach, be sure to visit the gorgeous Haystack Rock — if you go at the right time of year, you might be lucky enough to catch the tufted puffins that visit the area seasonally.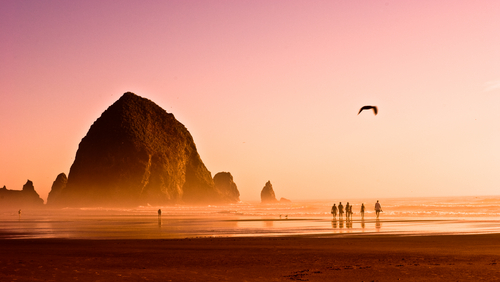 Coronado Island, California
Just minutes from downtown San Diego, this island beach offers small-town charm and makes a great family beach destination. Relax on the island's award-winning beaches or tour the local sights and sounds by Segway. Soak in some local history by checking out the Museum of History and Art and the Coronado Heritage Walk or grab a bite to eat and shop to your heart's content at the Coronado Ferry Landing.
Redondo Beach, California
Redondo Beach is another classic West Coast beach town that makes a great vacation destination for the family. This vibrant beach offers everything you'd expect including fun activities like fishing, swimming, biking, hiking, and water sports. On top of that, you'll want to check out the Redondo Beach Pier with the kids and visit the Seaside Lagoon. It's also less than an hour from Los Angeles, which will give your family the chance to explore the glitz and glam of Hollywood on the same trip.
Long Beach, Washington
The scenic Long Beach peninsula in the Pacific Northwest is another spot for an amazing family vacation. The area offers 28 miles of gorgeous beaches for you and your kids to relax, explore, and play. If you need a break from the beach, be sure to hike the art walk at the Willapa Bay Interpretive Center, check out the sideshow attractions of Marsh's Free Museum, and bone up on history at the Lewis and Clark Interpretive Center.
Santa Monica Beach, California
If you're planning a family getaway to the West Coast, consider Santa Monica Beach. There are plenty of beach activities to enjoy with kids such as biking, swimming, paddle boarding, and more. If you need a break from the beach, you won't want to miss the hands-on Museum of Flying, the playful Cayton Children's Museum, and, of course, the historic Santa Monica Pier.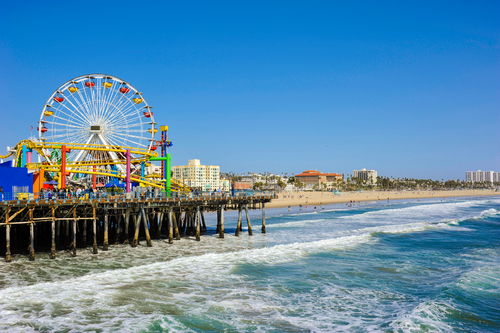 Find a Beachfront Rental on VacationRenter
Beach vacations are a great way to bond with your family, start some timeless traditions, and build lifelong memories. Hopefully, our list of top beach destinations will come in handy as you plan your family's next trip.
As the details of your beach vacation come together, rely on VacationRenter to find the perfect accommodations for your family. We've eliminated the need for you to search across multiple platforms by compiling the most relevant rental listings from all the top sites in one place. That means less time surfing the web and more time planning the trip of a lifetime with loved ones!
Mentioned In This Article