If you're the type of person who always tries to make the most out of your long weekends, then it's time to start planning where to go for Labor Day. Yes — the weekend of August 30th to September 2nd is the culmination of the summer in many places. And the fact of the matter is that the best rentals always get booked first, and planning ahead is the way to go.
To help you gear up for an end-of-the-summer getaway, we found five U.S. cities chock full of things to do, guaranteeing a lovely Labor Day Weekend for you and yours.
1. Taos, New Mexico
Your first potential holiday haven is the ancient city of Taos. Distinct influences by Native American and Spanish cultures are still visible to this day, and can be found in the cuisine, architecture, clothes, and so much more. The city's landscape is lined with traditional pueblo-style clay buildings and is surrounded by vast midwestern terrain. The predominant architectural style can be classified as multistoried adobe houses built using earthy materials.
One unique attraction in this capital city is the Taos Pueblo, which has served as the home base for an active Native American community that has inhabited this multi-storied structure for over 1,000 years. In that time, it has been designated as a National Historic Landmark, as well as a World Heritage Site. Taos Pueblo is open to the public daily between 8:30 a.m. to 4:30 p.m.
2. Malibu, California
In Malibu, you'll find a wide range of beach houses that will have you feeling like a Hollywood celebrity. If you've ever driven along the Pacific Coast Highway through this coastal town, then at least one opulent house probably caught your eye, triggering daydreams of having a seaside escape of your own. The good news is, you can make those dreams come true — even for just a weekend — but you better snag a rental with a view of the Pacific Ocean before someone else beats you to it.
In true Hollywood fashion, you can reserve a table at Paradise Cove, a restaurant with private beach access that's been featured on shows such as Baywatch and The OC. As an added advantage, because the property is privately owned, the beach doesn't get so packed. For something a little more low-key, you can check out Malibu Farm right on the pier, where they serve fresh and local ingredients as you dine above spectacular views of the Pacific Ocean.
3. Sea Island, Georgia
The serene strip of Sea Island is located within Georgia's Golden Isles, which include St. Simons Island, Jekyll Island, and Little St. Simons Island. In order to take full advantage of everything this charming town has to offer, most people stay at one of Sea Island's three most popular hotels: The Cloister, The Lodge, or The Inn at Sea Island — but if you book early enough, you might be able to get your hands on a private vacation rental to accommodate your entire Labor Day Weekend crew under one roof.
Once you've set your sights on Sea Island, another reservation to add to your calendar is an appointment at The Spa at Sea Island. This five-star oasis includes amenities like a eucalyptus steam room, a mineral-pool bath, a waterfall flowing into a hydrotherapy pool, and more. You can also book different massages, facials, and body treatments to have you feeling rejuvenated by the time you return back to reality. Just be sure to make an appointment at least two weeks before your trip.
4. Jamaica Beach, Texas
You don't need to travel all the way to the Caribbean to experience Jamaica Beach. This secluded beach getaway is located on Galveston Island, a barrier island off of Houston, Texas. Jamaica Beach is surrounded by the bay on one side and the Gulf of Mexico on the other, providing the feeling of being completely off-the-grid on your own little island. Because this part of Texas can only be accessed by two highways, Jamaica Beach is normally cleaner and less crowded than other beaches in the area. This location is great for friends, families, couples, or just about anyone who loves that blissful combination of sand and ocean.
Less than five minutes away from Jamaica Beach is Galveston Island State Park. Activities at the park include hiking, fishing, kayaking and bird watching. Overall, Jamaica Beach is a great location to spend some quality time under the sun. If the kids are coming too, you can head over to the neighboring town of Galveston to visit the Pleasure Pier amusement park, or the Schlitterbahn Waterpark. Both can provide a full day's worth of fun and excitement for the entire family.
5. Lake Harmony, Pennsylvania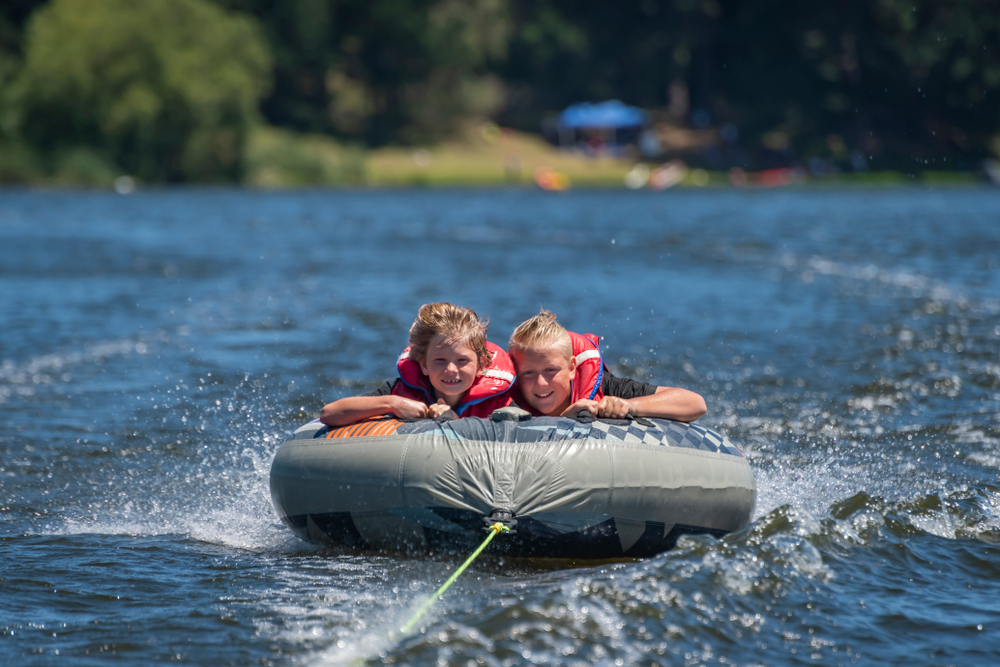 We've got one last Labor Day weekend recommendation for you, and it's the tranquil town of Lake Harmony. If you're from New York or Philadelphia, this option is only a two-hour drive away! A lakeside cabin in this area is perfect for people who love spending time on the water, because it's surrounded by two lakes, and even offers a hike to a waterfall less than 15 minutes away.
Spend the whole weekend on either Lake Harmony or Big Boulder Lake bonding over a shared love of watersports such as wake boarding, tubing, paddle boarding, and more! Or if you'd rather spend your time on land, you can take a 20-minute drive to the Pocono Mountains and traverse Pennsylvania's landscape on ATVs. Whether you're visiting to catch some R&R or you're coming to trade city life for the great outdoors, Lake Harmony's welcoming town will satisfy all your holiday needs. The only sad part will be the tail end of the trip when you have to leave!
Send the Summer Off the Right Way
As opposed to Memorial Day, Labor Day Weekend is usually filled with people trying to squeeze every last moment out of their summer before fall and eventually winter arrives. That means more crowds and fewer rentals and hotel rooms to pick from. Don't let Labor Day plans stress you out. Let us help you book that perfect rental you've been dreaming of.