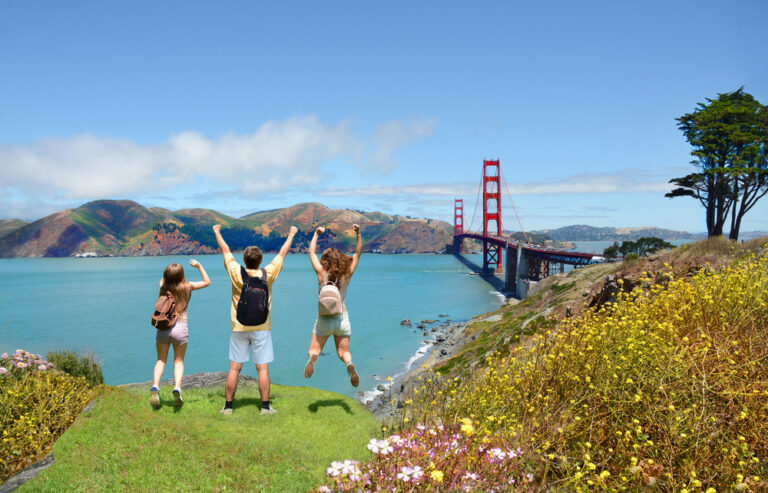 As the cultural and commercial heart of Northern California, San Francisco is an exciting destination sought out by travelers all over the world. Whether you're visiting for a weekend or a week, you'll keep wishing you had just one more day to see all the sights. Check out this guide made specially for first-timers, filled with San Francisco travel tips, places to go, and all the different kinds of tours this city has to offer.
Travel Tips for San Francisco First-Timers:
Get a Guide Book

If this is your first trip to San Francisco, you're in for a treat. But sometimes a city can be so exciting that it's too much of a good thing, making it difficult to know where to start. Before you arrive, invest in a good San Francisco travel guide. Many are filled with local Bay Area tips and informative maps that you can refer to throughout your entire trip.
Dress for the Weather

California conjures up images of sun and sand, but San Francisco is often on the cooler side. As Mark Twain once said, "The coldest winter I ever spent was a summer in San Francisco." Although the city is blessed with warm and sunny days from time to time, you'll definitely thank yourself if you've packed a cozy jacket in your luggage, because Karl the Fog tends to roll in at some point. Yes, the fog is so common in the city that locals have officially named it and made it Instagram famous.
Bring Some Walking Shoes

There are so many things to do in San Francisco, and there's no better way to see the city than by putting your feet on the street. By all means, take a ride on the famous cable cars, but don't miss an opportunity to disembark and explore all the captivating sights and sounds. The surrounding Bay Area offers a ton of great hiking, too. Check out Fort Funston, Lands End Trail, and the Mount Sutro Loop. Looking for some weekend getaways outside the Bay? Check out this full guide for more ideas on how to explore nature just outside the city.
Try San Francisco's Famous Food

San Francisco is a foodie paradise, with a huge variety of exciting eateries to explore. No visit is complete without grabbing a burrito from La Taqueria in the Mission District or stopping at Boudin to eat clam chowder out of a sourdough bowl. And if you make your way to Fisherman's Wharf, make sure you try fresh Dungeness crab.
What to See on a First Trip to the City
If you're visiting the city for the first time, you should definitely make time to pay a visit to some of San Francisco's iconic landmarks. Some of these sites are entire neighborhoods and will require a bit more time to fully explore. (We'll touch on some tour ideas a little later in the article.) Tours are great ways to investigate entire neighborhoods quickly and efficiently. Keep reading below for the best SF landmarks to check out during your trip. 
Golden Gate Bridge

If you're setting off on your first trip to San Francisco, be sure to include this postcard favorite on your itinerary. You can get great views of the bridge from several points around the city: Baker Beach, Crissy Field, Fort Point National Historic Site, and South Vista Point are all great options. If you really want to impress your friends back home, go for a walk or a bike ride across the entire bridge and hop on the ferry in Sausalito to take you back to the city. History buffs can learn more about the bridge and its construction at the Welcome Center.
Alcatraz

Alcatraz Island operated as a prison for just under 30 years, but it housed big names like Al Capone and George "Machine Gun" Kelly during its run. It closed its doors as a prison in 1963, but it has been open as a tourist attraction since the 1970s. Take a ferry ride to the island and take a tour of the infamous facilities. You can also combine a visit with a cruise tour of the bay, giving you great views of the Golden Gate Bridge, Angel Island, and other amazing sights.
Chinatown

The oldest Chinatown in the country is one of the best places to visit in San Francisco. Spend an afternoon wandering the streets and taking in the various sights, sounds, and smells. Pop into one of the many great cafes, restaurants, and bakeries to try some delicious Chinese delicacies. Be sure to explore some of the side streets to get a feel for the hidden side of Chinatown. To get through all the delicious food in the neighborhood, you might want some help! Check out some tour options here.
Fisherman's Wharf

From sea lions lounging on wooden rafts off Pier 39 to the famous chocolates at Ghirardelli Square, you'll find lots to see and do in and around Fisherman's Wharf. Even though this is a tourist hot spot, it still has a fun atmosphere, and the stunning view of the bay makes a trip worthwhile on its own. You're best walking or taking a cable car to this attraction, as the area can get crowded, but if you absolutely must drive, you can find parking near Pier 31, Pier 35, and Pier 43 1/2.
Mission District

Once upon a time, the Mission District was where artists and intellectuals congregated. Even though the neighborhood is now a poster child for gentrification, it still maintains much of its creative flair, with artwork adding character to the neighborhood's streets. Enjoy browsing hip boutiques, grab a bite to eat at one of the area's excellent cafes, and walk down Clarion Alley, filled with vibrant street art. When your feet need a rest, take a break in Dolores Park. 
Ride a Cable Car

Getting to the top of San Francisco's famous hills can be a bit of a hike, but luckily, taking a cable car trip uphill combines two bucket list activities. To beat the crowds, go early in the morning or catch the California Car — the world's last manually operated cable car system — to Nob Hill. And once there, explore one of the most prestigious neighborhoods in the entire city.
Painted Ladies

The Painted Ladies have graced many postcards over the years, but now you can see them in person. Take a stroll around Alamo Square and enjoy the views of these local fixtures. The site is located next to Hayes Valley, another iconic area that is worth exploring.
Pick a Tour to Explore More of the City
There's so much to see that a newbie tourist — heck, and a seasoned one⁠ too — couldn't possibly see everything without careful planning. Fortunately, the city of San Francisco has a wide selection of unique tours that will take you to all the places you want to see.
Hop-On Hop-Off Bus Tours

Double-decker bus tours are international hits when it comes to getting to know any new city. Big Bus San Francisco features more than 20 stops at destinations including Union Square, the Painted Ladies, Haight Street, and more. If you want to see as many sites as possible in one trip, this would be the right tour for you because you can hop off at any stop you wish, then hop right back on the next Big Bus! You even have the option to purchase a two-day deluxe ticket, because it's physically impossible to explore San Francisco in its entirety in only a day.
Alcatraz Island Tour

One of the most famous jails in American history is just a boat ride away from San Francisco's Pier 33. Get up close and personal with the prison that captured the public imagination for being known as the only inescapable prison. You have the option to do either the Day Tour or Night Tour. While the Night Tour is definitely spookier, keep in mind that you may have to book months in advance due to high demand.
One-Day Napa Valley Tour

Napa Valley is world-renowned as a premier wine-producing region. If wine falls on your short list of guilty pleasures, then consider a day trip to Napa as a mini vacation from all the bustle of San Francisco. Viator's semi-private wine tour will pick you up downtown and coordinate a customized itinerary, allowing you to visit two to four wineries based on where you and the other participants in your group would like to go.
Bike Tour Over the Golden Gate Bridge

Take this three-hour bike tour from Fisherman's Wharf, which takes you through local attractions before crossing the famous Golden Gate Bridge. The end of your bike ride takes you to the picturesque waterfront town of Sausalito. This tour costs $55 per person, which includes a helmet, map, bike lock, and the option to choose between a classic road bike or an electric bike.
GoCar GPS Tour

As you're wandering the streets of San Francisco, you might notice tiny yellow cars zooming through the city. Those yellow cars are called GoCars and you can explore the city in them! The GoCar Tour is pre-loaded with narrated tour information for hundreds of local sights, landmarks, and locations. Take one down the city's crooked Lombard Street (pictured above) for a rollercoaster-like experience!
Where to Stay as a First-Timer
When considering where to stay, think about who you'll be traveling with and what your vacation goals look like. The Bay offers singles, couples, families, and groups of friends something different. Continue reading for more ideas on specific neighborhoods that you should consider.
Union Square
Great sightseeing and an unbeatable location make Union Square the top pick for a first time to the Bay. You'll have plenty of opportunities to explore the rest of the city with this area as your base. Union Square is the city's public transportation hub, putting you within walking distance of Chinatown, North Beach, and other fantastic areas to explore. Look for deals on condos and apartments in this area. We'd suggest that families look for something in or closer to Fisherman's Wharf.
Favorite local spots: Looking for a tasty cup of coffee to start the day? Caffé Central has you covered! For delicious coffee and brunch, check out Mazarine Coffee. We love the Bacon, Egg & Avocado Toast for breakfast. The Pastrami Reuben is also an excellent lunch option. For an unbelievable dinner accompanied by live jazz, head over to Zingari. Reservations are suggested. And to wrap up the day of fun, grab a nightcap at Elements Bar & Lounge. Try the light and citrusy Floral Fixation.
Mission District
First time in San Fran and you want to do a little bar hopping? Mission District is the place for you to be. The area is packed with fun dive bars and nightclubs making late-night fun very accessible to your group. SoMa, another area to explore for great restaurants and coffee shops, is just north of Mission District.
Favorite local spots: Grand Coffee pulls a mean espresso. Philz Coffee pours the best coffee in the Mission. If you're here to be blown away by the food, Lolinda will do the trick. Get a reservation. This place won't typically have room for walk-ins. For unbeatable Italian, grab brunch or dinner at Beretta. And Evil Eye is crafting all the cocktails for your neighborhood nightcap.
North Beach
Traveling with family for your first visit to San Francisco? Consider staying in North Beach, located right next to Fisherman's Wharf, and boasting incredible views of the bay. You'll also have access to both the Golden Gate Bridge and Alcatraz. If you're planning to do a bit of sightseeing on your trip, this is a great spot to find a lovely vacation rental.
Favorite local spots: Six decades of coffee tradition continues to happen at Caffe Trieste. Looking for a place to take the kids? Check out Mama's on Washington Square for an adorable and delicious meal. And if mom and dad need some fancy food, Sotto Mare is serving up Italian seafood that's absolutely to-die-for!
The Bay Awaits!
San Francisco is an iconic American city that deserves to be explored. Incredible museums, amazing food, and gorgeous views all await you in this wonderful city. Ready to start planning your first trip to the Bay? Get over to VacationRenter today and begin looking for your perfect vacation home!