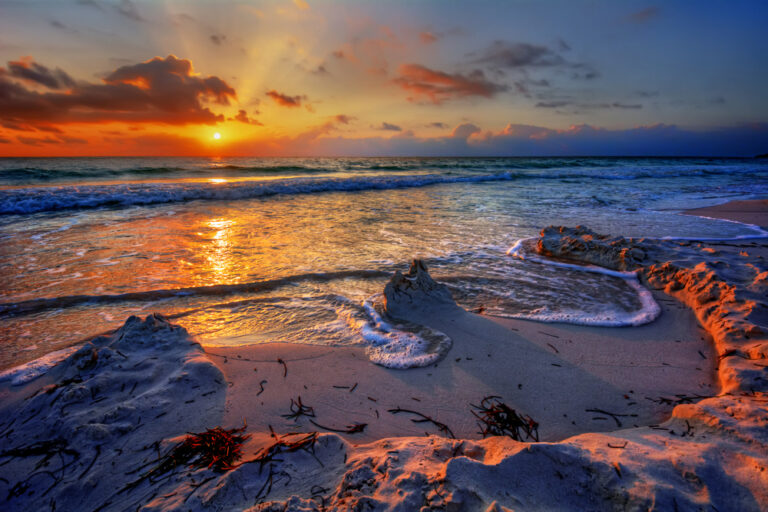 Panama City Beach is 27 miles of majestic coastline and named one of the top 3 beaches in the USA by TripAdvisor. This beautiful strip of the coast is famous for incredible views and incredible food. Get close to nature on a hike through one of the many parks. Take a peaceful stroll on the beach, or dive into the ocean and swim with amazing sea creatures. Whether you're looking to stay busy with a ton of natural fun, or simply watch the waves and breath the fresh ocean air, PCB is the place to be. Read on to discover some of the top reasons we love to recommend this gorgeous Florida beach to our travelers.
Let's Talk about the Beach
This one is basically a no-brainer. Panama City Beach offers miles of pristine shoreline to enjoy. Play beach volleyball, snorkel in the water, or rent bikes to ride. Pack a sand bucket or two to collect shells, and maybe even build a few sandcastles while you bask in the sun. Layout beneath a beach umbrella and relax. Take a break from the beach and hit the spa for some R&R. Grab an elegant or casual bite at one of the many restaurants located right on the water.
Pro traveler tip: Annual temperatures fluctuate about 12° F in either direction with the warmest month being July which gets to about 85°F. If you want something a bit cooler, visit in November. 
Shell Island
Take a boat ride to Shell Island, a 700-acre barrier island. Seven miles of undeveloped land provide natural beauty in the wild and make for a great respite from the busyness of daily routines. Rent a pontoon and see the island from a different point of view. Explore on foot with some hiking, pack a picnic or just kayak leisurely through the water. You are able to fish on the island, but a Florida fishing license is required.
Pro traveler tip: See turtles during nesting season starting in May and ending in October. Experience something truly amazing and watch these animals lay their eggs. 
St. Andrews State Park
Be sure to spend some time at St. Andrews State Park, where you'll find 1,200 acres of Mother Nature's finest. Deer, alligators, and birds all abound within this incredibly pristine natural habitat. You can fill your day with some kayaking, hiking, snorkeling, and scuba diving.
Pro traveler tip: While you can pay your way at the gate, it is recommended that you purchase your single-use day pass online to avoid lines and capacity issues. Get your pass reserved here.
Fishing
The Panama City Beach area offers saltwater and freshwater fishing opportunities. Charter a fishing excursion out to the Gulf of Mexico, or pier fish at St. Andrews Bay. Any given day's catch could easily include marlin, tuna, cobia, or Spanish mackerel. Fishing is generally permitted in Florida State Parks; however, you will need to secure a Florida State Fishing Permit. Get yours before your trip here.
Pro traveler tip: For the serious angler, we love to recommend a deep-sea fishing excursion. The Gulf of Mexico offers some amazing fishing, and you don't want to miss it. Book your excursion here.
Camp Helen State Park
Get close to nature at Camp Helen State Park. It's situated between the Gulf of Mexico and Powell Lake. This is one of the largest coastal dune lakes in the entire state and as such boasts a ton of wildlife. You might see black bears, deer, and osprey. Take a kayak or paddleboard out for a spin. Enjoy great hiking and see the many different habitats contained in this one park. The North Trail is about 1.8 long, while The Oak Canopy Trail is about a half-mile long. Plan your time accordingly. If you're with kids, they might have a harder time making the full North Trail. Before you head out on your hike, be sure to grab a trail map at the visitor center. 
Pro traveler tip: There are a ton of events at Camp Helen State Park. Check out their calendar here and click on 'Events'.
Conservation Park

This large park includes more than 2,900 acres and 24 miles of trails. Boardwalks at Conservation Park let you explore deep into the wetlands for some incredibly beautiful and scenic views. Hike through marsh and wetlands. Pack a picnic and enjoy a meal in the woods. Bring your camera and binoculars and go bird watching. Take in all the natural beauty this great park has to offer.
Pro traveler tip: If you're traveling with your dog, feel free to bring them along for the hiking. Dogs are allowed, but must be kept on a leash at all times. 
Gulf World Marine Park
Add Gulf World Marine Park to your list of things to do in Panama City Beach, Florida. Interactive exhibits make learning about marine life a fun discovery for all ages. Exotic birds, dolphins, and sea lions are just some of the aquatic life you might encounter in the lively park. Check out a dolphin or sea lion show. Or hop in the dolphin tank and swim with them! Touch a stingray and discover all the other exhibits this place has to offer.
Pro traveler tip: Get your tickets online here to save money on your day passes.
Scuba Diving Tours
Go underwater with a scuba diving tour. This option is probably best suited for older kids and adults. Scuba diving gives divers an up-close look at sunken ships, limestone reefs, and aquatic life like octopus and grouper. 
Pro traveler tip: Bring an underwater camera for capturing all the beautiful wildlife.
Where to Stay
Find lovely homes and ramblers in Pretty Bayou, just outside of PCB. Look for a great deal on a condo in downtown PCB. Or enjoy something a bit more secluded in Lower Grand Lagoon. 
Panama City Beach Awaits!
From great beaches to amazing wildlife and state parks, PCB is truly a perfect place to go on vacation. Relax, jump into the adventure, or just sit back and take it all in at PCB. Ready to enjoy all the amazing sights Panama City Beach has to offer? Book your stay on VacationRenter!