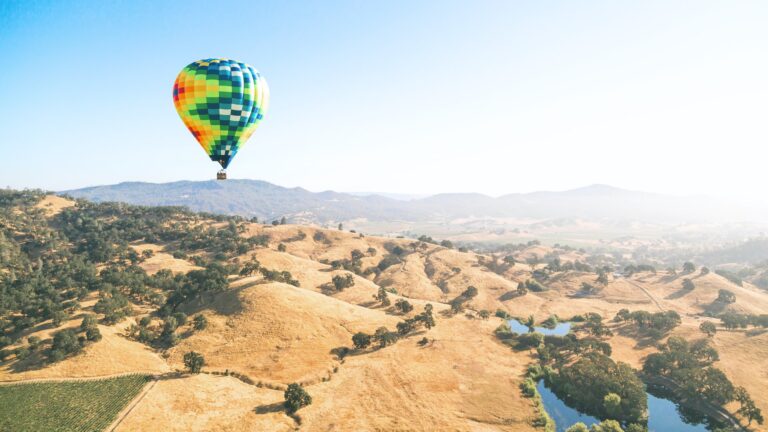 With its rolling hills covered in rows of grapevines and its imposing estate wineries, Napa Valley is a picturesque vacation destination. Drinking fine wine, eating fine food in a breathtaking location sounds great to us! Those planning a visit may be wondering what the best season is best. Fear not, VacationRenter is here to break down each season with its individual perks. From there you can pick what works best for you! After all, this is one of our favorite places in the world.
Whether you want to go on a weekend getaway from San Francisco or you want to spend your entire trip exploring the area, you'll find lots to see and do. Book a space in a Napa Valley vacation home rental and discover the many sights and tastes this place has to offer.
Where to Stay in Napa
Napa is the biggest city in the Napa Valley, so you'll find lots of accommodation in town. It's also a great option if you want to do shopping and sightseeing during your trip. It has plenty of historic buildings, boutiques, and restaurants in its downtown core. If you want a quieter atmosphere than Napa has to offer, try St. Helena. This town has a rural feel to it, making it a suitable destination for a getaway from the city. Calistoga is another good option for a low-key destination. Nestled in the mountains in the northern part of the Napa Valley, it's a popular place to go hiking or cycling. It's also famous for its hot springs and geysers, offering fun and relaxation for the whole family.
When to Visit Wine Country
The grape harvest takes place between August and November, creating an exciting atmosphere throughout the region. In addition, the stunning fall colors are truly a sight to behold. This is the peak tourist season in Napa Valley, so if you'd prefer to visit during a quieter time of the year, try March, April, or May. The spring weather is pleasant, and the blossoming landscape is picturesque. Read on below to find out more about what each season is like in the Valley.
Napa in the Spring
Spring in Napa Valley starts in February, probably a bit earlier than you're used to, and ends later than you're used to, in May. You will have to be aware of spring showers, but there are plenty of indoor wine tastings for you to attend if that should be the case.
Favorite thing to do in the spring: Whether you're traveling with the family, your spouse, or alone, we love suggesting hot air balloon rides during the spring. You'll get a bird's eye view of all the natural beauty below. It's also a fun way to scope out wineries to put on your to-do list.
Napa in the Summer
It gets a little hot after May, but the rain clears away and makes way for summer in the Valley. Be sure your rental has a pool, so you can stay cool and enjoy a chilled glass of rose while sitting poolside. Aside from the warmer weather, you can expect larger crowds this time of year.
Favorite thing to do in the summer: After spring showers we expect May flowers, but you can also expect exquisite produce. Be sure you plan a trip to the Napa Farmers Market if you visit this time of year. You'll be amazed at the incredible variety of produce that is cultivated in the Valley, all of which is up for grabs at the Farmers Market.
Napa in the Fall
As the temperatures begin to drop in September, you can expect to see a slight decline in foot traffic as well in the wineries. Lows get down in the 50s. Make sure you bring a light jacket with you when you're out and about this time of year.
Favorite thing to do in the fall: Who doesn't like a glass of something bubbly? Visiting in the fall means you'll be able to spend a few days at Schramsberg for their camp. You'll see the wine go from still to sparkling and gain a better understanding of the process. And then let you drink a bunch of the stuff, too!
Napa in the Winter
Traveling to the Napa Valley in the winter means two things: pack warmer clothes; forget about crowds at the wineries. Another advantage of winter is the price tag. Expect to find amazing deals on your rental during the winter season. 
Favorite thing to do in the winter: The Napa Valley Wine Train stops running this time of year, but luckily for you, it becomes a seasonal staple: The Santa Train! Hop aboard and enjoy sing-alongs, caroling, and of course some delicious wine. If you visit during the winter, you've got to get a ride in on The Santa Train.
Visiting California Wineries
Most people go to Napa to visit wineries and taste the region's famous wine. In addition, many wineries open their doors to visitors and offer tours, which gives you a chance to see how they produce their wares. If you want to taste a bit of Napa for yourself, the possibilities are endless, so you should do a bit of planning before you set off. Take a look at which wineries operate close to where you're staying and plan a route from there. You might also want to visit some famous names such as Castello di Amorosa or Robert Mondavi Winery.
How to Get around Wine Country
If you don't want to organize a designated driver, you can still make the most of Napa. The Napa Valley Wine Train runs from Napa to St. Helena, giving you a car-free option for exploring the area. You can also find a variety of tour buses operating in the area. There are also a ton of bike tours for you to choose from.
Non-wine Things to Do
Napa Valley is a big name in the wine industry, but you can also find plenty of other activities to occupy your time in the area. Its hilly landscape makes it suitable for hiking and mountain biking. If you want to enjoy the beauty of the outdoors, try Bothe-Napa State Park, Robert Louis Stevenson State Park, or Skyline Park. If hiking isn't your thing, look into other options such as horseback riding and Segway tours. Check out this article to get more ideas on what to do with your time in Napa Valley.
Start Planning Your Napa Getaway!
Napa Valley has got it all; great views, tasty wine, tons of outdoor adventure to be had, and a lot of great restaurants. Ready to start planning your trip to Napa Valley today? Head over to VacationRenter and find the perfect spot for you to stay on your getaway!