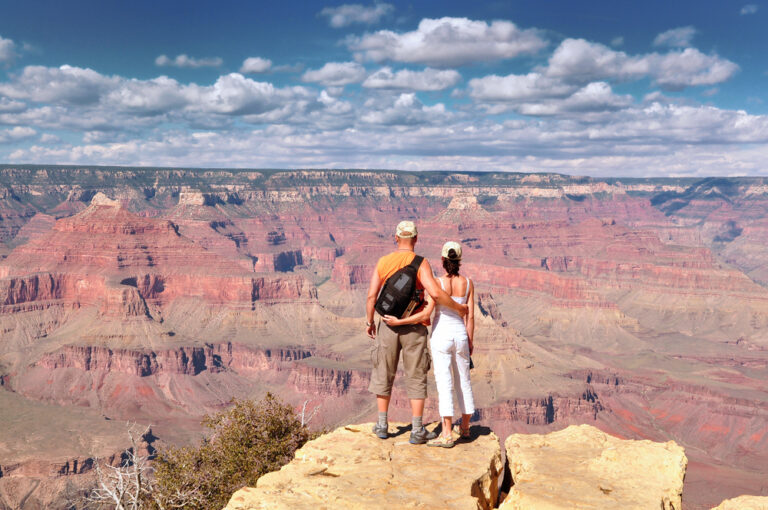 Arizona is famous for one of the most breathtaking natural wonders of the world:, the Grand Canyon. It even takes its nickname from the geographic monument, as it's also known as the Grand Canyon State. However, Arizona has many other noteworthy natural sights worth seeing, from mountain views to desert landscapes — making it a great place to go glamping.
Glamping provides you with the luxurious accommodations of a five-star hotel in rural settings, or places where people would normally only go camping. The combination of rough-and-ready camping and jet-set glamor has become increasingly popular in recent years, with an abundance of glamping locations popping up across the United States. Arizona is no exception!
Key Points
Arizona is home to beautiful nature, including the Grand Canyon
The state's dry and warm climate makes it great for outdoor adventures
Plan your next trip with a list of Arizona's best glamping hot spots
Glamping allows you to explore the state's rural areas while enjoying luxury accommodations
Discover some of the state's must-visit glamping sites below!
Why Arizona Is Perfect for Glamping
Arizona offers a wealth of beautiful natural scenery. Grand Canyon National Park — spanning 277 miles — is the most obvious attraction. Here are some of the lesser-known parks and outdoor spots you might consider building a glamping trip around:
Petrified Forest National Park. See ancient tree trunks, some of them more than 200 million years old. The logs were preserved by minerals in the Earth, giving them eye-catching hues of purple, red-brown, and yellow.
Monument Valley Navajo Tribal Park. When you think of the stereotypical Wild West landscape, this land in the Navajo Nation is probably what you picture. In fact, you may have even seen this park in old John Wayne western films. The red rock formations jutting up from the desert landscape are an unforgettable sight.
Saguaro National Park. Saguaro cacti can live for up to 250 years and reach heights of 60 feet. This stretch of desert is home to the oldest and tallest known saguaros in the United States. The park is divided into the Rincon Mountain District and Tucson Mountain District.
Chiricahua National Monument. This national monument features a fairytale landscape of sculpted rocks, garnering it the nickname the "Wonderland of Rocks." It's one of the most popular hiking destinations in the state, featuring a landscape of fantastic rock towers.
Canyon de Chelly. Canyon de Chelly and the surrounding canyons are home to more than 800 archeological sites. These canyons housed indigenous peoples as far back as 2,500 BCE. Today, this is still Navajo land, and Navajo families farm here.
Attractions aside, Arizona is also great for glamping due to the weather. It has an arid climate, with an average rainfall of as little as three inches per year in some parts of the state. In the desert-covered southwest part of the state, summertime temperatures can reach 115 degrees Fahrenheit. Needless to say, you'll probably want to plan trips here for the cooler seasons.
The Best Arizona Glamping Destinations
With its warm, dry weather and abundance of natural beauty, Arizona is a top glamping destination. Your only problem when looking for accommodations will be trying to narrow down your choices. Keep reading for some of our favorite spots.
Page
Page might be small — the population is less than 10,000 people — but what it lacks in people it makes up for in gorgeous sights. Popular nearby attractions include Antelope Canyon, Grand Staircase Escalante National Monument, Coconino National Forest, Rainbow Bridge National Monument, Horseshoe Bend, Lake Powell, and Glen Canyon Dam.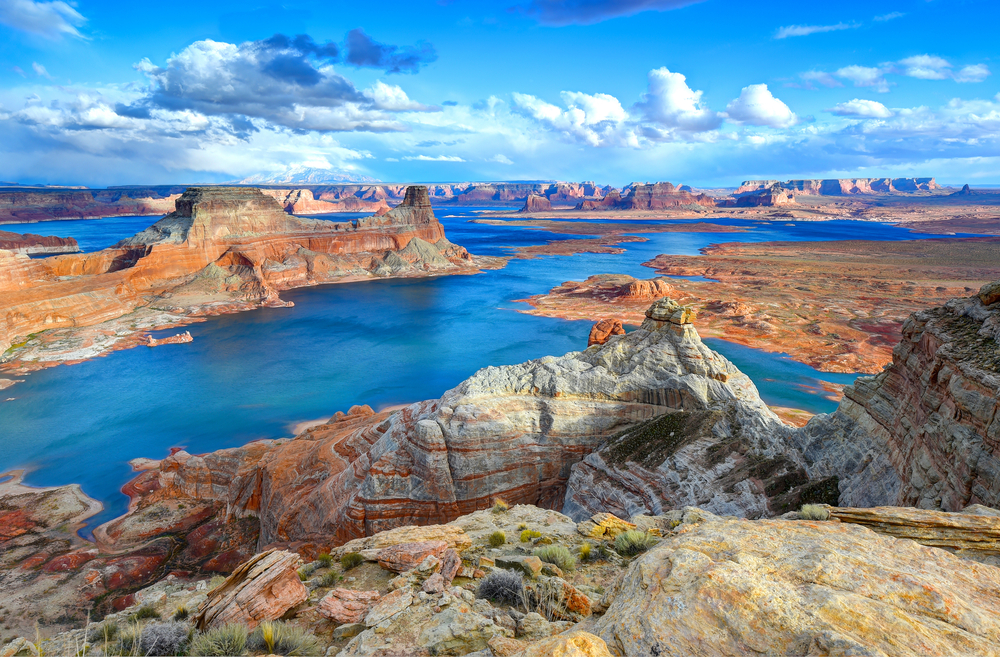 To explore the rugged surroundings thoroughly, look to mobile accommodations. You can rent your own Jeep Wrangler Sport with sleeping capacity, for example. It sleeps two and comes with a kitchenette for easy meal prep. Need more space? Opt for an RV like a Keystone Fuzion, which sleeps
four.
Queen Creek
Queen Creek is proof that you can find magic when you get off the beaten path and head to lesser-known destinations. This small enclave is home to a diversity of attractions, including Queen Creek Olive Mill, San Tan Mountain Regional Park, and MD Ranch. If you're on a family trip, consider a stop at Schnepf Farms, a working farm and petting zoo.
Looking for adventure? Head to the Lost Goldmine Trail for hiking. If you want to explore further afield, you can also go off-roading or schedule desert tours on ATVs. The wide-open desert is ideal for these kinds of adventures.
Whatever you get up to during the day, you'll want a cozy place to stay come nightfall. Check out some of the area's luxurious vacation rentals, which feature amenities like swimming pools, air conditioning, and Wi-Fi. If you're looking for an alternative, there are RV rentals, combining mobility and comfort.
Flagstaff
Flagstaff is conveniently located along Route 66, making it the perfect pit stop on a cross-country road trip. It's also another convenient location to access Horseshoe Bend, Antelope Canyon, or even the Grand Canyon for a day trip. If you're feeling adventurous, book an airplane tour of the canyon's south rim. The area also offers other activities like zip lining.
Combine all the activities with a great glamping adventure. The area offers vacation rentals with hot tubs and rentable luxury RVs. Try out a luxury camper van with all the essentials you need, like heating, running water, and cooking facilities.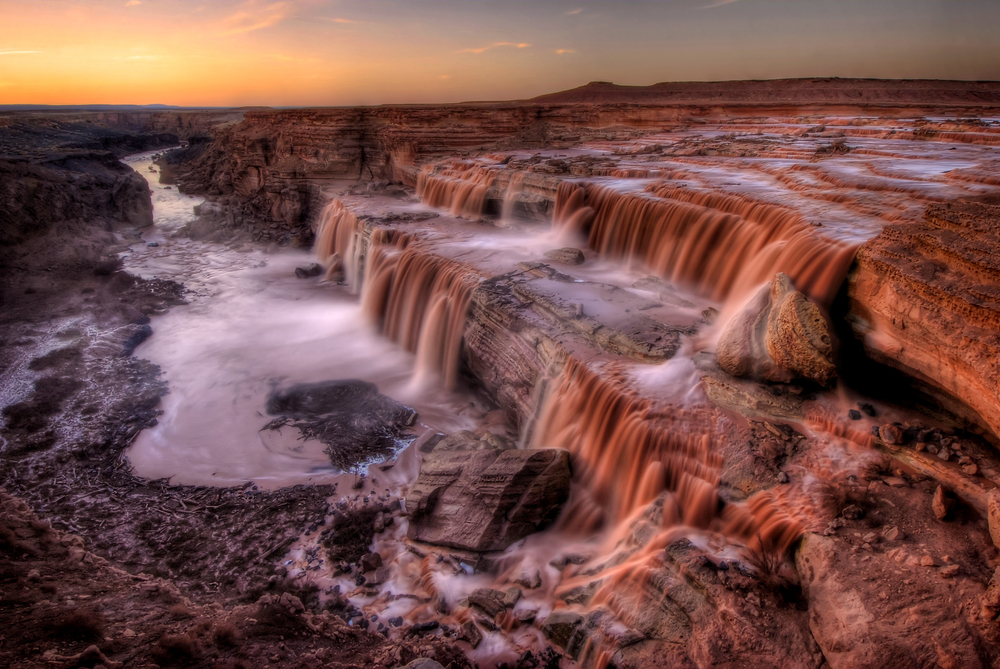 Cane Beds
Cane Beds is located in Mohave County, Arizona. The tiny town might not have much to offer, but it's the perfect springboard for checking out surrounding nature. It's a favorite among people who want to explore the nearby Zion National Park in Utah, just across the border. Visit Water Canyon Trailhead or book a Red Desert Adventure like rock climbing.
You'll find plenty of accommodation options that will allow you to get up close and personal with nature here. Try a night in one of Cane Beds' glamping tents or book a camper to hit the road. More traditional campgrounds with picnic tables also allow you to dine and sleep under the night sky — perfect for stargazing!
Tucson
Tucson is the perfect hub for visiting the Arizona-Sonora Desert Museum, zoo, and botanical garden, giving you the chance to learn all about the animals and plants that survive in harsh desert conditions. From here, you can also take a drive along Mount Lemmon's scenic byway, visit Saguaro National Park, and go hiking in Tucson Mountain Park. When you're done exploring, head to your comfortable accommodation to rest and recharge.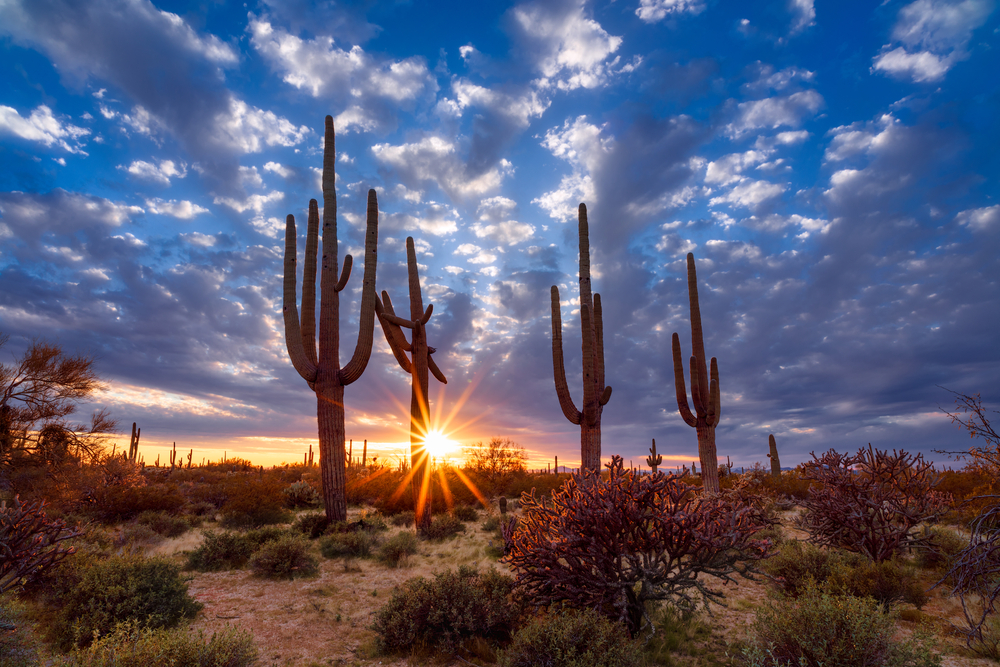 Camp Verde
If you're an animal lover, you can't miss the Out of Africa Wildlife Park in Camp Verde. From zebras to tigers and giraffes, you'll find all kinds of exotic critters. Other attractions include Fort Verde State Historic Park and Montezuma Castle National Park. Red Rock State Park is also an easy drive away — roughly 30 miles.
Camp Verde is also ideally suited for a diversity of day trips. Phoenix and Scottsdale are each a 90-minute drive, for instance, while Sedona is just a 40-minute trip by car. Sedona gives you easy access to many outdoor highlights, including Horseshoe Bend and Antelope Canyon. You can enjoy various outdoor adventures, from ATVing to horseback riding.
Thanks to its perfect location as a hub for adventure, Camp Verde offers plenty of camping options. Prefer fresh linens, private bathrooms, and running water? There are more luxurious places to stay too, from tiny homes to see-through domed tents. Some rentals offer perks like fire pits and free Wi-Fi.
Under Canvas Grand Canyon
Although Arizona offers plenty of natural beauty, it's hard to beat the Grand Canyon. The massive gorge is worth exploring for more than a single day, so it makes sense to book accommodations in the area so you can explore without feeling rushed. There are also various activities you can try, from hiking to taking a helicopter ride over the canyon.
If you want to thoroughly explore this attraction, glamping is a great option. You'll find luxury tents, cabins, yurts, and more — some with extras like a wood-burning stove or fireplace. Under Canvas is one popular upscale camping site!
Your Next Arizona Getaway Awaits on VacationRenter
Ready to plan your Arizona glamping experience? Head to VacationRenter to check out your accommodation options. You'll find everything from basic canvas tents to glamorous yurts with queen-size beds and luxury houses with private pools, providing a diversity of options to suit any traveler's tastes. Take the first step toward booking your next great getaway.
Mentioned In This Article