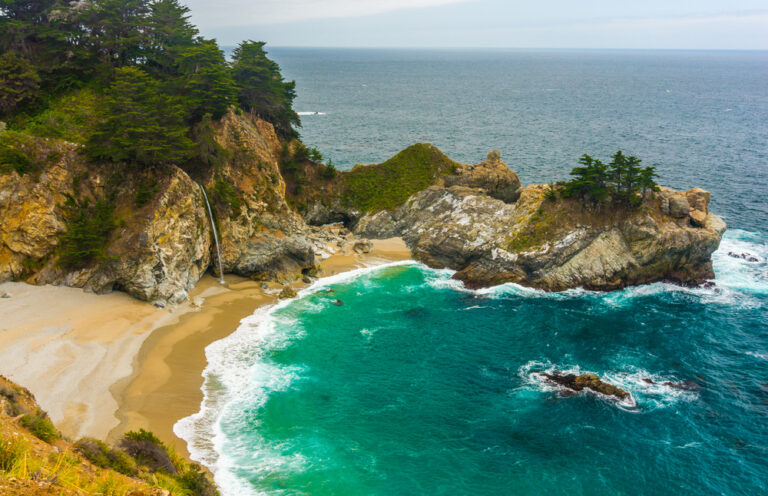 Glamping is a fantastic way to combine the beauty of nature with the luxury we all crave when going on vacation. With the right location, you can wake up to a beautiful view and exciting excursions — all while still enjoying a comfortable bed, good food, refreshing beverages, and everything else that makes up the perfect vacation.
Key Points
Learn why glamping should be your next vacation plan
Find out what Big Sur has to offer and why it's a popular vacation site
Make sure you know where to find some of the best glamping sites in Big Sur
If you're planning a road trip to Big Sur, California, glamping is a great option. Keep reading to see what glamping in Big Sur involves and some of the top places to go.
Why Big Sur Is So Famous for Glamping
Big Sur officially stretches for 70 miles in California, located along the Pacific Ocean and the Santa Lucia Mountains. The weather is incredible, but Mother Nature has a lot more to offer besides blue skies. You can visit everything from redwood forests to the Big Sur coast. There are even state parks with hiking trails through wooded areas, creeks, and along the beach — such as Pfeiffer Big Sur State Park.
Visitors also love going to Julia Pfeiffer Burns State Park, where you can find McWay Falls, an 80-foot fresh water waterfall. Bixby Bridge, known as an engineering marvel, is also a popular spot to visit. You also won't want to miss Carmel-by-the-Sea, a coastal city that looks like you've entered a storybook.
Before you book your trip, though, take some time to find out what the weather and conditions are. For example, during California's fire season, you'll want to keep an eye out for any closures at the locations you plan to explore.
Is Glamping in Big Sur Expensive?
If you're interested in going glamping in Big Sur, you should know that, like just about any popular destination, there are many accommodation options. Each one will include different campsites, activities, and amenities — like fire pits or picnic tables. They'll also come with various price packages to fit different budgets. It's best to do your research and, if possible, be flexible on when you can go.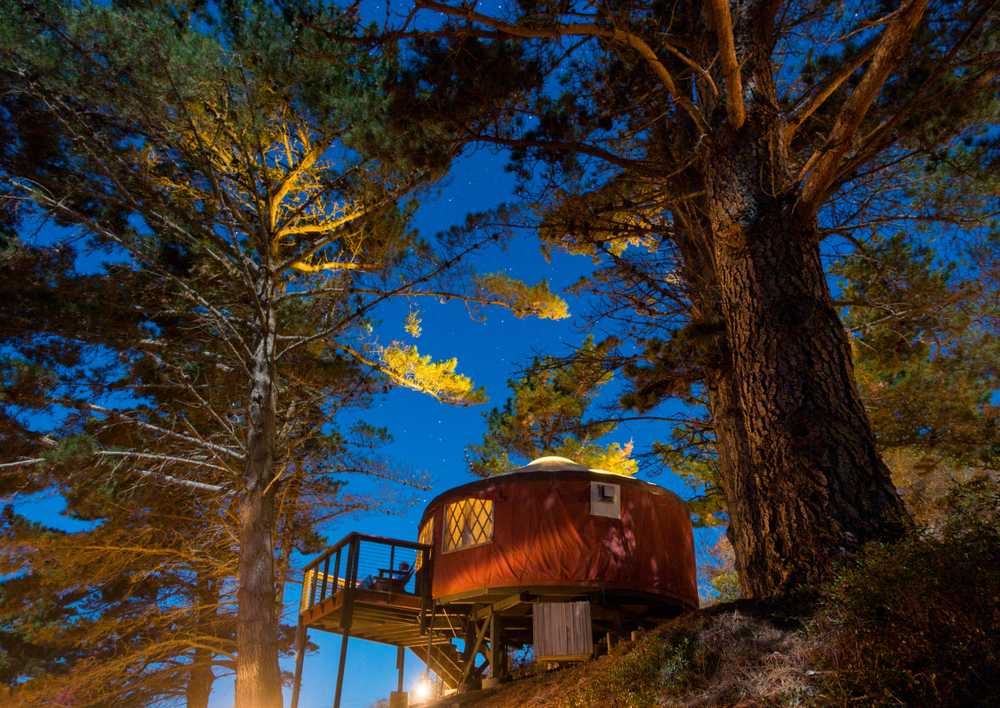 The Best Places to Go Glamping in Big Sur
With everything Big Sur has to offer, it's no wonder it's on so many people's bucket lists. However, when looking to book your glamping destination, there are a couple of important things to keep in mind.
Make sure you know what kind of check-in and check-out requirements the location has. Ask, too, what restroom or bathhouse options are available if you will have Wi-Fi access and if you will be staying in a yurt, luxury tent, or some other option. Most glamping locations will include linens, but if you're looking for other amenities like a hot tub or spa services, it might take a little research.
Before you start planning your next getaway, here are some of the top locations to visit and activities perfect for glamping.
Carmel-by-the-Sea
In Carmel-by-the-Sea, ocean views and the natural beauty of the area combine with the European-style town sitting above a pristine beach, making you feel like you've entered another world. It's a popular town for visitors, rating consistently as one of the top U.S. destinations.
You won't have any problem finding adventures and places to explore. In town, you can find art galleries, shopping, and restaurants. You may also tour the home of a famous artist or writer, like poet Robinson Jeffers whose Tor House is open on the weekends. For the outdoor adventurer, it's a great place for hiking, biking, or booking a surf lesson. You can also make your way to Point Lobos State Natural Reserve, where you'll find opportunities to see harbor seals and sea otters, kayak, and even scuba dive.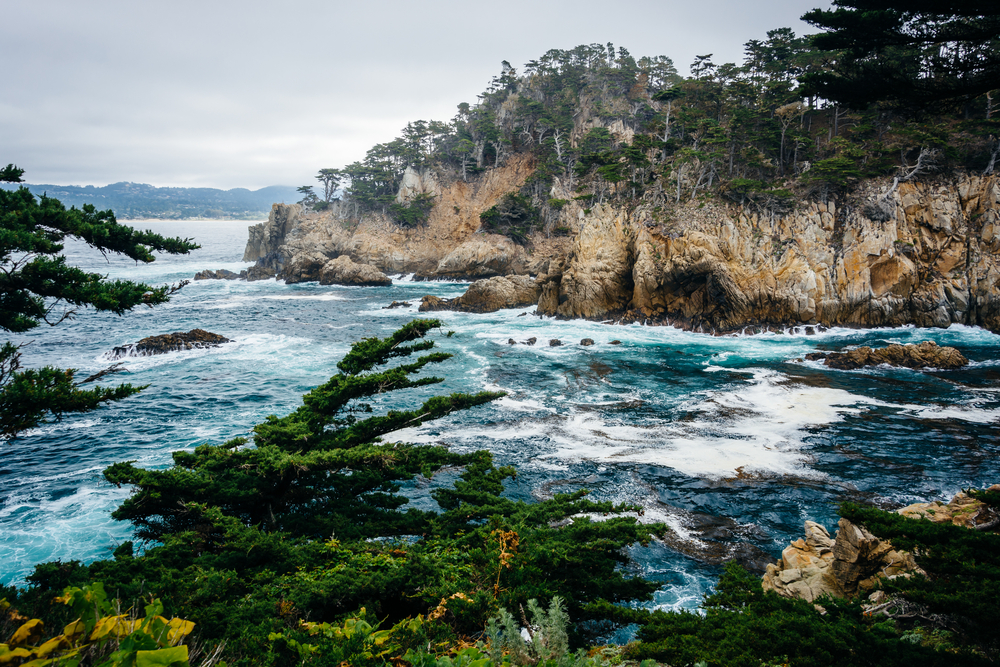 Check out our current listings on VacationRenter for your glamping experience in Carmel-by-the-Sea.
Pfeiffer Big Sur State Park and Pfeiffer Beach
Just 26 miles from Carmel, one of the most popular places along Big Sur is the Pfeiffer Big Sur State Park, between the Santa Lucia Mountains and the Big Sur River Gorge. When visiting, enjoy walking along the river and exploring the area around the redwoods and many other types of trees and wildlife. When you're done exploring, you can travel one mile south from the park and find the entrance for Pfeiffer Beach. At the beach, enjoy the views of Keyhole Arch, a natural rock arch that's a popular stop for photographers. The north end of the beach is where you'll find the purple sand that's formed from manganese garnet rocks from the cliffs.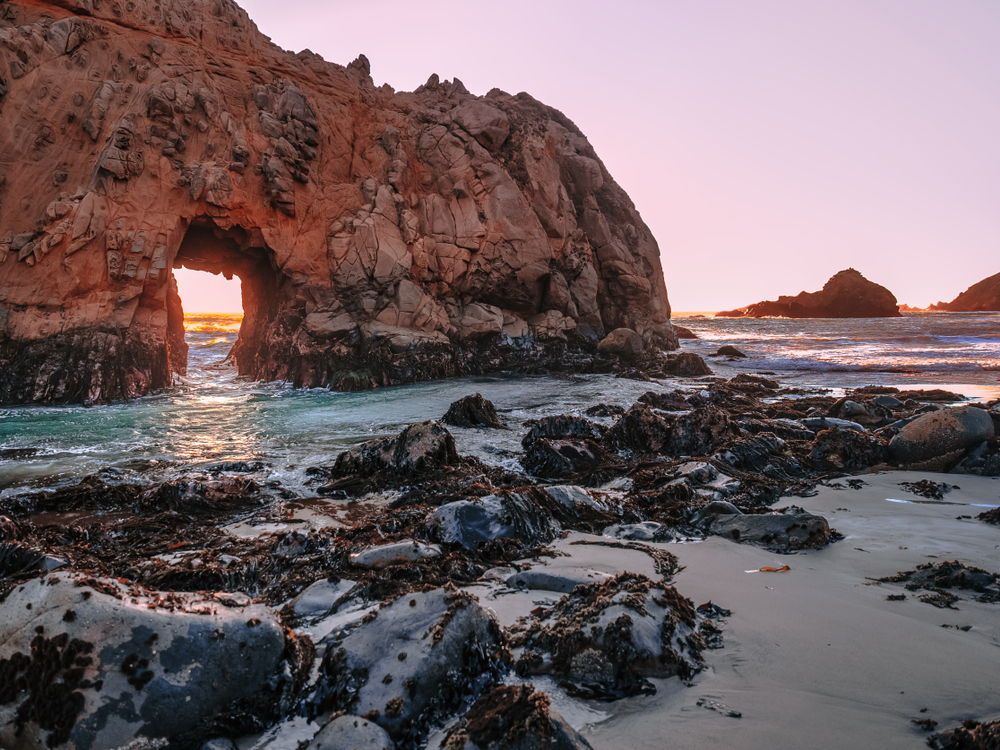 Carmel Highlands
If you want a Big Sur spot that offers peace and quiet with a little bit of everything Mother Nature has to offer, Carmel Highlands might be your ideal destination. It's located just a few minutes drive from Carmel-by-the-Sea and Monterey. Because it's located on the northern tip of the Big Sur Coast, high up above the ocean, you can enjoy views of the water or adventure into the canyons and hillsides surrounding the area. It's an excellent place to enjoy some peace while you discover the varied flora and fauna or go birdwatching. You can make your way down Highway 1 to Monastery Beach and explore trails or the Carmelite Monastery gardens.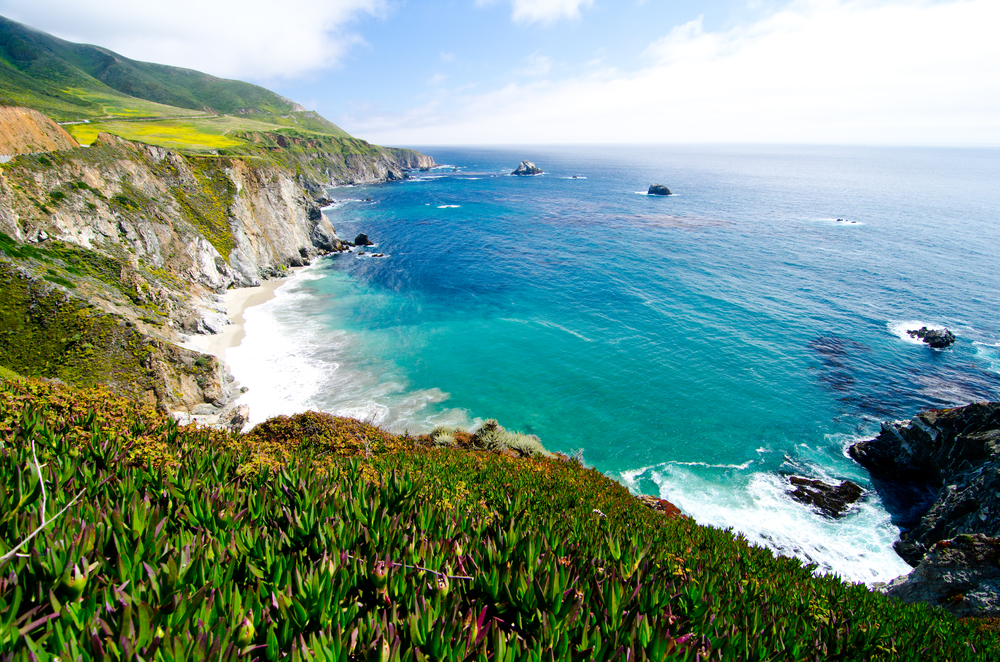 Morro Bay
Morro Bay is a fishing village that might be most commonly known for Morro Rock, a volcanic peak standing 576 feet tall at the mouth of Morro Harbor. Morro Bay is also a great place to bring the family and explore all the shops and restaurants the town has to offer. You can enjoy the outdoors with paddle boarding, kayaking, hiking, or mountain biking. Morro Bay has plenty of museums, nature walks, and guided tours for you to join and learn about the area and its wildlife habitats.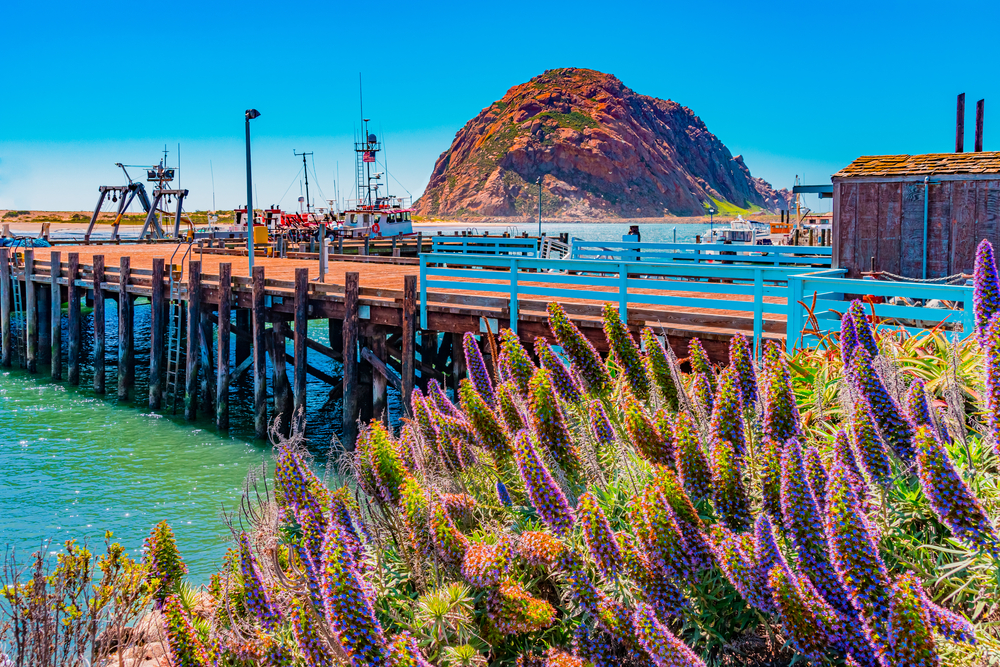 Monterey Wine Country
Technically, this encompasses several areas, including a few we've already discussed, but it's worth mentioning if your perfect glamping adventure includes a day or two exploring vineyards and sipping wine while in the beautiful scenery. Spend the day visiting one of the 15 tasting rooms in Carmel-by-the-Sea, hop the wine trolley in Carmel Valley, or take a brief drive to Salinas Valley to discover the wineries hidden in the hills. You can end your tour with one of your recently purchased bottles and the sunset at Carmel Beach.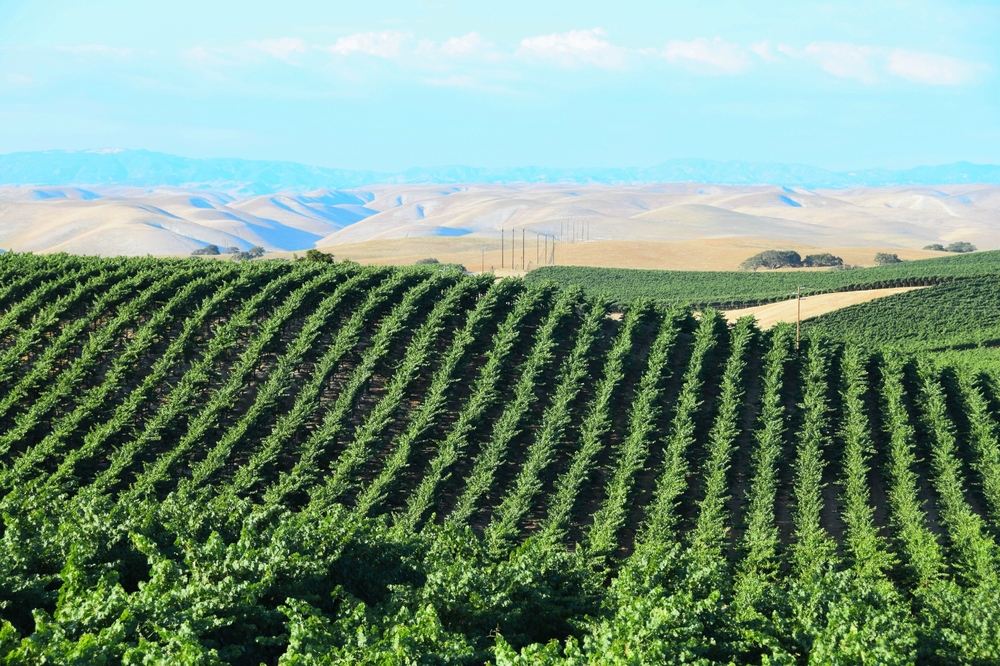 Discover the Best Big Sur Accommodations With VacationRenter
Big Sur offers incredible views, all sorts of adventures, and a lot of places to stay that a luxury vacation should offer. If you're planning a vacation to Big Sur, or some other place is calling you, VacationRenter is ready to help you find the perfect vacation rental. You'll find listings that include everything from luxury resorts to glamping tents or even campers. Find your next amazing vacation rental with us!
Mentioned In This Article