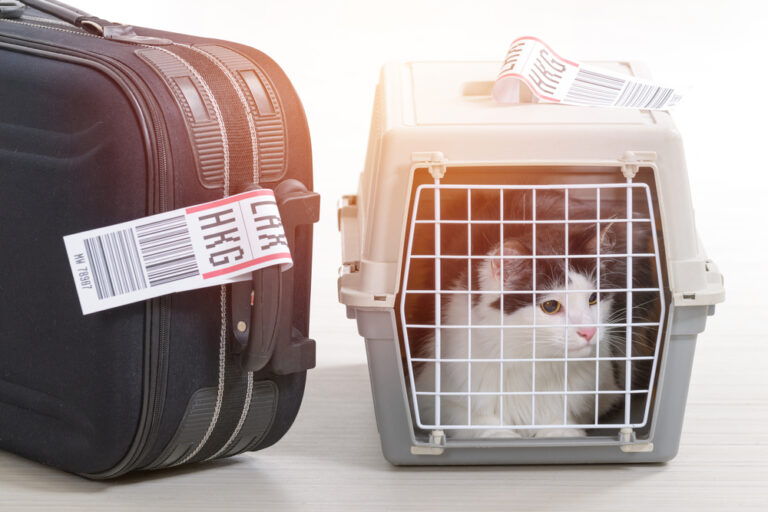 As a loving pet owner, leaving your furry family member behind when you go on vacation can be heartbreaking. On top of the emotional aspect, there are also practical inconveniences, like finding and paying for a pet sitter or boarding service. Many pet owners would prefer to skip the stress and bring their animal with them.
When you travel with your pet, you can enjoy your vacation without worrying about how they're doing without you. This also gives your pet a chance to discover new surroundings — and may even push you to get more adventurous on your journey. If you travel with a dog, for example, you may end up exploring a picturesque park with your pooch that you would have otherwise ignored. Finally, a trip with your pet will offer many opportunities for adorable photos.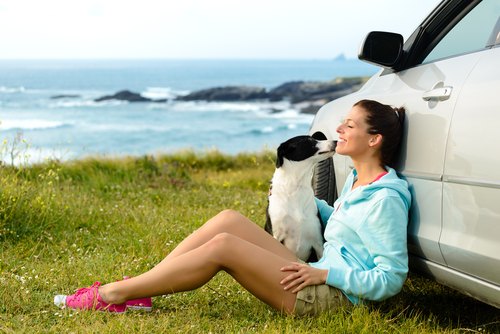 Luckily, pet-friendly travel is becoming more widely accepted. Americans are eager to travel with their four-legged and feathered friends, and pet travel has become an enormous industry. You can't just pack up your pet and go, however. Traveling with an animal requires additional planning and consideration. Not all accommodations allow pets, for example. And those that are "pet-friendly" often have complicated pet policies, with additional costs and restrictions in the fine print. You have to do your research before booking.
With our guide to travel pet policies, we clear away the confusion. Below, we discuss common travel industry pet policies and explain how you can ensure your desired accommodation will welcome your pup, cat, or other pet with no issues.
The Importance of Understanding Accommodation Pet Policies
First, let's start with the good news: it's easier to find pet-friendly accommodations than ever before. The tourism industry recognizes the demand from pet owners who want to bring their animals along, plus airlines and lodgings have all started moving toward more pet-friendly policies. Pets don't have to be service animals to secure a place to stay.
You've probably already seen accommodations advertised as pet-friendly or declaring "pets welcome" when planning trips in the past. So, it seems like it would be easy to find a place where you can stay with your kitty or pooch, right? Beware: accommodation pet policies are not that straightforward. It's important to read the fine print on rules and nightly fees to avoid frustration.
A Breakdown of Travel Pet Policies
There's no universal standard for accommodation pet policies. The words "dog-friendly" or "cat-friendly" may mean different things for different places. You should always examine an accommodation's rules in detail. Further, it's advisable to call the lodging before booking to clarify any points of confusion. This ensures that expectations are met on both sides.
That said, most comprehensive pet policies cover a few essential elements. Look out for these key points as you browse accommodation options:
Types of Pets Permitted
Most pet policies focus primarily on dogs. However, people travel with all kinds of pets, from cats to turtles, rabbits, and more. If the pet policy doesn't mention your animal specifically, it's always best to call and confirm what's possible. For example, some places may allow cats only if you agree to keep them in their carrier for the duration of your stay.
Animal Health, Cleanliness, and Behavior
To protect their property, hotel staff, and other guests, most accommodations have set requirements for pets. Animals that are aggressive, dirty, or have fleas will not be allowed on the premises, for example. Some properties may request proof of current vaccinations, such as rabies. Note that rabies vaccine requirements vary between states, so if you're traveling beyond state lines, you may need proof of vaccination from your veterinarian.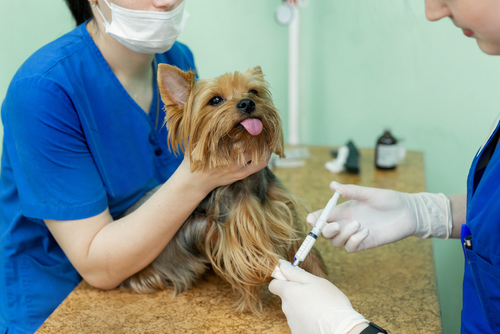 Breed Restrictions
Pet policies may also limit certain breeds of animals — particularly dogs. Canines that are deemed potentially dangerous, such as pit bulls, may not be welcome, for instance. In some cases, the lodging won't specify a breed restriction but will instead set a maximum weight allowance for pets, effectively banning large-breed dogs.
Number of Pets Allowed
If you have multiple fur babies, you'd probably love to bring each one on your trip. But it's important to consider that even pet-friendly hotel chains will restrict how many four-legged guests are permitted in a room. For example, some places set the limit at two and require that there aren't more animals than people in the hotel room — following the logic that it will take two people to effectively manage two dogs.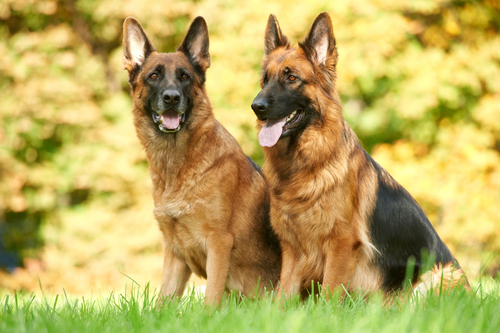 Pet Fees
You may have trouble finding an accommodation that doesn't charge extra for pets, although rates can vary widely. Some places may charge a one-time, nonrefundable fee, intended to be an added cleaning fee when you and your pet are gone.
Other places may charge a nightly fee, again using the rationale that extra housekeeping will be needed to pick up after a pet. Clearly, these additional fees can add up, so it's critical to figure out how much extra budget you'll need to bring your pet pal in advance.
Leash and Kennel Guidelines
Expect strict requirements regarding the leashing of animals. The accommodation may require dogs to be kept on a leash whenever they leave the guest room, for example. Some places also request that the animal be kept in a kennel inside the room. That said, some lodgings also offer leash-free zones outdoors where your pup can run free.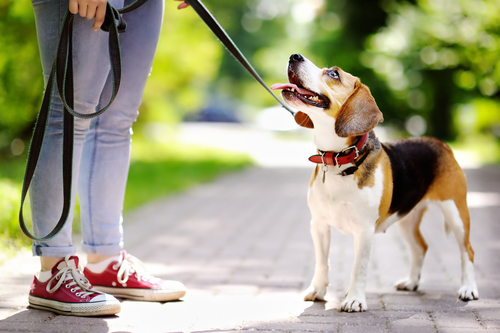 Solo Pet Policies
Some accommodations may specify that you can't leave the animal alone in the room. For example, dogs may get anxious when they're alone and whine and bark, which disturbs other guests. Meanwhile, curious cats can get into all kinds of trouble when left to their own devices. Note that some pet-friendly properties offer concierge sitters to stay with your animal if you want to do some tourist activities that don't allow animal participation.
Furniture Precautions
Even the most pet-friendly hotel may not want your dog or cat romping on the $500 sofa. Animals may not be permitted on couches, beds, or other furniture. Some accommodations will provide sheets that you can use to cover the bed and furniture. If you're worried that you can't keep animals off the couch, bring your own sheets to be sure.
Bathroom Requirements
Most accommodations will designate an area for your pet's bathroom needs. It's up to you to ensure your pet uses this specified area and clean up after the animal and dispose of waste in designated receptacles. This is for both your pet's convenience and for the comfort of others on the property.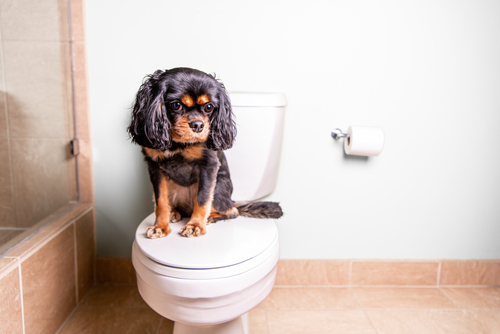 Room Location
Be aware that bringing a pet on vacation may impact your room location. The accommodation may designate a separate area for pet-friendly rooms in the interest of not bothering other guests with noises or smells. There are also health concerns since some guests may be allergic to animal dander. Similarly, pet-friendly vacation rentals may designate certain rooms or exterior areas as no-pet zones.
Luxury Goodies
Some places don't just tolerate pets — they welcome them with open arms. Luxury pet travel is becoming a major industry, with properties offering everything from pet room service menus to spa services. Some places will also provide treats, food bowls, water bowls, litter boxes, and pet beds. Top-end luxury lodgings may even have an in-house pet relations professional.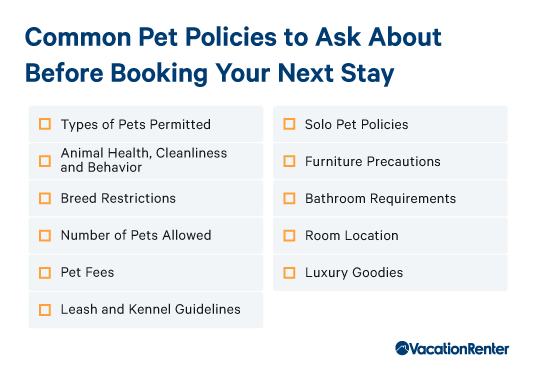 How to Find and Book Pet-Friendly Properties
Now that you have a better understanding of pet policies, you may wonder how to find a suitable accommodation for you and your animal. Given the extensive list above, it's clear that you can't just book a pet-friendly place without further consideration. Here's how to make sure you and your animal companion will be welcomed on arrival.
Follow these steps to get started:
Stick to accommodations advertised as pet-friendly. Most online accommodation platforms include this as a search factor.

Read the accommodation

pet policy

in detail and write down a list of questions that you aren't sure about. Major

hotel chains

usually have

pet policies

on their websites.

Call the accommodation before you book to have your queries clarified. For example, if the

pet policy

only mentions dogs, call to ask if cats are allowed too and under what conditions.

If you've confirmed that the

pet policy

is in line with your expectations, book your stay. Usually, you can add a note or special request when booking. Note that you'll be bringing a pet, specifying the animal, breed, and size.

Before you depart, give the accommodation a call to confirm that they're aware you are arriving with an animal. This is also a chance to line up any additional requests, like a food and water dish for your cat or a bed for your dog.

When packing for your pet, bring the essential supplies (such as  a carrier, food, and treats) and relevant paperwork, such as a vaccine record from your veterinarian.

When you

check in

to the hotel's

front desk

or vacation rental, clarify final details, like where your pet is and isn't allowed on the property.
Why You Should Call Before Booking a Pet-Friendly Location
As mentioned, it's a good idea to call the property before booking to clarify any concerns or questions you have about the pet policy. Refer to the accommodation's pet policies as a guideline. What do you need clarified? 
For example, if the policy says small dogs are allowed, request greater detail. Is there a weight limit they can provide you with? The more clarity you get in advance, the better. The last thing you want is to show up with your pup in tow only to discover that the accommodation won't house him.
Pet-Friendly Lodging Etiquette
Traveling with your pet is a privilege. Even at a pet-friendly place, there are certain etiquette rules to keep in mind. Here are some basic rules to follow:
Adhere to the guidelines laid out in the

pet policy

. If you don't, you may be asked to leave (and won't necessarily receive a refund).

Ensure your pet is clean and healthy before arrival. A pre-vacation trip to the groomer will remove extra hair and prevent shedding.

Be conscientious of other guests. Follow the given leash and kennel laws and try to avoid extraneous noise, like barking and whining.
Some basic etiquette will ensure everybody's comfort and safety.
A Final Caveat
Pet policies are in everybody's interests. They're designed to keep your pet safe and comfortable. However, they're also intended to keep other guests safe and comfortable. If you don't abide by a lodging's pet policies, you may be asked to leave — and you won't necessarily be guaranteed a refund. If you signed a written pet policy, you likely waived your right to get money back if you breach any of the points in that policy.
A constantly barking or aggressive dog may be grounds for the property asking you to leave, for example. Even the most pet-friendly accommodation won't risk the well-being of other guests. While vacation rentals don't have to take other guests into account, there are likely still neighbors who may complain to the property owner or manager about noise or an owner not picking up after their dog.
Find Pet-Friendly Accommodations
VacationRenter wants to help you travel with your pet. Our handy database lets you find pet-friendly accommodations. Just input your desired location, click "more filters," and tick the "pets allowed" box. We compile accommodation offers from all the top sites in a single place for easy comparison. Search for pet-friendly accommodations now.
Mentioned in This Article