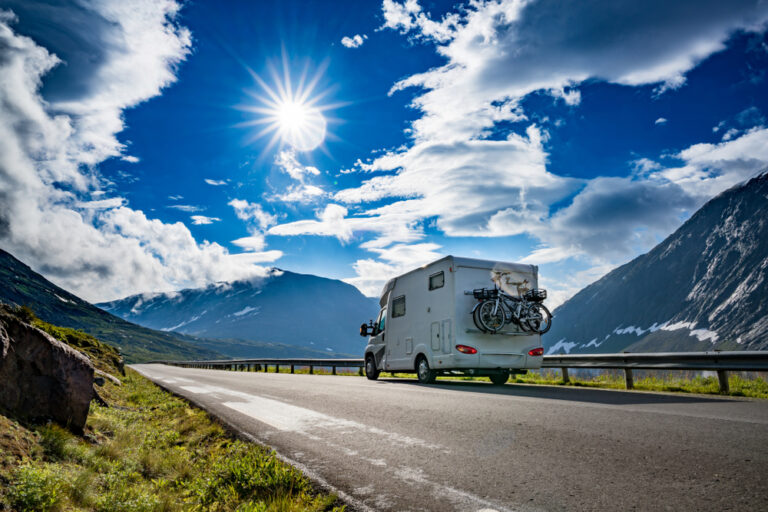 RV travel is all about feeling the thrill of the open road in a vehicle with the space to accommodate the many comforts of home. The RV life enables you to explore where you want, when you want, and at a pace that allows you to fully immerse yourself in the many beautiful attractions of North America, like the Grand Canyon National Park in Arizona.
With this RV travel guide, you can learn more about this fascinating form of travel and join the almost 25 million Americans who hit the road in RVs, many enjoying the outdoor living experience offered by the nation's 18,000-plus camping spots and RV parks. Continue reading to see how you can incorporate RV travel into your next trip.
What Is a Recreational Vehicle?
In the words of Outdoorsy, an RV is "just a broad term used to describe a motorhome or trailer that has living quarters and is designed to provide accommodation." These part-vehicles, part-homes fall into three broad categories: motorhomes, trailers, and truck campers. Some RVs can be driven on their own, while others require you to have a vehicle for towing them.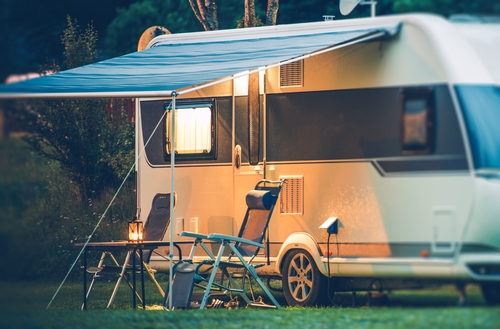 The History of RVing
The history of the recreational vehicle is entwined with that of the automobile, dating back more than 100 years and even further — apparently, the covered wagons used by Roma in Europe in the 19th century may have inspired the first RV campers in the United States and Canada.
The first RV was built as a single unit in 1904 — "single unit" implying it was not a trailer. It had an icebox, a radio, bunks to sleep four adults, and incandescent lighting to brighten the vehicle interior. Popup campers came soon after, and by 1910, motorized campers started being mass manufactured for consumers interested in hitting the road in vehicles that were roomy but only had minimal comforts. Still, they provided the necessities: a place to sleep and make meals on the road.
Over the next few decades, features continued to be added to RVs, including backseats that could fold down into beds, solid walls, cupboards, built-in furniture, storage spaces, plumbing, refrigeration, air conditioning, and more. By the 1950s, soldiers returning from the war looking for cheap ways to travel boosted interest in RVs. Some of the biggest RV manufacturers then are still around, including Ford, Winnebago, and Airstream.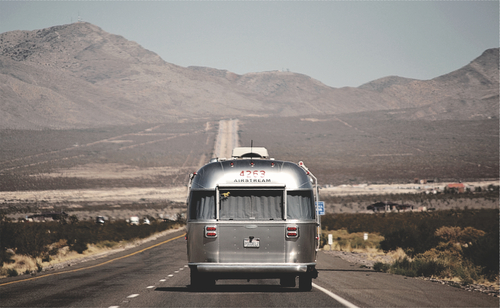 They also started to build models catering to the luxury market. In 1952, a 65-foot-long executive RV was launched with fanfare, selling for $75,000. It was held up by 10 wheels and featured amenities like wall-to-wall carpeting, two separate bathrooms, a 21-inch TV, and a portable pool with a diving board.
In the 1960s, free spirits began to convert buses and vans into motorhomes, and by the 1970s, the RV was such a part of the culture in the USA that Barbie came out with her first traveling motorhome.
The Benefits of Taking an RV Road Trip
One of the great attractions of taking an RV adventure, especially for a budget-conscious family, is cost. According to a CBRE Hotels Advisory Group study, a four-person travel group can save 21% to 64% in costs over other kinds of travel by option for an RV. 
According to unit type, a family of four RV travelers can save:
Folding camping trailer:

50% to 64% in total travel costs

Lightweight travel trailer:

31% to 50% in total travel costs

Compact motorhome:

31% to 50% in total travel costs

Type C motorhome:

21% to 43% in total travel costs

Type A motorhome:

41% in total travel costs
Research by Southern Living also shows that Americans prefer road trips to flying. They like the freedom of going wherever the spirit moves them, changing schedules and destinations on a whim, and spending all the time they need taking in an attraction.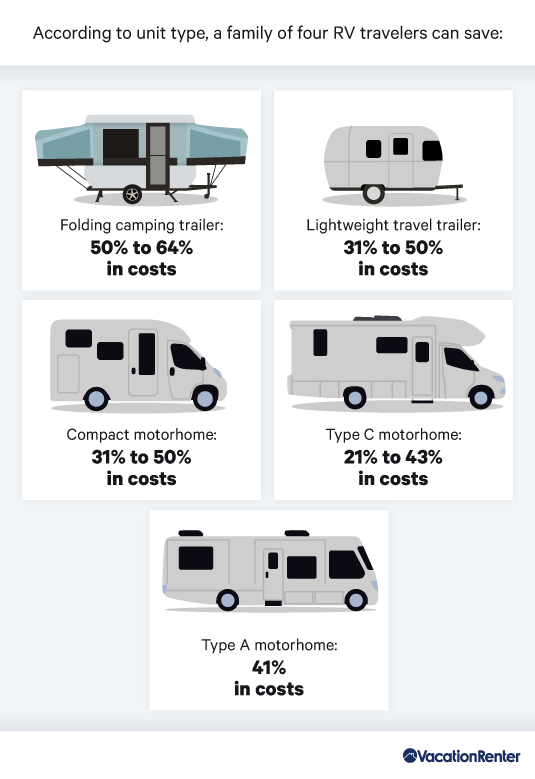 Different Types of RVs
RVs generally fall into one of three categories: motorhomes, trailers, and truck campers. Motorhomes are all-in-one units — part-home, part-vehicle — that are drivable, so they don't need to be hauled by another car or truck. Trailers need to be towed by another vehicle. Truck campers are RVs with a small cabin fitted on top of a pickup truck bed, equipped with a kitchenette, dinette, and sleeping area.
Motorhomes or "drivables" include the following classes of RVs:
Class A motorhomes:

These are the largest and most luxurious

motorhomes

, often built on a bus chassis, up to 45 feet in length, with room to sleep as many as 10 people. Passengers can move about the RV, even when it is in motion, taking advantage of its many amenities. Some even have fireplaces!. 

Class B motorhomes:

This is the smallest of the three classes of

motorhomes

— usually constructed on a van chassis, so they are also called

camper vans

. While many Class B

motorhomes

come onto the market complete, it's still possible to retrofit a van to become one. Among other things, this might involve raising the roof height, adding new hardware, and even lengthening the vehicle.

Class C motorhomes:

Bigger

than

camper vans

and easier to drive than

Class A

motorhomes

, these RVs are usually built on a truck chassis and range from 20 to 34 feet in length. Class C

motorhomes

have overhanging sections that extend beyond the roof of the front cab, where overhead bunks are typically found. With the extra space, these RVs can have bigger amenities, such as full-size appliances.
Types of Trailers
Trailers are the other main category of RVs. Although they are towed, they can be as large as drivables in some cases. One advantage of traveling this way is that you have the option of leaving the RV trailer at a campsite and driving around the smaller vehicle, saving money on gas and the extra care needed to negotiate roads with a large RV. 
The types of RV trailers include:
Fifth-wheel trailers:

Pickup trucks with a fifth-wheel hitch are designed to haul these trailers. Fifth-wheel trailers are usually larger trailers with spacious floor plans and have the kind of elbow room and amenities associated with

Class A

motorhomes

.

Travel trailers:

These are usually lighter and smaller

travel trailers

towed by a truck or larger SUV. Airstreams are one of the most common

travel trailers

seen on the road.

Popup or folding trailers:

These tent trailers can fold and unfold for easy hauling, setup, and take down. They are usually light, have canvas walls, and can be towed by smaller vehicles.

Sport utility or toy haulers:

If your RV is intended to take you to sporting adventures, this towable RV is the ticket, with dedicated space to haul mountain bikes, motorcycles, ATVs, paddleboards, kayaks, canoes, golf carts, and other recreational toys. 

Utility trailers:

These are other towable trailers that don't fall into the other trailer classifications. Usually, they are designed for hauling gear and don't have living space.
Should You Rent or Buy an RV?
You may wonder if you should rent or buy an RV. Yes, it may make sense to purchase a vehicle if you will use it all the time, fully embracing the RV lifestyle. However, if you are only going to use it for a couple of getaways a year, renting is a good idea. You don't need to worry about the costs of depreciation, maintenance, and, in some cases, storage. You also have the option of renting different types of RVs to see which one best suits your lifestyle and budget.
How to Drive an RV
For some people, it can be an intimidating prospect to learn to drive a large RV. The good news is that practice makes perfect, and you don't need any kind of special license to get behind the wheel of one of these big boys.
There are many online resources to give you advice on how to safely drive your vehicle, including ones on how to drive a Class A vehicle, safely tow an RV trailer, avoid the most common RV accidents, and drive an RV in winter weather.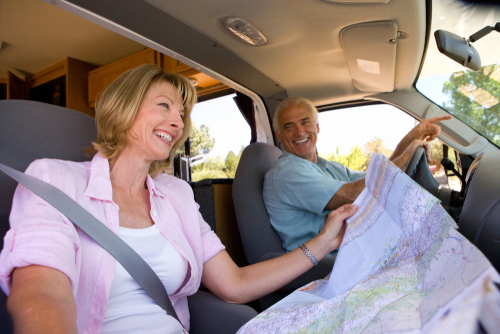 How to Pack an RV
RVs have a lot of space for your stuff, but it's easy to overpack and begin to feel cramped or get on the road and realize you've forgotten something essential to your trips, such as cooking utensils or flashlights. 
To plan for your trip, it's a good idea to divide the things you need into three buckets: general needs, bed and bathroom, and kitchen.
General needs:

camping supplies, clothes (don't go overboard), and personal needs, including sunscreen and insect repellent; smartphones, tablets, and chargers; flashlights; camping chairs; and fishing gear, hiking boots, and other outdoor recreational gear

RV kitchen:

food (not in bulk because you'll also buy stuff on the road), dishes, pots and pans, knives and utensils, dishwashing supplies, and storage containers, and trash bags

Bed and bathroom:

toiletries, bedding, pillows, toothbrushes, toilet paper and tissues, and laundry detergent
While you might want to bring things that will allow you to set up a campfire and cook — such as a fire starter, a poker or tongs, and other accessories — it's generally not a good idea to bring your own firewood. It's bulky, and many campsites don't allow wood to be brought in because of the fear of invasive species, such as the KOA.
Find the Right Campsite for Your RV Trip
It can be difficult to use RVs in cities because of crowded roads, chaotic driving conditions, and the challenge of finding parking, dump stations, and hookups. Often, RVs are used in free and open spaces away from urban centers, so a big part of RV travel involves finding campsites to park vehicles for stays.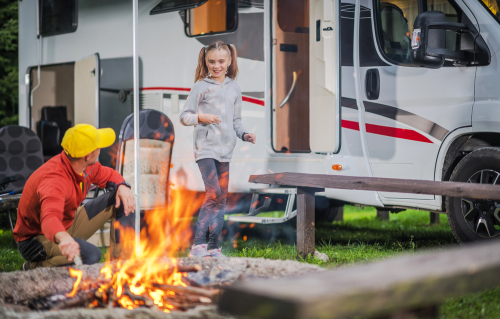 Some thought has to be given to this choice. Will the RV campsite be able to accommodate a vehicle of your size? Do you want all the convenient hookups, such as running water and electricity, or are you looking to "go boondocking" — that is, to rough it without the hookups and amenities, perhaps using your generator or solar panels for power.
You can choose from different types of RV campgrounds, ranging from public sites on state park land to RV resorts, which often offer many extras. Public campgrounds are free to park on or require a small fee, usually much less than private ones. Public campgrounds may not have as many amenities as private ones, including hookups, sewers, and electricity. For their price, private campgrounds might provide attractions that include swimming pools, Wi-Fi, entertainment options, and more.
Join an RV Club
RVing is not just a mode of travel. It can be a lifestyle — an opportunity to make connections and form new friendships. As a new RVer, you can plug into a larger community with specialized and general-interest RV clubs, such as Good Sam. 
General-interest motorhome groups might offer special social events, including rallies, discounted mobile Wi-Fi plans, limited free stays at certain RV parks, mail-forwarding services, access to educational materials and newsletters, and much more.
Other types of RV clubs include:
Campground membership RV clubs

Discount camping RV clubs

RV clubs tied to specific brands (such as Winnebago International Travelers)

Specialty RV clubs (ranging from ones dedicated to families to ones catering to those with disabilities)

Special-interest or hobby RV clubs (like ones devoted to square dancers and military veterans)
Ride a Great RV on Your Next Vacation
Enjoying RV travel is all about having the right preparation so that you can experience the vacation at hand and not worry about what you have forgotten or could have done better. Part of this planning is finding the best RV rental for your needs at a reasonable price.
Through special partnerships with sites like Outdoorsy and RVshare, VacationRenter can offer members access to thousands of available RVs, from luxury motorcoaches to budget-friendly RV trailers, including pet-friendly rentals. We'll help you hit the road in an RV that is your mobile home away from home — a perfect base for travel adventures to come.
Mentioned In This Article