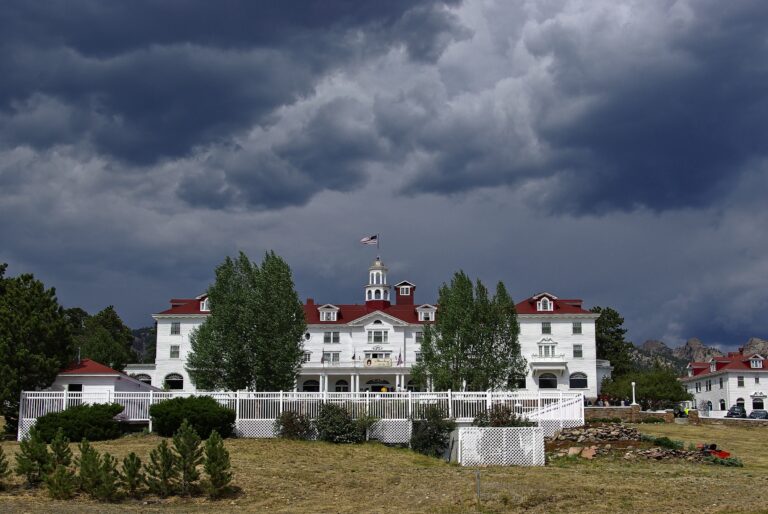 With Halloween right around the corner, many travelers are adding haunted destinations to their bucket lists. From cities rich in history to a few unexpected destinations, our team conducted research to uncover the 10 spookiest cities to visit in the country. Read on for our list of cities that are sure to spook even the bravest ghost hunters.
1. Salem, MA
Home to the deadliest witch hunt in American history, Salem holds the top spot on many lists as the nation's spookiest city. Residents claim Salem is haunted by condemned "witches" who were jailed or executed during the 1692 and 1693 Salem Witch Trials, reportedly hearing their screams echo and spirits roam on Gallows Hill.
For the full bewitching experience, visitors should schedule haunted house tours at the Salem Witch Village and learn about the notorious witch hunt at the Salem Witch Trials Memorial. Don't forget to visit The Witch House, one of the last remaining structures in Salem with direct ties to the trials, and the once home of Judge Jonathan Corwin, a man who sent many wronged souls to the gallows.
Cultural Depictions: Arthur Miller's The Crucible, Walt Disney's Hocus Pocus, and Kathleen Kent's The Heretic's Daughter
2. Sleepy Hollow, NY
Should you step foot in Sleepy Hollow, it would be wise to "watch your head." The historical village in New York's Hudson Valley provided inspiration for Washington Irving's classic tale, The Legend of Sleepy Hollow, and is now the infamous home of the legendary Headless Horseman.
Visitors looking for a Halloween scare should venture to the town's haunted, 18th century Philipsburg Manor, which is transformed into a terrifying site of vampires, zombies, witches, ghosts, and overall evil every Halloween. Travelers can also take a stroll through the Sleepy Hollow Cemetery. Just beware – you may see an apparition of the Headless Horseman himself!
Cultural Depictions: Washington Irving's short story, The Legend of Sleepy Hollow, Paramount Pictures' Sleepy Hollow, and FOX's Sleepy Hollow 
3. New Orleans, LA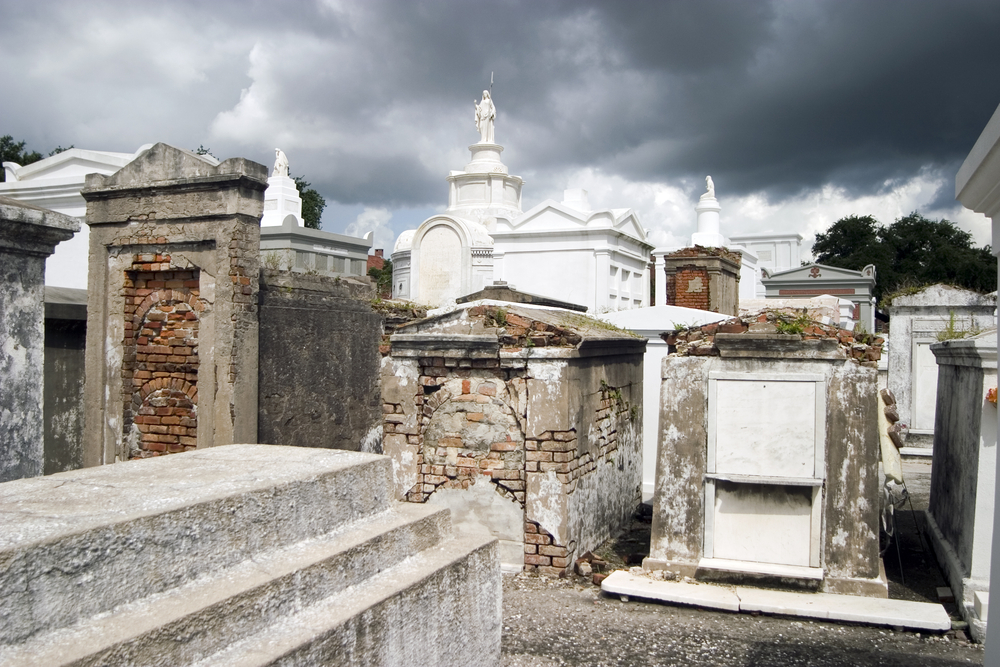 New Orleans is most famous for its spirited music, Creole cuisine, and Mardi Gras festivities, but it also has its fair share of haunted happenings. Filled with a rich history of voodoo and paranormal activity, travelers should walk by the LaLaurie Mansion, which is haunted by the tortured slaves of 19th-century socialite Delphine LaLaurie.
For the complete ghostly experience, explore the French Quarter on a guided Ghost Tour. The stout-of-heart should also travel to the world-famous St. Louis Cemetery, where over thousands of souls are buried in above-ground vaults constructed in the 18th and 19th centuries. The Voodoo Queen herself, Marie Laveau, may even make an appearance.
Cultural Depictions: FX's American Horror Story: Coven, HBO's True Blood, Anne Rice's Interview with a Vampire, Walt Disney's The Haunted Mansion, and Universal Picture's The Skeleton Key
4. Philadelphia, PA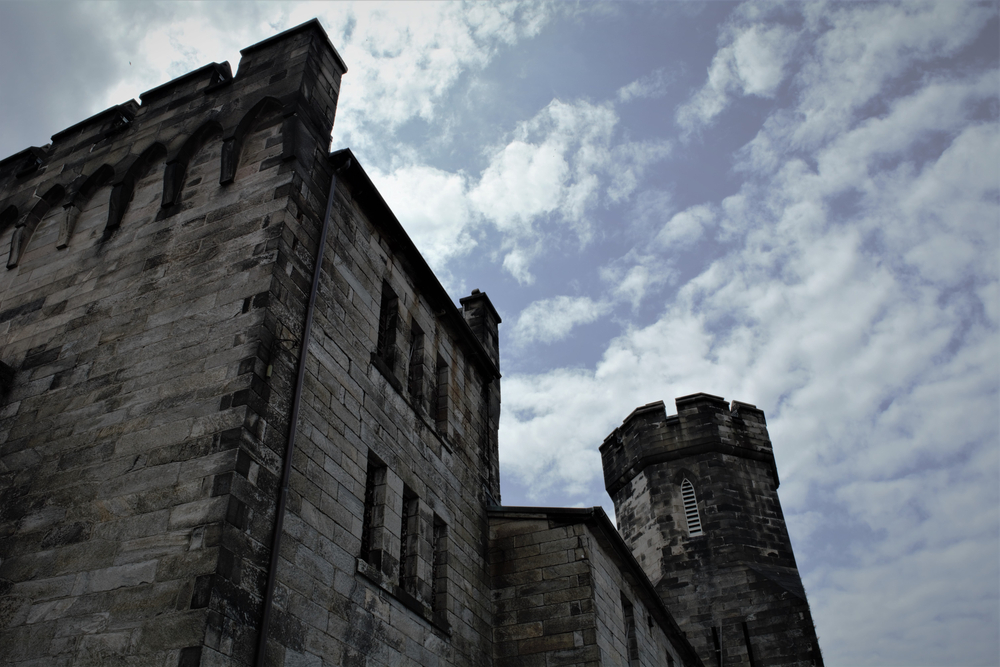 Philly is known for its great food and spooky legacy. Sign up for a haunted food tour to taste your way through ghost stories and local haunts. Travelers can also visit the Baleroy Mansion, featured in the book Haunted Houses USA, where the infamous owner Amelia, now deceased, is said to trick visitors into sitting in a death chair.
If you want a little bit of everything that haunted Philly has to offer, sign up for a Ghosts of Philly tour, which stops by the Betsy Ross house, Independence Hall, Powel House, City Tavern, Washington Square, and more. Perhaps the most well-known, spookiest place in Philly is the Eastern State Penitentiary, a haunted penitentiary built in 1829. Eastern State's confinement cells were known to drive prisoners mad, including one of the most-famous inmates, Al Capone.
Cultural Depictions: E.B. Hudspeth's The Resurrectionist, M. Night Shyamalan's The Sixth Sense, and Jon Foy's Resurrect Dead: The Mystery of the Toynbee Tiles
Points of Interest
5. Galveston, TX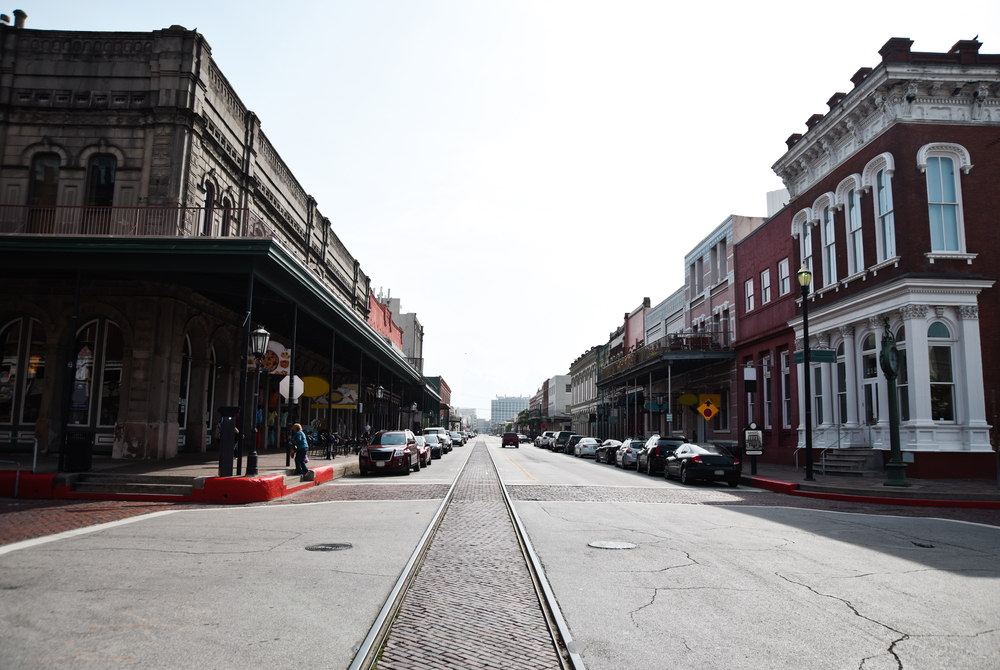 During one of America's deadliest natural disasters, the Galveston Hurricane of 1900, an estimated 6,000 to 12,000 people lost their lives. Spread across its six historic districts, Galveston has more than 60 structures on the National Register of Historic Places, including many haunted sites. Join "The Ghost Man," Dash Beardsley — an eccentric, longtime tour guide — for the original Ghost Tour of The Strand, which takes visitors through multiple locations across the heart of the island and educates them on the historical events that shaped Galveston's haunted past.
Travelers can also head to The Mayfield Manor, which served as a morgue after the 1900 storm. Dr. Mayfield, who was engaged to be married, lost his bride and parents to the storm, driving him mad.
Cultural Depictions: HBO's The Jinx and The Drowning House, Melanie Laurent's Galveston
Points of Interest
6. Gettysburg, PA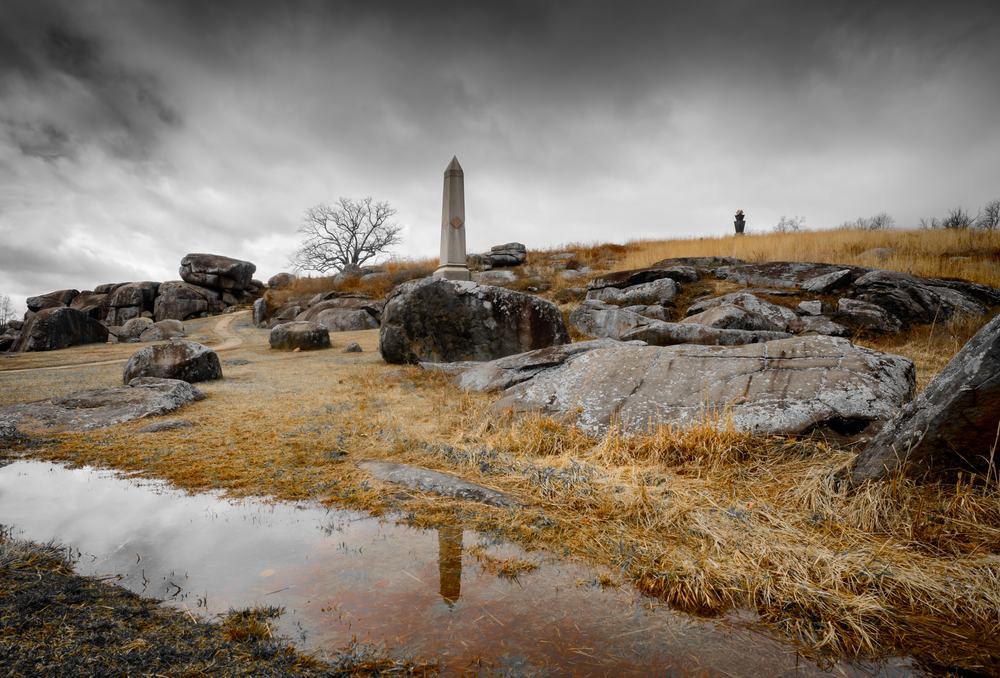 Gettysburg is infamous for being the site of the bloodiest battle of the Civil War, so it should come as no surprise that it's the setting of numerous documented hauntings and paranormal activity today. The tragic battle was responsible for 51,000 dead and injured soldiers, whose souls still haunt Sachs Covered Bridge and battlefield site Devil's Den (pictured above) more than 150 years later. During your visit, you may even see Confederate General Robert E. Lee roam the historic Gettysburg National Military Park.
Cultural Depictions: Michael Shaara's The Killer Angels, New Line Cinema's Gettysburg, and 20th Century Fox's Abraham Lincoln: Vampire Hunter
7. Estes Park, CO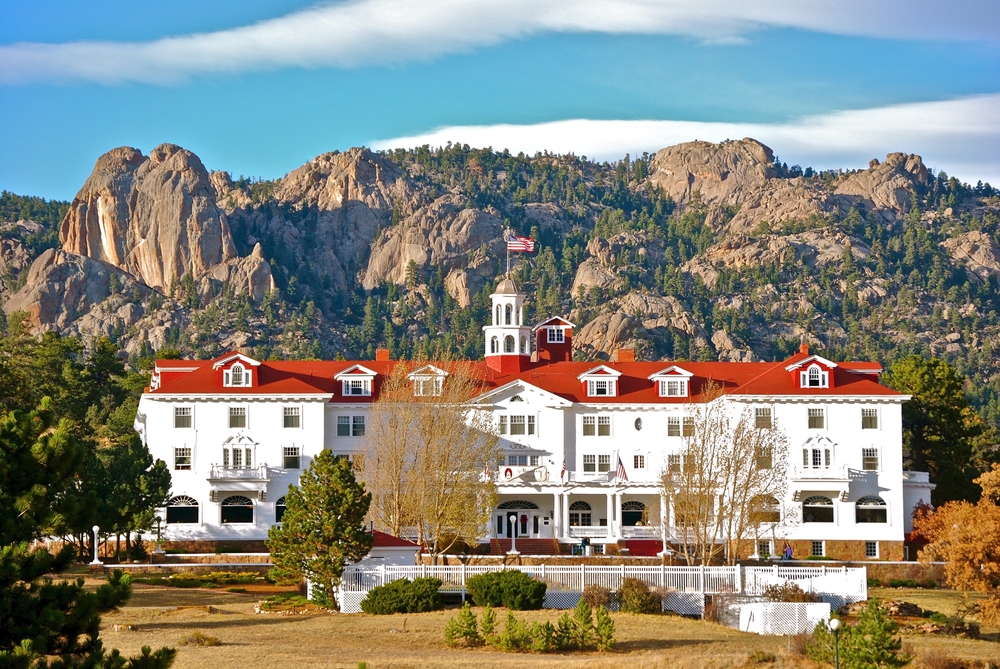 Once home to the Ute and Arapaho tribes, Estes Park wasn't familiar to most people until Freelan Oscar Stanley and his wife Flora built a beautiful, grand hotel in the mountains. That building, The Stanley Hotel, is now widely recognized as the setting of Stephen King's The Shining. King famously spent a night there in 1974 in room 217, which is infamous for its paranormal happenings.
For those too afraid to stay in this haunted hotel at night, check out the family-friendly spirit tours and more extensive tours with Stanley Paranormal Investigators. A short drive from Estes Park, travelers can also visit the nearby Molly Brown House Museum in Denver, home of the famous Titanic survivor. The house is known for strange happenings and even visits from Molly herself.
Cultural Depictions: Nicholas Sansbury Smith's Trackers and Stephen King's The Shining
Points of Interest
8. Savannah, GA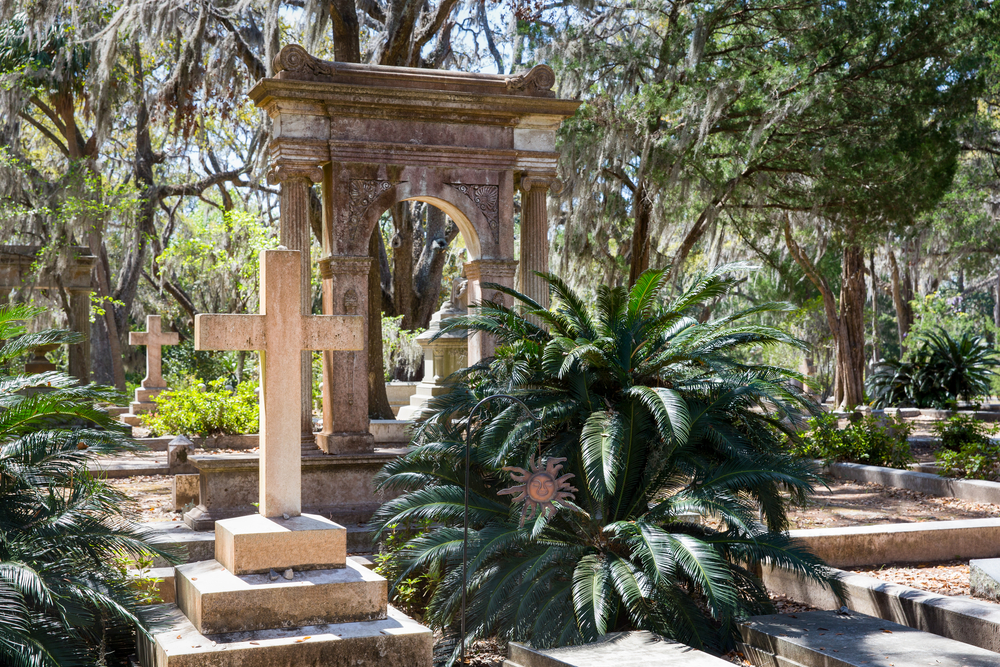 Savannah is rich with a terrifying history, from bloody Civil War battles to the 1820 Yellow Fever epidemic. Travelers looking for scares should sign up for a Ghostwalker Tour and Ghost Hunt to explore some of the most haunted places in Old Savannah.
Want to drink spirits while hunting them? Check out a haunted Savannah pub crawl, which will take you to Moon River Brewing Co. The Hamilton-Turner Inn is another historically haunted site, where travelers often hear children laughing or see a cigar-smoking man sitting on the roof.
Cultural Depictions: John Berendt's Midnight in the Garden of Good and Evil, E.L. Doctorow's The March, PBS' Southern Haunts, Travel Channel's Ghost Adventures, and Robert Redford's The Conspirator
Points of Interest
9. Chicago, IL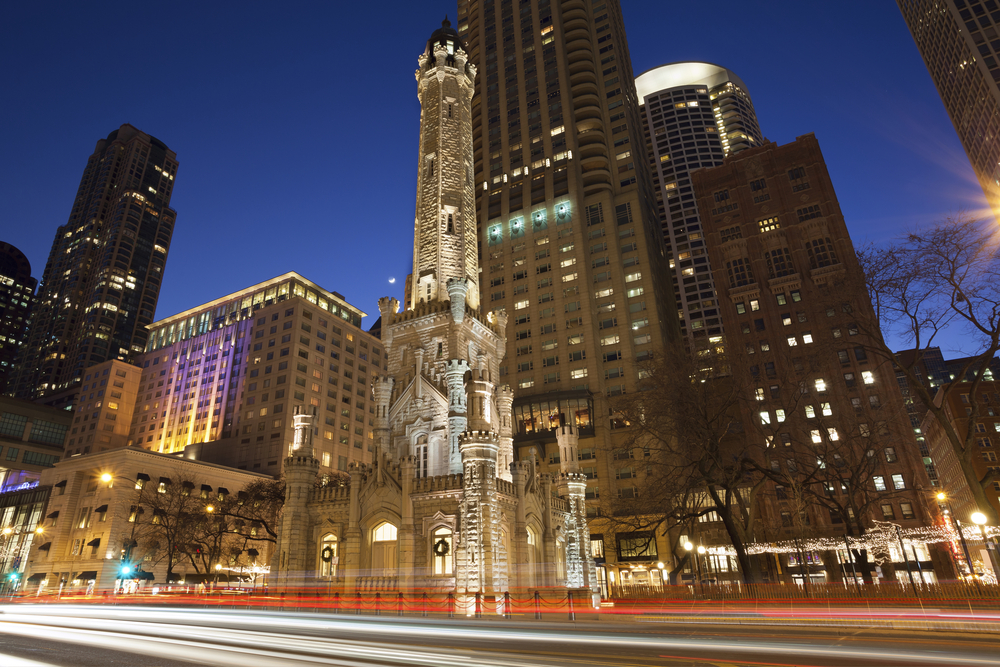 Many have shopped in Water Tower Mall, but few know its historic namesake is haunted. Constructed between 1867 and 1869, the Chicago Water Tower is the second-oldest water tower in the U.S. and one of the most famous buildings to survive the Great Chicago Fire of 1871. Rumor has it one worker stayed behind to man the pumps and hung himself inside — to this day, some people claim to still see him hanging.
Travelers should check out the Nederlander Theatre, not just for a show, but to experience the spooky occurrences inside and in the Death Alley outside. In 1903, the supposed "fire-proof" theater suffered a three-alarm fire that killed 602 people. People claim to hear noises and feel happenings in the air in the alley behind the theatre.
Cultural Depictions: Adam Selzer's The Ghosts of Chicago, Dale Kaczmarek and Troy Taylor's Windy City Ghosts, Peter Hyam's The Relic, and Bernard Rose's Candyman
Points of Interest
10. Long Beach, CA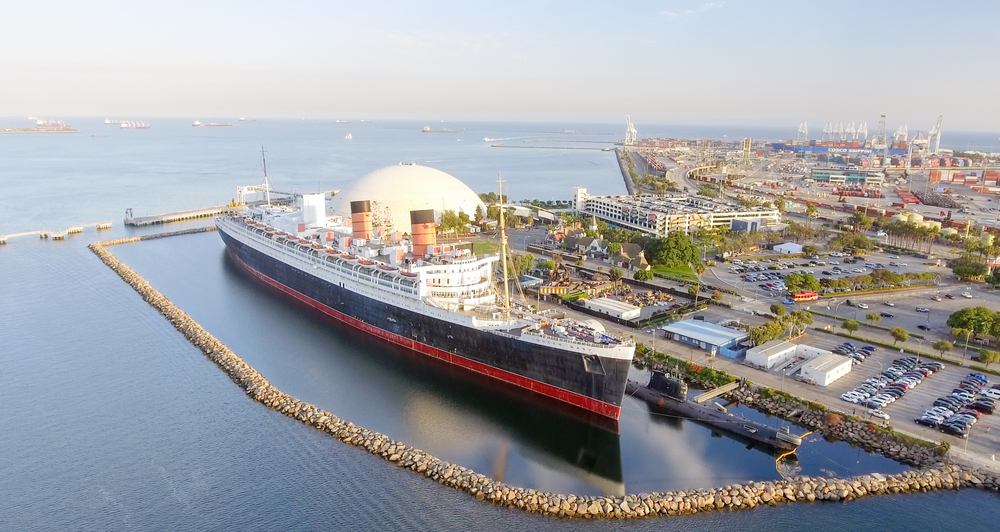 Between 1939 and 1967, the luxurious RMS Queen Mary sailed across the North Atlantic, transporting the rich and famous (like Winston Churchill and Clark Gable) and World War II soldiers overseas. But behind its lush façade, the ocean liner brought doom to more than 50 people onboard. Now docked in Long Beach, the haunted ship has over the years trapped more than 200 spirits.
From crewmembers to passengers dressed in 1930s attire, visitors have sighted many ghosts on board. Pay them a visit during a night tour, but beware of Door #13 — it's said to have killed multiple men at different points in the ship's history.
Cultural Depictions: Matt Doeden's The Queen Mary: A Chilling Interactive Adventure and Andrew Britton's RMS Queen Mary
Get Scared in the Best Way
In recent years, traveling for Halloween has become a popular way of exploring the spooky side of the United States. Why sit at home and hand out candy when you can enjoy all the scary sights in these cities and more throughout the country?