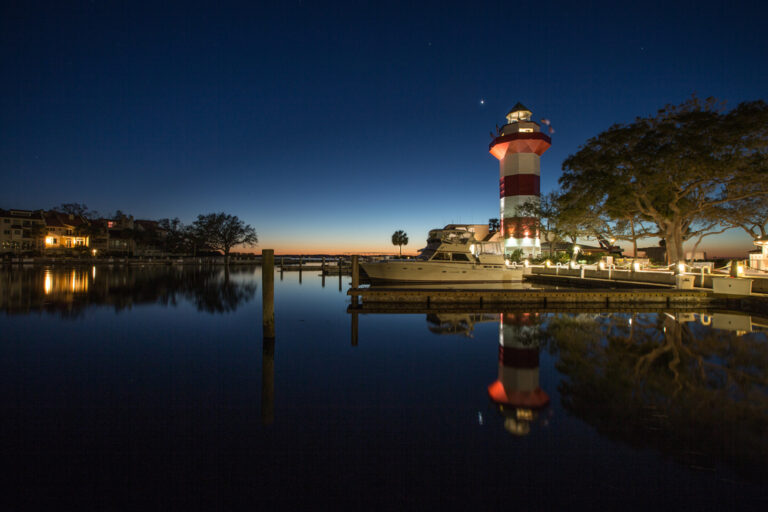 A Hilton Head Island vacation puts you right in the center of a beautiful and historic South Carolina island. Gorgeous nature trails, and sparkling white sand beaches make this an ideal location for an East Coast getaway. Like most people, VacationRenter loves the beach. We put together a Hilton Head visitors guide to help folks get a great understanding of the different Hilton Head areas before booking a trip.
Spread out across nearly 70 square miles, the area is a hotspot for travelers looking for both a relaxing or adventurous vacation. Known for its world class beaches, award winning golf courses, wildlife refuge, and phenomenal food, the charming SC town is well equipped to make your vacation a memorable one. When we say Hilton Head Island is equipped to host your stay, we mean it, with a population of only 40k, the town is visited by a whopping 2.5 million people each year. 
For a wonderful trip to a classic beach town, read on for an informative Hilton Head Visitors Guide. You'll find a breakdown of the different areas, where to stay, things to do, and places to eat during your stay on Hilton Head Island.
Sea Pines Plantation
View this post on Instagram
We will start off our Hilton Head Island vacation guide with this, whether you've chosen an all-inclusive resort or Hilton Head Island vacation rental on the beach, Sea Pines Plantation is a lovely area. Located on the south end of the island, Sea Pines Plantation is one of the older neighborhoods with houses dating back to the 1930s and 1940s right alongside modern and exciting resorts. The four golf courses draw visitors from all over the world for challenging games and spectacular views of the coastline. Outdoor enthusiasts can enjoy biking, hiking and tennis to get their fill of nature and exercise.
About the Area
Although the Sea Pines Plantation isn't beachfront like most Hilton Head areas, the rental rates tend to be slightly lower here than in other sections of the island. The Sea Pines Plantation neighborhood is approximately 15 minutes from the Hilton Head airport, making this neighborhood a great choice for families and singles who are visiting from out of state or flying in to enjoy the summer season.
Things to Do in Sea Pines Plantation
Attractions near the Sea Pines Plantation area include public beach access, two marinas with boat rentals and tours, and plenty of cute boutiques and restaurants. For nature-based activities, try roaming and exploring the Sea Pines Forest Preserve on a guided tour or getting a taste for wild and marine life on the Alligator and Wildlife Tour. Can't get enough of the ocean? Hop on a boat and see some dolphins on your trip to Sea Pines!
View this post on Instagram
Located a little north of Sea Pines Plantation and offering plenty of beach access, Palmetto Dunes also features world-class golf courses and hiking and biking trails. This area of Hilton Head Island is situated along a system of lagoons that cover about 13 miles of the island and offers excellent locations for fishing, kayaking and paddleboarding. The calmer water of the lagoons surrounded by Hilton Head Island house rentals and modern condos tends to draw guests who have an appreciation for natural beauty.
Where to Stay
Palmetto Dunes has a large selection of vacation rentals that include villas with two or three bedrooms, waterfront homes with decks overlooking the water, and towering condos offering unobstructed views of Hilton Head Island's beaches. Located just a few minutes from Hilton Head airport and featuring the Shelter Cove Harbor, this portion of the island also has boat tours and boat rentals available similar to those in the Sea Pines Plantation area.
Things to Do
Palmetto Dunes is loaded with things to do for all types of travelers. For a relaxing day at the spa, get pampered at the Namaste Spa located at 5 Grasslawn Avenue. The establishment, which is open daily from 9am to 6pm offers all of the ideal spa services such as different types of massages and facials, along with several package offerings. Check out their full-service catalog here.
If adventure is more your style, try spending the day on the water with a surfing lesson! With helpful coaches and safe equipment, you'll be riding waves in no time. Other adventure-based activities include Zip-Lining and horse back riding.
Where to Eat in Palmetto Dunes
After your relaxing or adventurous day in Palmetto Dunes, you will likely have worked up an appetite. Check out favorite restaurants in the area!
Breakfast: Stacks Pancakes for all of your favorite breakfast items
Casual Eats: Big Jim's BBQ for delicious barbecue, pizza, and burgers!
Fine Dining: ELA'S On the Water for phenomenal seafood and waterfront dining
Forest Beach
Located on the southern and eastern coast of Hilton Head Island, Forest Beach is a beachfront community with vacation rentals right on the beach. This large neighborhood has a good mixture of condos and house rentals perfect for families and singles looking to enjoy the sun and sand. This area tends to be one of the busiest, with plenty of beach access and cute beach bars and restaurants.
Things to Do
Locals are found relaxing along the Forest Beach seashore, and there are lots of options for entertainment including biking and hiking trails, shopping, tennis courts and lessons at the Van der Meer Tennis University, and swimming in the warm waters of the Atlantic. Forest Beach is also close to the Arts Center of Coastal Carolina with its local theater groups and live shows, along with the Pinckney Island National Wildlife Refuge where visitors enjoy the natural beauty of the South Carolina coast and its myriad of shorebirds.
Harbour Town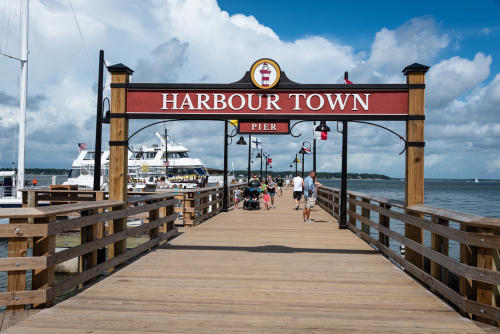 Located on the western edge of Hilton Head Island, Harbour Town is a waterfront community near Sea Pines Plantation with a large selection of Hilton Head Island vacation rentals right on the beach. This residential area also features a good selection of shops, clothing boutiques and restaurants along with a gorgeous harbor filled with rental boats, yachts and fishing charters. Harbour Town has its share of golf courses, tennis and volleyball courts, and other outdoor sport amenities. Hiking, fishing and paddleboarding are popular activities for visitors, along with browsing the shops and enjoying the art galleries and craft stores.
Where to Stay
Harbour Town features Hilton Head Island house rentals that come with easy access to condos overlooking the harbor and the beaches. This area of the island tends to draw families with children, and offers parks with playgrounds, dog parks and doggy day spas for travelers who bring their favorite furry friend. Harbour Town is about 20 minutes from the Hilton Head airport and visitors have access to plenty of public transportation to get from their vacation rental to the beaches.
Where to Eat
Breakfast: Harbour Town Bakery & Cafe for great breakfast and lunch options.
Casual Eats: The Crazy Crab serves up delicious seafood and classic casual eats!
Fine Dining:Michael Anthony's Cucina Italiana for upscale and authentic Italian cuisine.
Folly Field
The oldest and most luxurious of the Hilton Head Island vacation rentals are found in and around Folly Field Plantation. This area of the island is situated toward the north and the east with some of the most beautiful views of the Atlantic Ocean. Several large resorts play host to visitors who love golf and tennis, and with easy access to the beaches, there are water sports like kayaking, boating and paddleboarding available as well. Folly Field offers a glimpse of the history of Hilton Head Island with gorgeous vacation homes that date to the 1950s adding their own unique architecture to the beauty of the island.
Lay of the Land
Visitors enjoy the Hilton Head Island Birding Trail where you can catch a glimpse of the native shorebirds along with sandpipers and osprey. Families with children have space to explore the beaches, and shops offer crafting for days when the weather might not be so cooperative. Hilton Head Island vacation rentals are most plentiful during the off-season and busiest from mid-June until the end of August while the children are out of school.
Ready to enjoy the historic sights of Hilton Head Island? Book your stay on VacationRenter!