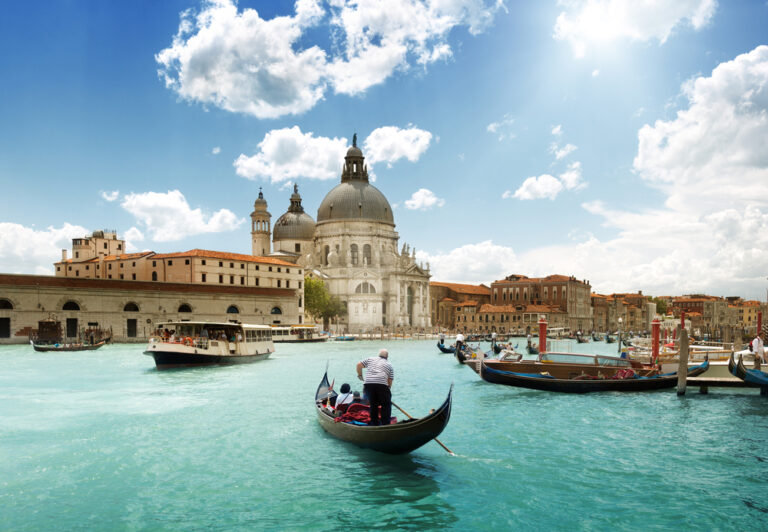 Look at any list of the top travel destinations and notice their appeal. Travelers flock to delectable cuisine, scenic vistas, historic architecture, and stunning landmarks. Combine them into one extraordinary place, and you have Italy.
Visit Rome for history, architecture, shopping museums, and food. Explore narrow streets, red stucco buildings, and travel by canal in the ancient city of Venice. Put on comfortable shoes to explore Florence, one Italy's most walkable cities. Take in the magnificent Cathedral of Santa Maria del Fiore, completed in 1436. Explore art, architecture, and museums in the birthplace of the Renaissance. Experience Cinque Terre, a cliffside city in a rugged coastal area on the Italian Riviera.
In Southern Italy, Naples boasts one of the world's largest historic city centers. Here, you'll find Baroque churches and Roman ruins. Outside of the city center are scenic landscapes, colorful villas and castles, and the picturesque Bay of Naples.
For shopping and a sophisticated vibe, go to Milan. Regarded as the fashion capital of the world, Milan is teeming with designer shops. Located in Italy's northwestern region of Lombardy, Milan is a glamorous city that is home to treasures like the La Scala Opera House and Leonardo da Vinci's painting, The Last Supper. But let's not leave out the Amalfi Coast in southwest Italy. Known for its extraordinary beauty, the Amalfi Coast has a picturesque coastline, shimmering bays, elegant resorts, and hillsides filled with pastel-colored houses.
And we haven't even started on the food — each region of Italy has specialties rooted in history and culture! Espresso, seafood, wine, bread, pasta, hearty soups, and fresh cheese. The mouth waters just thinking of Italy.
Are you planning a big adventure in Italy? Learning about Italian culture and etiquette will help you have the best vacation experience. This article covers several areas of travel etiquette for Italy.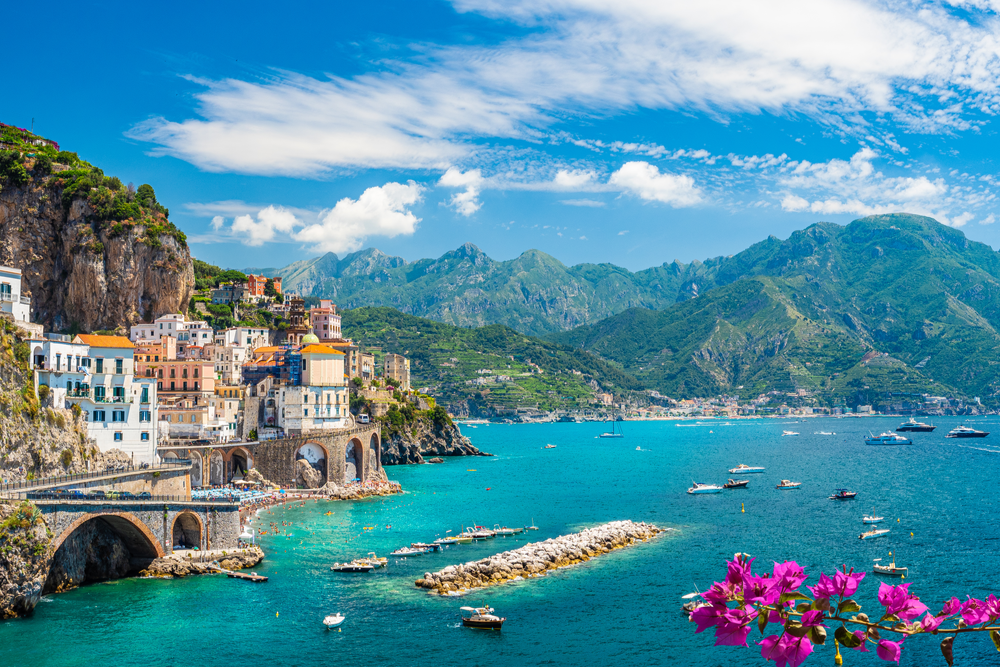 Key Points
Learn etiquette when dining in Italian restaurants
See if you should be tipping in Italy
Discover Italy's public transportation etiquette
Learn how to dress for any occasion
Learn Italian cultural nuances you should know
The Importance of Etiquette in Italy
If you're traveling to Italy, you've probably researched sites to see and things to do. As with any trip abroad, though, it's also important to understand etiquette and culture. Etiquette will help you understand unwritten rules, avoid offensive behaviors, and save money. Below are travel tips for Italy to help you make the most of your vacation.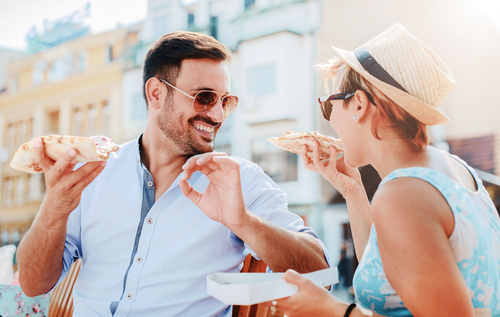 Learn Basic Italian Phrases
You don't have to become fluent in Italian, but learning a few basic phrases before you go will help. In Italy, friends and strangers greet each other with a good morning, "buongiorno," or good evening, "buonasera." Use these greetings for hello and goodbye.
Just make sure not to say "ciao" when speaking to strangers since it's incredibly informal — not something you want to use with people you don't know!
When and How to Tip in Italy
Tipping is uncommon in Europe. Most restaurants in Italy add a surcharge of 10% to 15% to your bill. Usually, it's at the bottom of your itemized bill, listed as "coperto" or "servizio." That translates to paying for your seat at the table or the service you received.
If you decide to tip a server, include the money with the bill and say "tieni il resto" — translating to "keep the change." It's rude to hand cash to a server or leave a tip on the table. Bring a few euros with you for tipping. Credit card receipts in Italy don't include a line to add a tip.
There's also no need to tip bartenders or taxi drivers. However, if you take a tour, and the tour guide is exceptional, you can tip between 5 and 10 euros. Tipping is appreciated but not expected. At a hotel, it's customary to tip a bellhop 1 to 2 euros per bag. If you're pleased with the service at the end of the stay, tip the housekeeper 1 euro per day.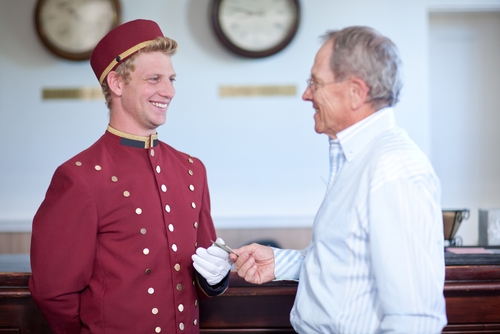 Etiquette When Dining in Italian Restaurants
Understanding Italian dining etiquette will go a long way toward giving you a more pleasant restaurant experience.
Courtesy is a priority in Italy. Always greet the host with a pleasant "buongiorno" or "buonasera" before requesting your table. Other things you should be mindful of include:
The dining experience in Italy is more formal than in places like the United States. It's uncommon to share food from someone else's plate. People dress for dinner in a manner described as "smart casual."
In general, restaurants open for lunch between 1:00 and 2:00 p.m. and close between 2:00 and 3:00 p.m. They reopen for dinner at 7:30 or 8:00 p.m., so dinner may start later than you're used to eating.
The service culture in Italy is different. Your server will not typically check on you repeatedly to see if you like your meal. They will bring your food and leave you alone to enjoy it. It's considered poor manners to shout across the room for a server or click your fingers. So as not to make you feel rushed, the server will not bring a check until you ask for it. When you're ready for the check, say, "il conto."
Not every restaurant accepts credit cards, so have some euros on you just in case. While tipping isn't the norm, you'll need to use cash if you choose to do so. If you prefer to pay by credit card, see if the restaurant accepts them before you sit down to dine.
In Italy, the menus cater to the traditional flow of a meal. It begins with antipasto, a starter. Next is primo, the first course with pasta or rice. Following that is secondo, meat or fish with a contorno, a side dish of salad, potatoes, or vegetables. After that, there's dessert, coffee, and after-dinner drinks. There's no need to order everything. You might be satisfied with a starter, a primo, or a secondo. But don't mismatch them. The salad is a side dish to the second course, not the first. If you're used to filling up on bread before the meal, it won't happen in Italy. Bread comes with the meal.
When you order your meal, don't ask for substitutions. By all means, don't ask for cheese to put on your seafood pasta. Also, condiments like ketchup are not standard except when ordering a hamburger.
When your server brings you water, it's bottled, either natural or sparkling. There's a small cost for this. Italians don't drink tap water in restaurants. In restaurants, alcoholic beverages are part of a meal. Italians don't binge drink. Public drunkenness is discouraged.
Coffee rituals are part of Italian culture. Cappuccino, caffe latte, and any coffee drinks with milk are served only in the morning and never after a meal. Latte is the Italian word for milk, so ask for "cafe latte," or you might get a glass of milk. You can order a shot of espresso any time of the day.
If you go to a cafe where people are standing at the bar, you can eat at the bar or order carry-out. If you choose to sit at a table, prices will be much higher — up to four times more in tourist areas. In most cafes, you pay first, then show your receipt when ordering. If you aren't sure about paying in advance, take a few moments and observe if others are paying before ordering.
If you're ordering pizza and see peperoni on the menu, it's probably not what you think. Peperoni is not a different spelling of the English word pepperoni, aka salami, and popular pizza topping. That is "salamino" or "pizza diavola." In Italian, "peperoni" with one P is the plural for bell pepper.
If you order a drink before dinner time and the price is higher, you're enjoying an aperitivo — which is a drink that comes with an appetizer. The upcharge for drinks covers the cost of the food. It's similar to happy hour in the U.S.
Italy Public Transportation Etiquette
When you ride public transportation in Italy, you need your ticket validated. Train stations have self-service machines on the platform. If you're riding a local bus, buy tickets in advance from a ticket machine in the station, a newsstand, or a tobacco store displaying a bus station logo. Validate bus tickets when you board the bus. Even if you have a ticket, an inspector will force you to leave the bus and pay a fine if it's not validated.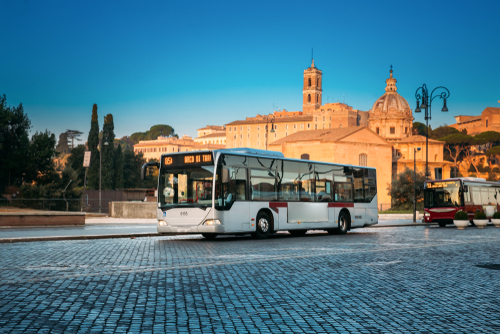 You should also know the Italian name of your destination. For example, the train station in Florence is Firenze, and in Venice, it's Venezia.
Finally, be aware of your surroundings. As in other countries, pickpockets work in crowded areas looking for people who are distracted.
How to Dress for Different Occasions in Italy
Fashion Week takes place in Milan, and designers aren't the only ones who take fashion seriously. You don't have to dress up during your visit but adopt a smart casual look.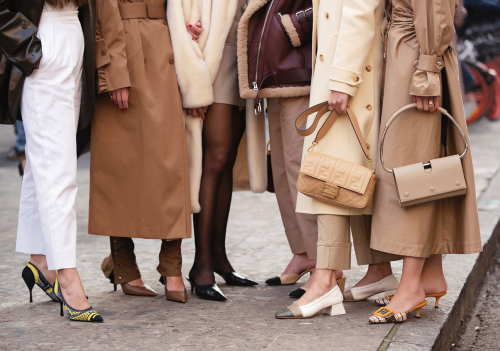 If you'd like to blend in, wear clothes that are stylish and tailored. The following are do's and don'ts for dressing in Italy.
Do:
Wear long pants. For men, shorts are OK at the beach or on hot days. Italian men don't wear shorts at night.
Wear jeans with a shirt, sweater, or jacket.
Bring shoes that can withstand walking on cobblestone streets.
Dress smartly for dinner.
Cover up if you're visiting a cathedral. The dress code requires your knees and shoulders to be covered. Bring a jacket or shawl if you're wearing a sleeveless top. Don't bring food or drink into a church.
Don't:
Wear baggy clothes.
Wear outfits that belong at the beach or the gym.
Wear flip-flops. They are considered tacky away from the beach and are too flimsy to hold up on cobblestone streets.
Wear backpacks or fanny packs. Backpacks are an easy target for pickpockets.
Wear logo sweatshirts.
Etiquette During Italian Social Events
By understanding basic customs in social settings, you can establish rapport and avoid inadvertently offending anyone.
At a social event, it's traditional to shake hands when the host introduces you to someone. Only friends greet each other by kissing both cheeks. However, pandemic concerns may have changed both customs. Do your homework before you go.
In business or social settings, address a new acquaintance by "Signore" (Mr.) or "Signora" (Ms./Mrs.) and their surname. Don't use first names until it's requested.
Understanding Italian culture is also important when conducting business in Italy. Establishing relationships and building trust are key to success with your Italian counterparts.
First impressions are important. Wear a suit to meetings with your Italian colleagues. This rule applies to both men and women. Find out in advance if the dress code for your meeting is more informal.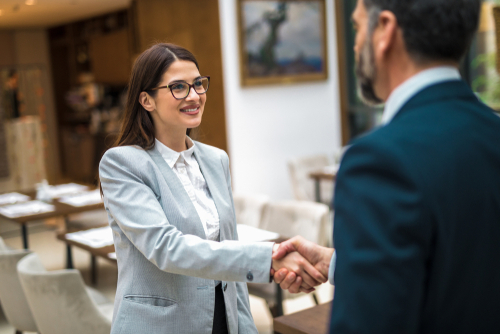 When planning meetings, be mindful of the many public and religious holidays celebrated in Italy. Avoid scheduling events on holidays and during the entire month of August. That's the traditional time Southern Europeans go on vacation.
In Italy, it is not unusual for meetings to start late. Don't take it personally. Grab a coffee and be flexible.
When introduced to people in a meeting, shake hands with each person, don't wave. If possible, find out in advance if people are hesitant to shake hands post-pandemic. The host or hostess will most often introduce you to older people and women first, so follow this norm when you're introducing yourself.
There are also unspoken rules for exchanging business cards. Exchange cards after a formal introduction. When you receive a business card, it's customary to take a moment and review it before putting it away. Have your business card translated into Italian, and make sure it includes your full title and any advanced degrees.
Doing business over a meal is less common in Italy. However, if you're invited to a business meal, declining it could lead to the host feeling insulted. If you go, allow two to three hours. In Italy, leisure and meals go hand-in-hand.
Italian Cultural Nuances to Look Out for
Italians are proud of their region. There are historical rivalries between some regions. Avoid comparing different parts of the country. An innocuous comment like, "Siena is nearly as beautiful as Florence" could be offensive.
If you're buying groceries, don't handle the produce. Tell the shopkeeper what you want. Do the same thing in clothing stores.
Discover Italy Through VacationRenter
Let VacationRenter help you plan a dream vacation in Italy. We've eliminated the need to search across several sites to find the perfect home away from home. VacationRenter brings all the vacation rentals from the leading travel sites together in one place. Book a vacation rental in Italy today!
Mentioned In This Article