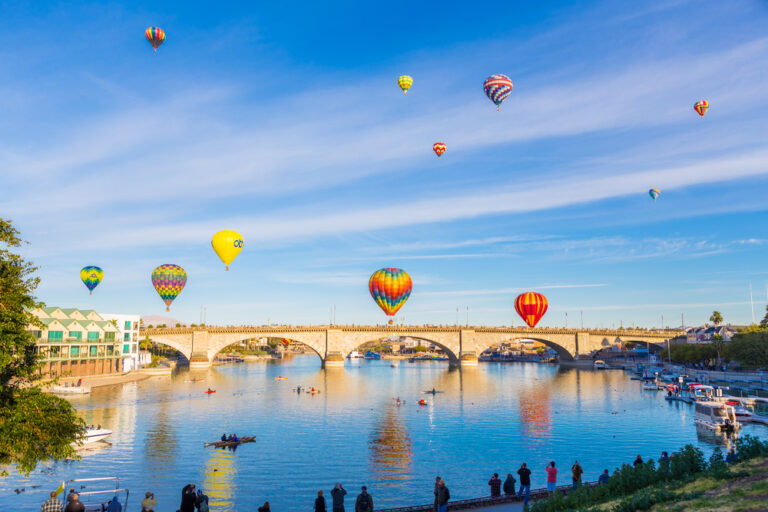 Lake Havasu City is situated right on the banks of the Colorado River. Although it's located in one of the driest desert regions of the country, this area is full of options for cooling off and enjoying the water. Thanks to its proximity to the reservoir, Lake Havasu City acts as a great vacation spot for families, couples, and anyone seeking adventure by the water. Situated just over three hours from both Phoenix and Flagstaff, AZ residents and out of state visitors flock to this lake town for vacation. Whether you spend just a day or a whole week in Lake Havasu City, finding fun things to do won't be a problem. In fact, you might have trouble fitting everything into your itinerary. Check out our 6 favorite things to do while visiting this Arizona City.
Arizona's London Bridge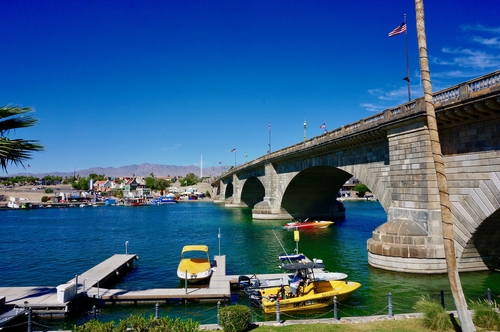 The actual bridge that once spanned the Thames River in London now spans a section of the Colorado River in Arizona. It's simply unheard of to visit this lake town without spending time checking out the famed London Bridge. Visitors can enjoy a walking tour of the bridge on certain days between the high season of October and April. The tours last about 90 minutes, and a guide provides all of the fascinating details of how the bridge came to be a fixture in Lake Havasu City. The guided tour costs just $10 and is free for kids under the age of twelve. This acts as a great affordable activity for families on a budget.
The Desert Bar
The Desert Bar, also known as Nellie E. Saloon, keeps weekend hours between October and April. This is the place to go to for great live music every Saturday and Sunday afternoon. Vintage odds and ends decorate this saloon, and it has a distinctly western appeal. The establishment aims to keep alive the spirit of the old copper mining camp that once stood in its place. This bar radiates an "old west" energy that many come to Arizona to find. The outdoor grill is where the real magic happens, serving up a no-frills menu of burgers and dogs. Just don't forget to bring cash because plastic isn't accepted here.
Lake Havasu State Park
Lake Havasu State Park welcomes campers and day visitors between October and April. For those looking to get out on the water, the lake has 4 boat ramps allowing you to drop your boat in wherever you choose. Didn't bring your own boat? Not to worry! You can rent motorboats or jet skis right at the park's concession stand. If you'd prefer a dry land adventure, they also have side-by-sides available to rent at a reasonable price.
Have a picnic at the day-use beach, hike the nature trails and watch the wildlife that lives in the park. There are also many places to swim and fish around the lake. Some of the campsites are even "boat-in," providing perfect access for those spending time on the water. The park is pet friendly, so feel free to take your furry friends along, just make sure they stay on leash and under control at all times.
The Lake Havasu Beaches
Be sure to make time for the beach when visiting Lake Havasu City. There are more beach options than one might expect from a landlocked Arizona town. Non-motorized boats can launch from the beach, and there's also a swimming area that's ideal for kids. With walking paths, picnic areas, playgrounds and seasonal rental of water sports equipment, there's something for everyone. Let your dog make some new friends at the dog park, followed by cooling off in the refreshing lake.
The Rotary Community Park is a 40-acre park with more amenities than you could ask for. Get into your workout mode on the public exercise equipment, while the kids play on one of the three playground structures. There are six beach volleyball courts to choose from, so get your friends and family together for a friendly game. They even have a fully equipped skate park for all the extreme sports enthusiasts out there. Pack a picnic or feel free to grill up some food, then enjoy your meal at the picnic tables while you watch the sun setting over the lake.
Lake Havasu Golf Club
It's a perfect day to hit the links over at Lake Havasu Golf Club. What could make for a more relaxing vacation than knocking some balls around this 18 hole course located next to the Colorado River? This was the first course built in Havasu City and was designed by the same Robert P. McCulloch Sr. who brought the London bridge to the town. The course has a classic layout, with various water hazards and sand bunkers. Even the best golfers will find this par 71 course to be a fair challenge.
Whether you're about to hit the green or not, the Golf Club Restaurant is a great place to have a nice meal before going about your day. The eatery specializes in breakfast and lunch foods. Pick between dining inside or out on their patio while enjoying beautiful views of the course and of Lake Havasu.
Hangin' Over Havasu
Soar over the lake as you learn to fly an Amphibious Ultralight Trike. Let Hangin' Over Havasu take you on an instruction course in their FAA approved special light-sport aircraft. You'll be flying over the lake and surrounding desert, getting a birds-eye view of this spectacular region. This is not a tour though, you will actually be learning to fly this aircraft. While your instructor will handle the take-offs and landings, you will be in full control while in the air. If you love the experience and decide to pursue your Sport Pilot's license, your introductory hours will be logged, and you'll be ready for your next lesson. This is a thrilling endeavor that we highly recommend trying at some point in your life. Why not now, at Lake Havasu?
The Perfect Place for Your Next Vacation
With a wide array of activities and attractions in the general area, Lake Havasu City is a popular destination for many different kinds of vacationers. Many visitors love to come when the heat turns down from October through April, but this area has something great to offer all year round.