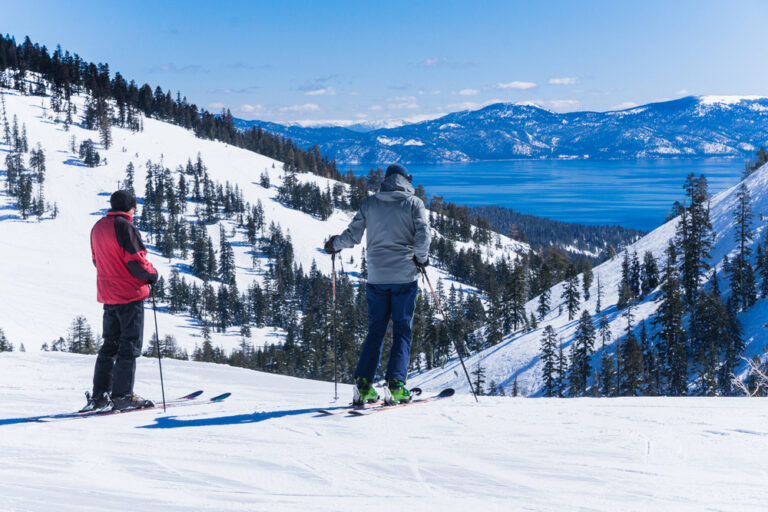 Lake Tahoe is an outdoor enthusiast's paradise, no matter what time of year you choose to visit. Though any season in this amazing destination boasts a range of things to enjoy, winter is a particularly marvelous season in Tahoe. Many thousands of visitors make their way to the Tahoe region each year, enjoying a variety of winter activities at one of 15 different ski resorts in the area. In addition, you can see sweeping scenic views from just about anywhere in town.
When it comes to picking a Tahoe area rental, check out our rental guide for some awesome tips. If it's your first time visiting this ski area nestled on the border of California and Nevada, you're going to be amazed at all there is to do! We break it down for you below.
Skiing & Snowboarding
Lake Tahoe is California's top ski destination. Tahoe sits on the border of California and Nevada, and its two main communities — North Lake Tahoe and South Lake Tahoe — are also situated thusly across the crystal-blue body of water. A handful of resorts exist in both these areas, each with its own unique offerings, so you may want to check out a couple of them during your stay instead of staying in one place.
One of the most popular resorts in North Lake Tahoe is Northstar. There, you'll find the Burton Academy, the official Burton snowboarding school. If you're in need of some liquid courage on the mountain, you can ride down to Tōst and cheers with fellow riders over a free glass of bubbly, served at 2:00 p.m. daily. Because the champagne is complimentary, drinks are distributed on a first come, first served basis.
South Lake Tahoe also hosts some incredible ski mountains. You can enjoy a complete day of winter fun at Heavenly Resort. Aside from shredding down Heavenly's slopes, if you're visiting in December, make sure to check out Heavenly Holidays — a full month of holiday celebrations including a tree lighting, fireworks, live music, and more.
Take a Scenic Drive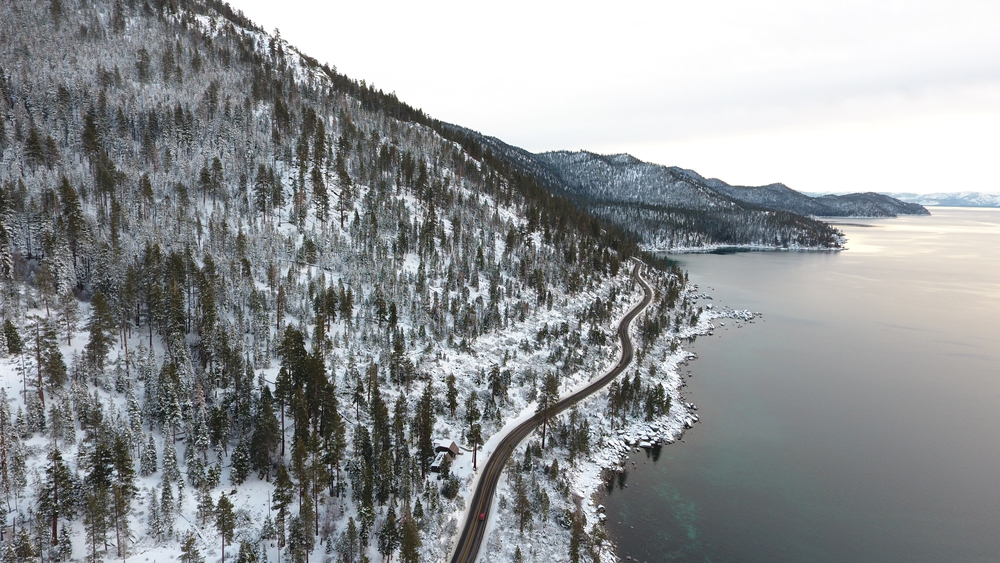 California upholds a reputation for stunning and iconic views viewed from a vehicle. As you drive through the Lake Tahoe area, you'll realize this place is no exception. Take a drive up the scenic highway 89 toward Tahoe City to see the most incredible views of the lake, or cruise Route 28 to appreciate the views of the skyline backdrop of Stateline, Nevada. As the highway takes you up north, consider stopping at Squaw Valley, a ski resort which served as the site for the 1960 Winter Olympics. While visiting, tour the Olympic Museum, ice skate, ski, snowboard, or take an aerial tram ride to catch amazing views of Lake Tahoe's breathtaking geography.
Continuing north, you'll probably end up in an old, historic railroad town called Truckee. Here you can take a break and do some shopping at local boutiques. Swing through the aptly named Bespoke for a variety of locally made artisan products. You'll have no trouble finding a great gift for your friends or family back home.
A visit to Lake Tahoe wouldn't be complete without actually seeing the lake up close. On the way down from Truckee, find your way to Crystal Bay, which boasts the deepest point in the lake, measuring at a depth of 1,645 feet. This area has a lot going on, including a casino where you can test your luck and gamble a little — you are in Nevada, after all! If you're not the gambling type, grab a bite right along the water at Lone Eagle Grille, and watch the sunset over Lake Tahoe as you enjoy a great meal.
Explore a State Park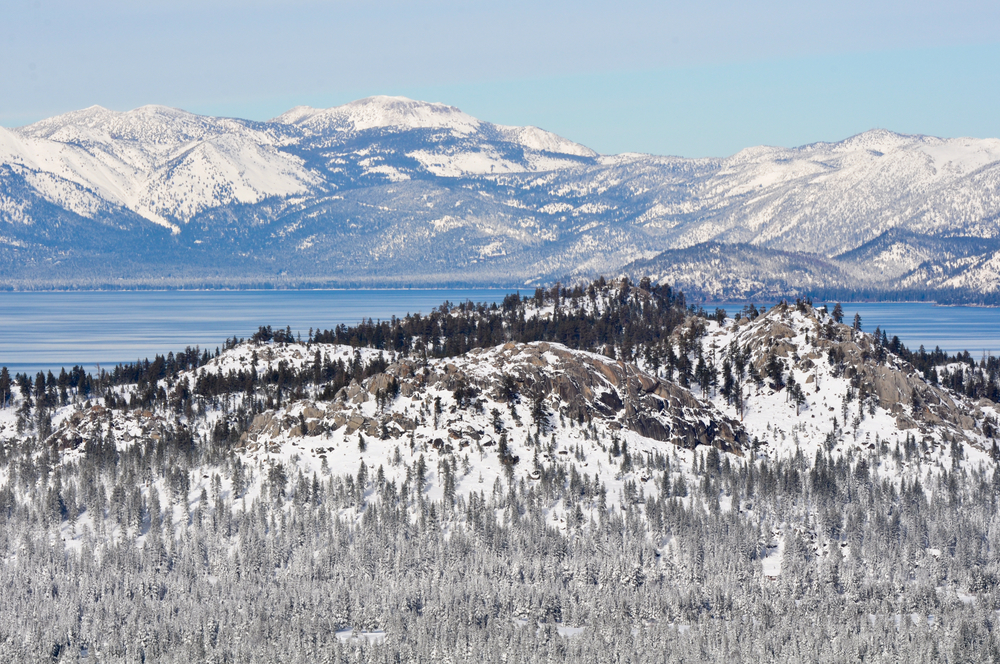 If it's not too cold out, visit some of the overlooks that offer incredible views of Lake Tahoe. Emerald Bay Overlook is one, which provides an expansive view of the Emerald Bay. This iconic view is even said to be one of the most photographed places in the world! As long as the weather permits, Emerald Bay during sunrise is an incredible sight to see. A nearby trail leads to Vikingsholm Castle, a hidden gem built in the late 1920s. Have your phone ready so you can take a few snapshots of this historic mansion.
The state parks around Lake Tahoe also host some incredibly picturesque scenery. D. L. Bliss State Park and the Donner Memorial State Park are popular during the summer, but if you visit during the tail end of winter, you can witness the vibrant colors of the lake that contrast nicely with the snow.
Plan Accordingly for the Weather
Driving is the most convenient way to get around the Lake Tahoe area, but it's also easy to get lost. To keep yourself from driving around in circles, plan your activities and routes in advance, and double-check addresses on a map. Most importantly, write it down somewhere in case you lose service. In the winter, look up local road conditions before you set off. The area of course gets a ton of snow, making winter road closures very common. Waze is a great way to get live updates on road closures while navigating where you need to go.
Pro Traveler Tip: Even if your route is clear, packing a set of tire chains is highly recommended. Bring them in advance, as tire chains are normally more expensive if purchased in Tahoe. If you're visiting during the winter from a different city such as San Francisco, purchase chains before you get to the area. Alternatively, you can also save yourself the hassle and rent an all-wheel-drive vehicle.
Opt For a Home-Cooked Meal
Don't get us wrong, there are some incredible restaurants in Tahoe, and there is absolutely nothing wrong with eating out. But if you ask us, enjoying a home-cooked meal in a vacation rental adds to the cozy winter experience. Plus, there are actually many advantages to going grocery shopping instead of splurging at restaurants.
Stocking up on food means you'll be ready if you get snowed in. During the winter months, anything is possible, and it's better to be prepared rather than stuck at the cabin with no food! Cooking your own meals will also save you some money, which can help with the overall budget, espeically if you plan on hitting the slopes and renting gear. Stocking up on food also allows you to enjoy more time relaxing in your vacation rental.
Where to Stay in the Area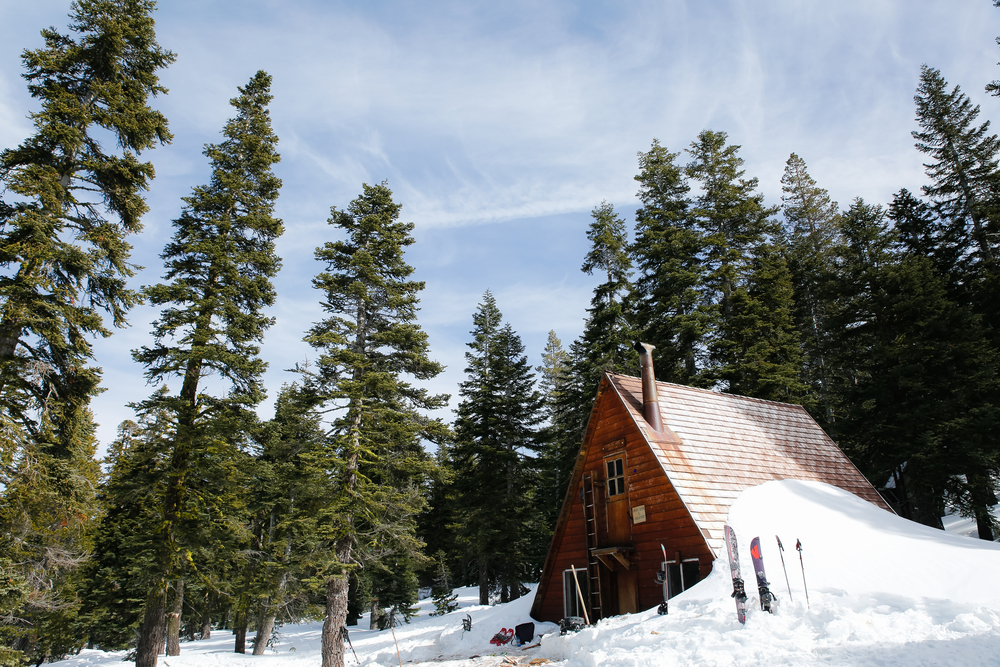 The many exciting activities in this area may have you wondering where to stay while you're here. Lucky for you, choosing a cabin rental couldn't be easier. The greater Tahoe area offers many hotels, rentals, and camping options that all share one incredible amenity … Lake Tahoe itself! Whether you're looking for a cozy lakeside cabin rental or a luxury casino hotel room, Lake Tahoe has it all.
Get Ready for Your Next Winter Getaway
Winter in Lake Tahoe is waiting for you. Whether you're looking to spend a day (or more) on the mountain, or want to explore the many shops and establishments, Tahoe has it all.