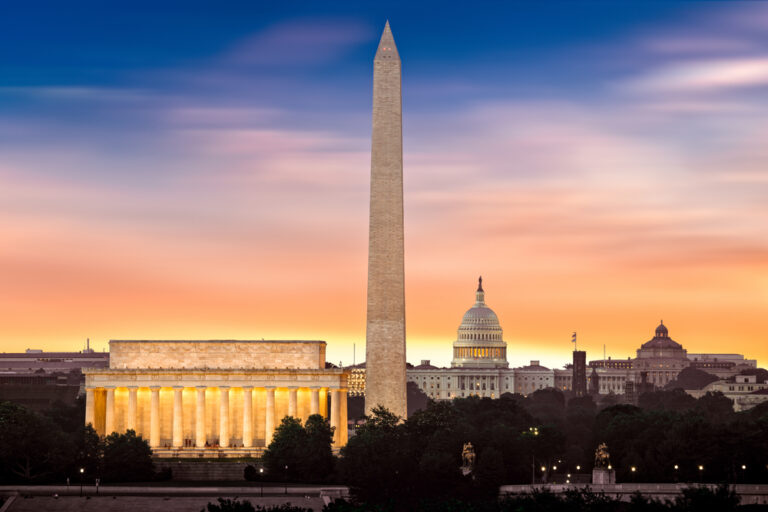 Visiting the nation's capital is a unique experience filled with history, culture, imagination, and more. There are a multitude of places to explore in this fantastically diverse city. With so many museums, monuments, exhibits, and historical sites to visit, Washington, D.C. vacation planning can seem like a tedious task. When mapping out your visit, be sure to add these stops to your itinerary to make for the greatest possible time spent while on vacation.
The White House
The White House is an impressive residence where every president, with the exception of George Washington, has resided. This impressive home will amaze any spectator with its stunning architecture and beautiful landscaping. Schedule a tour in advance to see portions of the interior and learn more about the history of the home. At least walk by to take a look from outside the gates. The building and grounds are just as beautiful from the outside. It's a can't-miss at 1600 Pennsylvania Ave. Be sure to stop by the home of the President of the United States while on vacation in the nation's capital.
Pro traveler tip: This iconic home is heavily trafficked and obviously being under tight security cannot let every single visitor in. Be sure to schedule a tour in advance.
The Washington Monument
The Washington Monument is another iconic attraction from the nation's capital that you don't want to miss. This impressive obelisk has captured the minds and pictures of onlookers for generations. Photographs really don't do the 555-foot monument justice. It truly is a massive monument that can be seemingly seen across the city. Check out the 50 flags surrounding the base or ride the elevator to the top to get a view of the National Mall and other parts of the city. Stop by 15th and Constitution to check it out.
Pro traveler tip: Being one of the most iconic DC monuments it is definitely a smart move to pack a camera and get some stunning photos of this treasure while on vacation.
Arlington National Cemetery
Pay your respects and honor the soldiers fallen in combat at the Arlington National Cemetery. It's the final resting place for more than 400,000 U.S. soldiers and other individuals. This solemn yet majestic display of relics dedicated to the soldiers of the United States will leave spectators in awe. The cemetery has been in place since 1864, with headstones honoring those all the way back to the Civil War. It sits right outside the city in Arlington, VA. While there be sure to see the guards at the Tomb of the Unknown Soldier. Their cadence will leave visitors in amazement.
Pro traveler tip: This graveyard is home to some of the most well-known soldiers resting places. Many of whom have been depicted in TV and in movies. Look ahead to see if one of your personal heroes is laid to rest there to pay respects.
Library of Congress
The Library of Congress is one of the top places to visit in Washington, D.C. for book lovers and readers of all ages. It is the largest library in the world with more than 161 million items cataloged on the shelves. Used by the United States Congress its expansive collection houses some of the most important pieces of literature in history. It is also the oldest federal cultural institution in the US. Sign up for a free guided tour to get a closer look. You'll find it located at 101 Independence Ave SE.
Pro traveler tip: There are a number of events held on the grounds surrounding the Library of Congress. Be sure to check ahead and see what the schedule is like and perhaps catch an entertaining show while on a trip here.
National Air and Space Museum
I
The National Air and Space Museum, a great museum open in D.C., has a collection of aircraft, like the Wright Brothers plane and Charles Lindbergh's Spirit of Saint Louis on display. It also contains many modern models of today's fighter jets. Marvel at the wonder and history of flight at this impressive museum. Additionally, it features moon rocks and other space artifacts for people to explore. All of this combined make for the perfect day or afternoon trip whether on vacation alone or with the family alongside. Check out the planetarium and IMAX theater when you make a stop at 600 Independence Ave SW.
Pro traveler tip: Renovations will be taking place here from April to Fall 2022. Be sure to check ahead to see that the museum is offering tours during your stay in Washington D.C.
National Zoological Park
If your Washington, D.C. vacation includes children or animal lovers, then don't forget to add the National Zoological Park to your itinerary. Part of the Smithsonian Institute this zoo houses and protects a multitude of different species of animals from around the world. One of its main missions is to teach and connect visitors with these creatures and educate them on their status of conservation. It's home to more than 2,000 animals, including a pair of Giant Pandas. The animal habitats closely replicate those seen in the wild, giving the animals a more comfortable living environment and giving visitors a chance to learn more about the beautiful creatures. The zoo is located at 3001 Connecticut Ave NW.
Pro traveler tip: There are many exhibits at this zoo to choose from and a trip here could take as little as one hour or as many as four depending on what the itinerary is. Be sure to look at maps ahead of time to maximize the time spent on the things that are wanted to be seen.
National Museum of American History
What's a Washington, D.C. vacation without seizing every opportunity to learn more about American history? Do this at the National Museum of American History where you'll see the actual flag that inspired Francis Scott Key to write the National Anthem, gowns worn by First Ladies, and many more exhibits and artifacts. One of the best museums in D.C. The rotating list of exhibits both from near and far will leave onlookers in amazement. This museum covers every small part of American history so there will be something there that anyone can connect to. Find the museum at 14th Ave NW and Constitution Ave.
Pro traveler tip: This museum also plays host to a number of events weather permitting. Be sure to check the schedule ahead of time and perhaps catch a glimpse at a fantastic presentation or show.
The Pentagon
As the headquarters of the Department of Defense, the Pentagon is definitely a place not to miss. Tours take you through a small portion of the building — they have to protect military secrets after all — and include the crash site from September 11. Wandering through the halls of where some of the most important decisions in the world will leave visitors in amazement as it will seem as if they too are part of the ever ongoing action that takes place here. Honor brave heroes and learn more about the history of the military on a Pentagon tour. You'll find the massive building just across the Potomac River in Arlington, VA. Be sure to check out this stable of American society while on vacation in Washington D.C.
Pro traveler tip: Pentagon tours must be scheduled at least 14 days in advance of the visit and no more than 90 days so be sure to plan ahead and reserve a tour.
Lincoln Memorial
Just across the Reflecting Pool from the National Monument sits the 19-foot marble statue of Abraham Lincoln. One of the most iconic symbols in America today, the Lincoln Memorial was completed in 1922 to honor the 16th president. However, the monument itself plays an important role in U.S. history, too. It's the site of Martin Luther King, Jr.'s "I Have a Dream Speech" among other events. Be sure to add this memorial and national landmark to the itinerary to truly get a feel of what America is all about. A perfect place to spend an afternoon taking in the sights and sounds of the nation's capital.
Pro traveler tip: Be sure to bring a camera to this absolutely picturesque landmark. It will make for the perfect picture back at home to commemorate an amazing visit to Washington D.C.
Georgetown Historic District
The Georgetown neighborhood's history goes back all the way to the 1700s. A remarkably intact set of streets and homes will make it seem as if colonial America is alive and well in this little portion of the city. It's home to beautiful architecture, unique boutiques and cafes, and the oldest Roman Catholic college, Georgetown University. The treelined cobblestone streets will have visitors pondering how life was like hundreds of years ago. Explore this old neighborhood between Rock Creek Park and K Street NW.
Pro traveler tip: There are many shops and restaurants in this cute little neighborhood. be sure to bring a little extra cash and make an entire afternoon out of exploring this marvelous portion of the nation's capital.
Where to Stay in DC
Downtown D.C. offers the perfect glimpse into the lives of the people who live and work here. Marvel at the professionals and lobbyists that do their work up and down these streets. Located near the white house and peppered with bars and restaurants. Downtown DC could potentially be the perfect place to stay for those looking to really get a feel for the city.
Foggy Bottom is the perfect place for those who want to stay close to the National Mall. Many different institutions and centers are located here making for a multitude of options to choose from that won't be too far away from home. Serving as a cultural hub of Washington D.C. this neighborhood is a wonderful option for those that want to spend a lot of time really getting into the heart and soul of the city as well as the country.
Plan your Trip
Ready to enjoy all of the monumental sights of Washington, D.C.? Book your stay on VacationRenter! The Nation's Capital is a place where one can really get a feel for what it is like to be an American. Whether it's spending a day taking in a few different museums or an afternoon spent on the grounds of a historic national landmark there is certainly something for everybody in this marvelous city. If arts, culture, and history are what is to be desired in a vacation. Look no further than to this fantastic display of America, Washington D.C.