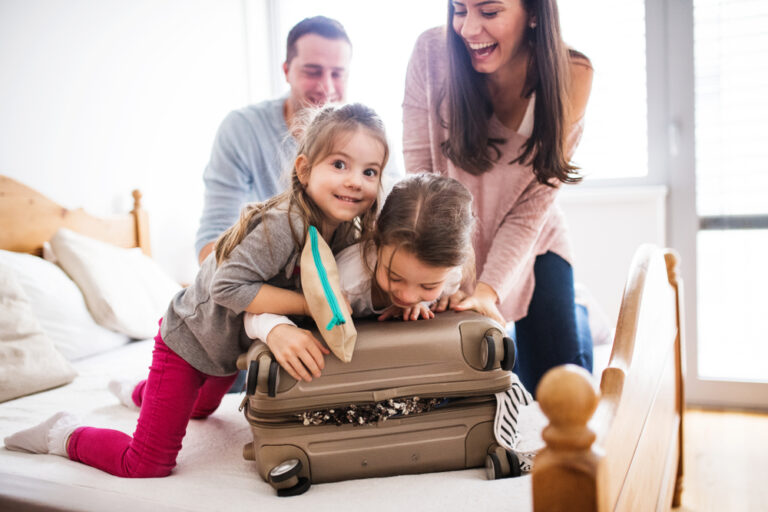 If you traveled as a kid with your family, you probably remember all the fun times you had and laugh about any mishaps that happened along the way. You likely don't remember feeling much stress about road trips or beach vacations because, after all, you weren't an adult in charge of everything and everyone. Now that you're a parent, you understand that just getting through day-to-day life can be challenging and stressful. Traveling with your kids, however, can take your stress to a whole new level.
Still, family travel can be enjoyable, even though it's different from how you've traveled in the past without kids. Exploring new places and having adventures is an enriching break from our daily lives. Shared experiences also help to bond kids and parents closer together. It's possible to recreate the joy you felt as a child on your own family vacation, and you can do so without feeling completely overwhelmed. Read on for 10 ways to minimize the stress of traveling with kids.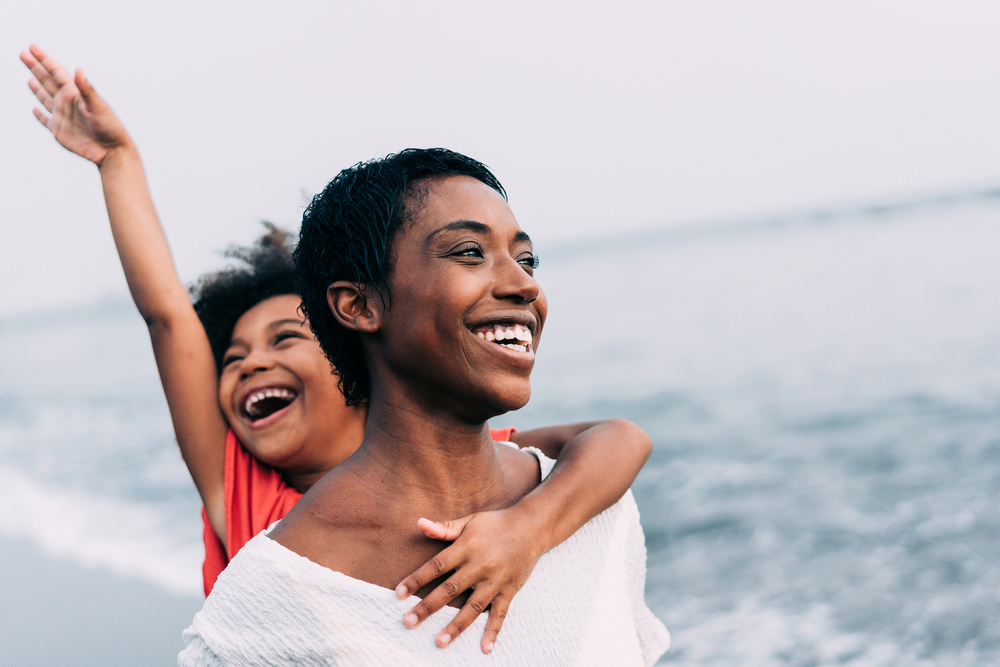 Do Your Homework
To plan a less stressful family trip, you'll need to do some research. Doing "homework" about a kid-friendly destination helps you be as prepared as possible for what lies ahead. Often, popular destinations have online travel guides or printed guidebooks that can answer a lot of your questions. Some queries you'll want to find answers to include:
What's the best way to get to this destination with kids?

How long will it take to travel to this place?

Do you need to plan a stop along the way?

Are there family-friendly accommodations nearby?

What activities and amenities are available for kids?

What is the weather like during the time you plan to be there?

Will you need to bring infant or toddler equipment with you?

Where can you rent a vehicle if you need one?
Basically, you want to get as many details as possible about a destination so you can get a feel for what it's like and what there is to do once you arrive. Gathering this information can help you decide on the best place to book a stay.
Book a Family-Friendly Stay
Not all accommodations are a good fit for a family, so you'll want to be sure you do your research before booking. Depending on how many kids you have and their ages, you're going to have very specific needs. These needs must be met so your family can have the most comfortable and relaxing stay possible. When booking a place, you'll want to make sure it is truly family-friendly. Some clues to look for when searching for a place for you and your children to stay include:
Access to infant or toddler equipment, such as cribs and highchairs or enough space for your own equipment

Kid-friendly activities and amenities

Local babysitting services

Proximity to family-friendly attractions

Spacious accommodations with multiple rooms

Laundry facilities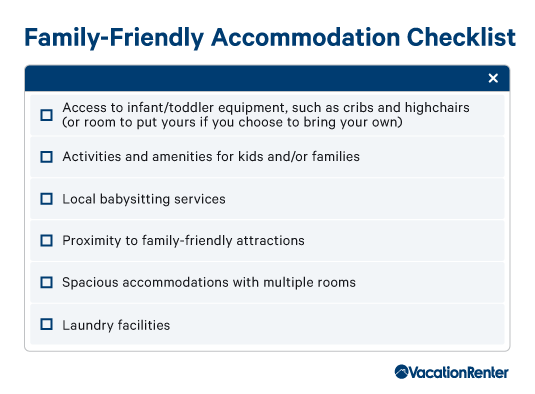 Set Realistic Expectations
It's best to keep your expectations realistic before and during your trip. Kids, like so many aspects of traveling, can be unpredictable. Unexpected problems, like flight delays or a cranky toddler refusing to nap, are simply going to happen. It's great if everything goes better than expected; however, when you find yourself in a less-than-perfect moment, try to remain calm. Getting upset about unmet expectations can increase your stress levels and ruin the day for both you and your family.
Cultivating a positive attitude when faced with challenging times is a great example that your kid can follow in life. Brainstorm some issues you may run into on your trip and try to plan how you're going to handle them. Being mentally prepared can help you get through a situation with less stress.
Make a Daily Plan
Once you know where you're going, where you're staying, and for how long, it's a good idea to create a daily plan. Your plan, or itinerary, is a way to lay out how the trip will go from beginning to end. It's helpful because it lists all travel and accommodation information in one place. Parents can refer to it to stay informed, and some kids enjoy following along to see what they're going to do next.
To create your daily plan, begin by filling in the first and last day of your trip. Include scheduling information, such as:
Departure and arrival times

Check-in and check out times

Ticketed events or attractions

Online confirmation codes

Addresses and other important contact information
Next, you'll fill in activities, meals, and other things you plan to do. If your kids' ages vary greatly, you can try to find activities they can all enjoy. When this isn't possible, rotate planning an activity for the young children and then the older kids.
Sometimes, it helps to split up at certain times of the day. For example, one parent could have nap duty with the youngest while the other parent takes the older kids to do something else. Parents can switch off responsibilities the next day so no one feels overburdened or like they're missing out on all the fun. You may also find it helpful to book a tour guide for certain parts of your trip for a more in-depth experience that's more interesting for the whole family.
Schedule Downtime
When planning a trip, make sure that you don't overschedule yourself or your kids. It's tempting to try to squeeze as much as possible into a trip, especially if it's a major destination spot that you won't often be able to return to. Some families are OK with a full and fast-paced vacation. However, other kids and parents can only run at full steam for so long before crashing and burning out. This is why it's important to schedule some downtime on your trip.
Downtime doesn't mean you have to go back to your room and nap or sit around doing nothing (although that's perfectly acceptable to do when you or a kid really needs to rest). Downtime can still be an activity, such as playing in the pool or reading a book in a hammock. It's just important that it's something that helps you or your kids unwind and relieve stress.

Be Flexible
One of the best ways to reduce stress while traveling with kids is to be flexible. Plans can (and probably will) change due to circumstances out of your control or that you couldn't foresee. The best thing is to be flexible and roll with it. It's also important to take it slow.
For instance, let's say you planned for the family to go to the aquarium after breakfast on the third day of your trip. That morning, everyone woke up tired from staying out late at the amusement park the night before. Should you force everyone to stick to the plan even though they need some extra downtime? Probably not. Forcing yourself and your kids to do things when no one feels like it doesn't usually work out for the best.
Take It Slow
Almost everything takes longer once a kid is along for the ride. Give your family plenty of time to get ready and arrive at a destination, whether it's the airport or dinner reservations. The more you rush, the more you'll feel stress and anxiety. Be kind to yourself and your kids by taking it slow as needed.
Pack Wisely
Packing for a family trip can feel daunting. It's important to create a list of essentials that you and each kid will need on the trip. Once you've packed the necessary items, feel free to pack extra comforts if you have the space. Don't be tempted to overpack — it'll just weigh you down.
Essential Items to Pack
Items often considered essential on a family trip include:
Clothing

Toiletries

Footwear

Medicine

Outerwear

Bathing suits

Food and water
Other essential items depend on the activities you plan to do and the weather at your destination. You might also consider packing equipment, such as a car seat or stroller. Many items can be rented when it's too cumbersome to travel with large items. Just be sure to research availability ahead of time so you aren't left at a car rental company without a booster seat for your preschooler.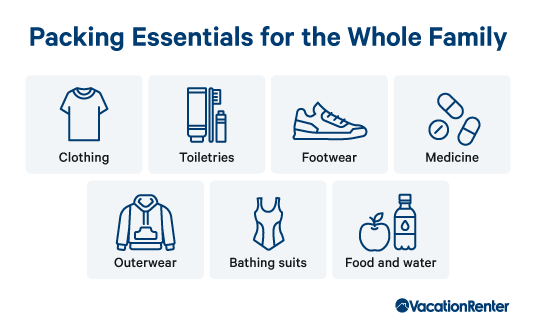 Other Items to Pack
Some kids do well when they have their favorite items along for the ride. These familiar items provide stability in a new surrounding. Meanwhile, other kids might do better with new items. They may be so excited about their upcoming adventure that the familiar can seem boring.
Whatever you need to hold your child's attention during a long wait or lengthy travel time, pack it. Some kids can only be redirected so many times before a fight breaks out between siblings or a meltdown occurs. Consider entertainment options like:
Small electronics

Portable toys

Games, like

trivia

cards

Fiction and nonfiction books

Easy crafts

A special blanket or stuffed toy 
If your child isn't old enough for a phone, consider purchasing an inexpensive kid-friendly camera. Amazon is also a great resource for children's books and travel journals, such as those from Lonely Planet Kids. You may even be able to find a kids' travel guide for a particular vacation spot. Many kids love to take pictures and write down travel stories to look back at later.
Gift cards are another great option, as they allow kids to shop on vacation. Preloaded gift cards help take the stress out of kids asking to buy things all the time. They also help you control spending and stay within your budget.
It's also important to pack comfort items for your kids to help them travel with greater ease and sleep better in unfamiliar places. A small blanket or stuffed animal is the perfect companion that offers comfort and is easily packed. Lastly, always have a snack and water bottle with you to avoid getting stuck somewhere with a kid who's suddenly hungry or parched.
Prepare for Emergencies
One other item to consider packing is a first-aid kit. They often come in handy when your child develops a blister on their foot or wakes up with a headache. If you're planning to travel in an RV for a road trip, you can bring a full-sized first-aid kit along for the ride. And since you'll be camping, you'll likely need it.
If your packing space is limited, it's best to opt for a smaller version. Bandages, antibacterial ointment, and pain relievers are some essential items to consider bringing. You also might not need to bring first-aid items. If you'll be staying close to shopping areas, you can easily access these items as needed.
Consider Special Needs
When planning your family trip, remember to take into account your child's needs. Infants, toddlers, school-age kids, and teenagers are going to have their own needs. Children with allergies and other health issues require specific care — of which parents of a child with special needs are well aware.
Be sure to bring any important medical records and medications on your trip for your child. If you're traveling to another country, it's also important to know how to explain your child's special needs in the local language. For example, if your kid has a severe nut allergy, you need to be able to communicate and confirm that the food you're ordering for them is nut-free.
Explore Destinations on VacationRenter
Traveling with kids will always be a bit stressful, but there are many steps you can take to minimize the stress and ensure fun for the whole family. Good planning and preparation are key to having a successful trip. It's also important to manage your expectations and remain flexible. If you're finding that everyone's feeling overwhelmed and getting contentious, remember that it's perfectly okay to take it slow and enjoy some downtime. Kids don't always need to be busy to have a memorable trip.
From New York City to Los Angeles, explore destinations across the United States and in different countries on VacationRenter. As travel enthusiasts, we've designed our site to make it easier than ever to compare pricing, amenities, and more. Save time and money by searching the best booking sites and deals in one place on VacationRenter.
Mentioned in This Article