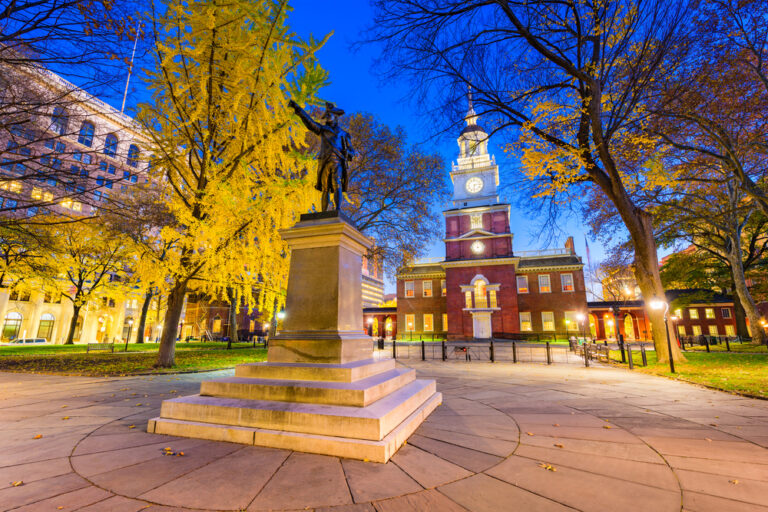 Philadelphia is an absolute playground for history buffs. The cobblestone streets and brick rowhomes make for a colonial feeling that is found nowhere else in The United States. Visitors will be amazed as they find a piece of history around every corner of this historic city.  The top places to visit in Philadelphia, Pennsylvania, date back to the Colonial Era and the early days of the United States. Pack the bags and the cameras! This is where to go if you want to catch a glimpse of the Revolutionary War era.
The Betsy Ross House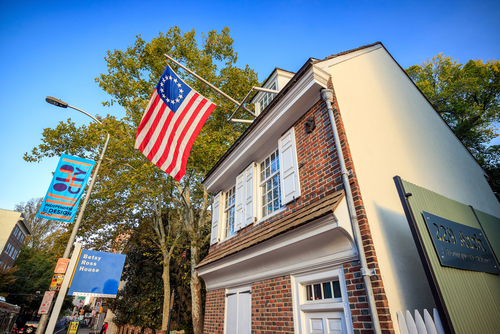 The Betsy Ross House on Arch Street is the birthplace of the American flag. This tiny unsuspecting home played a major role in the American Revolution. You can learn more about Betsy and the world she lived in through self-guided or audio tours that take you back to 18th-century Philadelphia. Be sure to make this a place to visit on the list of historical landmarks to visit in this city.
Pro traveler tip: This historic home is just a few steps away from the bustling South Street and even closer is the restaurant-filled Headhouse Square. Grab a bite to eat at an amazing restaurant here after the tour.
Christ Church
The past members' list of Christ Church is a who's who of early American history. Built in 1744, the building is the birthplace of the American Episcopal Church and home to one of the first schools in the country that educated freed slaves. This is one of the greatest Philadelphia historical sites as its closed-off cobblestone streets and perfectly manicured yards will be as if the colonial era never went away in this picturesque Philadelphia landmark.
Pro traveler tip: This stunning landmark is within steps of Philadelphia's Old City neighborhood. Filled with historical houses, boutique shops, and restaurants be sure to check out this dazzling neighborhood.
City Tavern
It may not be one of the official Philadelphia historical sites, but City Tavern gives you a chance to dine like the Founding Fathers. The menu at this establishment features 18th-century food and drinks, including beer made from recipes developed by Thomas Jefferson, Benjamin Franklin, and Alexander Hamilton. Although the original building was destroyed by a fire over 150 years ago. It was rebuilt and refurbished back to its exact specifications as designed in the 18th century. Truly making for an authentic colonial experience.
Pro traveler tip: This fantastic restaurant also comes with its very own gift shop. Be sure to stop here and purchase a souvenir that will bring back memories for a lifetime.
Eastern State Penitentiary
When Eastern State Penitentiary opened its doors in 1829, it introduced to the world a new philosophy for criminal justice: solitary confinement. Today, it's a stunning example of grand architecture. You can go on a guided or self-guided tour of the facility or join a ghost tour to learn more about the facility and its most famous inmates. This prison once housed some of the most well-known criminals in United States history. Walking through these spooky hallways will certainly bring thrills to spectators at this creepy yet interesting Philadelphia historical site.
Pro traveler tip: Looking for the thrill of a lifetime? Stop by this creepy prison during Halloween for a world-class haunted house experience.
Independence Hall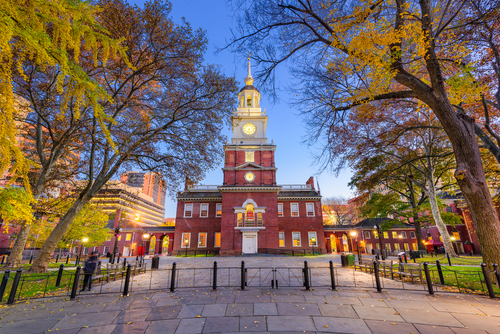 No trip to Philadelphia is complete without a stop at Independence Hall. One of the most iconic Philadelphia Historical sites. This is where the delegates met in 1776 to officially declare independence from England and where they returned to draft the U.S. Constitution. You'll have to go on a tour to see the facility and artifacts like the inkstand used to sign the Declaration of Independence and an original draft of the Constitution. This is a must-go destination for any history buff visiting this fantastic city. Walking through the halls that our founding fathers once did will bring a true feeling of patriotism to any visitor.
Pro traveler tip: This must-see attraction is close to many other famous Philadelphia landmarks. Take a look at a map and create an itinerary to make the most efficient use of your time.
The Liberty Bell Center
The Liberty Bell Center is home to the bell that used to hang in the tower at Independence Hall. It was used to announce meetings for lawmakers. At the center, you can get a close look at the bell — and its famous crack — and learn more about how it became a symbol of freedom. If it's sunny and the temperature is permitting be sure to grab a blanket and sit on the lawn that sits adjacent to the center. This will make for a picnic that will never be forgotten.
Pro traveler tip: This is one of the most famous Philadelphia historical sites and admission is FREE! Be sure to add this to the itinerary as it is an easy and fun attraction that is not time-consuming.
Mother Bethel AME Church
Mother Bethel AME Church on 6th Street is built on the first piece of land African-Americans were allowed to own in the United States. This is just a stunning example of how Philadelphia played a role in equality in the United States. An awe-inspiring Philadelphia landmark that celebrates the rich culture that makes up this beautiful city. It's also the mother church of the first African-American Christian denomination in the country, the African Methodist Episcopal (AME) Church.
Pro traveler tip: This picturesque church holds incredible works of stained glass and masonic images. If you happen to be an art or architecture buff be sure to add this to the list of places to go.
National Constitution Center
Located on Arch Street, the National Constitution Center has an assortment of interactive exhibits designed to give people insight into the U.S. Constitution. The amazing installation and exhibits here will be sure to offer a fun experience to visitors of all ages. You can check out original artifacts, watch movies and theatrical performances, and snap a picture of yourself signing the Constitution along with bronze statues of the original signers. If fun and interactive learning experiences in the heart of the city where it all took place sounds like fun. Be sure to visit this historical landmark in Philadelphia.
Pro traveler tip: Located just across the street from Franklin Square. Be sure to stop by this wonderful park as well for a fun experience and views as well as an ambiance that goes unmatched.
The President's House
The President's House on Market Street is the site of the first executive mansion, which was home to George Washington and John Adams. Built around the foundation of the original house, this open-air exhibit features a tribute to the slaves who lived in and contributed to the development of Philadelphia. This cultural institution offers a viewpoint that paints this nation in a different light and pays tribute to the slaves that built this house as well as the nation. Be sure to visit this Philadelphia historical site for a rich and diverse experience that will be sure to instill a bit of knowledge on all visitors.
Pro traveler tip: Centrally located on Market Street. After a tour of this fantastic facility take a walk up and down this marvelous street with views of the famous Philadelphia City Hall.
Valley Forge National Historical Park
Valley Forge never saw a battle, but it played an important role in the American Revolution. The Continental Army spent the winter at the site, which today features cannons, soldier's huts, and other structures commemorating the Revolutionary War. Located just a short drive away this bucolic landmark near Philadelphia will make for a fantastic afternoon trip. Being here will seem as if you are hundreds of miles away from the city with its peaceful scenery while yet it is only a short drive away. Be sure to visit this landmark for an informative and restful day trip.
Pro traveler tip: Bring a blanket and pack a meal as there are multiple designated picnic areas in and around the encampment to make for some much-needed rest and relaxation.
Where to Stay in Philly
Old City offers the perfect place to stay for those that want to be in the heart of the city and close to all the major historical landmarks and sights as well as numerous shops and restaurants. This neighborhood is located in the heart of the city and is filled with absolutely stunning architecture as well as more history than one could comprehend.
Queen Village offers a more quiet getaway that is still only a few minutes' walk to all the major historical attractions in Philadelphia. Take a stroll through the quiet tree-lined streets and stop at a few boutique shops and browse around for the perfect gift to take back home. It is also filled with plenty of history of its own being one of Philadelphia's oldest neighborhoods. Multiple historical houses and sites can be found just around every corner. Check out this neighborhood for a peaceful retreat to the "city of brotherly love"
Historic Philly Awaits!
Ready to enjoy all of the historical sites and monuments in Philadelphia? Book your stay on VacationRenter! Philadelphia is the only city in America that is listed as a UNESCO World Heritage Site. That is saying quite a lot considering some of the other cities on that list. That being said this is a city that is teeming with history and culture that goes unmatched anywhere else in the country. Visit this beautiful city for a true feel of what colonial America was like while taking in the sights and sounds of what seems to be a city that stayed in the 18th century. Book a trip here now for an experience that will be informative and unforgettable.