Over 3 billion pizzas are sold in the United States alone (add another 1 Billion if you want to include frozen pizzas) and with 17% of all restaurants being pizza parlors it is no surprise that as Americans, we really love our pizzas. To make it official we created National Pizza Day which takes place every year on February 9th.  There's definitely no better way to celebrate the culinary occasion than to dig into some savory slices. With so many different styles and combinations it can be a challenge to decide which one is the most savory slice.
No need to worry, because from Deep Dish to Tavern Style, we have compiled a list of some of the best pizza cities in America. So, grab a few extra napkins as this article takes you slice by slice through our pizza-loving nation. Touching upon some of the greats hailing from cities across the country to consider when pondering upon which slice will suit you best.
Detroit, Michigan

Detroit-style pizza has been growing steadily in popularity around the country. Not too long ago it would require a plane ticket or road trip to Michigan in order to satisfy the taste buds for anyone hankering for this style of pizza. Now, this pie can be found on menus from coast to coast. Similar to Sicilian its lightly fried crust provides a crisp texture on the outside, while still maintaining a lot of chewiness on the inside.
One of the reasons for its exploding popularity is that in 1946 its creators at Buddy's Rendezvous decided to change up the traditional way of making pizza opting for a slightly different arrangement of ingredients. Instead of a conventional "sauce, cheese, toppings" arrangement, the Detroit-style pizza is actually prepped largely in reverse order with the cheese directly touching the dough before it gets baked in the oven.
It's become such a popular choice and is now a mainstay on the list of best pizza cities in the US. These days Detroit very well may need to add a new nickname to its list before it gets too long.
Our Pizza Pick: Why try any other spot when the original restaurant that invented the pie is still running strong to this very day. Buddy's Rendezvous holds claim to being the creators of this pie and for good reason it is our pizza pick. Now known as Buddy's Pizza and boasting several locations this restaurant will serve you up just about any kind of slice. However, we recommend trying the 'Detroiter' to really give you a sense of what a homestyle Detroit pizza is like.
Fun Fact: Although everyone can come to the agreement that this world renowned pizza came from Buddy's Rendezvous in 1946. There is some debate as to exactly who came up with the recipe. Sources can't agree whether the original Sicilian-style recipe came from Anna Guerra's mother's recipe for Sfincione or a recipe from one of the restaurant's employees, Connie Piccinato.
New York City, New York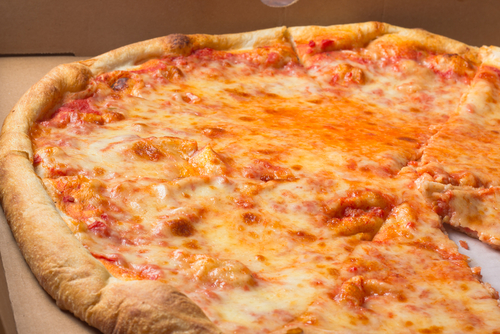 When people think of pizza they automatically think of one city, New York. This is for good reason as well because New York-style pizza has been one of the major players when it comes to pizza over a multitude of decades. Many will swear that this particular pizza can't be emulated anywhere outside of New York City because its signature flavor comes from the local tap water used in the dough. Whatever the reason is this pie and the city that it comes from has and always will be a heavyweight contender in the list of best pizza cities in America
While some restaurants' dough will be a little thicker and some sauce will be a little sweeter there are some distinctive elements of the New York-style pizza which are a hand-tossed, thin crust with a thick edge on the outside. Most often sold by the slice in many of the city's pizzerias, the thin crust makes it perfect for folding, which is the recommended way to consume it if you happen to be in New York City.
Oftentimes it's best to stick with the classics when it comes to pizza and New York is well considered to be the classic pizza. Found in restaurants and pizza parlors nationwide it is tough to escape the reach of how far this style of pizza extends.
Our Pizza Pick: When it comes to New York-style pizzas no one does it better than Sal & Carmines. Serving slices to the Upper West Side since 1959 this joint is a must-see for visitors and the go-to spot for slices spanning generations amongst the locals here. So if you find yourself strolling through Central Park one day, walk a few blocks over and grab a slice (or two!).
Fun Fact: Starting in 1905 with the opening of Lombardi's. New York-style pizza has exploded in popularity over the past century making its way worldwide. With about 1500 pizza restaurants in New York City alone there is no wonder why this pie is on our National Pizza Day list.
Chicago, Illinois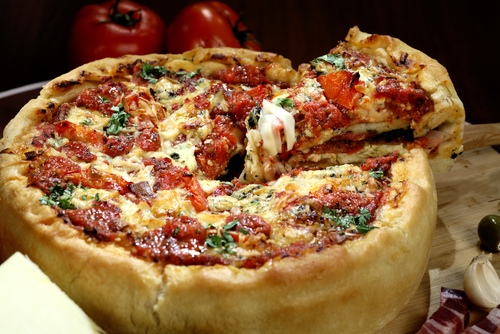 Speaking of classics, Chicago-style deep-dish pizza is another one of the old school choices that never goes out of style. Much like it's cousin from New York, deep-dish pizza has exploded in popularity over the past few decades. spawning numerous emulations across the country and even entire restaurant chains built around this prominent pie. Also, of all of the pizza's featured on our list. This one most appropriately fits the description of "pie" due to its many ingredients as well as its large depth.
Baked in a deep-dish pan that provides its distinctive high edge look and extreme thickness, it's typically heartier and packed with a lot more cheese and tomato sauce than any of the other styles of pizza. Some say that this was developed on purpose to provide a more hearty version of pizza to help residents of Chicago get through those blustery and cold winters.
If there ever was a rivalry on our list of best pizza cities in the US. It would be between deep-dish Chicago-style and New York-style. For decades many have argued which is better and although nobody can come up with an answer to this age-old question there is one thing we can all agree on. They are both delicious pizzas that represent the culture and history of the cities they came from.
Our Pizza Pick: As one of the originators of the Chicago-style deep-dish pizza. Lou Malnati's is one place that is really tough to beat when on the hunt for the perfect slice of deep-dish. Since 1971 this prominent establishment has been serving up pies to the cold and hungry of Chicago. Definitely make it a must-see when on vacation in Chicago
Fun Fact: Deep-dish pizzas are actually healthy! Scientists have found that the rich nature of these pizzas has been found to be packed with antioxidants. Which are known to help fight and prevent several illnesses with some scientists thinking we may have more to discover about this scientific slice.
St. Louis, Missouri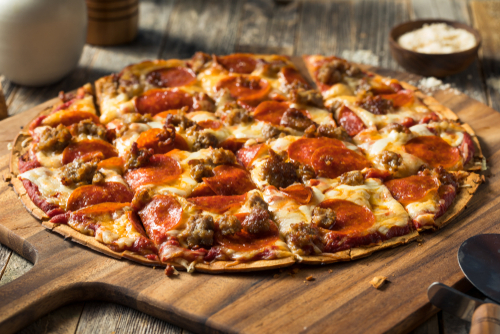 When walking into a typical dive-bar in America  and ordering a pizza 9 times out of 10 what you are going to get is a St. Louis style pizza. St. Louis-style has been a pizza choice on the rise in recent years with its thin, cracker-like crust made without using yeast, and typically square or rectangle appearance whenever it's served by the slice. Great for those who are looking to have a mouthwatering pie without feeling overstuffed. This pizza has certainly made a name for itself and St. Louis when thinking of the best pizza cities in America.
A bit different in appearance to other pizzas when taking a first glance at it. St. Louis-style pizza spreads its ingredients and toppings to the edge of its cracker-like crust. Ensuring that you will get all that you bargained for in each and every bite you take. Also, uniquely known for its use of Provel processed cheese this pizza will be sure to entice taste buds nationwide with its very unorthodox yet delicious assortment of ingredients.
Quickly becoming a competitor in the ever growing St. Louis food scene. Pizza is certainly making its mark. With its ever growing popularity in the city and nationwide alike. It may soon be the first thing that comes to people's minds before ribs when thinking about the ever growing list of great food that is coming out of St. Louis.
Our Pizza Pick: If St. Louis is on the list of places to go. It would be wise to walk over to Melo's Pizzeria. Serving up different styles of pizza from around the world on a very intimidating menu. Melo's Pizzeria is considered by many to be the best spot to get a slice of St. Louis-style pizza. Stop in and get a plain pie and give the tastebuds a vacation of their own.
Fun fact: The cracker-like dough that makes this pizza so iconic comes from the fact that pizzaiolos use unleavened bread to create this pizza. And what about the cheese? Provel Cheese is a processed cheese that is said to be made up of Cheddar, Swiss, and Provolone. Although, no matter what the combination it certainly comes out as a delicious topping of a delicious pie.
Berkeley, California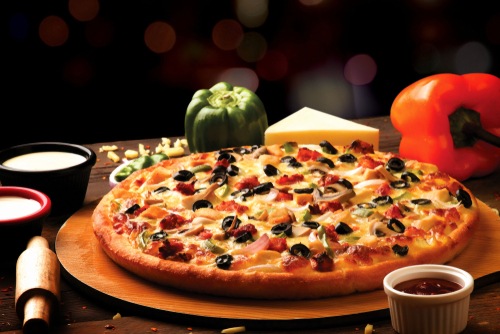 California-style pizza heavily emphasizes toppings that are unique to California cuisine. With fresh ingredients often coming from local farms up and down the Sunshine State layered on a crust that blended together elements of both the Italian thin crust and New York-style pizza. This new name in the ever-growing list of best pizza as well as best pizza cities in the US is coming in fast and strong and making its name known across America. Who knows? It may soon be in the great debate of 'who has the best slice?'
The legendary birth of this now famous pizza is said to have more or less occurred serendipitously at the legendary Chez Panisse restaurant in Berkeley as well as Ed LaDou the "prince of pizza" while working in San Francisco around 1980. Since then with its unique blend of fresh ingredients and crust that pulls inspiration from the New York-Style. This pie has now become a household name and even spawned nationwide restaurants making it and Berkeley the newest addition to the list of best pizza cities in America.
Our Pizza Pick: The original "California Pizza Kitchen" sits on Third Street in San Francisco. Founded and started by pizza inventor Ed Ladou this restaurant still surprises guests with new creations coming out of the kitchen frequently. Happen to be in San Francisco? Definitely make sure to stop by for a pizza dinner at this famous spot.
Fun Fact: Known for its unconventional toppings. Ordering Peanut Sauce, Artichoke Hearts or, anything else you desire wont be too far fetched for this very original style of pizza.
The Best Pizza Cities of America
There are so many different styles and flavors of pizza to choose from across the nation. This list of the best pizza cities in America has given a small window in what there really is to offer out there. Whether it's a hearty deep-dish that you are looking to eat on a chilly day to fill you up or, a few slices of New York-style to grab with your friends. There are almost unlimited options to give the taste buds. Be sure to check what style of pizza is offered on your next vacation and, who knows? Maybe there is a whole new style of pie that is out there waiting to be discovered and placed on the list of the best pizza cities in America.