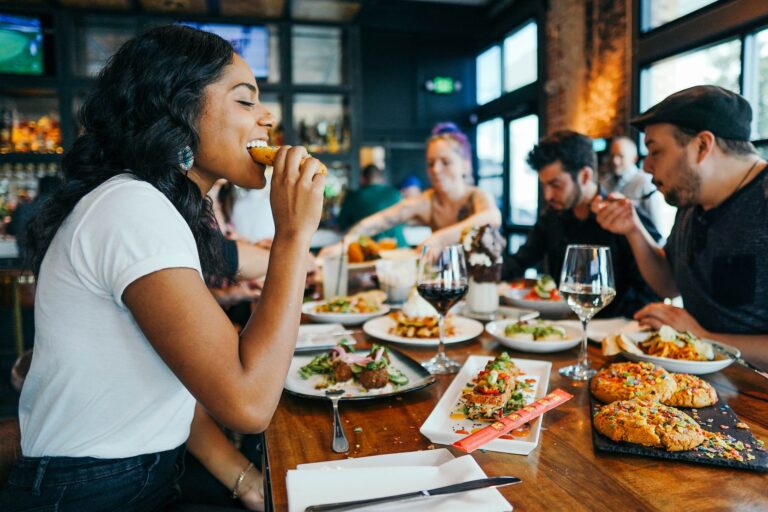 As the largest metropolitan area in the United States, there's no shortage of top-notch restaurants in New York City. From street food in Lower Manhattan to fine dining near Central Park, New York City eateries serve up every type of cuisine known to man, allowing you to indulge in your favorite dishes or savor something new.
With so many options to tickle your taste buds, it can be confusing. So, to help with your culinary plan of attack, we've created this NYC food guide which lists some of the best restaurants in NYC by cuisine. But since breaking it up solely by cuisine doesn't do this great city justice, we've also included a few extra categories like brunch spots, dessert shops, food trucks, and Michelin-rated restaurants.
Italian Cuisine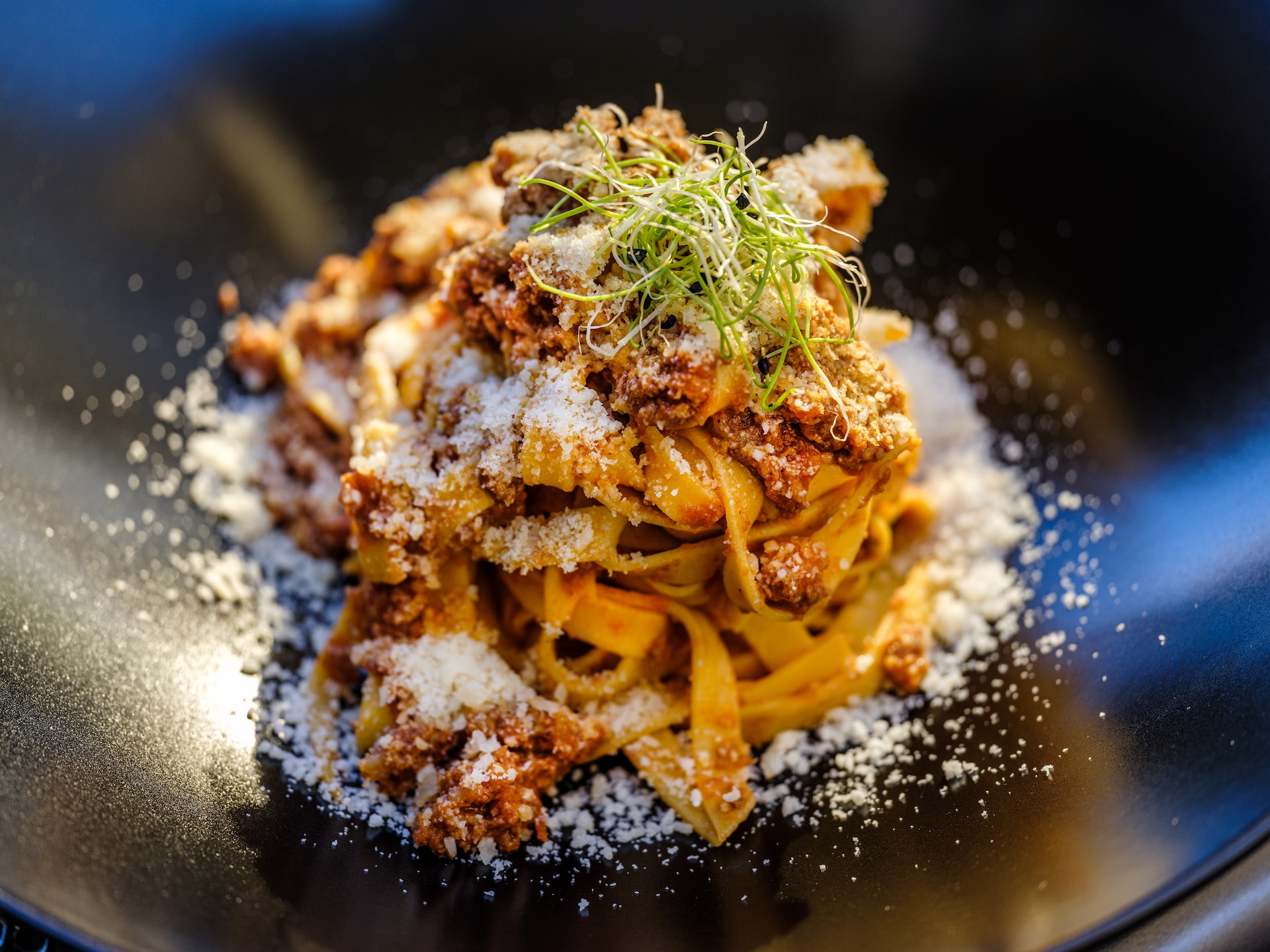 At the top of the list of must-have cuisine in New York City sits Italian food. For visitors and locals alike, eating a hot slice of the city's iconic pizza is a crucial experience. But that's not all you'll find at the Italian restaurants in town, so keep reading to discover some of the best NYC restaurants that dish out Italian food daily.
Bar Pitti ($$)
Established in 1992 and located in Lower Manhattan, Bar Pitti prides itself on a well-executed Italian menu that includes dishes such as truffle pasta and cured veal. Their extensive wine list adds a touch of elegance and outdoor dining offers an excellent ambiance that's well worth experiencing.
Recommended Dish: Make sure to try the whole grilled branzino, along with the refreshing pappardelle al Limone.
II Buco ($$$)
Wonderfully decorated, cozy, and inviting, II Buco is a lovely location for a romantic night out in the NoHo neighborhood. They take careful consideration to only use authentic Italian ingredients and their menu is loaded with delicious creations, including sought-after dishes which are impressive for their fresh simplicity. While NYC has a lot of excellent eateries to choose from while you're in town, we highly recommend paying a visit to Il Buco.
Recommended Dish: If you're a foodie, order their oven-poached filet of Atlantic cod with beans.
Frankies 457 Spuntino ($$)
Often referred to as a blessing by Brooklyn residents, Frankies 457 Spuntino is easily one of the top Italian restaurants in New York City. From the superb interior decor to the delicious dishes offered, this restaurant guarantees a delightful experience. Their culinary team has decades of experience and serves up a variety of fantastic meals like handcrafted soups and house-made pasta on their daily menu.
Recommended Dish: As one of the all-time specials, the sweet potato sage and ravioli in parmesan broth comes highly recommended.
American Cuisine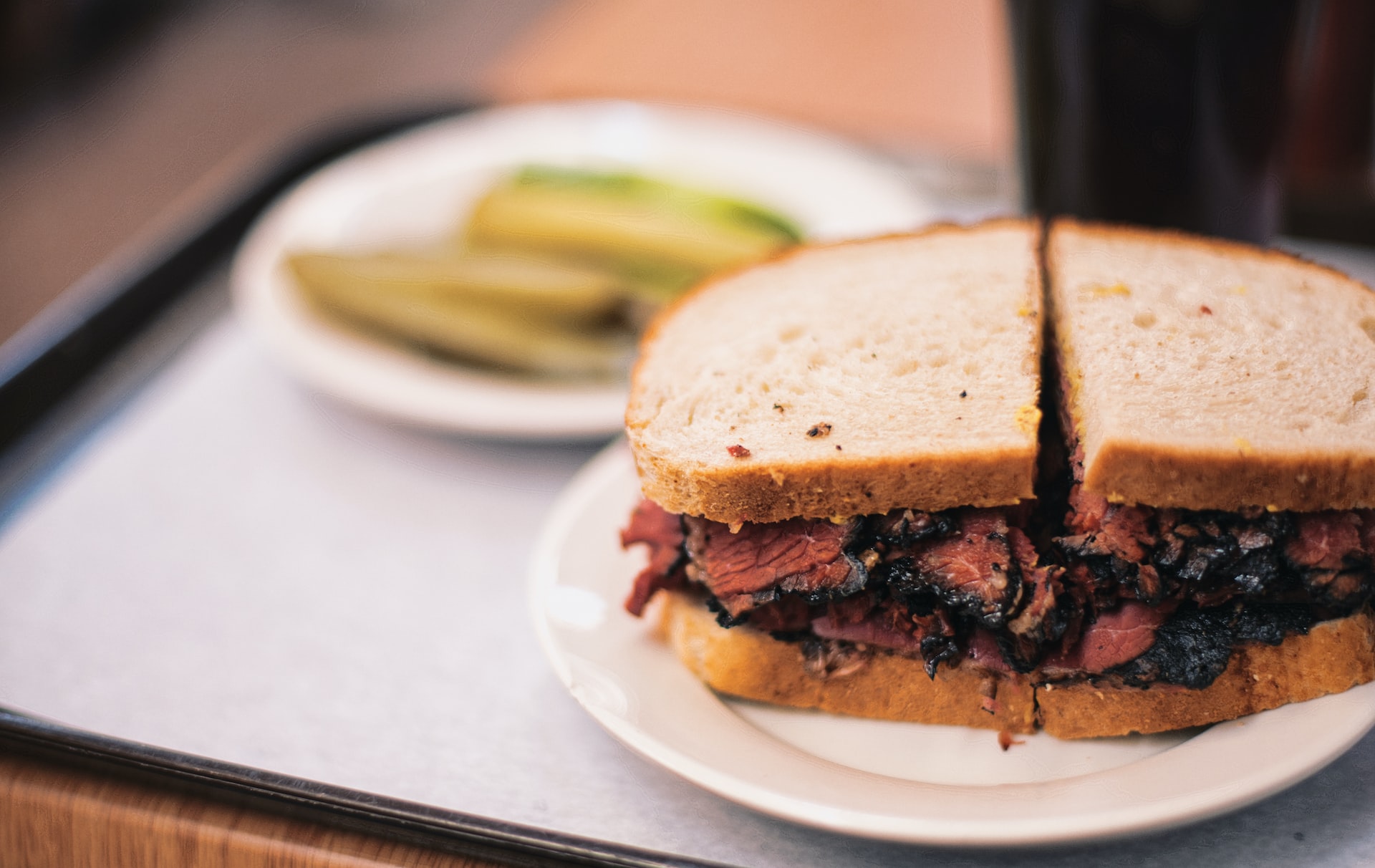 Some of the best cuisine in NYC is American, and you can enjoy everything from high-end meals at Michelin-starred restaurants to street food at places like Billy's Hot Dog Cart. In every nook and cranny of New York City, you can find eateries offering delicious dishes with a thoughtful presentation and an intense focus on finesse. To assist you in finding some of the best NYC restaurants, here are a few of our favorites below.
Barbuto ($$)
Having been open for almost two decades, the prestigious Barbuto has been dishing out great meals from its California-inspired menu for quite a while. This charming grill is located in Chelsea and is always occupied by visitors from around the world who enjoy scrumptious meals in a friendly atmosphere.
Recommended Dish: Their famous Polpette — a crispy pork stuffed meatball — is worth every bite and makes for a truly unforgettable meal.
Emmett's On Grove ($$)
Be it a family dinner, associates' get-together, or romantic date, Emmett's On Grove in the West Village is the perfect place to go. Their menu is loaded with incredible Chicago-style cuisine as well as irresistible dishes inspired by their Italian American roots. Be sure to try a slice of their remarkable tavern-style thin-crust pizza, which will leave you wanting more.
Recommended Dish: A must-try on the menu is the Chicago-inspired Emmett's Grass Fed Burger.
Chef's Table at Brooklyn Fare($$$)
Chef's Table at Brooklyn Fare is a three-star Michelin restaurant located in the Hudson Yards neighborhood. It's renowned for serving a mouthwatering Japanese and French-inspired menu paired with an extensive list of classic champagne and high-end wines from France, Germany, and Austria. With superb interior decor, exceptional culinary craftsmanship, and perfect wine preparation, this is an excellent eatery that's sure to tickle your taste buds.
Recommended Dish: With a 20-course tasting menu that changes often, it's hard to choose just one dish to recommend. Luckily, when you sit down for a meal at Chef's Table, you get to enjoy everything on the menu.
Katz's Deli ($$)
Katz's Deli is perhaps one of the most popular spots in New York City. This legendary eatery has been in business for over 130 years and serves up a menu full of Jewish deli classics. It also offers online delivery, take-out, and catering for parties, holidays, and events. Its cozy atmosphere and rustic meals set the stage for a culinary delight like no other, making it a must-see spot while you're in town.
Recommended Dish: Try the pastrami sandwich prepared with deli rye, mustard, swiss cheese, tomatoes, lettuce, and onions.
Brunch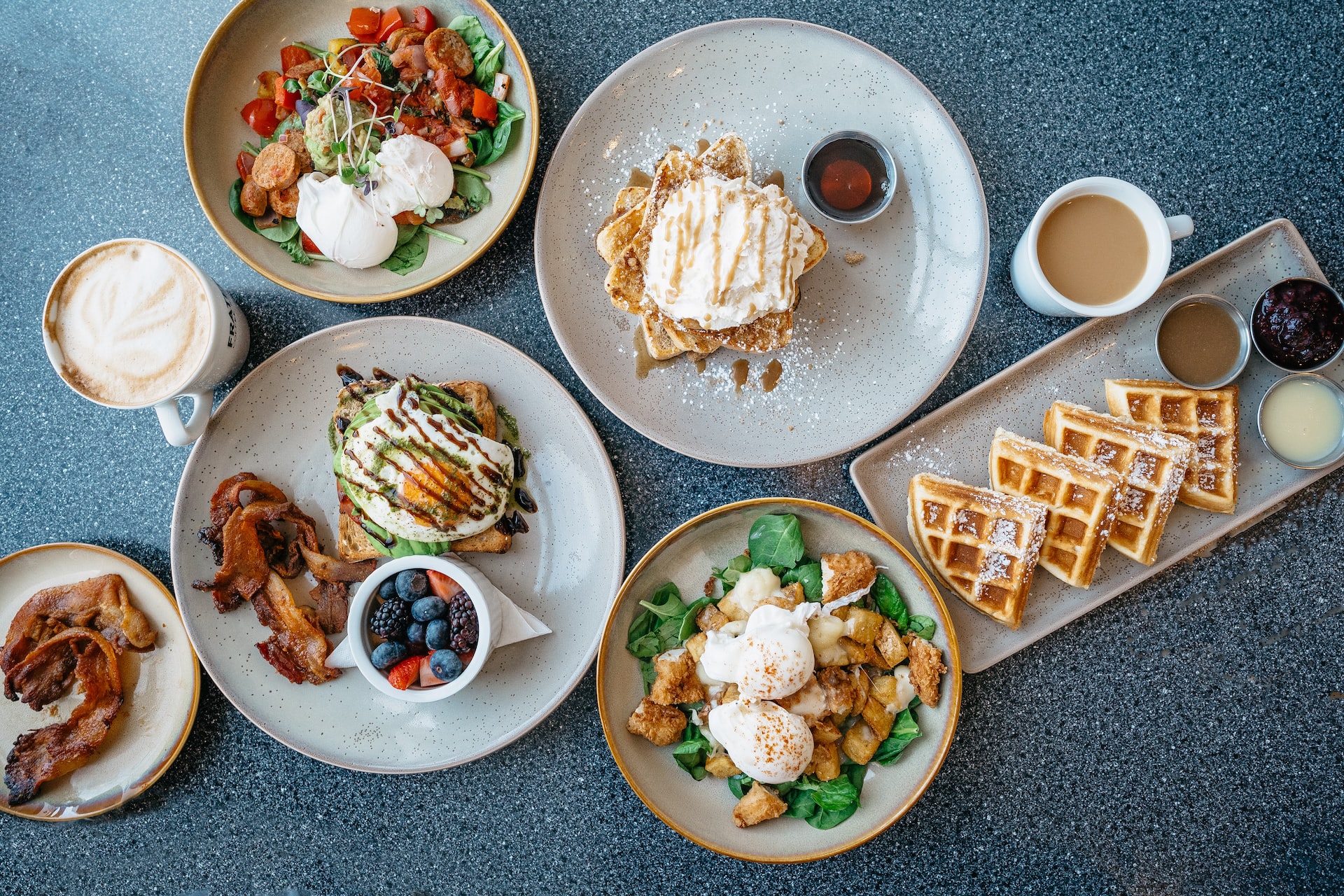 Including Los Tacos on the East Side and a la carte offerings at Russ & Daughters Cafe, NYC has plenty of restaurants that specialize in brunch. While it's not technically a type of cuisine, brunch is a category that's well-worth mentioning as you'll probably find yourself craving some late-morning bites, especially after experiencing the vibrant nightlife of New York City.
Sidney's Five ($$)
With a very substantial menu that's available at all hours of the day, the spectacular Sidney's Five is an easy choice for brunch. In addition to a wide variety of delicious dishes, the astounding East Village eatery also features a martini menu available all day long, making it a mandatory experience while you're in the city.
Recommended Dish: You'll want to try their buttermilk pancakes served with fresh peaches, whipped peach butter, and rosemary maple syrup.
Tre Trattoria and Bar ($$$)
Located in Lower Manhattan, Tre Trattoria & Bar has been serving excellent meals since 2007 and the venue's outstanding brunch menu is still best-in-class. Their ample list of sparkling white wines is exceptional and perfect for a mid-morning pick-me-up, while their mouth-watering menu of brunch specialties like huevos rancheros is sure to satiate.
Recommended Dish: Champagne Brunch is a favorite with locals as it comes with an entree plus your choice of champagne or mimosas with free refills for 90 minutes.
David's Cafe ($$)
David's Cafe is a superb place to visit, especially during brunch hours. This locally admired venue features American-French fusion with a rustic twist, including regional dishes like steak frites, burgers, and pork chops. Located in the East Village, David's Cafe's brunch menu offers a variety of jaw-dropping snacks and dishes to make your day.
Recommended Dish: We highly suggest trying their award-winning burger, the Burger Queen Deluxe. It consists of a two-patty tower with secret sauce, cheese, tomato, lettuce, and pickles with perfectly cooked French fries.
Dessert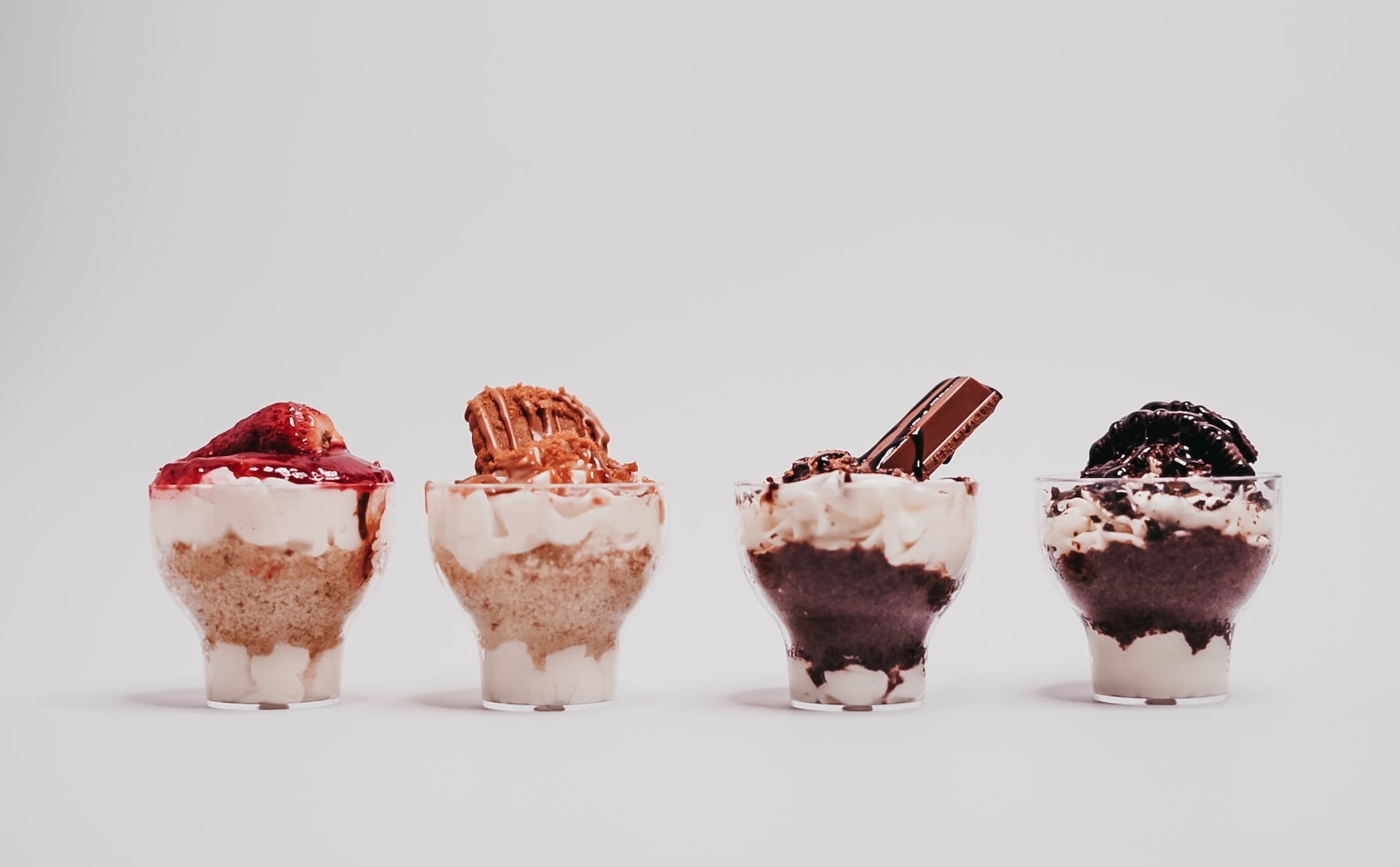 You'll find plenty of popular restaurants in NYC serving jaw-dropping desserts by masters of the craft, so you can rest assured that you'll find something to satisfy your sweet tooth. Again, dessert is more of a category than cuisine, but we believe that no NYC food guide would be complete without letting you know where you can find some of the best sweet treats in town.
Patisserie Fouet ($$)
Patisserie Fouet in Greenwich Village is managed by a seasoned Japanese chef, Yoshie Shirakawa, who serves guests a menu of classic French desserts along with gluten-free, dairy-free, and vegan meals. With both indoor and outdoor dining options, it's a great location to kick back and enjoy a sumptuous cocktail with your favorite cake.
Recommended Dish: Try their prix fixe dessert menu featuring an amuse bouche, seasonal souffle, creme brulee, and more.
Ayza Wine & Chocolate Bar($$)
Ayza Wine & Chocolate Bar is a popular dessert destination situated in the heart of Manhattan that'll tempt you to order a second serving. The desserts include specials like the twenty-layer crepes cake brulee and the Belgian dark chocolate-covered strawberries. You easily can spend a whole day trying out their entire menu whilst having the sweetest experience.
Recommended Dish: Upon your visit, make sure to try the infamous Earthquake Cake — a scrumptious triple-layered dark chocolate, crumble-smothered fondue with ice cream and hazelnuts.
Fortunato Brothers ($$)
Founded in 1976, Fortunato Brothers is known for serving up sweet Italian pastries for almost half a century. Their old-school NYC charm with a touch of creativity produces irresistible and authentic desserts including fantastic gelato. But that's not all they have to offer as you'll find many more unique desserts on their vast menu.
Recommended Dish: Make sure to order their highly rated dessert, chocolate cannoli, and complement it with a glass of Italian espresso.
Milk Bar ($$)
The flagship store of the Milk Bar is located in Midtown Manhattan and specializes in delighting your taste buds with unique sweets. It's well recognized for its unmatched collection of decadent desserts including milk bar pie, ice creams, assorted cakes, cookies, and much more. There's no better way to end your day than to grab a sweet bite at the exquisite bar.
Recommended Dish: You won't want to miss out on the highly-rated cereal milk ice cream with cornflake crunch topping, which is exactly as good as it sounds.
Food Trucks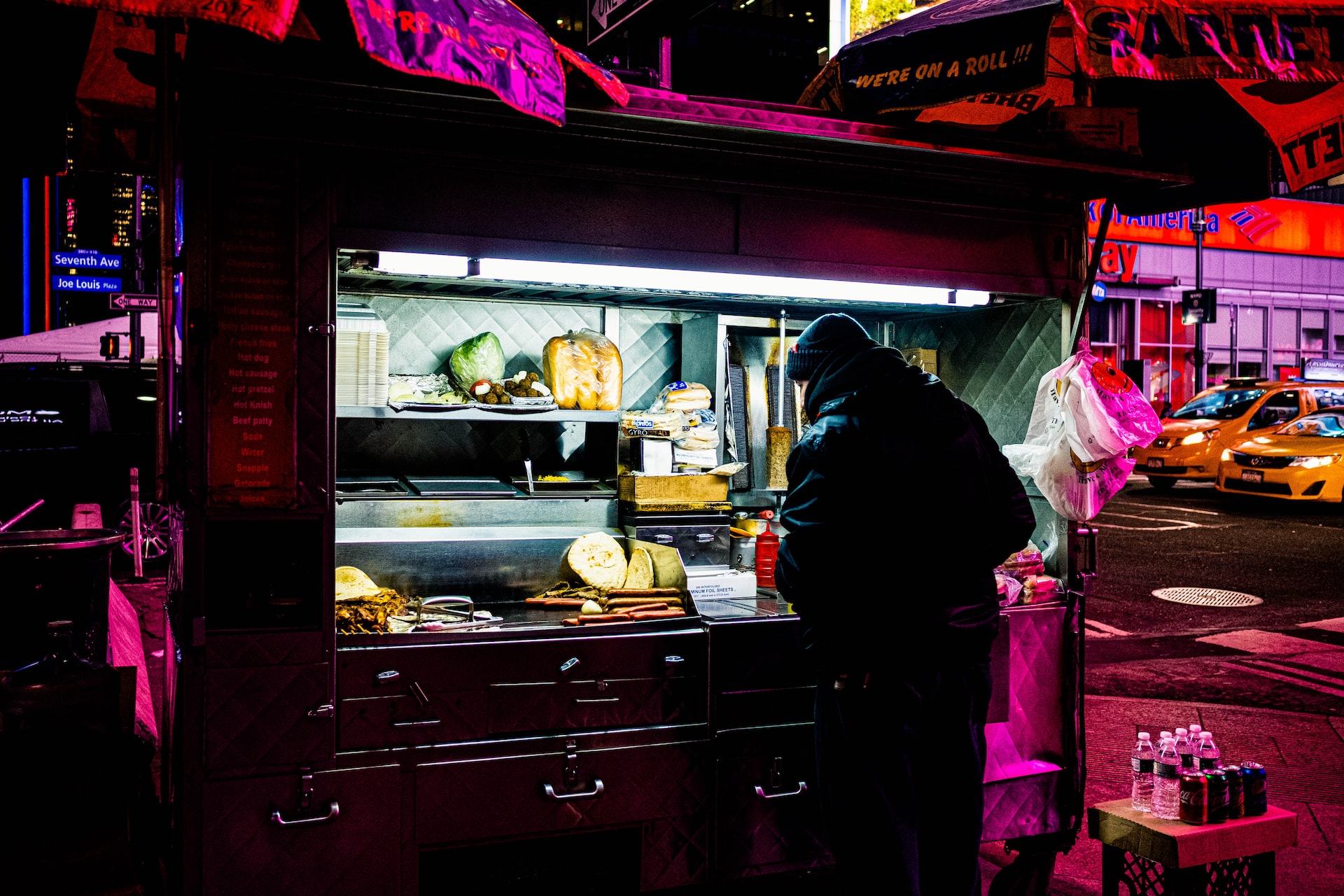 In a bustling city like the Big Apple, you'll easily find food trucks parked along busy streets and tucked away in unique locations. From fresh seafood and tasty tacos to juicy burgers and savory sandwiches, the food trucks in NYC serve up some of the city's best grab-and-go food offerings. Follow our lead as we walk you through one of our favorite categories of food available in New York City.
King Souvlaki ($)
Since 1979, King Souvlaki has been serving authentic Greek street food with fire-roasted Mediterranean flavors in Brooklyn, Manhattan, and Astoria. This food truck has attracted a lot of foodies who love to eat on-the-go due to its exciting menu of fresh meals prepared daily from genuine and quality ingredients.
Recommended Dish: Be sure to try the popular chicken gyro platter with fresh vegetables and french fries cooked in extra virgin olive oil.
Birria Landia ($)
Birria Landia is a food truck with locations in Queens, the Bronx, and Brooklyn. It serves a plethora of food that will please your taste buds from a traditional Mexican menu. Sink your teeth into their freshly-prepared and delectable tacos, tostadas, and mulitas. With moderately priced plates, this is a great spot to grab a quick bite for those on a budget.
Recommended Dish: Try out their famous Birria Tacos prepared from corn tortillas, chopped birria, onion, cilantro, and special sauce. The best way to enjoy this meal is by dipping the tacos in their house made consomme, a tasty Mexican broth.
Hard Times Sundaes ($)
Tucked away in Brooklyn, Hard Times Sundaes has achieved an outstanding feat as New York City's #1 burger truck thanks to its jaw-dropping burgers prepared from fresh and quality ingredients. With an extended menu of hot dogs and other savory desserts, you can be sure to treat your taste buds to something nice, especially after experiencing everything the city has to offer.
Recommended Dish: The double cheeseburger with caramelized onions and bacon is a must-try.
Michelin Rated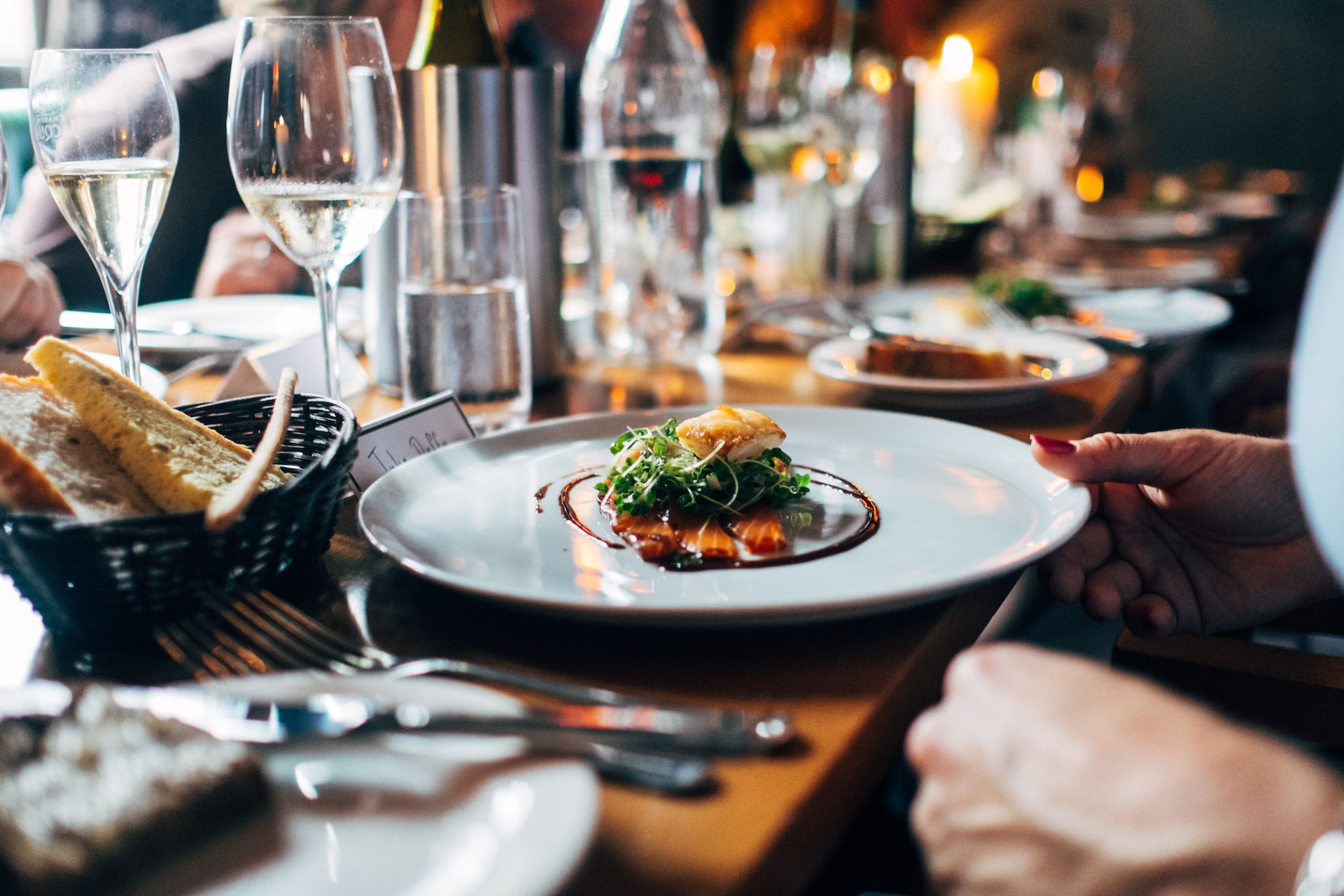 New York City is a haven for professional chefs and splendid meals, so there's always something for everyone. But to experience the best of the city's culinary offerings, it's wise to dine in one of its Michelin-rated restaurants. These restaurants offer interesting and authentic menus inspired by chefs from all around the globe, so this category is truly the cream of the crop.
The Modern ($$$$)
This contemporary restaurant boasts superb interior decor that complements its fantastic cuisine. The Modern holds two stars on the Michelin rating scale for its creative and seasonally-inspired menu. Furthermore, you'll find a lengthy list of top-notch wines and lavish cocktails to pair with your exquisite meal.
Recommended Dish: Our favorite dish is the delicious hamachi sushi with miso and brussel sprouts.
Marea ($$$$)
Marea is a one-star Michelin restaurant in Central Park that serves a tasty menu of a la carte Italian specialties. They seamlessly integrate classical cuisine with a modern twist and only use the most high-quality ingredients. While they specialize in seafood dishes, they have a variety of culinary offerings available to those who love to indulge their taste buds in only the best.
Recommended Dish: Try out the polipo which is prepared from grilled octopus, radish, pickled red onions, and chillis.
The Musket Room ($$$)
The Musket Room is a celebrated Michelin-rated restaurant located in SoHo that serves unique cuisine from a highly-curated menu, including vegan options. With a focus on healthy offerings, a great culinary team dedicated to preparing innovative dishes, and an excellent service staff, it's the ideal place to visit during your New York City foodie vacation.
Recommended Dish: If you're a true foodie, order the pekin duck with foie gras, plum, and Japanese mustard.
Plan Your New York City Foodie Vacation
Choosing the best restaurant in New York City is an exciting task with a myriad of possibilities, as the city boasts numerous options for tasty and irresistible meals. Whether you're visiting the Big Apple or call NYC home, we hope this New York City food guide sheds some light on a few of the top spots to enjoy a meal. Either way, we highly recommend taking a foodie vacation to fill your belly with some of the best restaurants in New York.