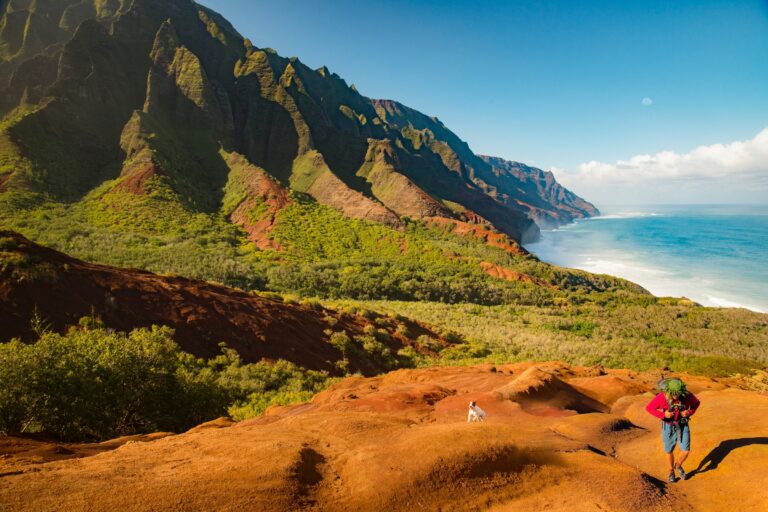 Lush tropical jungles, world-class beaches, and endless breathtaking views make for a picture-perfect vacation. The only way visiting Maui could be better is by bringing your best friend to explore the magical, second-largest island of Hawaii.
Bringing the dog along on a family vacation is a no-brainer for many people, and luckily, there are some pet-friendly rentals in Maui for you to enjoy with your four-legged family member. However, including the family dog on an island vacation isn't as simple as finding a pet-friendly beach house and leaving it at that. A happy vacation with your pup requires some careful consideration and planning. Read on for how to bring your dog to Hawaii.
Getting Dogs Into Hawaii
As the only state in the U.S. without any known instances of rabies, Hawaii is very protective about which dogs are allowed to enter the state. Getting dogs to Hawaii is difficult, which is the point. Pets must be inspected upon entry and, if they pass inspection, can be directly released the same day. The Maui Humane Society performs these inspections at the Kahului International Airport, meaning if you have a direct flight into Maui, you can have your pets inspected at the airport. If flying into Oahu first, you may need to arrange an inspection at that airport.
Do Dogs Have to Quarantine in Maui?
If your dog doesn't qualify for direct release, they will need to go through the five-day quarantine program. According to the State of Hawaii's Animal Industry Division, flight arrival times and COVID-19 procedures have increased the wait time for pet releases by as much as 30 to 60 days in some cases from the airport holding facility. (The first day after the dog arrives is considered the first day of quarantine.) Extended delays are created when dog owners do not submit the required paperwork 10 days or more before arrival and have their documents reviewed at the Airport Animal Quarantine Holding Facility (AAQHF).
Keep in mind there are fees associated with both direct release and pet quarantines when you bring your dog to Hawaii. Direct airport release costs $185, while a quarantine period of five days or less costs $244. (The longer quarantines can cost upwards of $1,000 per pet.) This is on top of the $165 required for a Neighbor Island Inspection Permit, so the costs can really start adding up, as well as the stress.
Requirements for Bringing a Dog to Maui
This is a nightmare scenario for most dog owners for a number of reasons, and rightly so. But it doesn't have to happen. Navigating through the inspection process can be a little intimidating, but VacationRenter is here to help. We've compiled a full list of requirements for traveling to Maui with your pup so doggy quarantine can be properly avoided and the two of you can start lounging in paradise in no time.
Microchips
All dogs that travel to Hawaii need to be microchipped in order to qualify for the Airport Direct Release or the quarantine program. If your canine companion shows up to Maui unchipped, they may have to quarantine for up to 120 days, which can be stressful on your dog, and would absolutely ruin both of your vacations.
Rabies Vaccination
The whole point of this process is to ensure that the rabies virus does not make its way to the Hawaiian islands, so it's pretty clear why having your dog vaccinated is a requirement. Your dog needs to have been vaccinated twice in its life, with at least one month between doses. The second vaccination needs to be at least 30 days prior to their arrival in Hawaii, so make sure you plan ahead to ensure they don't have to spend any more time in quarantine than is necessary.
FAVN Rabies Antibody Test
The next step in the process is getting a FAVN Rabies Antibody Test for your dog to confirm they have working rabies antibodies. The test must be performed by an approved laboratory, make sure your vet sends the blood sample to Auburn University (AU), Kansas State University (KSU), or the DOD Food Analysis and Diagnostic Laboratory in Texas.
There are two different types of antibody tests, so you'll also want to confirm you get a FAVN test, and not an RFFIT test.
Proper Documentation
You will also need documents from a certified veterinarian in Maui to confirm they will conduct an inspection for your dog upon arrival. They will make sure your dog is healthy and passes all the requirements for release. There are a handful of authorized veterinarians on Maui, and we've listed a few below.
The following forms will also need to be submitted at least 30 days before arrival:
Completed Dog & Cat Import Form (AQS-279)
Rabies Vaccine Certificates
Cashier Check or Money Order for $165
Your Flight and Arrival Information
Waiting Period
After your home veterinarian has submitted your dog's blood sample to the lab, your pup must wait 30 days before arriving. Any dog arriving before the 30-day period is over will have to wait in quarantine at the airport.
Once you submit your Dog & Cat Import Form, you will receive an email containing the Neighbor Island Inspection Permit, which must be printed and filled out before you travel. It will be required for your dog to board your flight to Hawaii and will be presented to the inspector upon arrival.
Bring Your Pup to the Beach
We know it seems like a lot, but the steps to get your dog to Maui really are fairly straightforward. We recommend following the state's checklist as you take the steps to get your dog travel-ready.
Once you and your best friend have reached Maui, there are many dog friendly places, like Kilohana Park or Kahekili Beach. Some beaches are not happy to host your furry friend, so make sure you do a bit of research before hitting the sand.