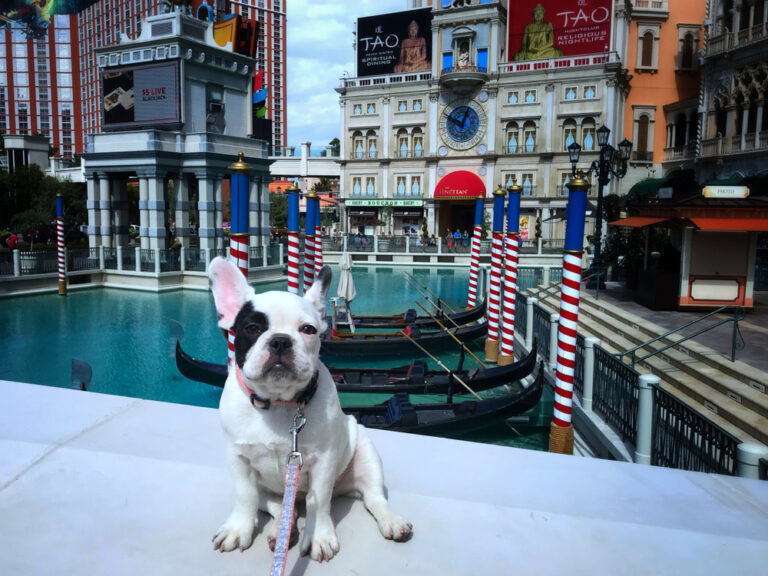 Sometimes, travel calls. But if you have a loyal pet at home, you might not want to answer. Maybe the kennel is booked solid, or you can't imagine a family vacation without your pooch. Luckily, you don't have to leave the puppy home when you head to Las Vegas!
Pet Friendly Vacation Rentals in Las Vegas
Your pet is in luck if you're traveling to Las Vegas. Here, you'll find family-friendly and pet-friendly vacation rentals that'll help your furry companion feel pampered while you both get pampered on your next vacation. Vegas is an extraordinary destination known for its world-class casinos, fine dining, nightlife, adventure activities, and endless parties. Bringing your dog to such a place may be a bit overwhelming (for both of you). If you are unfamiliar with the layout, here are a few things to consider as you plan a vacation to Las Vegas with your pet.
Staying in a private rental rather than a hotel on the busy strip may be the best option for your party. Make sure to check VacationRenter's many rental options in Las Vegas; simply adjust the filters to 'Pets Allowed'. Your pet will be grateful to stay in a private rental rather than feeling cooped up in a hotel room.
Many Hotels Have Pet Restrictions
Pet-friendliness comes with caveats in most hotels. Accommodations on the strip and downtown may limit the size and breed that are welcome. You'll find most options may only accept small dogs. Some hotels will not accept cats or pit bulls. Pets may have to weigh under a certain amount to meet a hotel's requirements. With this many restrictions, the best bet could be an extended stay in a hotel in the greater metro area, as these facilities are known to accommodate pets tagging along for the stay. If you plan to stay at casino or big hotel on the strip, there's usually a fee for bringing pets along, though it may be waived for service animals.
Tips to Bring Your Pet to Las Vegas
Did you think bringing a dog to Vegas would be difficult? Well, as our guide shows, it's far from impossible if you follow these easy tips.
Check Out Pet Care Services
Most hotels require that guests don't leave animals unattended for any time during their stay, even if the room is pet-friendly. This may make your vacation feel a bit limited. One option for keeping your pup comfy is the Las Vegas Dog Resort. With over 200 great reviews, you'll have the peace of mind that your dog is safe and well taken care of. With many services including boarding, daycare, training, and even spa services, your dog will be in good hands. The Las Vegas Dog Resort also features 24/7 supervision, a complimentary bath before pick up, and of course, unlimited playtime.
Opting for a doggy hotel may be the best option for visiting Vegas. This way you can head out for a wild night on the strip without having to worry about getting back to your place to let your dog out. Plus, we have a strong feeling the pup will enjoy their own resort.
Room to Run Around
Remember that if you are staying on the strip or downtown, there may not be a lot of grass for your pet to enjoy. For more leg room, consider the accommodations of an entire house. The city of Henderson is located just a few miles away from the strip. Here there are tons of dog-friendly rentals with tons of room. Being close to the casino activity and entertainment, you'll have the best of both worlds. Your pet can have space to run around with a yard while you enjoy the many attractions. Plus, you can save some money as this location is known to be more affordable than the strip.
Vegas is Definitely Busy
Another consideration to keep in mind is how sensitive your pet may be to bright lights and loud noises. Las Vegas can be overwhelming for a pet (and a human). Vegas runs on its own time, so prepare for crowded sidewalks and lots of potentially intoxicated people day and night. If your pup is timid, chances are the strip is not a great place. If you do opt for a hotel, make sure you ask the desk agent for tips about keeping your dog comfortable. Ask if they can place your room in a convenient place near a staircase or an alternative way to get outside. A kind attitude does wonders in the service industry.
Careful During the Summertime
Vegas is in the desert and the desert gets hot, especially during the summer. During the peak summer months, the pavement heats up fast and can actually injure your dog's paws. We recommend being very mindful about walks during the summertime. A good rule of thumb is, if it's too hot to walk on pavement barefoot, it's too hot for a dog. Try going for long walks in the mornings and evenings or bringing puppy shoes to keep their feet protected. Also, do some research on your dog's breed. Some breeds have a hard time cooling down and do not do well in extreme heat. No matter the season, always make sure to keep your dog hydrated.
Find a Nearby Vet
While we hope your trip to Vegas is smooth sailing, it never hurts to be prepared. If you run into issues with your pet's health, head over to Las Vegas Veterinary Specialty Center. Your dog will be in good hands.
Locate the Pet Stores
While there is no direct pet store on the Strip, there are several nearby. If you need to grab some more food, a new squeeze toy, or some treats, go over to PetSmart on south Decatur Blvd. Also check out if there is a delivery app like Uber Eats or Postmates that can deliver these items for you.
Fun Things to Do With Your Dog
Red Rock Canyon National Conservation Area
Definitely check out Red Rocks Canyon for a great desert adventure! Dogs are welcome in the Conservation Area but must be leashed at all times. This exciting natural location is just 25 minutes from the strip and hosts many visitors looking for a great time outdoors. The area is also a rock climbing destination. Make sure to bring a bunch of water and head out for a day on the trails. View desert landscapes, epic mountains, and red rock formations. Your dog will thank you for a wonderful day spent outdoors!
Desert Breeze Park
With over 100+ great reviews, this Desert Breeze Park is a great place to let your pooch socialize with locals and run around. Let your good boy or girl run with the pack. Make sure to bring their favorite squeaky ball and enjoy! By going to a local dog park, you can also chat up local dog owners and ask for other great suggestions for dog-friendly things to do in Las Vegas.
All Bets Are In!
Vegas is a wild place! Follow these tips for a great time in Sin City while bringing your best friend along.