Quebec is incredibly beautiful, and makes for a wonderful place for vacationers. The residents are friendly and lively, and the scenery is just as wonderful as the people. While almost any time is worthwhile to visit Quebec, the summer and winter seasons will tend to have the most activities available for travelers.
As one of the thirteen provinces in Canada, there are plenty of smaller towns, cities, and suburbs to explore within Quebec. French is the primary language in the province, though most residents speak fluent English as well. The history of Quebec dates back to 1608, and much of their historic past is still very vibrant and alive today.
Here are a few locations you'll want to try and explore while visiting Quebec so you can have a truly unforgettable experience.
Montreal

Montreal is the largest city in Quebec, with an incredible array of restaurants, shopping centers, entertainment options, and more to offer. While there are a multitude of great options, there are a few spots you won't want to miss out on if you find yourself in Montreal.
The Montreal Botanical Garden is one of the most beautiful places to walk through. With butterflies, beautiful flowers, and fragrant smells, it's an experience sure to overwhelm your senses in the best possible way.
The Jean-Talon Market has flavor and flair for any traveler with a desire for authenticity. You can find not only delicious, local foods, but also flea markets and handcrafted goods available within the sprawling market. Taking a walk through this market is highly recommended.
If you're looking for incredible restaurants in Montreal, you'll want to try and stop by Bouillion Bilk and Le Club Chasse et Peche for some culinary experiences you won't soon forget.
Pro traveler tip: Montreal is just as fun in the warmer months as it is in the colder months. So no matter what time the trip is scheduled for there is always something exciting to be done here.
Where to Stay in Montreal
Downtown Montreal is a fantastic option for those that want to stay in a busy district that has action around every corner. Some of the finest shopping and restaurants are located here as well. All of this combines to make for efficient use of your time spent here.
For those that are looking for a quieter, yet just as a fun escape into this northern city, Old Montreal is a perfect option. With cobblestone-lined streets and architecture dating back to the 17th century, this place is perfect for families and history buffs as they will get lost in the stories that are told about each street and building.
Favorite local spot in Montreal: Hogan et Beaufort offers a farm-to-table experience that brings the local catch of the land to the plate in a relaxed and very digestible way. Be sure to stop here for an authentic taste of Montreal.
Quebec City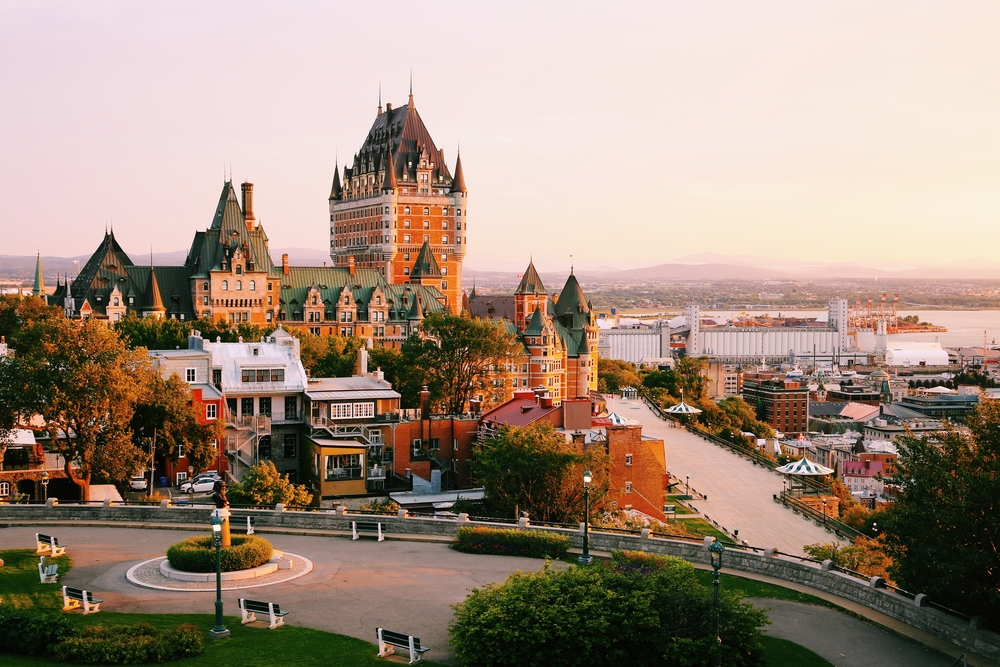 Quebec City is another large city located right in the heart of the province. Its position along the Saint Lawrence River provides for some of the most beautiful sunsets you'll ever witness. With a colonial heritage, there is a lot of Quebec history to take in during your visit here.
Old Quebec is a historic neighborhood within Quebec City that is incredible to explore in any season. Along with ample museums, restaurants, and other activities, simply walking the streets is a dive into the rich history and heritage of the neighborhood.
The Montmorency Falls are one of the highest falls in the province, even higher than Niagara Falls. This means you have to make sure to stop by these falls and look down below to see the water crash at the bottom.
You'll want to sample some of Quebec City's restaurant offerings, and there are a few that take the cake. Legende is upscale but has a lot of traditional Canadian dishes. Initiale is another elegant choice for some French Canadian favorites.
Pro traveler tip: Exploring Old Quebec is truly taking a step back in time. Explore North America's oldest streets, and over 400 years of history as it comes to life around every corner in this unique part of town
Where to Stay in Quebec City
One of the coolest options for a place to stay while on vacation in Quebec City is the Chateau Frontenac. Considered to be one of the most photographed hotels in the world, this iconic hotel has been standing here for as long as the city itself. Be sure to book a night here for one of the most luxurious experiences you'll ever experience.
Saint Roch is an option for those that just want to visit the immense history, but then return to a hip and bustling district when the photographs and history lessons are over. Cool restaurants, boutique shops, and plenty of bars and other entertaining nightlife are found around just about every corner.
Favorite local spot in Quebec City: For an elegant and modern twist on French cuisine in an inviting atmosphere L'Echaude offers some of the best dishes in the entire city. Be sure to try the Duck Confit, our personal favorite.
Mont-Tremblant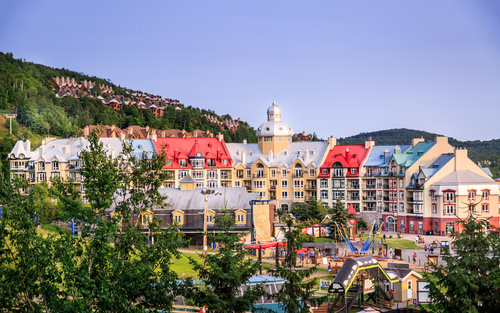 The skiing is incredible in Mont-Tremblant, so it is often one of the most visited locations in Quebec. Shopping, golfing, and many other activities are also offered in this tourist town, so even if you're not into skiing, there is still plenty to do.
The nearby Mont-Tremblant National Park is full of natural beauty, with plenty of hiking trails and picnic tables available for gatherings. The national park is protected and houses 206 bird species, 45 mammal species, and a variety of reptiles. Make sure to keep an eye out for these visitors.
If you're not hitting the slopes, going to the National Parks, or walking down the shopping center, then make sure to grab a bite at La Savoie. This is one of the highest-rated restaurants in the area, with a rating of 4.3 out of 5, you can be sure the food is phenomenal.
Pro traveler tip: Being that Mont Tremblant is a tourist town, prices for typical goods tend to run a few dollars more. Keep that in mind before making the trip up here so you don't get caught spending extra time at the ATM.
Where to Stay in Mont-Tremblant
Staying slopeside in a ski-in ski-out condo is the perfect way to get an authentic and comfortable experience during the stay in Mont Tremblant. Book one through a private rental, or the resort itself, for an amazing mountainside getaway.
Another great option when it comes to places to stay would be renting an RV on private land. This surprisingly private and inexpensive option is an amazing way to get an authentic feel for the tight-knit community that still manages to exist here, despite the major growth in population the area is experiencing.
Favorite local spot in Mont-Tremblant: Restaurant C'est la Vie offers elegant French cuisine with a gorgeous mountain backdrop. This mouthwatering menu will be sure to satisfy the taste buds of every patron who orders here.
Adirondack Mountains

Sprawling over acres and acres of land, you can expect to find a portion of these mountains in northeastern North America. Many visitors to the mountains enjoy camping in the area. However, there is wildlife, so the proper camping techniques should always be used for safety.
These tranquil mountains do not have a lot to offer in terms of shopping or restaurants, but the wildlife and beautiful nature that it offers is mostly what brings visitors in.
There are several businesses at the bottom base of the mountains, however. This allows those camping or visiting the mountains to grab what they need before heading out into the great unknown.
Pro traveler tip: This sprawling array of mountains that stretches over a vast expanse of land is home to thousands of activities and trails to explore. Be sure to check out some attractions in the area before your trip to come up with the best itinerary.
Where to Stay in the Adirondack Mountains
Lake Placid is a famous lake that was brought into the limelight due to it being the location of the 1980 Winter Olympics, and the surrounding village is just as marvelous as the games that took place there years ago. Although Located in the US state of New York, it makes for a beautiful weekend getaway.
Another fantastic option for places to stay in the Adirondacks is under the stars at Fish Creek Pond Campground. With beautiful views of Saranac Lake, this is a great option to get really in touch with nature and for an authentic experience in the Adirondacks.
Jacques-Cartier National Park

Just like the Adirondack Mountains, the Jacques-Cartier National Park offers a lot of views from the mountain tops. You can walk down nature trails and see not only nature, but the residents of the forest. Many of the animals are unaffected by guests and you can get quite close to them.
There are cabins found throughout the woods, as well as camping locations for those who are bringing tents. The National Park is protected, so the land and animals must be visited with care.
Bring a sleeping bag, set up a spot, and enjoy all that the park has to offer. Having the whole experience will make your trip to Quebec even better.
Remember, Quebec is primarily French-speaking, so you might want to brush up on some French before heading out. Enjoy your time in the cities within Quebec, take pictures, make memories, and have the time of your life.
Pro traveler tip: Be sure to bring the camera on a journey out to this gorgeous natural landscape. It is almost certain to get a snapshot that rivals those taken by Ansel Adams.
Where to Stay in Jacques-Cartier National Park
There are many cute and comfortable condos and chalets that are available for rent in this magnificent park. Choose from a high-end private condo, to an off-the-beaten-path mountainside cottage, to make your vacation here exactly what you want it to be.
If staying in a world-class hotel is more your speed, then perhaps booking a stay at Les Chalets Alpins is the move for your vacation. With a multitude of amenities such as onsite skiing, rafting trips, and a spa. This is another wonderful option as a place to come back to after a day in the wilderness for some relaxation.
Quebec is the Spot!
Quebec is one of the most gorgeous territories in all of Canada. With immense swaths of wilderness coupled with historic towns, this is a truly unique and authentic place where the generations-old, tight-knit culture still exists to this day. Some of the best ski resorts on the continent also call this place home, as do some of the finest French restaurants outside of the country itself. Book a trip here now for an experience that combines history, the outdoors, and luxury all into one fantastic voyage.