Atlanta is a booming city with a classic sense of Southern charm. Top-shelf restaurants and bars, symphonies and ballets, and shopping and adventure are easy to find here. Living in this southern city is a great place for professionals, families, and anyone seeking a friendly community within a big city.
But it's called Hotlanta for a reason. The nickname refers to the balmy climate and the city as an increasingly popular destination for tourists. Even if you love Atlanta living, for those reasons and more, it may be nice to take a weekend trip with your better half somewhere to get away from it all.
Luckily, weekend getaways from Atlanta for couples are plentiful — be it to celebrate an engagement or anniversary, or just some time alone together is easy. You don't have to go far to find eight great destinations we are going to recommend. In fact, they're all within driving distance. Keep reading to plan your next great escape.
1. Chateau Elan
Drive time from Atlanta: 40 minutes

Just a short drive outside of Atlanta, Chateau Elan was named 'one of the most Instagrammable hotels in the U.S.' by Discoverer. Spanning 3,500 acres of rolling hills and wooded forests, Chateau Elan is north Georgia's premier destination resort. Its grounds feature a winery, several restaurants, a luxurious spa, and an award-winning golf course. Grab a couple's massage, have a romantic dinner by candlelight, sip fine wine, and hit the links all in one weekend.
Top romantic activity: We recommend the couple's massage, without a doubt. The spa at Chateau Elan does not mess around. Check out the full spa offerings here.
With many updated offerings, booking a special weekend getaway at this wonderful resort is easy.
2. Tybee Island
Drive time from Atlanta: 3 hours and 40 minutes

Take advantage of being close to the coast and slip over to Tybee Island for a little beach time. The island is brimming with sandy beaches, fine and casual dining, plus a flat landscape ideal for romantic walks or bike rides. A signature lighthouse is visible from most spots on the island, and if you're lucky you might see a loggerhead turtle on the beach. Watch the sunset over the ocean to end your romantic Tybee day. While Tybee Island is a bit further than the other recommendations, it is certainly worth the trek.
Top romantic activity: If the season is right, make sure to hop aboard Captain Mike's Dolphin Tours for a nice sunset experience. Catch the sight of a beautiful East Coast sunset while on the sea checking out dolphins in their natural habitat.
We suggest taking a long weekend to get the full experience of this charming east coast beach town.
3. Noccalula Falls
Drive time from Atlanta: 1 hour and 50 minutes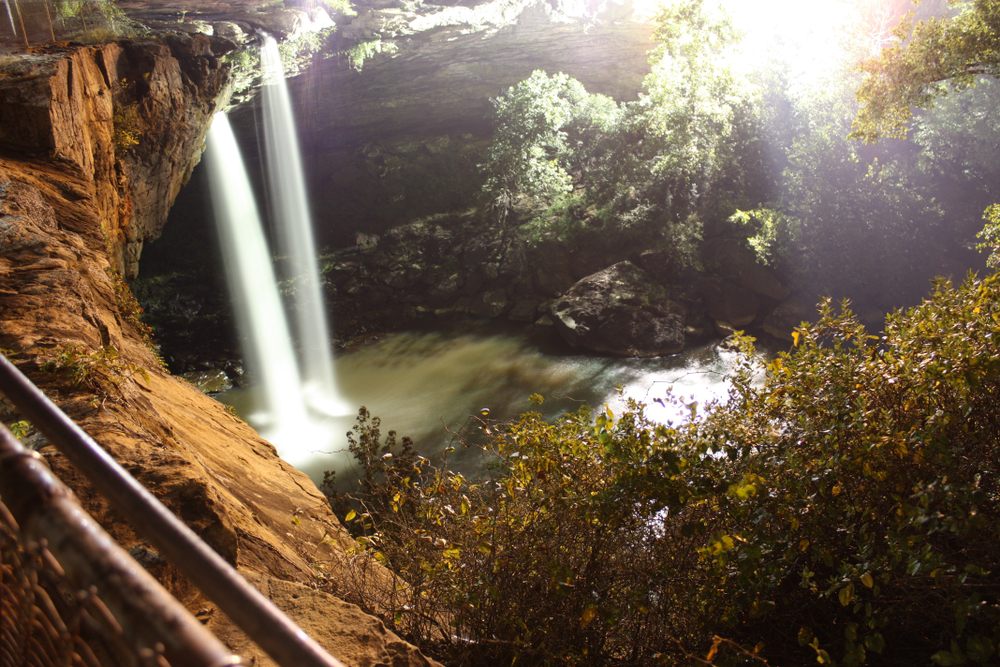 Nothing screams romance like an elegant waterfall. There's a surrounding park where you can hike, picnic, and take some photos of the beautiful scenery at the adjacent 250-acre public park. The park and falls are located in Gadsden, Alabama, which is totally within reach of Atlanta with just a short drive. Go hiking together along trails that wind through Black Creek Gorge past caves and other sights.
Top romantic activity: Pack some light hiking shoes and head to Black Creek Trails and pick the hiking trail that suits you. Enjoying a romantic nature trail is always a great way to spend time.
Whether you choose to book a hotel or a house rental, this alternative weekend getaway is a great option for a special trip for you and your partner.
4. Lake Lure
Drive time from Atlanta: 3 hours and 40 minutes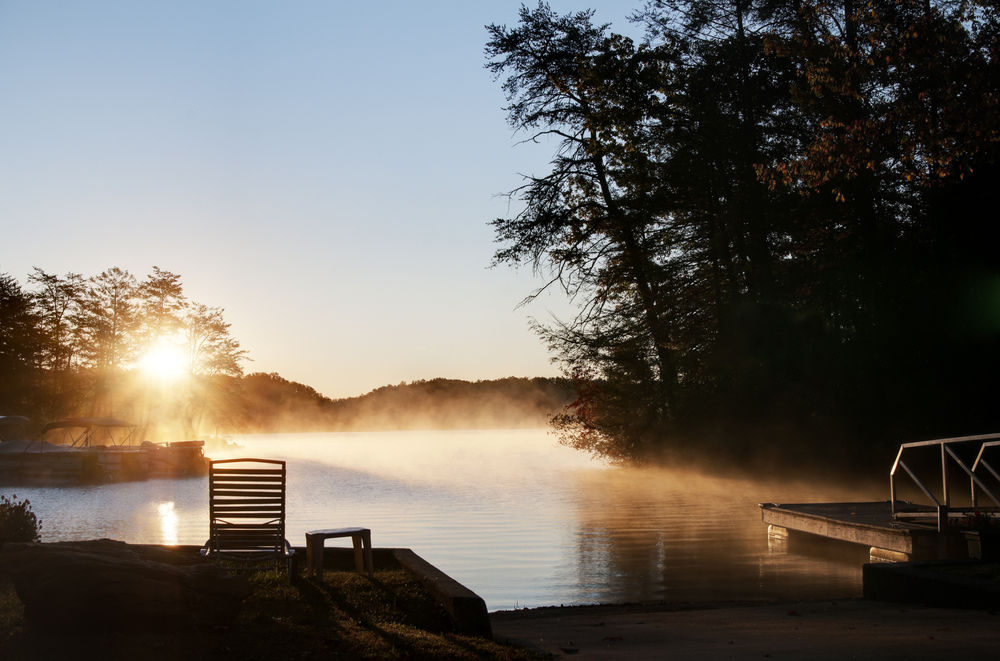 Set in the North Carolina mountains, Lake Lure stretches across 720 acres with 21 miles of shoreline nestled in Hickory Nut Gorge. There are several nearby attractions including Chimney Rock, but the romance of Lake Lure might keep you there for more than a two-day weekend. This Atlanta getaway offers fresh mountain air, panoramic mountain views, and the serenity of the lake.
Top romantic activity: Rock Climbing at Rumbling Bald Mountain. Enjoy easy ranges and phenomenal views at this gorgeous North Carolina mountain.
5. Saluda
Drive time from Atlanta: 3 hours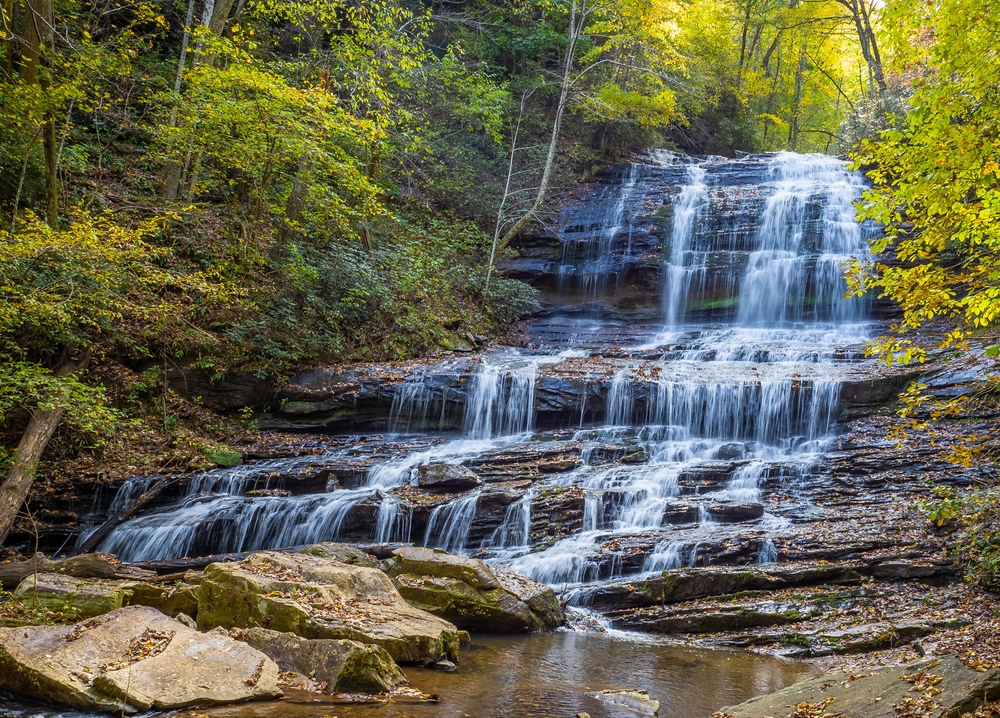 Saluda, N.C. is a hidden gem where your pace slows a little, making it easy to focus on each other. Couples can stroll through the historic downtown area with its old hardware store, art galleries, gift shops, and quaint restaurants. A railroad track runs through the center, adding to its character. Hike, go rafting, explore the sights, and ride bikes together in this captivating southern mountain town. Pearson's Falls and Glen is a top natural attraction in Polk County, NC, and is only a 10-minute drive away.
Top romantic activity: Head over to Burntshirt Vineyards for a tasting event and tour of the winery. This North Carolina establishment also hosts many exciting events and has a shop to grab a bottle to bring home.
6. Hilton Head Island
Drive time from Atlanta: 4 hours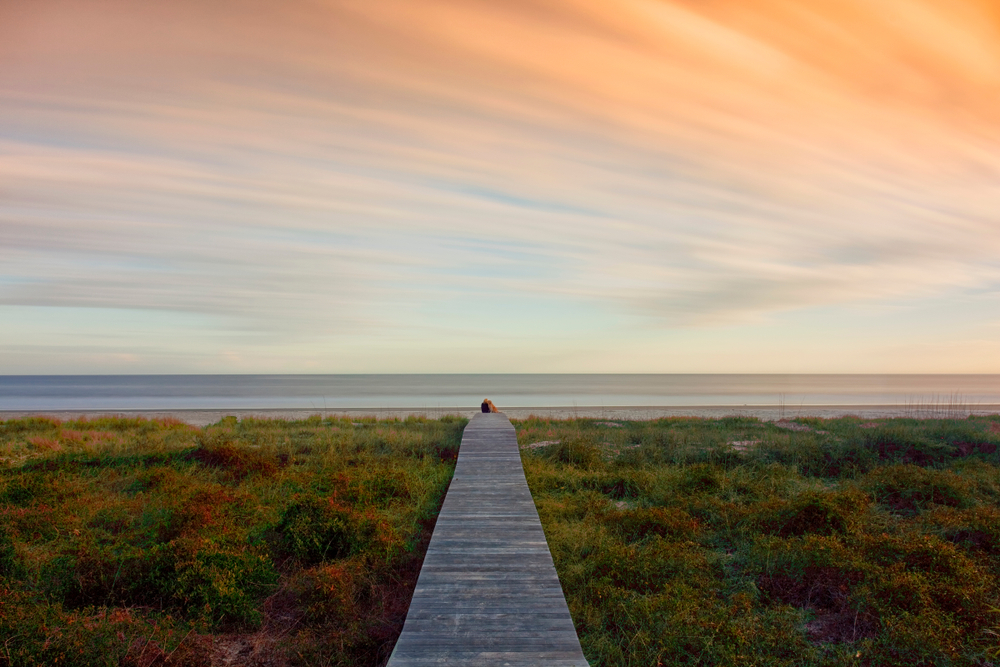 Cross the state line into South Carolina for a romantic weekend at Hilton Head Island. Rent a home on this charming island and you'll find waterfront restaurants with fresh seafood and vista views. Golfers can play any of the 33 courses, and tennis players can hit the courts on the island. There's art and culture, but the 12 miles of beach is far and away the biggest draw.
Top romantic activity: Spend the day at the beach! What is more relaxing than getting some sun by the ocean? Grab some suntan lotion, sunglasses, a cooler, and kick back on the sand.
Find a rental and start looking forward to a little romantic getaway in the sun.
7. Savannah
Drive time from Atlanta: 3 hours and 20 minutes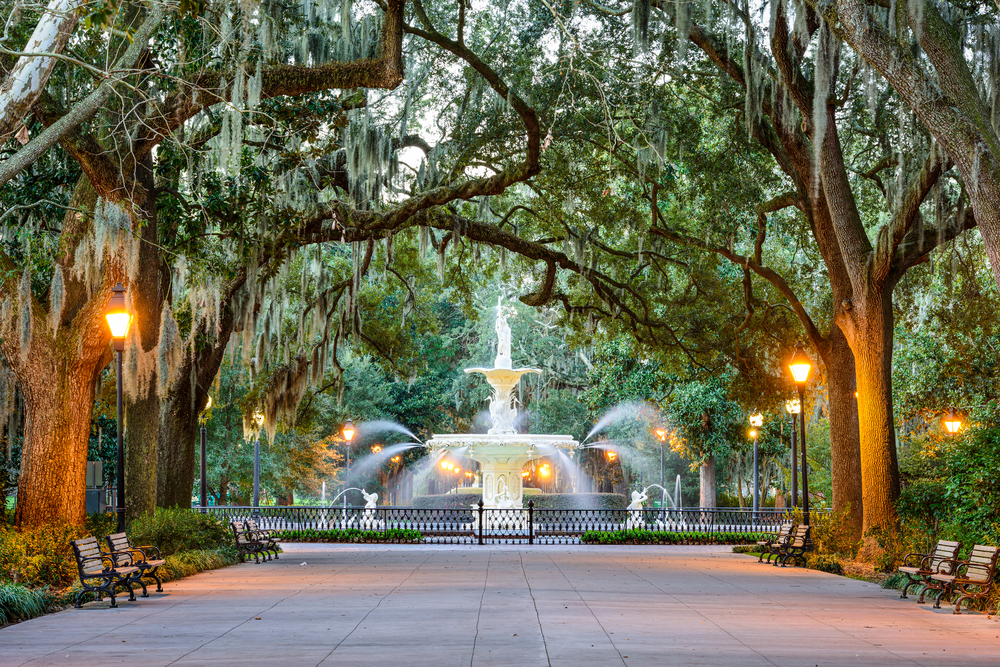 Savannah is a city packed with history, well-preserved architecture, and romantic appeal. Couples can walk along the river and watch the sunset. Pop into one of the pubs, like Abe's on Lincoln, for a libation or two. Several rooftop bars, like Top Deck at the Cotton Sail Hotel, offer cocktails overlooking the city. With tons of restaurants, including the well-known Pink House, Savannah is a total foodie town where couples can indulge in fine cuisine in a romantic setting.
Top romantic activity: With so many exciting romantic things to do it's hard to pick, but if we must choose, have a nice afternoon picnic in Forsyth Park, pictured above. Grab a blanket, some cured meats & cheeses, and a bottle of wine, and enjoy each other's company in the beautiful scenery.
Grabbing a charming rental in Savannah is easy. This town will welcome a romantic weekend getaway with open arms.
8. Greenville
Drive time from Atlanta: 2 hours and 15 minutes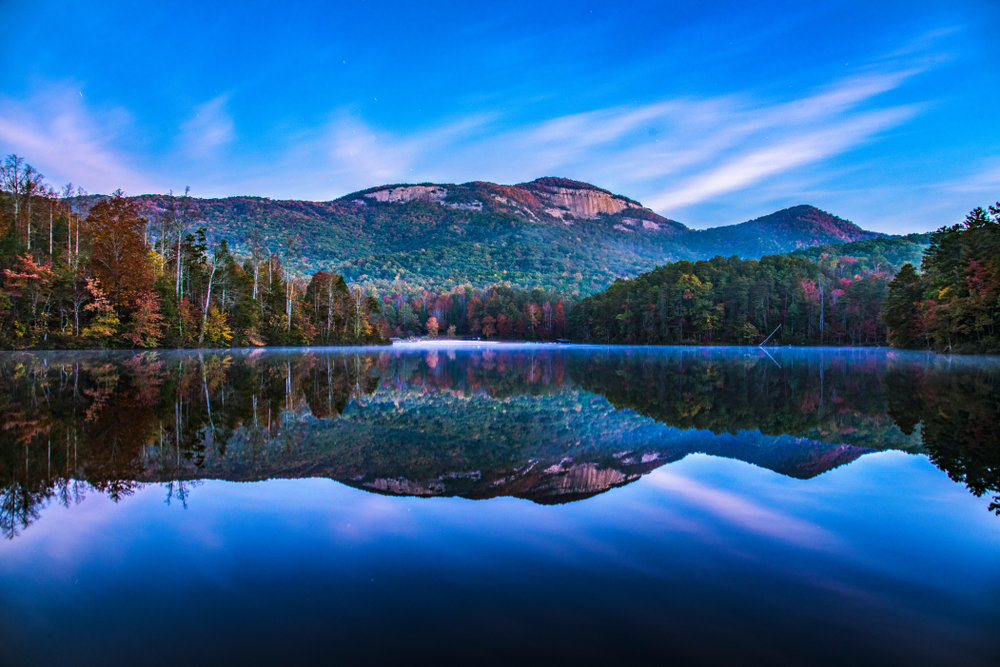 Greenville, South Carolina, is at the base of the Blue Ridge Mountains. With a population of 67,000, Greenville is a well-equipped city that still has that charming small-town vibe. Loaded with personality and hospitality, spending time in this South Carolina city definitely has its romantic perks. Home to the Greenville County Museum of Art, the town has an action-packed art scene. We love recommending this quaint city to those looking for a romantic getaway within driving distance of Atlanta.
Top romantic activity: Get in touch with your artistic side (and thirsty side) at a Paint and Sip. Pour yourself a drink and follow a guided painting course. Next, go visit a stunning landscape in real life at Table Rock State Park and Pinnacle Lake, only 40 minutes away.
Plan Your Next Romantic Getaway
Talk to your partner and start checking some of these romantic getaways near Atlanta off of your list. Life is too short to keep putting them off! Whether its an off-the-beaten-path option or a popular destination, you can't go wrong with that special someone by your side.