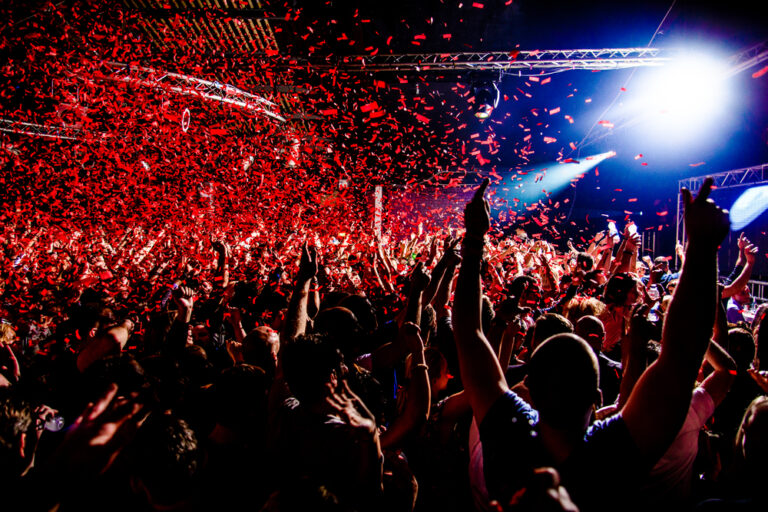 If you're looking for somewhere to ring in the New Year, why not consider the snowy region of Lake Tahoe? It's one of the most exciting cities to spend New Year's Eve, and there's plenty to do, including attending Snowglobe Music Festival from December 29th to December 31st in South Lake Tahoe's Community Playfields & Bijou Park. The music festival, hosted by MTV, will feature headliners such as Louis the Child, Skrillex, Griz, and the newly announced: Zhu!
Did you want to see any of these artists before the end of the year?
How to Get There
Depending how far you're traveling from, there are a few ways to get to South Lake Tahoe, where the music festival will be held. Find out which mode of transportation is best for you.
Fly. If you decide to fly from your hometown, the closest airport would be the Reno-Tahoe International Airport (RNO). The airport is an hour away from the festival grounds, so you can either rent a car from the airport, or take the South Tahoe Airporter Shuttle all the way to South Lake.


Shuttle. There are both local and long-distance shuttles listed on Snowglobe's official website. Starting off with the local daily shuttles, there are two that run from Reno and Carson City, which cost $75 for all three days or $39 for a single day pass. If you're staying in Reno, the pick-up and drop-off point is at Peppermill Hotel, and if you're staying in Carson City, the pick-up and drop-off area is at Motel 6 Carson City. If you can't find a vacation rental in South Lake Tahoe itself, then Reno and Carson City might be a good back up plan if you're able to score a shuttle pass.

Additionally, there are long distance shuttle services from Sacramento, Oakland, San Francisco, and San Jose, which all depart from each respective city on Friday, December 27th, and return to your city of choice on Wednesday, January 1st. Tickets from Oakland, San Francisco, and San Jose cost $99 round trip or $49.50 one way. Sacramento shuttle tickets, on the other hand, are slightly cheaper, priced at $89 round trip or $44.50 one way. Each rider on every shuttle may bring two bags and one ski or snowboard.
Drive. California and Nevada natives also have the convenience of being able to drive to the festival. We're always in full support of a fun road trip adventure! Driving also gives you the freedom to travel on your own time, so you can hit the festival or the slopes at your own convenience. If you don't have all-wheel-drive, just be sure to pack a set of chains for your tires before you go!


Rideshare. In the last year, UberSKI, Lyft, and other rideshare apps are becoming more popular around Lake Tahoe. But do to unpredictable weather conditions, rides may be limited and it's hard to guarantee a ride. Although ridesharing is an option, it probably isn't the best mode of transportation that you should count on to and from the festival.

Where to Stay

The most convenient location would be to find a vacation rental in South Lake Tahoe itself, but keep in mind that Snowglobe weekend is one of the busiest times of year in Lake Tahoe, and cabins book up months in advance! If you find an availability in the area, we suggest finalizing your reservation as soon as possible.

Your second option would be to search for availability in Meyers, CA; Stateline, NV or Kingsbury, NV — all less than 20 minutes away from the festival grounds. And finally, as mentioned above, your final option is to look for rentals in Reno or Carson City in Nevada, with the option of purchasing a local shuttle pass so you don't have to worry about driving back and forth each day.

No matter where you're staying, just be sure to pack for the cold and layer up!

Where to Ski

The 3-day festival is held from Sunday, December 29th to Tuesday, December 31st, which means you have Saturday, December 28th to enjoy a day on the mountain if you wish to squeeze it into your itinerary. And since you'll already be in Tahoe, why not? There are three ski areas to choose from, all less than an hour away from the festival grounds.

The first and most convenient mountain to explore is Heavenly Ski Resort, only ten minutes away from where Snowglobe is held. If you know you want to head to Heavenly before the festival, take our advice and purchase lift tickets online to save at least $20. Adult lift tickets for December 28, 2019 cost $141 online or $174 at the window. For teens ages 13 to 18 years old, tickets cost $116 online or $143 at the window. Be sure to plan ahead for lower rates!

If you're looking to ski for less than $100, your second option is Sierra-at-Tahoe Resort, about 30 minutes away from the festival grounds. Advance purchase of lift tickets for Saturday, December 28th cost $94 for adults ages 23 and over, or $69 for young adults between the ages of 13 to 22. The price of single day lift tickets purchased in person, on the other hand, are $125 for adults and $115 for young adults.

For attendees staying further south — closer to Meyers, CA — another ski area you can visit is Kirkwood Mountain Resort, located 45 minutes away from Snowglobe and just 30 minutes south of Meyers. Lift tickets for adults on December 28th are $103 online or $129 at the window, while teens ages 13 to 18 can ski for $93 online or $116 at the window.

Your 2019 Snowglobe Playlist

Once your Snowglobe trip is all set and you've got your snow gear ready, be sure to download this playlist with 45 of our favorite tracks from this year's lineup. You can listen to it on your way to the festival, or while you're on the slopes. It's the perfect way to get pumped up for the festival so you can end 2019 with a bang!