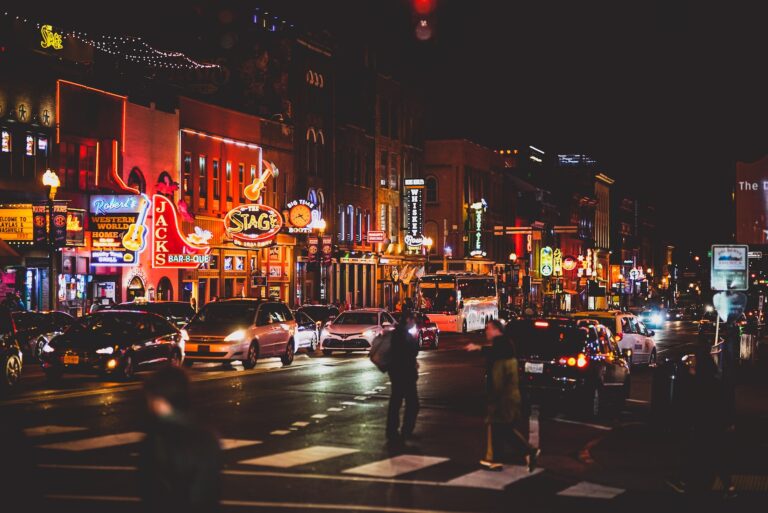 When it comes to a quick couple's holiday, few cities deliver as well as Nashville. The iconic state capital of Tennessee offers a thriving live music, art, and food scene. Along with its beautiful natural surroundings, Music City, USA makes for a trip worth taking any time of year. To create your perfect getaway, check out this list of romantic things to do in Nashville.
Get Lost in a Sprawling Garden Estate
Fewer than 10 miles southwest of downtown Nashville, the Cheekwood Estate & Gardens plays home to 11 themed gardens featuring Country Place Era design. Spread across 55 acres, each garden offers something special, particularly in the springtime. Walk nearly a mile along the Carell Woodland Sculpture Trail to see contemporary artwork springing from a vibrant woodland setting. Grab your lover's hand as you stroll under the canopies of hickory, oak, ash, and sassafras trees. A stop at the reflecting pool in the Martin Boxwood Garden offers a meditative moment with statues of the Greek muses Thalia and Urania looking on. A cruise down the curved path through the Bradford Robertson Color Garden promises flower beds ablaze with purple, red, yellow, and green. From a mass of pumpkins in the fall to enchanting holiday lights in the winter, Cheekwood Estate & Gardens offers something magical any time of the year.
Pro Traveler Tip: The Cheekwood Collection of decorative art, textiles, silver pieces, furniture, and books, collected by Nashville's Cheek family. Cheekwood contains the largest known collection of sculptures by William Edmondson, as well as portraits that Jamie Wyeth and Andy Warhol painted of each other. This is truly an incredible collection that you and your sweetie will love to view and admire.
Have Dinner in a Historic Theatre
Located south of downtown Nashville, the historic Melrose Theater now plays home to a modern American restaurant called Sinema. If you have a flair for the dramatic, this is the place for dinner. True to the original design, the building features a grand lobby with an imposing curved staircase, tables with plush couches, cozy booths, and music-inspired photographs lining the walls. While you're taking in the colorful atmosphere, choose from a vast selection of craft beers, fine wines, or the more than 100 types of rare whiskeys they have to offer. For your entree, try favorites like the cherry-glazed duck breast, truffle-flavored fettuccine, or a hand-cut steak — when available — and don't forget dessert. With a blend of quality ingredients, flavor, and artful finesse, these treats are almost too pretty to eat.
Pro Traveler Tip: While everything on the menu is fantastic, the Maple Pear Tarte stole the show for us. With maple poached pears, cranberry port reduction, and vanilla mascarpone mousse, it's worth the trip just for this alone. Also worth noting, the Lo Fidelity cocktail is one of the best drinks we have found in Nashville, and our go-to choice every time we come here.
Sip Reds and Whites in a Sprawling Vineyard
Just a half-hour drive from Nashville, wine lovers can find the perfect place for a romantic picnic. Set in the heart of the Tennessee wine country, Arrington Vineyards offers 75 acres of lush, rolling hills and plantation-style grapevines. To complement award-winning red and white wines, bring along a picnic basket and a blanket or find a seat at one of the bistro or picnic tables scattered throughout the property. The tasting room is open seven days a week. On weekends, visitors can enjoy live jazz music at the outdoor pavilion.
Pro Traveler Tip: We recommend the Premier Experience tasting, which takes place in the Oak Room of the Vineyard House. Small food pairings are served to compliment each wine perfectly. It's a great way to taste a variety of their wines the way they were meant to be enjoyed — with food!
Find Musical Bliss at an Iconic Venue
Not surprisingly, many Nashville getaways for couples involve music. Few venues showcase the city's music scene quite like The Bluebird Cafe, located southwest of downtown Nashville. Set inside a small strip mall, the 90-seat establishment may seem modest, but the musical performances evoke a warm and intimate atmosphere that's ideal for date night. This place pays tribute to the unsung writers of the hits made famous by popular performers, from Bonnie Raitt to Carrie Underwood. On most nights, customers surround three or four writers and musical artists playing acoustic versions of their songs from the center of the room. Excellent vocals, marvelous harmonies, and a "no-talking" policy during performances make The Bluebird Cafe a one-of-a-kind attraction for locals and travelers alike.
Pro Traveler Tip: While it may sound simple at first glance, we can't recommend the Turkey Club highly enough. Oven-roasted turkey breast, kale-walnut pesto, and crispy bacon, served on house-baked sourdough, this sandwich is not to be disregarded. Pair your meal with a local microbrew from Black Abbey Brewing, a Nashville favorite.
Wander a Lush Public Park
When Nashville residents want to escape city life quickly, many of them head to Centennial Park. Situated a few miles west of downtown, this 132-acre oasis offers plenty of romantic possibilities for couples. Take in the 42-foot statue of the Greek goddess Athena and other works of art at The Parthenon, Nashville's full-scale rendition of the Greek temple. Walk the perimeter of Watauga Lake and experience quiet and solitude in the sunken garden. Watch a performance of Nashville's Shakespeare in the Park or enjoy a concert on Saturdays from the comfort of your own picnic blanket. A visit to this beautiful spot is much more than a mere "walk in the park."
Pro Traveler Tip: The Centennial Arts Center is an art gallery and visual arts teaching center that offers visitors a chance to both see and create beautiful works of art. Either just peruse the gallery, or you and your lover can take one of the many art courses like painting or pottery.
Savor a Sunday Brunch
There are few things better than a delicious Sunday brunch to cap off a romantic couples' getaway. Located in The Gulch district of Nashville, Adele's serves up one of the more satisfying Sunday brunches in town. The garage-style space features a warm and inviting ambience with abundant windows, an open kitchen, a white oak bar and seasonal outdoor seating. From a mouth-watering buffet, you can select comforting breakfast fare that might include buttermilk biscuits, cinnamon bread pudding, and soft scrambled eggs. Or, choose from Southern-inspired supper items like a carved roast pig and homemade macaroni and cheese. The friendly and attentive waitstaff help to make your dining experience at Adele's exceptional.
Pro Traveler Tip: You can't go wrong with anything on the buffet bar, and the same holds true for the entire brunch cocktail menu. If we had to select just one drink to try (don't worry, you don't!), we would recommend the Breakfast Bourbon as a must-try. With bourbon, passion fruit puree, and maple syrup, the crispy slice of bacon is just the cherry on top of this delicious boozy treat.
Spend Some Time in Nashville with Your Sweetie
If you're looking for the perfect romantic getaway with your sweetheart, Nashville is an ideal option. From musical venues and restaurants to gardens and vineyards, this city has it all. When each lovely evening comes to an end, you can snuggle up in your cozy rental. You two lovebirds are going to love Nashville!