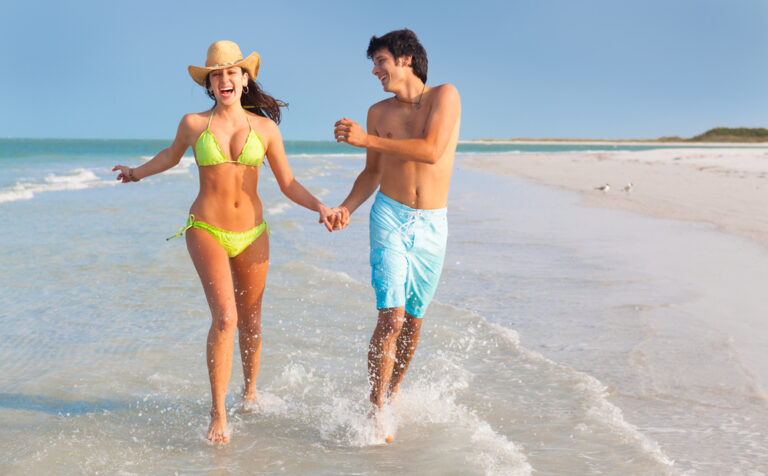 The Gulf Coast of Florida is known for its soft white sand beaches, warm and tranquil waters and romantic vacation rentals that bring the beauty of the beach right to your front door. Enjoy these romantic Mexico Beach, Florida, rentals, and celebrate love in this incredible tropical paradise.
Sensational Condos
Step onto the top floor of a fabulous condo for a romantic Mexico Beach, FL vacation that could include incredible sunsets over the water, cozy beach hammocks between swaying palms or a heated pool that makes it simple to enjoy your vacation regardless of the season. Condos usually have these types of shared amenities that are free to be used by anyone staying there. Sip cocktails on the covered porches, or step out onto the town for a delightful dinner at one of Mexico Beach's fabulous seafood restaurants.
Diving, snorkeling and exploring the Mexico Beach Artificial Reef Association's exciting reef projects mean time spent together creating a romantic adventure. Mexico Beach's warm waters and calm surf mean that swimming and diving in this area aren't just adventures for the experts. Romantic sunset dolphin cruises also create a wonderful Mexico Beach vacation celebration.
Exciting Beach Vacation Homes
If you're looking for a whole house right on the beach, then a vacation home is just what you need. Vacation homes are available in Mexico Beach throughout the year, with plenty of space to enjoy an evening by the private pool, cook a delicious dinner on the gas grill or simply relax on the covered front porch while the waves lap along the shoreline. Amenities usually include full kitchens, beach items like large towels, kayaks, paddleboards and even boat docks so that you're able to bring your own boat.
Comfortable beach vacation homes come in a selection of styles that include single-story homes a few blocks from the beach, towering beachfront houses with private beach access and beach townhouses that are perfect for sharing with another couple.
While you will have your own kitchen, if you'd like to go out for a meal we recommend Mango Marley's for some great beach food. They serve up the freshest seafood, as well as a great selection of burgers and sandwiches. If you're in the mood for a cocktail, we highly recommend the Mango Mai Tai, served with a fresh mango slice. Yumm!
Beachfront Cottages
Cute and cozy beachfront cottages are designed to provide all of the comforts of home without any of the work. Painted in bright greens, blues and yellows, cottages in Mexico Beach generally offer one or two bedrooms along with private access to the beach from covered porches. Locations include secluded areas of the beach itself, making beachfront cottages a favorite vacation choice for romantic getaways.
Larger cottages are available for families sharing the vacation rental with friends or bringing the children along. As with the modern vacation homes, cottages include full kitchens, linens and dishes in most cases.
Step out of the front door and spend an afternoon collecting shells on the quiet beach, or grab the beach chairs provided by your vacation rental cottage to watch the sunset while the dolphins play along the shoreline. Mexico Beach's quiet beauty is the perfect choice for a romantic beach vacation in Florida.
Beautiful Bed and Breakfasts
A rental option that often gets overlooked, Bed and Breakfasts offer a unique and personalized stay that you wont get from any other rental. B&Bs are usually in the owner's home, so they feel cozy and well lived in. You also get the added benefit of the hosts knowledge of their local area. Most of the time they're more than happy to give you recommendations of their favorite romantic spots to visit that you might not find if you were just searching online.
One of the best parts of choosing a bed and breakfast is… the breakfast! A complimentary home cooked breakfast is a standard amongst B&Bs. Waking up and having a meal ready and waiting, saves you time while you're on your romantic getaway to do what you really want to do, have fun with your lover! 
Bed and breakfast hosts are often happy to provide use of items like bikes, kayaks, and other beach supplies. These are likely their own personal items that they share with guests, so be sure to take good care of them!
Luxury Villas
If you really want to pull out all the stops for your romantic getaways, you should consider a luxurious beachfront villa. Marble floors, private beaches, and hot tubs on your porch overlooking the ocean are the types of amenities you could expect from a villa. You'll find high quality cookware, the softest towels and linens, and plush soft beds in these types of rentals.
Take a dip in your personal heated pool, or shake up some martinis while you watch the sunset from the veranda. Mexico beach villas have all the standard comforts and more, to make your romantic stay absolutely perfect. There's no better way to impress your romantic partner than selecting the right villa to fit all your needs.
If you want a meal to match your elegant stay, Ruth's Chris Steak House is a must. Having won many awards for their excellence, they serve up some of the best steaks and seafoods in all of Florida. For a meal you'll never forget, we recommend the tomahawk ribeye, an enormous 40oz steak that is marbled to perfection.
Mexico Beach Awaits
No matter what type of rental you choose, you're going to love Mexico Beach. The wide selection of beach restaurants, awesome activities, and of course great beaches, make this town a perfect romantic getaway. You're going to love all the amenities your beach rental has to offer. We hope this list has helped you pick the rental that will make your stay just right for you and your date!