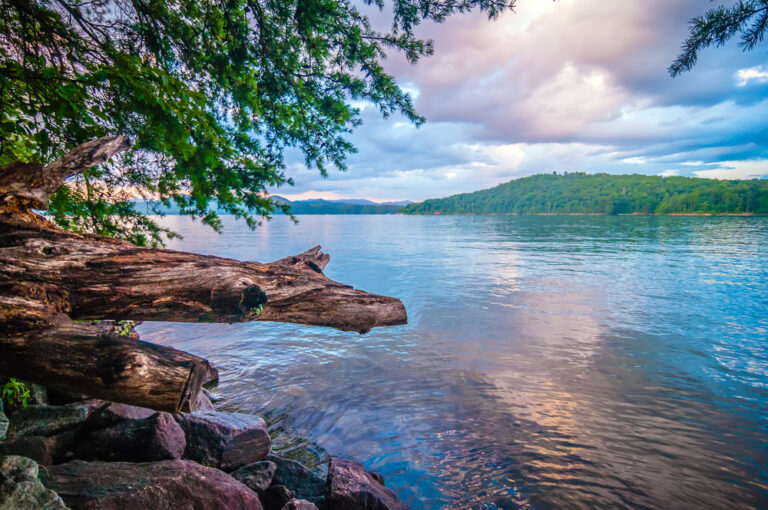 South Carolina's beautiful rolling countryside, stunning Blue Ridge mountains, and shoreline of sun-swept beaches make it a particularly popular holiday destination. But an often-overlooked aspect of South Carolina's scenic landscape is its many lakes. The state is home to numerous major reservoirs, all man-made, and covering a total area of more than 683 square miles.
These tranquil locales make for spectacular holiday destinations. If you're looking for a bit of inspiration for your next vacation, this guide highlights four destinations that will have you packing your bags early in anticipation. Read on to learn more about what Lake Jocassee, Lake Keowee, Lake Murray, and the Ocean Lakes beachside resort — all located in South Carolina — have to offer. 
Lake Jocassee
Lake Jocassee is a 7,500-acre reservoir in Devils Fork State Park, in the northwest of the state. The lake was created in 1973 and offers breathtaking views of the surrounding woods and countryside. Its waters are cool and crystal-clear all year-round thanks to the cold Appalachian Mountain rivers that feed into it. Nearby towns and cities include Salem, Seneca, Pickens, and Clemson. The closest airport is the Greenville-Spartanburg International Airport — around an hour and a half away by car.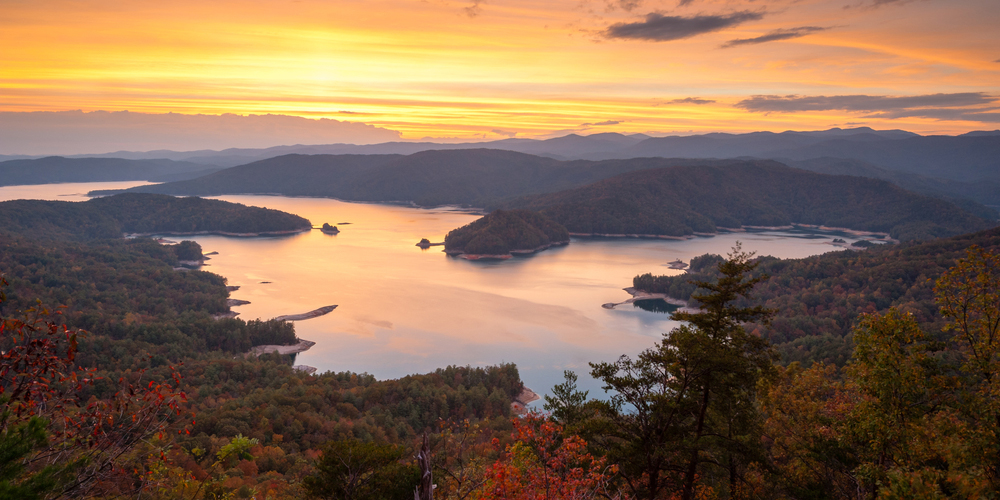 While staying at Lake Jocassee, you won't want to miss out on experiencing its idyllic waters. Swimming and fishing are two totally free ways of enjoying the lake. If you're looking for a little more excitement, then you can rent a boat and spend the day sailing. At the Jocassee Outdoor Center, you can rent pontoon boats, ski boats, kayaks and canoes. They also offer guided tours, fishing bait, and outdoor supplies.
On days where you'd rather stay high and dry, nearby Keowee-Toxaway State Park is the perfect destination. Here you can go hiking through the beautiful forests or have a relaxing, socially distanced family picnic. Admission is free, and pets are allowed while on a leash.
The area also offers an assortment of unforgettable restaurants and diners. A particular local favorite is the Keowee Towne Deli. This exquisite restaurant only uses ultra-fresh ingredients, with newly caught fish being delivered daily. They also offer a delectable range of salads, sandwiches, and burgers.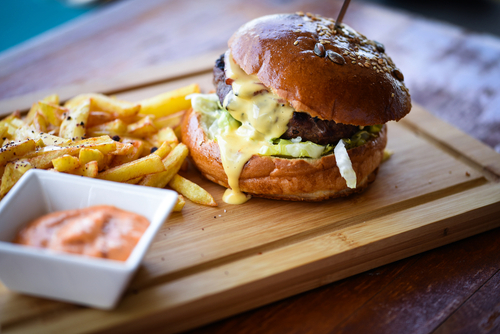 For those who love meat-heavy meals, Big D's House of BBQ is sure to impress. They have a menu full of different BBQ options to choose from — with brisket, ribs, and pulled pork all being among the most popular dishes.
The region also has a selection of exciting breweries to visit. The Jocassee Valley Brewing Company not only offers patrons a wide selection of beers and ales to try, but they also regularly put on live music and events. If you're more of a wine drinker, then you'll be thrilled by a visit to nearby Victoria Valley Vineyards. After a tour of the scenic vineyards, you can sample some of the top-tier wine before enjoying further refreshments at the onsite cafeteria.
Lake Keowee
Lake Keowee is located in the county of Oconee, in northwestern South Carolina. The lake is nestled in the foothills of the Blue Ridge Mountains and offers visitors spectacular views. The nearest town, Clemson, is a mere two miles away. Greenville, Seneca, and Salem are also nearby, and Greenville-Spartanburg International Airport is just over an hour's drive away.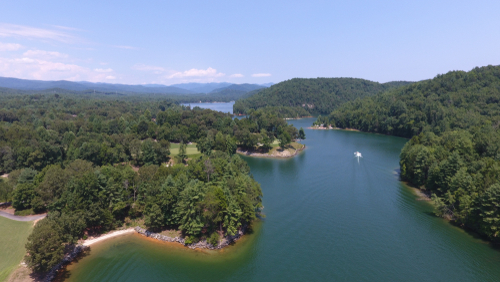 Thrill seekers and adrenaline junkies will find plenty to do while staying at Lake Keowee. If zip lining and white-water rafting sound exciting, then Wildwater Chattooga will not disappoint. They offer full-length zip line canopy tours and safely managed rafting trips. These are activities that can be enjoyed by the whole family, from the ages of four and up.
Families looking for an interesting and educational day out can pay a visit to Chattooga Belle Farm. This captivating site gives visitors the chance to pick their own fruit, browse the farm store, or enjoy a nice meal with their farm-made wine. With arresting views of the surrounding mountains and rolling countryside, this will surely be a day to remember.
You won't struggle to find premium eateries while staying at Lake Keowee either! The Tiki Hut Lakeside Grill offers guests tasty food and a sumptuous setting to go with the appetizing cuisine. The waterside restaurant features mouthwatering BBQ and seafood dishes. There is also an enticing cocktail menu offering drinks such as the Tiger King and the Lime in the Coconut for those who want to treat themselves to an exotic beverage.
Alternatively, the ever-popular Solé Grill and Sushi Bar is a mere mile from the lake. As the name suggests, the focus here is very much on seafood. If you're a fan of sushi, they have a range of delicious dishes, such as shrimp tempura and salmon rolls to get your taste buds tingling. In addition to this, a range of regular offers and daily specials — such as 50% off wine bottles on Thursdays — are also available.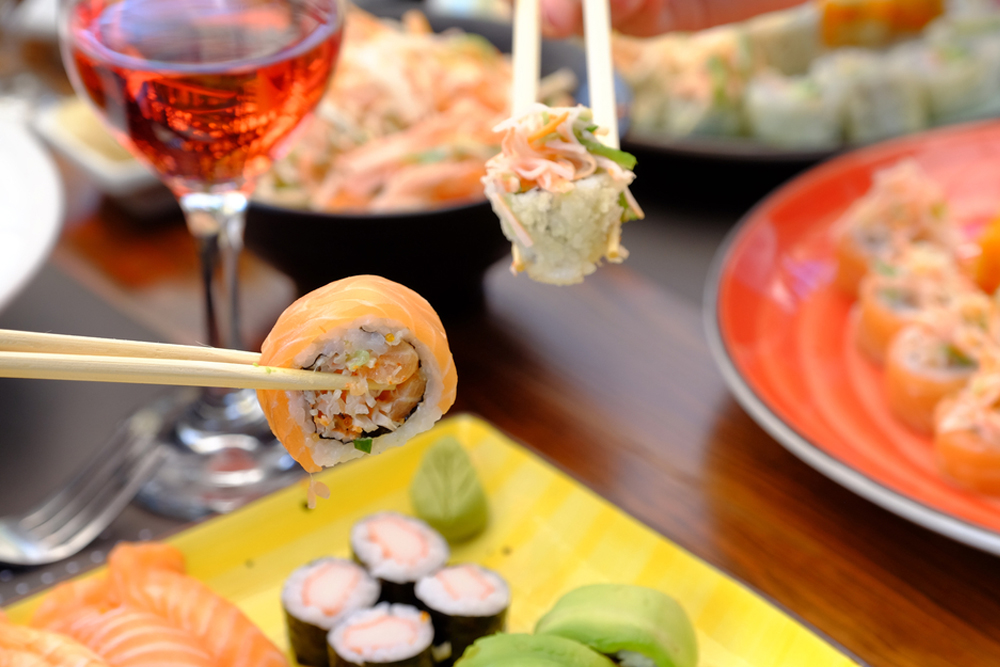 Adults who want to indulge their love of craft ales and fine wines will love a holiday at Lake Keowee. Keowee Brewing, one of the many local breweries, offers guests the chance to try their products on tap while catching a bite to eat in a friendly environment. They also host numerous events at the brewery. 
Lake Murray
Lake Murray is a vast reservoir spanning four counties — Lexington, Newberry, Saluda, and Richland — in central South Carolina. With around 650 miles of shore land, the Lake offers a diverse range of breathtaking natural beauty to those staying there. The nearest airport is Columbia Metropolitan Airport, which is only a half-hour drive away in Columbia, the capital city of South Carolina.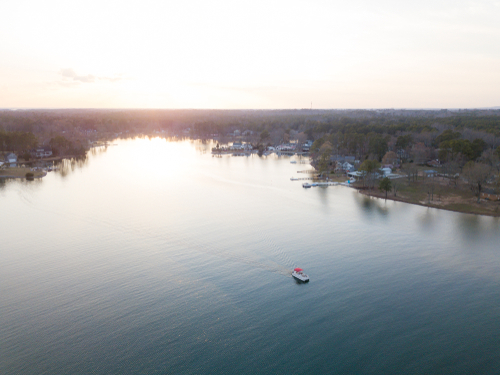 At nearby Saluda Shoals Park, you can take part in the Sunset on the Shoals paddle tour. This magical expedition includes a guided canoe trip down the Saluda River, followed by a wine tasting at the River Overlook. You'll even receive a complimentary Saluda Shoals Park wine glass as a souvenir.
When it comes time to dining out, you'll be spoiled for choice. At Alodia's Cucina Italiana, guests can treat themselves to a range of delicious Italian dishes. The penne carnivale and bowtie gratinata with chicken are particularly flavorsome meals.
Another popular local dining destination is the Liberty Tap Room and Grill. Their range of BBQ food, burgers, soups, salads, and pizzas are sure to satisfy different tastes. And if you love meat dishes, the certified angus beef meatloaf is something you don't want to miss out on.
If you're looking for a more high-octane experience, Lake Murray will also cater to your needs. At Fifty Fifty Watersports, you can hire jet skis to experience the lake at high speed. Pontoons are also available to rent for larger groups that want to cruise the waters together.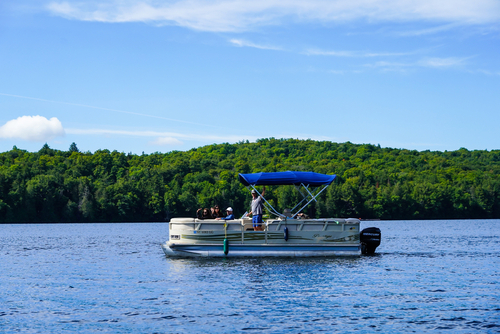 This exhilarating holiday destination also has much to offer families travelling with children. Frankie's Fun Park is a fun day out that caters to children of all ages! They have mini-golf, a go-kart track, bumper boats, batting cages, and more. For a more educational day out, you can also visit the Lexington Museum. This impressive historical site is spread across seven acres and consists of numerous structures that transport guests from the colonial era up to the Civil War.
Ocean Lakes
Despite the name, Ocean Lakes is a seaside family campground and resort. Located at the scenic Myrtle Beach — a highly popular tourist destination itself  — Ocean Lakes provides a relaxing camping experience in a sunny subtropical climate. With Myrtle Beach International Airport just seven miles away, getting to Ocean Lakes could not be easier.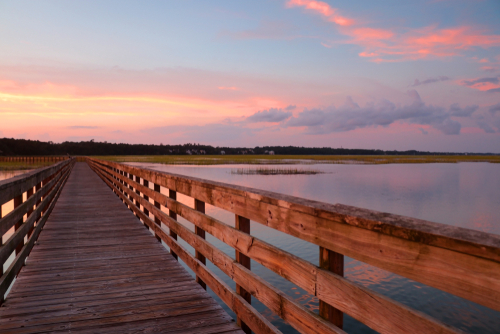 Ocean Lakes is a vast self-contained resort, with 859 campsites on 310 acres of land. It's the largest campground on the east coast of the United States, and one of the largest in the whole country. In addition to being sizable, it also comes packed with thrilling entertainment, fun activities, and convenient amenities.
The Sandy Harbor Family Fun Center is a water park with over three acres of rides and attractions. Children and adults alike will love floating down the Adventure River and racing down the Drop Zone Mat Racer. For younger guests, there is also the Tad Pool.
The Sandy Harbor Mini-Golf establishment offers a more relaxing — and drier — way of spending the afternoon. This 18-hole miniature golf course is colorfully decorated with interesting buildings and features to play around. They even have tournaments throughout the week for people who are feeling extra competitive.
Guests at Ocean Lakes don't need to look far for fine dining options. The Sandy Harbor Café provides a range of tasty classic dishes, including the Beach Burger Basket with fries. With an outdoor deck and air-conditioned indoor seating area, you can dine in comfort no matter the weather. Nearby, Sandy's Meet n' Eat is a larger on-site restaurant with an extensive menu that includes breakfast dishes — including waffles and bacon platters — as well as pizzas, salads, burgers, and more.
If you want to enjoy a memorable camping experience with your furry four-legged friend, you're in luck! Ocean Lakes welcomes pets at their campsites. Many of the nearby beaches are dog friendly, allowing you to take your pet for a refreshing seaside stroll. On the 4th of July, Ocean Lakes even holds an Annual Pet Celebration Day that includes contests, special pet vendors, and pet adoptions. 
Mentioned In This Article