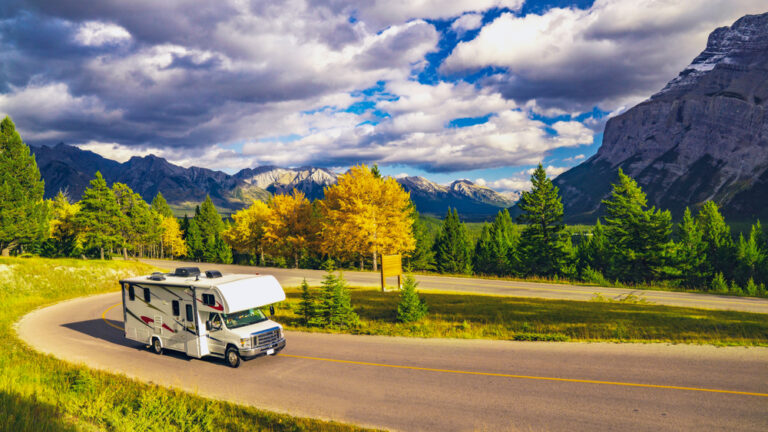 As autumn colors approach a crescendo of natural beauty across the country, the time has never been better for that much-needed getaway in a self-contained, vacation-home-on-wheels. Today we are proud to announce that we are partnering with RVshare and will now offer a vastly expanded inventory of RV rentals on VacationRenter. This new partnership means that travelers will now have even more options to find the perfect RV rental when planning their next trip on VacationRenter.
In honor of rolling out our new partnership, along with the continued surge of interest in RV rentals, we've put together some incredible routes to include on your next RV road trip designed to make the most of leaf-peeping season. Of course, given COVID-19 protocols and wildfires, always be sure to check local guidelines and restrictions before heading out on the open road and please travel safely.

Soak in Quintessential Fall
For swaths of crimson, gold, burnt sienna, and every hue of autumnal brilliance in between, New England is undeniably the place to explore. Set some tread along winding highways and byways, past rolling farms, historic towns, ragged coastlines, towering peaks, and tranquil lakes. Wherever the road takes you, don't forget to stop for some fresh maple syrup along the way.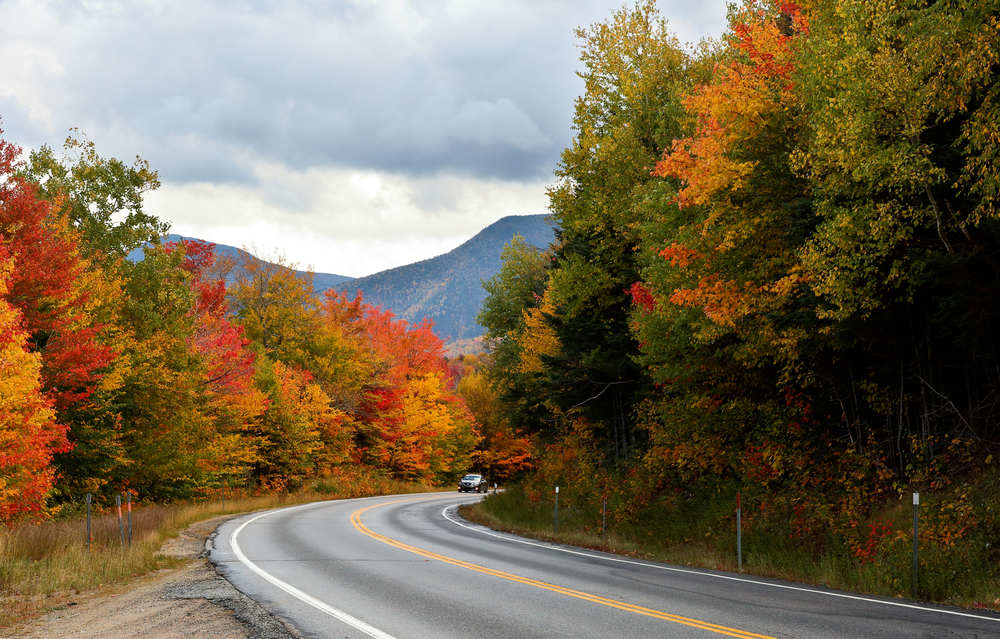 Kancamagus Scenic Byway, New Hampshire

Twist and turn through the undulating, 148,000-acre White Mountain National Forest on a spectacular stretch of Highway 112, starting in the town of Conway. The babbling waters of the Pemigewasset and Swift rivers — filled with massive, granite boulders — parallel the road as it skirts its namesake peak. "The Kanc" tops out at an elevation of 2,855 at the pass, delivering technicolor views of forest foliage before dipping and weaving back down to the town of Lincoln. Along the way, take a break from navigating hairpin turns for a glimpse of the surrounding peaks (try the Pemi or Sugar Hill overlooks) or get a taste of the area's gorgeous hiking trails with a short half-mile jaunt to Sabbaday Falls. Eats (and gas) can be found on either end of the east-west route through pristine wilderness and, aside from the maple- and oak-hued, autumnal photo ops, be sure to stop for snaps of covered bridges and cascading waters.
Distance: 34.5 miles

Rolling Swaths of Technicolor Wonder
The fall chill comes a bit later to the Mid-Atlantic states, where hand-built stone walls, red barns, and the occasional herd of Holsteins set the pastoral stage for the tremendous foliage — oh, and the craft breweries aren't too shabby, either.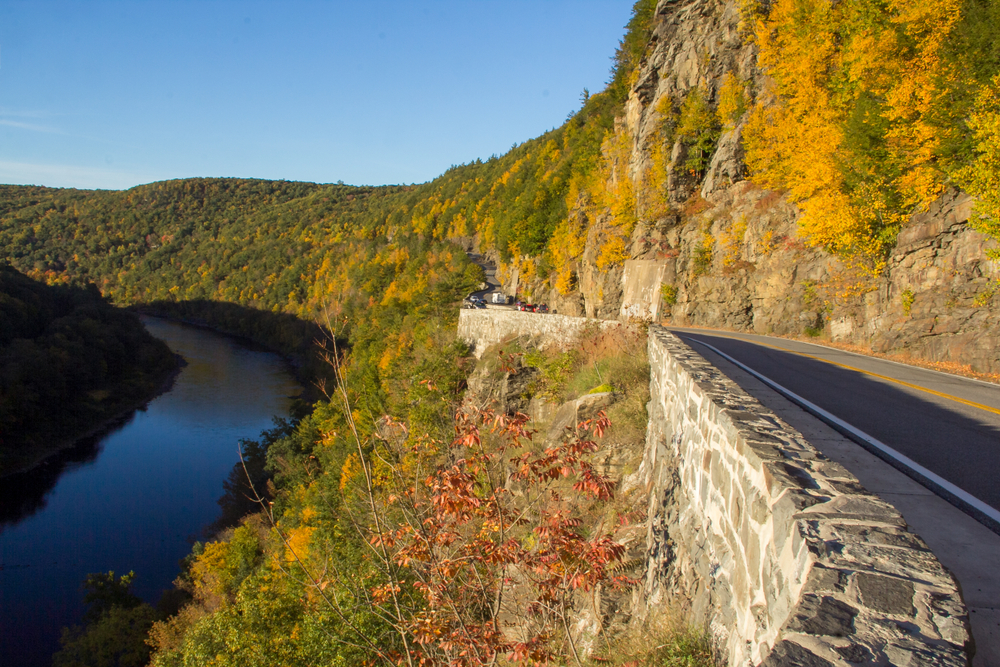 Catskill Mountains Scenic Byway, New York

Weave through the wooded expanse of Catskill Mountains wilderness as you travel along the doldrums of Route 28, beginning at the town of Phoenicia. Covered bridges, waterfalls, mountain trails, as well as small hamlets dot the lush countryside. Sample farm fresh goat cheese in Andes or pop into Arkville's Union Grove Distillery for a nip of apple vodka. To get that heart rate up (and earn that pint of locally crafted cider), take a side trip on Route 47 to Giant Ledge Trailhead and hike to the trail's namesake or leg it a bit further — and higher — up Panther Mountain.
Distance: 52 miles

Country Road, Take Me Home
The Southeast is awash in color deeper into the fall season than destinations north of the Mason-Dixon line, so check out the Fall Foliage Prediction Map to plan that sweet-tea-fueled adventure.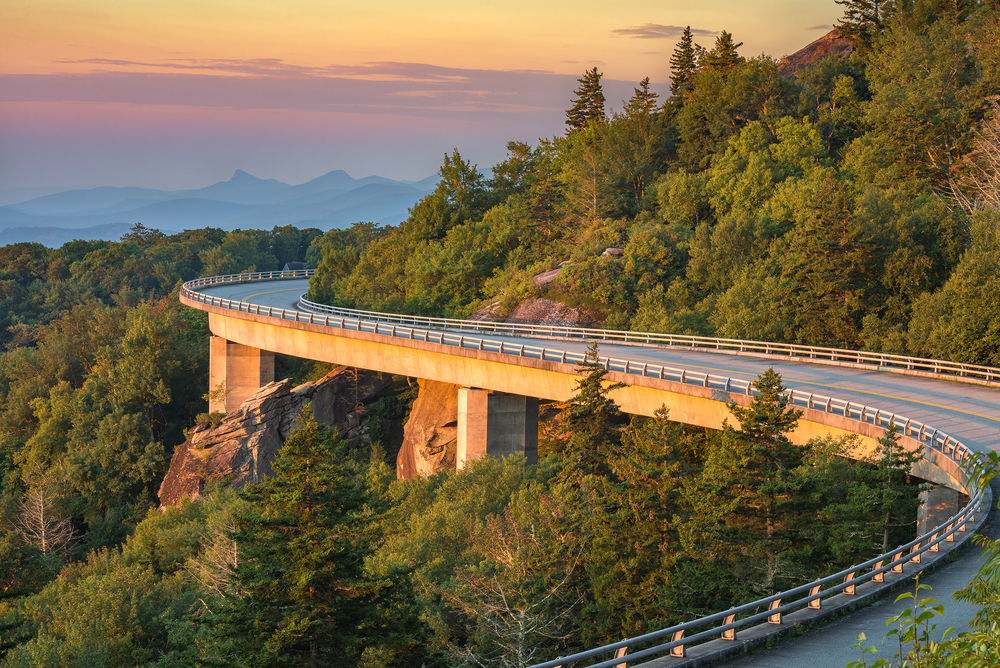 Blue Ridge Parkway, Virginia and North Carolina

Sashay through the Appalachian Mountains on a cloud-touching path from Shenandoah National Park to the Great Smoky Mountains. The elevation shifts dramatically along this ridge route, from 650 to 6,000 feet, so check those brakes, and prepare to be wowed by behemoth vistas — accompanied by the likes of towering Mt. Mitchell — as well as ample stops to soak in adventure and local flavor. Get out of your rig in towns like Asheville, Cherokee, and Boone, or take in the fall sounds and scents by hitting some of the Shenandoah's 500 miles of hiking trails.
Distance: 469 miles from Afton to Cherokee (including the 105-mile Skyline Drive).

Poetry of the Great Lakes and Beyond
The Midwest's foliage-themed forays span the gamut, from as-far-as-the-eye-can-see tree tunnels to long, winding, lakeside drives. Here, neighborly sentiments and pumpkin-spiced cheer abound.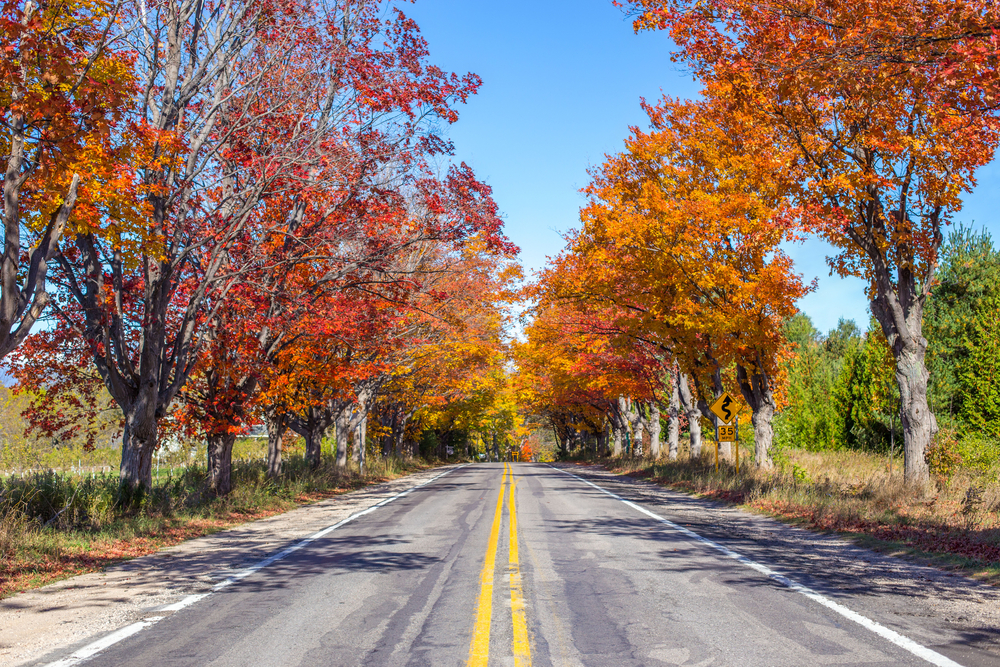 Gold Coast, M-22, Michigan

Skirt the Lake Michigan shoreline as you venture through Manistee, Benzie, and Leelanau counties, starting (or ending) in Traverse City. Glimpses of sparkling waters are offset by the warm blush of elms, quaking aspens, oaks, and maples. Sleeping Bear Dunes National Lakeshore is a must-see, while prospective stops at wineries, lighthouses, apple orchards, beaches, and charming fishing towns sprinkle the rest of the roadway.
Distance: 116 miles

Go West to High Country
Aspens are the gold star of the Rocky Mountain show, though their deciduous brethren, such as Gambel oak and maple, tend to add their own flair to the West's alpine display.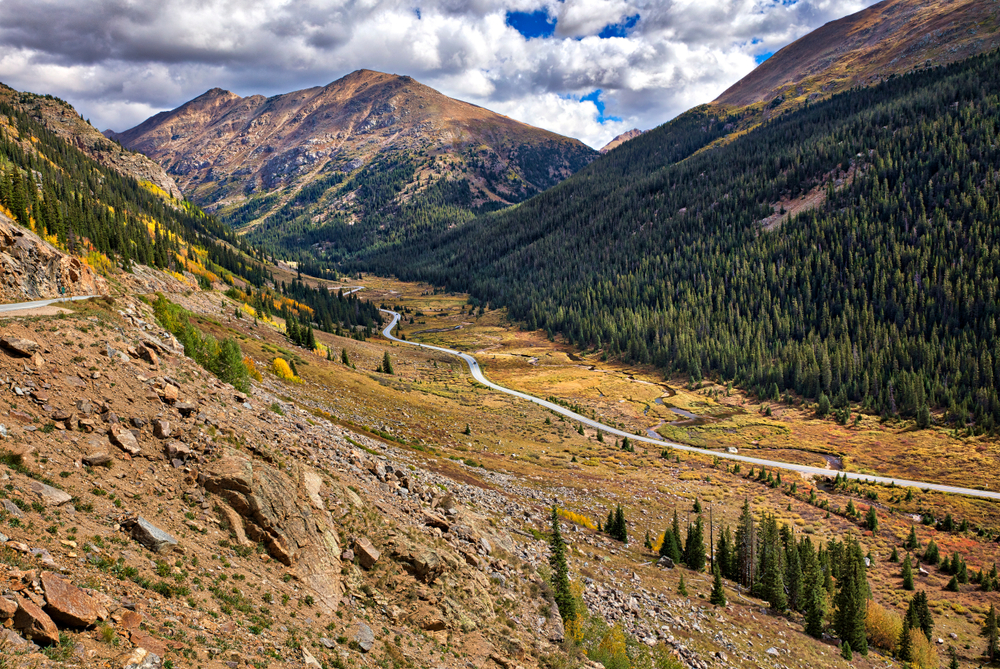 Top of the Rockies, Colorado

Take in a pair of 14ers, Mt. Elbert and Mt. Massive, as you snake the lofty distance from Copper Mountain to Leadville all the way westward to glitzy Aspen via Independence Pass. Roll across the Continental Divide more than once as your RV shadows the Arkansas River, flowing past historic silver mining towns, some of which are now modern-day ski resorts. Sure, the air may be thin at a cruising altitude of 9,000-to-12,000 feet, but the views are picturesque, bursting with an autumn palette of golds and reds. Be sure to take off-the-beaten path breaks: hike, cast a fly fishing line in the trout-filled waters, and stop at a ghost town — or hop a ferry to Interlaken historic site from the boat launch east of Twin Lakes. If you reverse the route and land in Aspen, swing by the swank Limelight or the historic Hotel Jerome for highly civilized sundowners.
Distance: 82 miles

Whether you decide to take in the majestic beauty of New England, the Mid-Atlantic, the Midwest, the Southeast, the Rockies or other equally beautiful regions this fall, know that you can find your perfect RV rental on VacationRenter now with more incredible options to choose from through our partnership with RVshare.