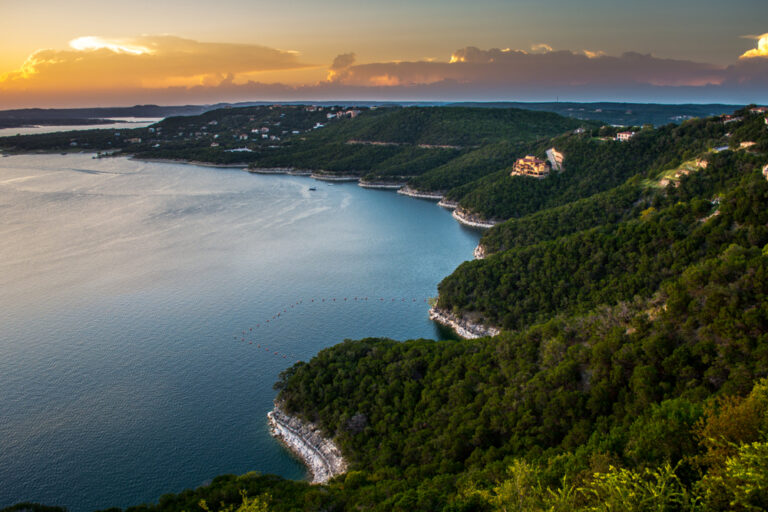 The great state of Texas became a constituent part of the U.S. on December 29, 1845. Having existed under the rule of six different nations throughout its history — namely Spain, France, Mexico, the Republic of Texas, the United States of America, and the Confederate States of America — Texas is a state with a captivating background.
The state is also home to a diverse range of beautiful landscapes including deserts, prairies, grasslands, forests, coastline, and many lakes. While all of these natural wonders make for unforgettable vacation destinations, the lake retreats in particular are extremely popular tourist magnets – and for good reason.
Three holiday attractions that continually bring in visitors from far and wide are Lake Austin, Lake Conroe, and Lake Travis. Considering a Texas lake vacation this summer? Read on to learn more about all three destinations in the Lone Star State.
Lake Austin
Lake Austin — previously referred to as Lake McDonald — is a reservoir on the Colorado River within Austin's city limits. It's a 30-minute drive from the city center and approximately 40 minutes from the airport. There's plenty to do when you visit Lake Austin.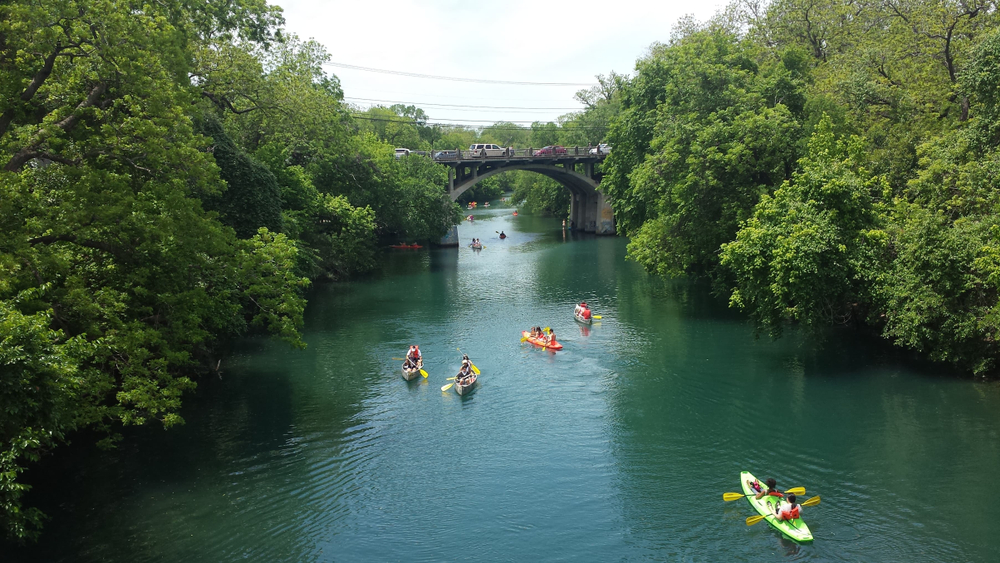 If you're looking for safe, socially distanced fun, you can look into recreational boating — a wildly popular activity. For people preferring to stay on dry land, the beautiful Emma Long Metropolitan Park is located right next to the lake. It's the perfect place for hiking or enjoying a socially distanced picnic!
Many Lake Austin visitors are drawn in by the terrific fishing opportunities it offers. The waters harbor an array of largemouth bass, catfish, and sunfish in addition to other fish species. Avid anglers frequently catch fish weighing up to 10 pounds and make for highly impressive trophies.
If you're a big foodie, you'll be spoilt for choice at Lake Austin. There are many restaurants offering mouth-watering cuisines right by the lake. The Ski Shores Café, which has been running since 1954, is one of the local staple. Thanks to a large menu offering fresh seafood, burgers, and an extensive range of cocktails, it's one of the most sought-after spots for a relaxing waterside evening.
The County Line — a striking redwood-decked lodge that serves up delicious BBQ food — is another popular restaurant. From German-style sausages to slow-cooked brisket, big meaty ribs and so much more, their range of flavorsome dishes consistently have guests coming back for more.
Whether you're looking for an adults-only getaway or something more family-friendly, Lake Austin has excellent attractions that cater to people of all ages. You can explore the Inner Space Cavern, visit the petting zoo at Jourdan-Bachman Pioneer Farms, and go ice-skating at the Chaparral Ice Rink, all in a day's work.
Ready for a day out on the water? Plan your summer adventure to Lake Austin with VacationRenter.
Lake Conroe
Situated in Montgomery County, Lake Conroe is another terrific vacation spot. The nearby city of Conroe has its own airport, just a short 25-minute car drive away.
If you love swimming and water slides, the Jolly Mon Water Park is a stone's throw away and sure to impress. Importantly, the establishment is committed to health & safety and has instituted enhanced cleaning, contactless services, and social distancing policies in observance of the COVID-19 pandemic. With a lazy river, water jets, five swimming pools, two hot tubs and a private beach, there's something for the whole family here.
At Lake Conroe's April Plaza, you can rent a boat for the day and purchase fishing supplies. A number of quality golf courses, including the Walden On Lake Conroe Golf Club, are also in close proximity. With rolling wooded terrain and a warm climate in the region, you won't find many places that provide better golfing conditions than this.
While staying at Lake Conroe, you're never short of options when it comes to dining out. You can treat yourself to some of the area's tastiest seafood at the Landshark Bar & Grill. Their Landshark fish & chips – consisting of beer battered fish served with fries and mango coleslaw – is a meal to die for.
If you're a fan of Asian cuisine, the Akashi Asian Bistro & Sushi Bar will blow you away. In addition to a selection of heavenly Japanese and Chinese dishes, plus a dedicated sushi bar, the Akashi Bistro & Sushi Bar also puts on live music regularly, which takes guest experiences here to the next level.
Wine lovers will appreciate Conroe too, thanks to a range of sublime vineyards such as B E Winery. Craft beer enthusiasts will also be in their element in any of several local breweries including B52 Brewing, Copperhead Brewery, and the Southern Star Brewing Co. No matter what it is that gets you excited, it'll likely be available in and around Lake Conroe.
Find a Lake Conroe vacation rental that suits your needs with VacationRenter today.
Lake Travis
Located to the north west of Lake Austin, a 45-minute drive away for Austin Airport, Lake Travis is also a reservoir on the Colorado River. A vast body of water, the lake is over 63 miles long and has over 271 miles of shoreline.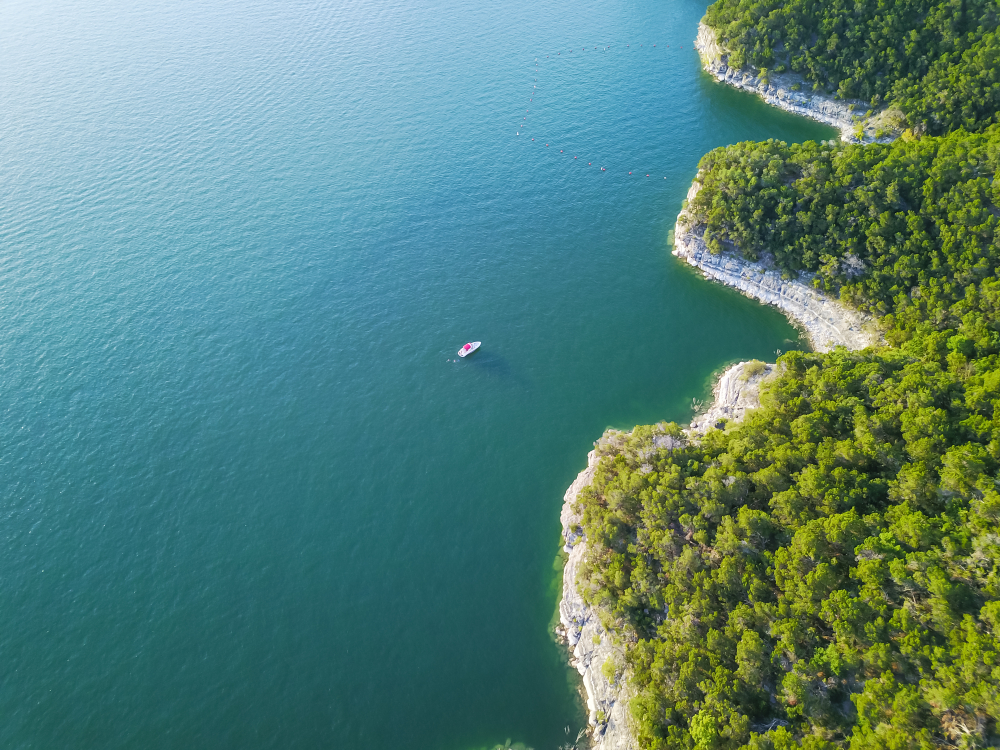 Unsurprisingly, holidaying at Lake Travis provides access to a dizzying array of fun activities. If you're an adrenaline junkie, you'll be enthralled by Lake Travis' Zipline Adventures. For starters, this action-packed park offers the longest and fastest zipline in Texas. They are also scrupulous about customer health and safety, as demonstrated by the introduction of updated policies due to the COVID-19 pandemic.
If you want to make the most of your time on the water, there are many rental options to choose from. You can hire boats, jet skis, and paddleboards for the day (or longer) at your convenience.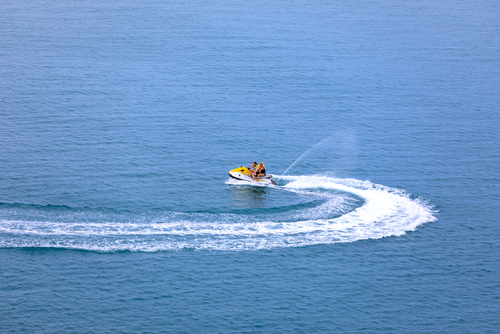 When hunger strikes after burning all that energy, Lake Travis is also home to some renowned dining spots. The Oasis on Lake Travis is a local legend, offering unrivaled views of the lake. To go with the exquisite scenery, the restaurant has a delicious selection of Tex-mex, burgers, and a whole lot more. Beachside Billy's Restaurant & Water Park can also be found lakeside. Here, customers can choose from a range of hand-cut steaks, fresh seafood, and delightful burgers.
Families, including pets and children, have numerous options available for exploration in nearby Austin. From cafés such as the Central Market Café and Mozart's Coffee Roasters to leash-free parks and public grounds like Red Bud Isle and Auditorium Shores at Town Lake, there are plenty of places to visit and enjoy the family vacation of a lifetime! 
Headed to Lake Travis, Texas soon? We've got you covered on accommodations.
Mentioned in This Article