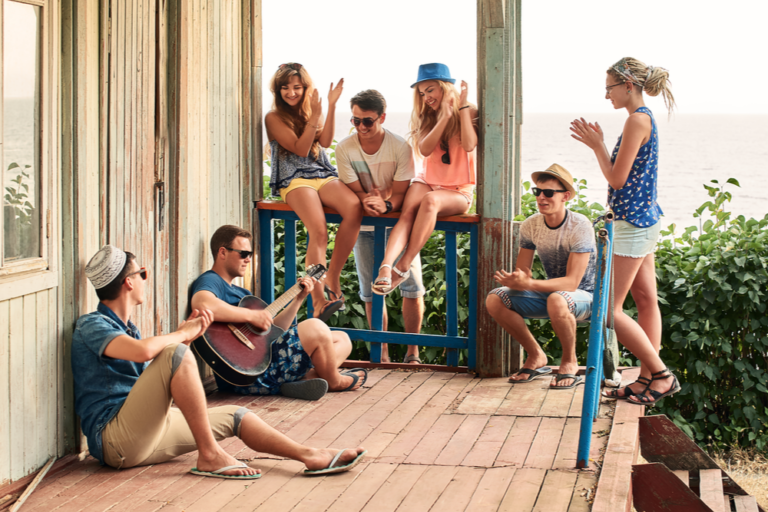 Traveling with a group of good friends can be a blast. Sharing new experiences with your buddies is a great way to make memories and strengthen bonds. However, planning a vacation with a large group of people requires a lot of forethought.
Everyone has different interests and circumstances. All your friends may not want the same things from a vacation. If you don't figure out what you'll do before your getaway, you risk having disagreements during your trip. This article covers some things you should consider and plan for before going on your group trip so that everyone has a great time.
Key Points
Learn how to plan a great group vacation
Communicate with your friends to find out their vacation preferences
Organize travel itineraries and events
Make sure everyone's travel needs are met
8 Tips to Make the Most of Your Group Trip
Everyone has different reasons for going on vacation. Some people want to have an adventure, other people want to relax, and others just want to learn something new. If you want everyone you're traveling with to enjoy the trip, you need to try to meet their needs.
For example, if you're traveling with two of your best friends to Miami, Florida, you might be eager to try snorkeling at the beach. However, your first friend might be more excited to experience the nightlife, while your second friend might be fired up to see the rescued exotic animals at the Zoological Wildlife Foundation.
There's a lot to disagree on when traveling, so it's important to make sure everyone's on the same page before and during the trip. Otherwise, you risk making someone feel left out. Even one person's bad mood can severely damage the vibe of an entire vacation.
Planning a vacation with your group of friends requires communication and organizational skills. The next few sections provide some travel tips to help you have a fun and harmonious vacation with your friends.
Travel With a Group of Friends Who Already Know Each Other Well
Even though vacations are meant to be fun, traveling can be frustrating. Things like flight delays, long road trips, and jet lag can make a person feel on edge. A group of close friends will generally know what to expect from each other when tensions rise. New friends might not have the familiarity to handle each other's mood swings, though.
When traveling with your best friends, you already know hanging out with them will feel natural. However, when traveling with new friends, you run the risk of having awkward conversations or experiences. A new friend may even feel hesitant to share how they feel about something with the group.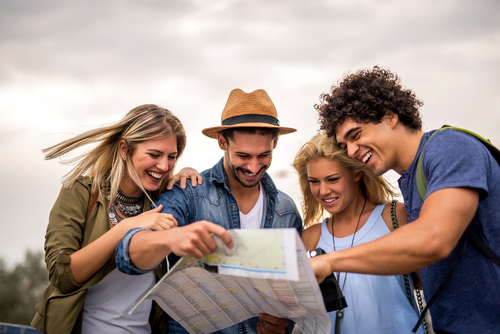 For example, let's say your group just arrived in New York City. Most of your besties want to immediately hit the town and start sightseeing. However, one friend needs to take a nap at the hotel. Not wanting to make waves, the new friend agrees to go sightseeing. Their frustration builds until they finally snap and yell at someone else in your group.
A group of longtime friends will know each other's quirks, feel comfortable expressing their needs, and be less likely to take offenses personally.
Be Mindful of Different Travel Styles
Everyone has their own preferences when it comes to travel styles. Some people like to travel by plane, while others like to take the bus. Some people may want to stay in the city center, while other friends might prefer to stay in the suburbs.
Give everyone a chance to share their preferred travel style before heading out. You'll have a better chance of making a compromise that will make everybody happy if you plan in advance. Use a social planning app like Wanderlog to share travel itineraries with your group and gather their feedback.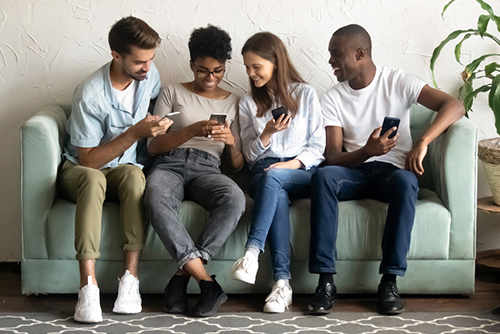 If some members of your group are shy, you may have to encourage them to share their opinions. Even if they claim not to have a preference, they may still favor a certain way of traveling.
Consider a Vacation Rental for Large Groups
You may want to rent a large property so everyone on your group trip can stay in the same house. Staying in a rental home with your vacation mates can feel more personal than staying in separate hotel rooms. A shared, personal living space can also help your group bond.
A rental property will be a lot less crowded than a hotel, which can make it easier to relax. It will also be easier to round everybody up for scheduled events and activities if they're staying in the same home. If you're traveling with multiple families, be sure to make arrangements for children to stay in rooms near their parents.
Let's say your next trip is to Los Angeles, California. At times, traffic can be a nightmare. You may be able to find a quiet rental property on the outskirts of the city so that you only have to brave the crowds when you need to. Alternatively, you can find a vacation rental with lots of outdoor space to accommodate everyone in a place like Pacific City, Oregon.
To find the perfect vacation rental for your next trip with friends, check out VacationRenter.
Prioritize Both Alone Time and Togetherness
While the point of taking a vacation with your friends is to form connections with them, you don't necessarily need to spend every waking minute with each other. In addition to planning time to do things together with the group, make sure to give everyone some time alone to refresh.
Scheduling alone time can be especially important if you're traveling with a group of couples. When you're on vacation with your spouse or partner, you'll likely want to have some time to do something romantic. Maybe you'll relax at a swimming pool or check out an art museum.
You can use platforms like Tripadvisor to plan activities for the whole group or just one or two people to enjoy. On a group trip, togetherness is important, but be sure to give everyone a break. Make sure your travel plans don't account for every moment.
Plan Out Where You'll Eat
Not only will everyone you're traveling with have different tastes when it comes to cuisines, but they may also have dietary restrictions or allergies. You need to make sure that every restaurant you visit has something to eat for everyone in your party.
For example, some fine dining local restaurants in cities like Paris, France, may only serve a few dishes on a given night or may only have meat or fish entree options. This can be problematic if one of your friends is a vegetarian. Do some research online to see if you can find menus for restaurants before you plan to eat there.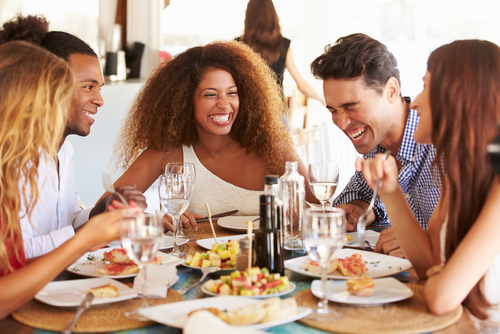 Also, your friends may need to eat at different times. For example, some members of your group might need to eat breakfast, while others may not. Some might eat dinner around 5 p.m., while others eat at around 8 p.m. Check with everyone early to see what their eating preferences are so you can do your best to accommodate everyone.
Plan Out a Budget
Different people have different ideas of what they're willing to spend on a vacation. Your group needs to agree on how much they'll shell out on things like accommodations and shared experiences.
Talk with your friends to get an idea of the amount everyone wants to put toward the vacation. It will help you figure out the places you can go and stay. You can use an app like Tricount to keep track of costs and allow everyone to make payments.
Put Someone in Charge of Planning
Planning a trip for a lot of people can get pretty hectic. While everyone should have a say in the decision-making process, it's a smart move to put someone in charge to make sure decisions ultimately get made.
This job can be stressful for one person. Using a travel agent to help plan your vacation can be a good option. These trained professionals can help guide you through your trip and give you all the information you need.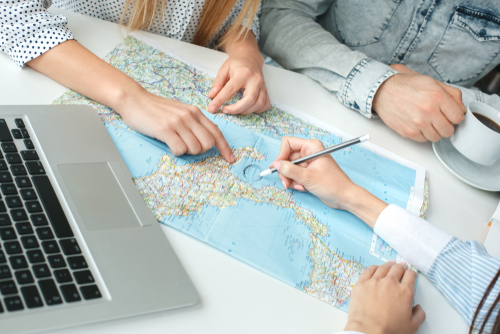 Make Sure Everyone Has What They Need
Some people like to travel light, while others spend a lot of time filling up multiple suitcases to be ready for anything on their vacation. However, certain trips may require travelers to bring essential gear or do things in advance to be prepared.
For example, if you're going camping at Yellowstone National Park, you may need hiking boots, water bottles, tents, bug spray, and sunscreen. If you're going to certain countries, you may need to get different vaccinations before you go. You can create and share a list of everything your group will need on a trip using an app like Packing Pro.
Plan a Group Getaway Using VacationRenter
Group travel isn't always easy. Whether you're planning a trip to see the Smithsonian Institution in Washington, D.C. with your best friend or traveling with several families to see the historic Notre-Dame Basilica of Montreal, setting up a group vacation can be intimidating if it's your first time. But if you keep an open dialogue with your friends, try your best to meet everyone's needs, and make fair compromises when necessary, you'll have a great chance of designing a getaway your friends will love.
You can make your vacation a lot more comfortable by staying at a vacation rental. See how VacationRenter can make finding the perfect vacation home for your next trip quick and easy.
Mentioned In This Article