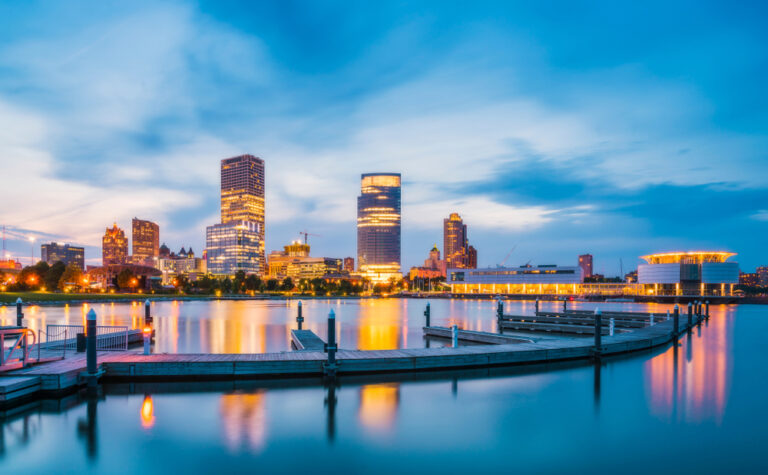 On the shores of majestic Lake Michigan, Milwaukee, Wisconsin has much to offer tourists that arrive to have fun. But it is not just for certain specific seasons. Visit Milwaukee at any time of the year for exciting excursions and cultural activities. The list of things to do in Milwaukee is delightfully long, so your vacation itinerary will be full from morning till night. We've compiled a list of fun things to do and check out while you're in Milwaukee, Wisconsin. 
Manfred Olson Planetarium

Anyone with even a passing interest in astronomy will enjoy a day at the Manfred Olson Planetarium on the University of Wisconsin-Milwaukee campus. A 30-foot dome brings the stars, planets, and moon into close focus for visitors. Gaze into the wonders of the cosmos as you relax, sit back, and stare into the great beyond. The experience is truly humbling and very educational. This is definitely an experience you don't want to miss.
The planetarium hosts programs for the general public designed to spark interest and imagination. An observatory deck on the roof of the building is also used for special stargazing sessions. Check out the website for special events and shows.
Pro traveler tip: Find certain nights with stargazing, trivia, and treats for free! 
Discovery World

The whole family will love getting lost at Discovery World, where science and technology reign supreme. Explore different worlds, environments, and games with the new virtual reality explorer. Discover strange and exotic sea life in the aquarium. Meet robots and program musical machines in the automation exhibit. There are so many exhibits and so much to learn at Discovery World.
The Design It! Lab is where everyone can roll up their sleeves and get busy in many different projects that you'll take home with you. Try the Physics and You Lab where you can build circuits,  launch a rocket and learn all the important fundamentals of physics. Innovation Station is where you can delve into the first thermostat, explore environmental control, learn and send messages in morse code, and make a pneumatic dinosaur move. 
Pro traveler tip: Visit the Les Paul exhibit and immerse yourself in his music, and you can also mix and share new music!
Historic Pabst Brewery

Breweries are a major part of Milwaukee's heritage, so you can't visit the area without at least one stop-in at a local brewery. If you have to choose just one, make it the Historic Pabst Brewery. Not only a tavern, but this restored facility is also happy to open its doors for a tour.
Wander Blue Ribbon Hall to learn about the iconic history of Pabst in Milwaukee. Its authentic German architecture truly highlights the history behind the beer. You'll also be treated to a pint of beer or root beer, and the on-site gift shop has a wide array of both new and vintage beer brands.
Pro traveler tip: The brewery is pet friendly and offers free Wifi!
Lynden Sculpture Garden

Originally purchased in 1927, what was once a private estate is now the Lynden Sculpture Garden in Milwaukee. You are invited to explore the 40 acres of fields and woodlands, in which more than 50 sculptures stand in simple splendor. The estate has been renovated to replicate traditional English gardens, so you can anticipate breathtaking landscaping displays. You can also explore the indoor galleries to see beautiful contemporary art. 
Pro traveler tip: Check the gardens Facebook page for updates on seasonal outdoor ice skating!
Where to Stay in Milwaukee
East Town
East Town is a section of downtown Milwaukee nestled between the Milwaukee River and the shore of Lake Michigan. It is a great area for those looking to spend more time outdoors. Walk along the Milwaukee river or take a boat tour down the river. You can also rent kayaks or paddleboards for the day. There are also some great parks like Veterans Park with loads of activities with paddleboat rentals and a kite store.
Third Ward
If you are looking for fabulous art, boutiques, and locally made items, then this neighborhood is for you. Located in the southern part of downtown, Third Ward offers many different options for fun and funky shopping and dining. Head over to the Milwaukee Public Market where you will find ribs, hand-dipped chocolates, the spice house, gourmet pizza, and so much more! In the summer you can head over to the Henry Maier Festival Park, a 75-acre shoreside park, hosting ethnic, cultural, and food festivals almost every weekend.
East Side
 The Eastside, which is usually broken down into lower and upper east sides, is known for its extravagant nightlife. Check out places like Nine Below, where you can drink while building your own mini-golf course, or North South Club, with shuffleboard and axe throwing! Check out the college scene on Brady Street with loads of great bars and Italian food. 
Milwaukee Adventure Awaits!
With so many Milwaukee places to visit, you may have trouble choosing just a few. Each one of the many neighborhoods that make up Milwaukee has its own plethora of fantastic activities. Make sure you plan enough time to see and do all of the biggest and best Milwaukee has to offer. Ready to enjoy all of the incredible sights available in Milwaukee? Book your stay on VacationRenter!