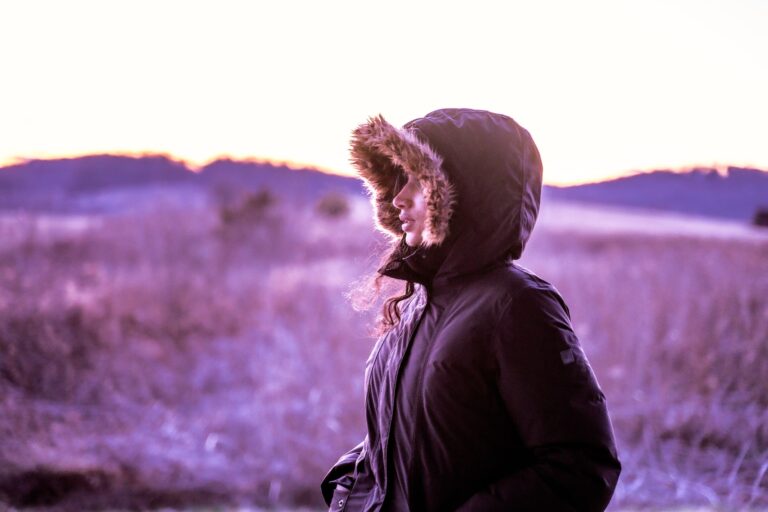 Located in the northeastern United States, Pennsylvania is a large and beautiful state full of rolling green hills, forested mountains, blue lakes, state parks, and river valley vistas — a.k.a. the perfect place to be outdoors! From the Pocono Mountains in the northeast to the Laurel Highlands in the west near Pittsburgh, this state has a lot to offer nature enthusiasts interested in outdoor activities like hiking, biking, hunting, skiing, horseback riding, and whitewater rafting.
If the outdoors are calling your name, but you don't want to completely rough it, these glamping sites in Pennsylvania can provide everything you're looking for in an upscale outdoor adventure. Trek to see waterfalls, historic covered bridges, and fall leaves, then return to your accommodations to enjoy plenty of amenities. These top Pennsylvania glamping destinations are sure to provide an unforgettable experience for anyone looking for a unique outdoor adventure.
1. Pocono Mountains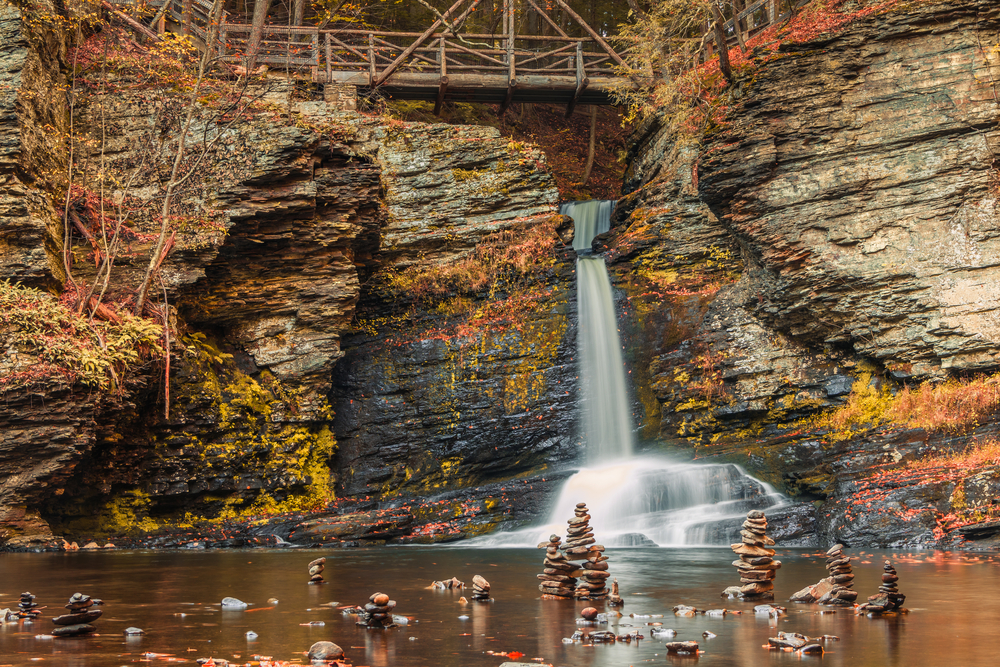 The Pocono Mountains — called "the Poconos" by locals — is a year-round destination in northeastern Pennsylvania. Lodging in this area often caters to adult-only romantic getaways, but plenty of options exist for families and groups. Most of the state's top ski resorts are in the Poconos, as well as plenty of hiking trails and recreational lakes. Glamping experiences in the area range from RVs to elevated tents.
Glamping Options
One unique glamping option is the Shawnee Inn and Golf Resort on the Delaware River. Built in 1911, this premier Poconos resort is a wonderful combination of history, nature, and modern amenities. It offers a variety of guest accommodations, including riverside and island glamping tents with nearby bathhouses.
The Shawnee's riverside tents are pitched on elevated wood platforms at the water's edge. With one queen-size bed and one daybed, these luxury tents sleep two to three campers and feature electricity, Wi-Fi, heaters, and fans. Complimentary amenities for glampers include breakfast in the River Room, guided canoe trips, s'mores supplies, and recreation attendants to help with fire-making. Linens, soaps, and bath towels are also provided. Glampers are also given access to all on-site amenities, from the indoor pool and hot tub to the soft sandy beaches.
Nearby Attractions
Kayaking on the river or day-tripping to nearby parks offer even more fun and adventure in the Poconos. Only 30 minutes north of the inn lies Bushkill Falls — "the Niagara of Pennsylvania" — a famous outdoor attraction with eight waterfalls along scenic hiking trails. Ricketts Glen State Park is also only about an hour and a half from the Shawnee Inn, but the more than 20 stunning waterfalls make it worth the drive.
2. Philadelphia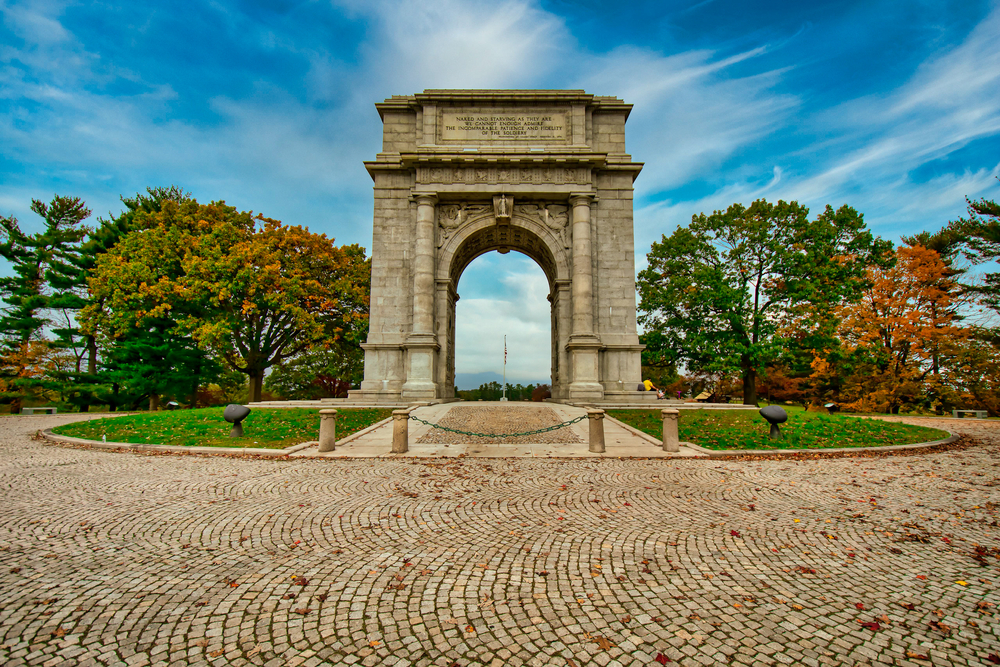 About two hours south of the Poconos, you'll find Philadelphia, a vibrant city with plenty of entertainment, great food, and colonial history. Museums and historic sites draw thousands of visitors every year, and there's always something fun happening. Sports, theater, music, art, festivals — you name it, Philly's got it.
Glamping Options
RV rentals offer a unique camping experience in the greater Philadelphia area. Some RVs are parked and set up for campers at a campground, while others offer a more mobile experience, like this luxury Jayco Greyhawk Bunkhouse.
Great for a family or group of friends, this RV comfortably sleeps eight people between a queen bed, king bed, and two bunk beds with privacy curtains. There's plenty of storage for all your gear and a dinette, couch, and full bathroom. The kitchen is stocked with cookware, a microwave, an oven, a sink, and a refrigerator with a freezer. The RV is also easy to drive and eliminates blind spots with its side and rear cameras.
Another smooth RV ride is this world-class Jayco Precept. Available to rent in the Philly area, this RV has a king-size bed in the master bedroom and a loft-style queen in the front cabin. It also has a smart TV, stainless steel appliances, and Bluetooth speakers. To top it off, there's a full kitchen, bathroom, and plush seating.
Nearby Attractions
Philadelphia is the perfect destination for those who want to experience the hustle and bustle of the city while still enjoying a glamping experience. Visitors can explore nearby attractions such as Valley Forge National Park, the Philadelphia Museum of Art, and the Independence National Historical Park, where the Declaration of Independence and the U.S. Constitution were signed. Reading Terminal Market offers a wide variety of food and shopping options and is a must-visit destination for foodies.
3. Lancaster Area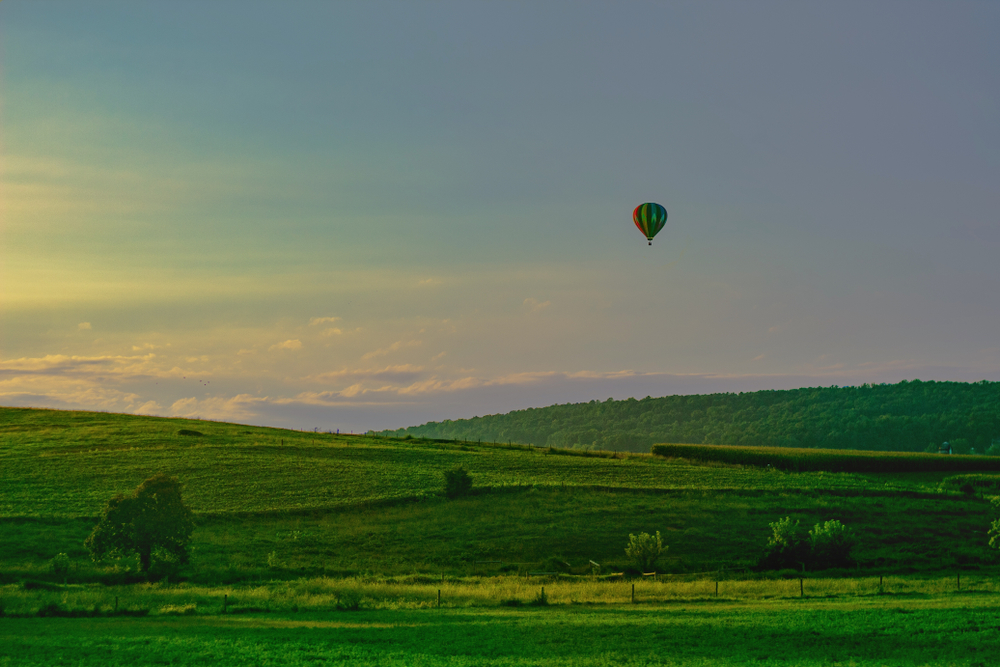 Two hours west of Philadelphia lies Lancaster, a town at the heart of Amish Country. A large community of Amish people lives and works in the Lancaster area, which draws curious tourists who want to see the Amish way of life and the beautiful countryside. Visitors also come to eat delicious farm-fresh food and shop for handmade quality goods.
Glamping Options
Nestled in the woods of southern Pennsylvania, the Sun Valley Campground is only 30 minutes from Lancaster. This is the perfect place to pull up your RV rental and enjoy resort amenities, including a heated outdoor pool, barbecue area with picnic tables, and a gaming room.
Known as the "Sweetest place on Earth," Hershey is another popular destination in this region. Home of the Hershey chocolate dynasty, the town is known for its amusement park, zoo, and gardens. Hershey's Chocolate World also offers fun chocolate-themed activities and a huge candy store. For a stay nearby, check out these modern rentals available in the Hershey, PA area. Situated between Harrisburg and Lancaster, it's the perfect central location for exploring the area.
Nearby Attractions
The Lancaster area is known for its beautiful Amish countryside and quaint towns. Nearby attractions include Dutch Wonderland, Strasburg Rail Road, and Lancaster Central Market, where visitors can experience the unique culture and history of the area.
4. Raystown Lake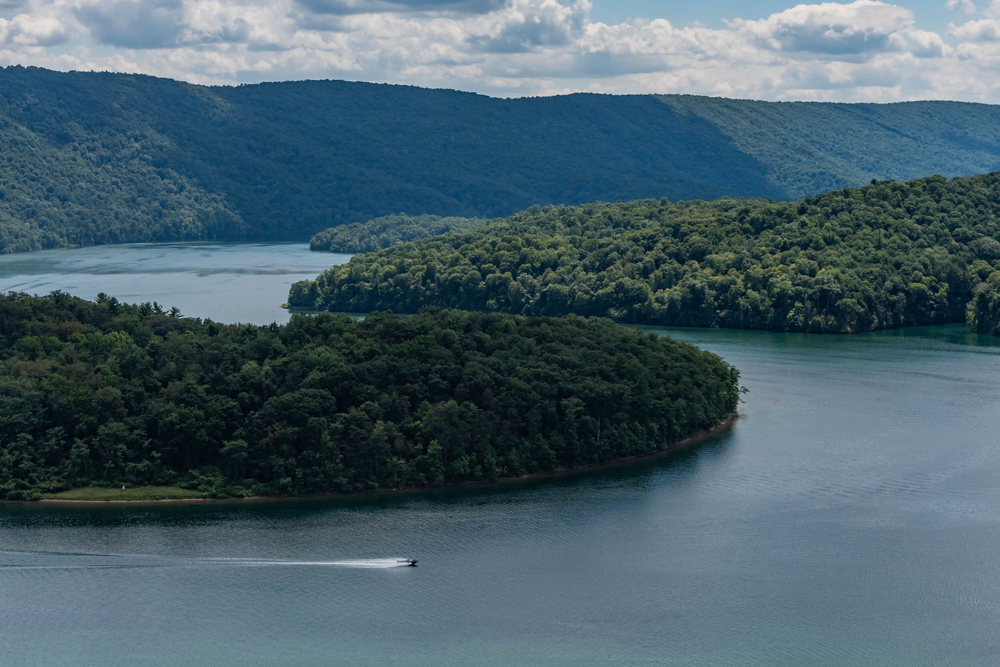 The natural beauty of Raystown Lake is well-known throughout the commonwealth. A top destination for nature seekers, the lake is just an hour south of Penn State. Raystown Lake is an enormous 8,000-acre reservoir, so there's plenty of space to let loose and avoid major crowds. The lake area is almost 30,000 acres in total and features beaches, boat launches, picnic areas, trails, and hunting/fishing spots. Swimming, kayaking, and hiking are some of the main activities. You can also enjoy stargazing at night.
Glamping Options
For those who want to rough it but still have plenty of amenities, the Urban Saddle Ranch campground offers a number of affordable cabins within five miles of the lake. These cabins can accommodate one to four people in two beds — perfect for families or friends. They offer a simple home base for those not in need of high-end accommodations. The Lucas McCain Cabin is only $124 a night, and it's pet friendly. Closer to the lake, the Matt Dillon cabin is even cheaper at $98 a night, and also allows pets. And finally, the Lone Ranger cabin, at $99 a night, is pet-friendly and cozy, offering a wonderful outdoor adventure.
Nearby Attractions
Located in central Pennsylvania, Raystown Lake is a popular destination for water sports enthusiasts. Nearby attractions include Hawn's Overlook, Trough Creek State Park, Lincoln Caverns, and Penn's Cave & Wildlife Park, where visitors can experience the natural beauty and wildlife of the area.
5. Pittsburgh and Erie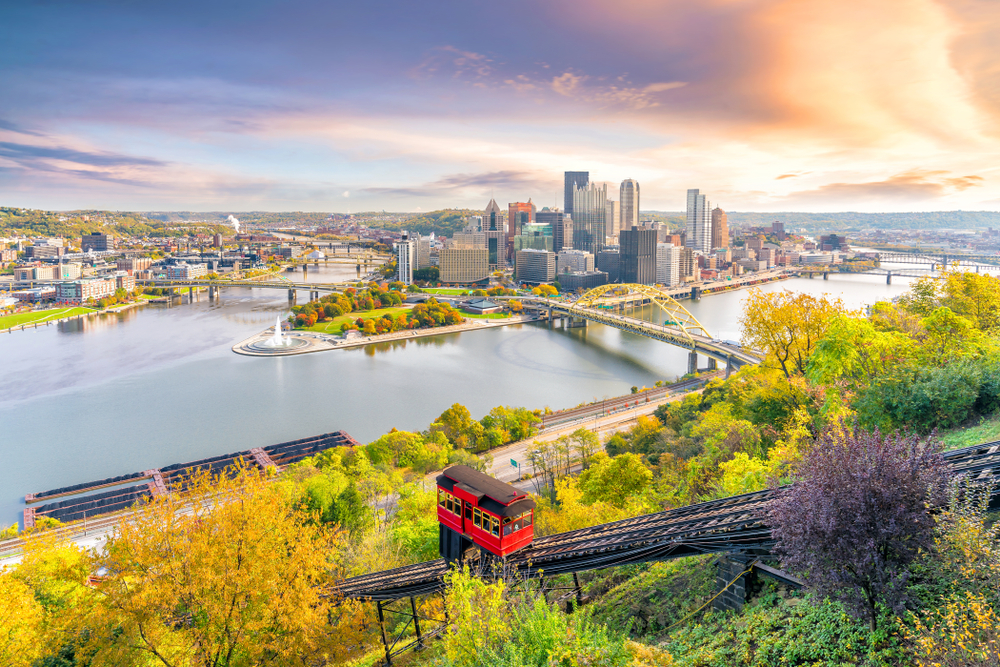 Western Pennsylvania is a mostly mountainous region known for the city of Pittsburgh and its access to Lake Erie. Established at the convergence of three rivers, there's a lot of fun to experience on the water in Pittsburgh. Paddleboarding and kayaking rentals are available for visitors, and there are also plenty of parks and trails for biking, walking, or rollerblading. Travelers also visit Erie to enjoy the lake's beaches and water activities. The region has multiple state game lands for hunters, and the Allegheny National Forest is a must-see for hiking, biking, boating, and ATV riding.
Glamping Options
If you're interested in a mobile glamping adventure, consider one of the RV rentals available in the area. Many come with a full kitchen and bathroom so you can still enjoy some home comforts while on the road. Depending on the rental, you can also take advantage of unique features like an outdoor shower.
Nearby Attractions
The Laurel Highlands, located just outside Pittsburgh, offer glamping enthusiasts a picturesque backdrop for outdoor adventures. Nearby attractions include Frank Lloyd Wright's Fallingwater, the Pittsburgh Zoo & Aquarium, Presque Isle State Park, and the beautiful Lake Erie.
Plan Your Next Pennsylvania Glamping Vacation
Pennsylvania is a beautiful state with countless opportunities for outdoor enthusiasts to explore nature while enjoying the comfort and luxury of glamping. Whether you prefer the mountains, the city, or being lakeside, there is a glamping destination that will meet your needs.