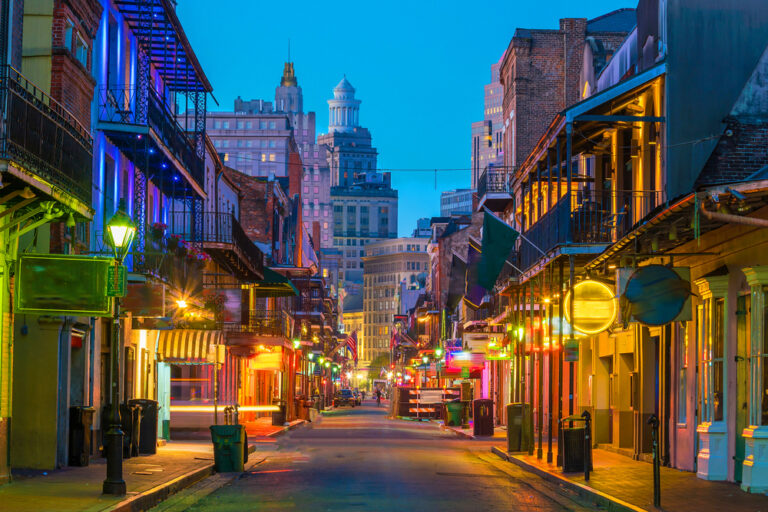 Tourists visiting New Orleans, Louisiana are likely familiar with locations like the French Quarter and Bourbon Street, but the city has an amazing array of other fascinating attractions that many people don't realize they can visit. Of course, Mardi Gras and Jazz Fest are the well-known crowd gatherers, but we took the time to uncover some really unique NOLA offerings that are bound to impress. From a Voodoo museum, to an aquariums, and more, New Orleans truly has it going on.
A city built on music, food, and rich culture, no trip to the Birthplace of Jazz is complete without a stop to at least one of these establishments. Read on for a few places and activities that tend to be not as well known, but offer a truly memorable and in-depth immersion into New Orleans culture.
Mardi Gras World
Not everyone can make it down to New Orleans for the official Mardi Gras celebrations in late winter. The next best thing is a visit to Mardi Gras World, located near the Ernest N. Morial Convention Center, on the east bank of the famous Mississippi River. The establishment's slogan, 'Where every day is Mardi Gras' is no lie.
Take a tour and learn the fascinating history of the colorful Mardi Gras floats, try on one of the ostentatious costumes, and wear a few of the iconic shimmering masks donned during the annual pre-Lenten parade. Large groups can attend team-building and mask-making classes, and there's even a shuttle available to pick you up for your Mardi Gras World visit. The historic location, which opened in 1932, offers daily tours and events. Stop by for a taste of Mardi Gras any time of the year.
Streetcar Rides
Step back in time and enjoy the sights of New Orleans from the wooden seat of a vintage St. Charles-line streetcar that's nearly 100 years old. There are 35 streetcars carrying passengers and tourists on five different lines that have run through town for over 150 years.
See the stately mansions and tree-canopied streets of the city while imagining what it was like to live in New Orleans when streetcars were the main mode of modern transportation. Be sure to have some pocket change on hand to pay the nominal toll, since the old-fashioned cars still only take exact change. Experiencing the history and unique sites via this everyday transportation method is the ideal way to take in the classic city's endless views.
Historic Voodoo Museum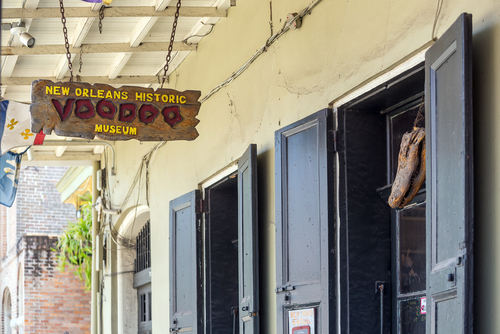 This tiny museum located in the heart of the French Quarter houses an astounding array of creepy, yet fascinating voodoo artifacts. The practice of voodoo is intertwined with the history and culture of New Orleans, and the New Orleans Historic Voodoo Museum lets you share in some of the secrets, folklore, and rituals of the practice.
Learn about the Voodoo Queen and pick up some gris-gris (amulets) of your own. Take a walking tour of voodoo sites or ask the museum to arrange for a reading of your future by an authentic voodoo practitioner.
Located at 724 Dumaine Street, blocks from Jackson Square, this historic establishment is situated in the heart of NOLA. After a trip to this museum, have a bite at Muriel's Jackson Square for some classic creole fare. The restaurant features a Sunday jazz brunch, which adds to the authentic NOLA experience.
Music Box Village
The Music Box Village in the Bywater neighborhood of New Orleans is a place that only the artists of New Orleans could build. The village is actually one huge musical instrument mecca, as each house can be played to make melodies and percussive sounds.
This sculptural art installation also hosts world-class concerts and wedding ceremonies, in addition to being a great place to enjoy hands-on activities. You can even bring your leashed dog along to enjoy the tunes you create. This classic establishment is 100% NOLA and has been open since 2015. Stop by this spot to unleash your inner musician.
Audubon Aquarium of the Americas
The Audubon Aquarium of the Americas is part of the Audubon Nature Institute, which includes parks, a zoo, a golf course and more. See menacing sharks in their huge tank, and learn about the beautiful and abundant marine life of the world. On weekends, kids can snorkel dive into the aquarium's Great Maya Reef and swim with the fishies and rays.
Ticket prices are affordable, ranging at $29.99. This makes the aquarium a reasonably priced activity for those who are interested in the beautiful sites of marine life.
The National WWII Museum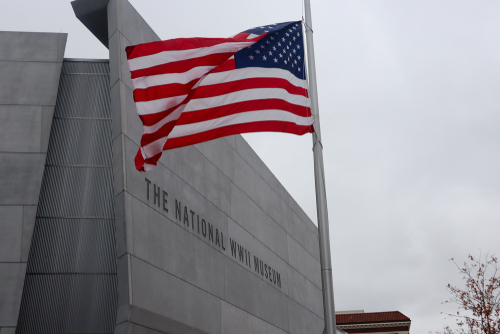 You'll hear a lot about tours, streets, and parks when it comes to New Orleans, but there are great museums to be found as well. The National WWII Museum was founded on D-Day in 2000 and displays vintage aircrafts, documents, uniforms and more. History buffs flock to this New Orleans historical establishment for the epic exhibit, such as The Road to Tokyo, an area of the museum dedicated to the different events involving Pearl Harbor during World War II. Make sure to stop by The Arsenal of Democracy for a perspective of the timeline of this historic period, featuring many authentic artifacts on display.
Preservation Hall
A trip to New Orleans is not complete until you hear some jazz music in the French Quarter. Numerous venues and street musicians offer excellent jazz sets, but the best place to hear some live jazz is from your seat in Preservation Hall.
The event space offers live music concerts 350 nights a year, with multiple shows per evening. A collective of over 50 traditional jazz musicians provide the iconic brass, keyboard, and drum sounds of New Orleans jazz that make your heart swell and your hips shimmy. Do some research and find a show that is scheduled during your stay for a night filled with world class music. Whether you are a proud jazz nerd, like many of us here at VacationRenter, or in it for the experience, Preservation Hall is a must see.
Steamboat Natchez
While jazz is on the menu, try a jazz-filled dinner cruise on an authentic steam boat as it cruises the mighty Mississippi. The Grammy-nominated band Dukes of Dixieland provides the tunes for the dinner cruise. Savor traditional Creole food and take a tour of the steam engine room. Day cruises on the Steamboat Natchez are also available, and you can learn all about the passing river sites and their interesting history from your onboard professional guide. This is one of the best ways to experience the area.
St. Louis Cathedral
One of the most well-known landmarks in the city, St. Louis Cathedral is the oldest cathedral in all of North America. Public tours are available through the cathedral and convent, and you are free to walk through the cathedral garden afterward. History is at every glance while visiting this religious building. Take in the inspiring architecture over an afternoon visit at this beautiful worship structure.
New Orleans Museum of Art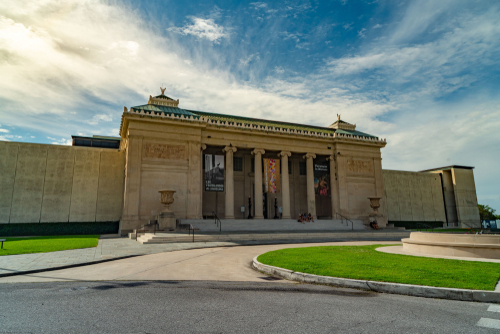 If you love early 19th-century French paintings, the New Orleans Museum of Art is a must-see. Adjacent to the indoor galleries is the Sydney and Walda Besthoff Sculpture Garden, which includes many famous French and American sculptures. Visit an exceptional collection of colonial French furniture and works by such American artists as George Washington Lambert and William Hahn.
Jean Lafitte's Old Absinthe House
Sit down, have a drink and take a trip through history at Jean Lafitte's Old Absinthe House. This bar has been up and running for over 200 years; it played a central role in the War of 1812, was almost shut down during the Prohibition Era and has served many famous faces throughout the years. Our favorite cocktails include the Planters Punch, crafted with dark rum, sour, float 151 rum, orange, and grenadine or Irish Coffee, a mixture of Irish whiskey, coffee, whip cream, green creme de menthe, and cherry.
Luling Mansion
See what remains of one of the city's most imposing homes. Luling Mansion was once a grand stately home, and its exterior is still a wonderful example of New Orleans' unique architecture. The building was divided into apartments in the early 20th century and most of these are uninhabited, giving the building an air of disrepair. This attraction is free to visit and acts as a creepy location for those interested in odd history.
Fort Macomb
Fort Macomb played a pivotal role in many of the country's most central conflicts. It originally served as a coastal defense point in the War of 1812 and later became a Confederate base during the Civil War. It closed in the late 19th century and you can't go inside due to extensive damage, but you can still snap some cool pictures of its exterior.
LaLaurie Mansion
Recently catapulted back into wider notoriety thanks to shows like "American Horror Story" and the "Lore" podcast, Delphine LaLaurie enjoys a dark reputation in New Orleans. She had a reputation for cruelty, and the LaLaurie Mansion is rumored to be haunted.
Carousel Piano Bar & Lounge
The Carousel Piano Bar & Lounge has served some famous guests over the years, including Anne Rice, Truman Capote, Tennessee Williams, and Ernest Hemingway. Take a drink at the revolving bar as you enjoy some excellent live music.