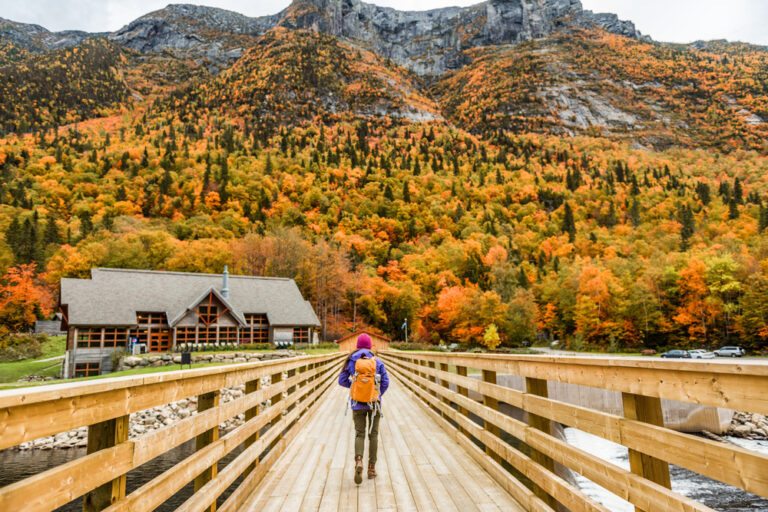 If you're looking for a fantastic fall getaway, you'll be hard-pressed to find one better outside of Canada. Professional photographers will tell you that fall is hands down the best time to take pictures in this vast, majestic land that is full of some of the most spectacular landscapes in the world. It's not just the colors that pop from the changing leaves, but it's also the way the light moves this time of year. So shift your focus to Canada for a hypnotic fall vacation you won't soon forget.
We're zooming in on six Canadian destinations that are a full-on feast for the eyes during the fall season!
1. Calgary, Alberta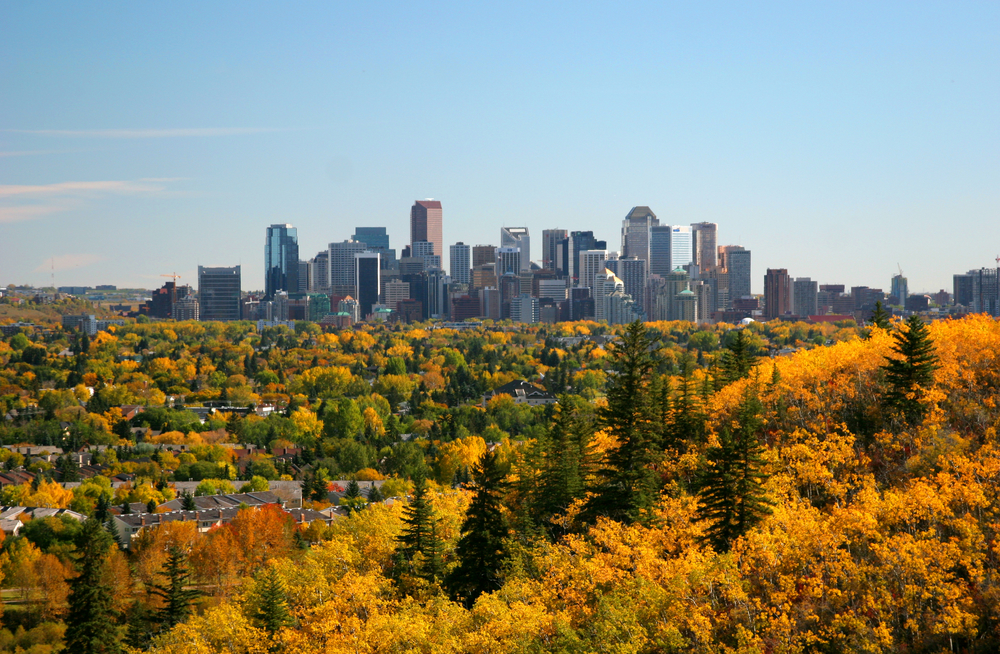 If there's one picture-perfect city to boost your Instagram feed this fall, Calgary is the place to be. This western city in the heart of Canada's prairies has a beautiful skyline that is offset by brilliant hues of foliage that take flight in the fall.
Fun Things to Do
Head to Prince's Island Park for a taste of fall glory because this urban oasis has a healthy dose of Mother Nature. Festive fall colors burst onto the scene as the trees turn gold and red, allowing for some pretty fantastic photo opportunities.
Be even more illuminated at Harvest Lights at Calgary Farmyard where nature is nurtured all around.
In mid-to-late-October, Granary Road rolls out Pumpkin Fest where you can take a pumpkin patch tractor ride, carve a jack-o-lantern, make a caramel apple, and get the perfect fall photo with an alpaca.
Banff National Park has mountains all around, but be prepared to set your sights on a plethora of breathtaking gold aspen and spruce leaves in particular. The sight of reds and yellows from the sub-alpine larch trees will make your heart lurch as well.
If you happen to be on the ambitious side when it comes to autumn sightings, the Canadian Rocky Mountains are certainly a step up in that direction. Less than two hours outside of Calgary, the drive from Jasper to Banff is considered one of the best views in the world. You'll be pleasantly overwhelmed by the abundance of autumn colors from every angle, from late September right through to the end of October.
2. Cape Breton Regional Municipality, Nova Scotia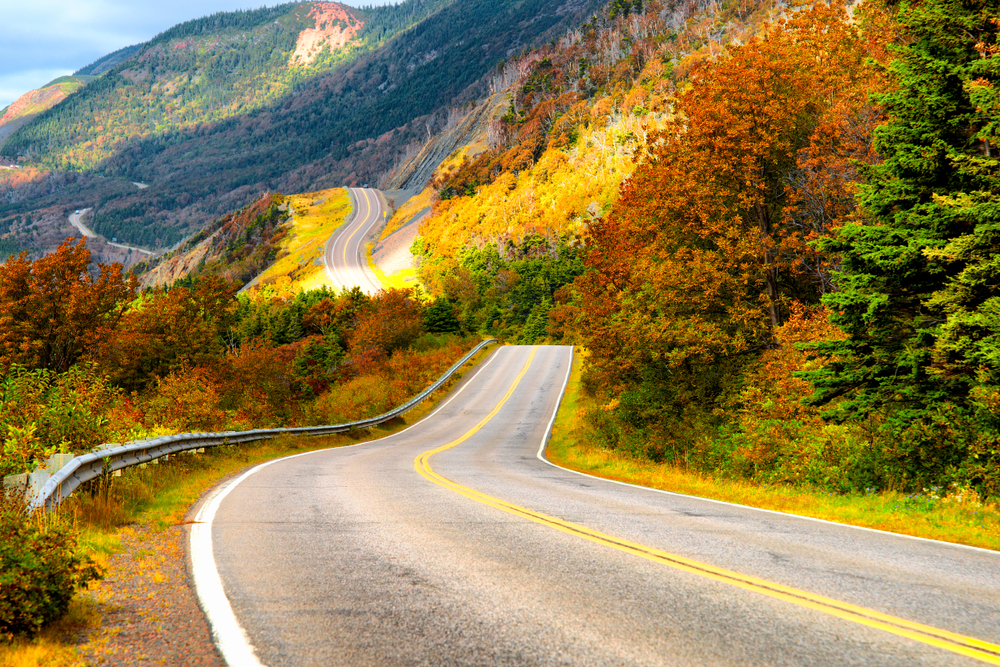 The Cape Breton Regional Municipality — or CBRM, as it's usually called — is Atlantic Canada's third largest metropolitan area. A superhero of stunning colors in the fall, you won't want to let Cape Breton Island fly under the radar when it comes to choosing your next fall escape. It's also an art lover's paradise, as artists, storytellers, and musicians arrive from all around the world to become inspired by the bursting foliage on a landmass roughly the size of Hawaii's largest island.
Fun Things to Do
For the fall-minded, October is the best time to visit. For one thing, Cape Breton's Celtic Colours International Festival celebrates the music, culture, and beauty of the island for nine days each October.
Locals say there's no better time than autumn to appreciate Cabot Trail because it's both a hiker and driver's delight. Cabot Trail boasts some of the most beautiful trees in North America, and fall takes the scene to a higher level. Fiery reds, oranges, crimsons, and golds blanket the highlands and tend to reach their peak by mid-October.
3. Niagara Falls, Ontario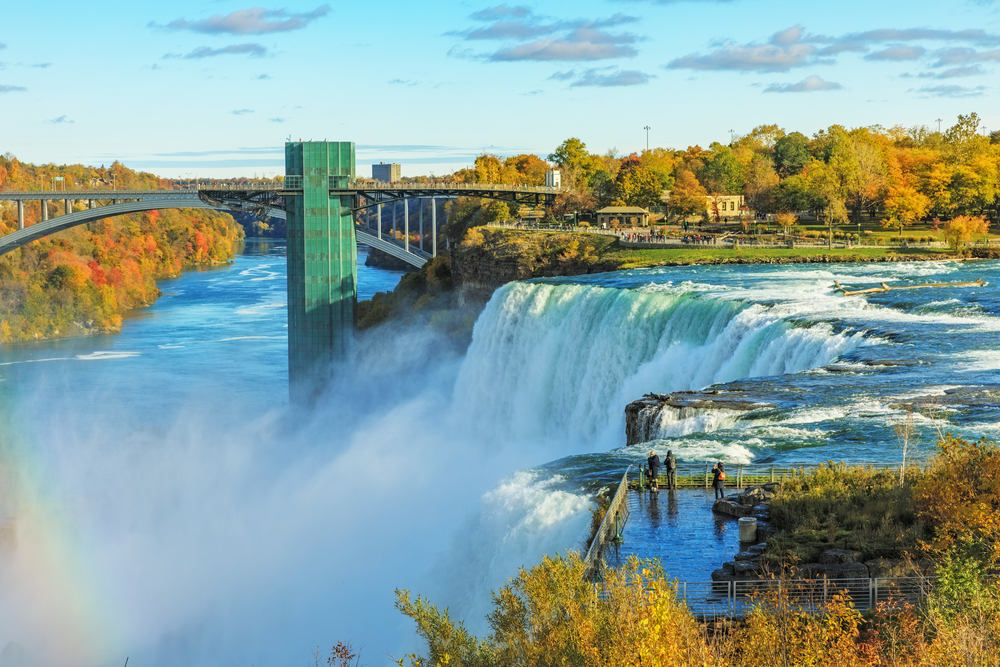 Canada wouldn't be the same without the iconic Niagara Falls. Coming to the city in the fall is a feast for the senses, where the landscape beckons you with its vibrant colors of red, yellow, and orange. It famously shares the same name with not only the waterfall but its neighboring American city to the east.
Fun Things to Do
The maple trees that have made Canada famous for its delicious maple syrup are the same trees that stand out in the city because of their breathtaking colors.
There are also fairs and festivals to partake in the fall — not to mention wine festivals and even haunted house attractions.
Ten minutes outside the city is River Road — also known as the historic Niagara Parkway — which follows the curves of the Niagara River. Winston Churchill once called the road, "the prettiest Sunday afternoon drive in the world." Many have compared driving along River Road in the fall to viewing a gallery of Impressionist paintings. This colorful town is at its most animated in early to mid-October when the foliage takes on a golden hue.
4. Montreal, Quebec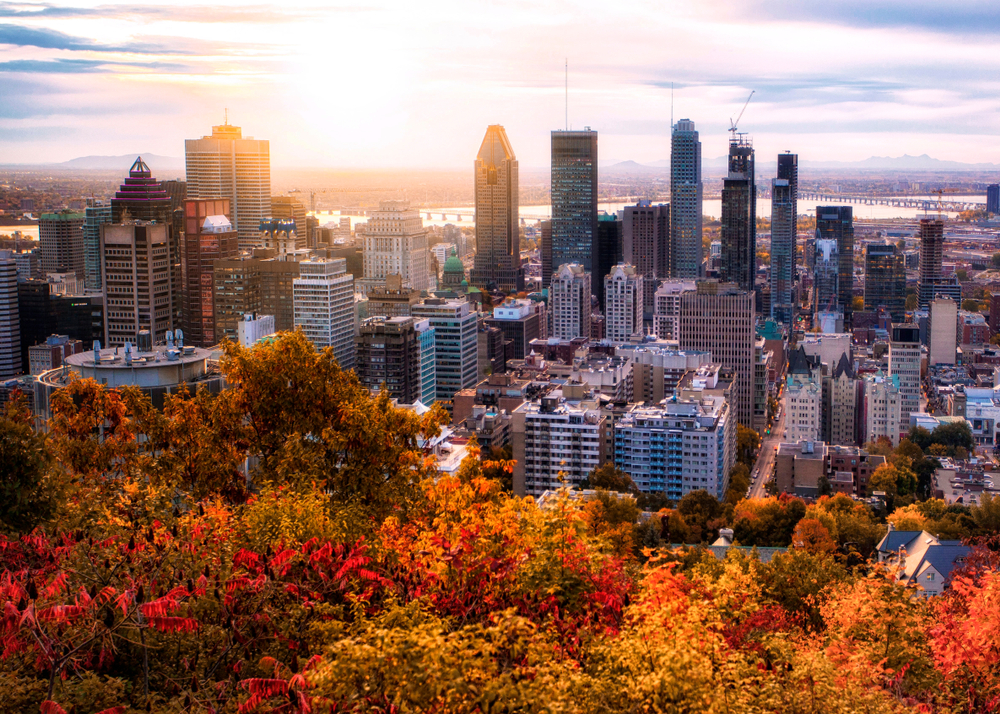 Ah, Montreal in the fall. This major French-Canadian city is full of foliage for the ages. Envision oak trees that boast bronze-red hues and sumacs that stun with fiery orange beside some of the finest architecture in North America. Beyond the sights, the city is a delightful feast for the senses, with some incredible restaurants and parks to explore.
Fun Things to Do
The Montreal Botanical Garden is illuminated this time of year when the Gardens of Light Festival flickers to life in time with the festive fall colors. The lanterns of the festival are best viewed at sundown, so consider dropping by the garden's arboretum in the late afternoon for a leisurely stroll before making your way to the main attraction in the Chinese Garden.
POP Montreal also pops up every fall. The music festival, visual art exhibit, film event, and open-air flea market are an autumn extravaganza all wrapped up into one huge event.
While some of the fall foliage in Montreal does peak in early October, the season runs from mid-September through the end of October, so there's still plenty of time to take in the beauty. No matter when you go this fall, you should have plenty of opportunities to shoot some spectacular arrays of color.
5. Peterborough, Ontario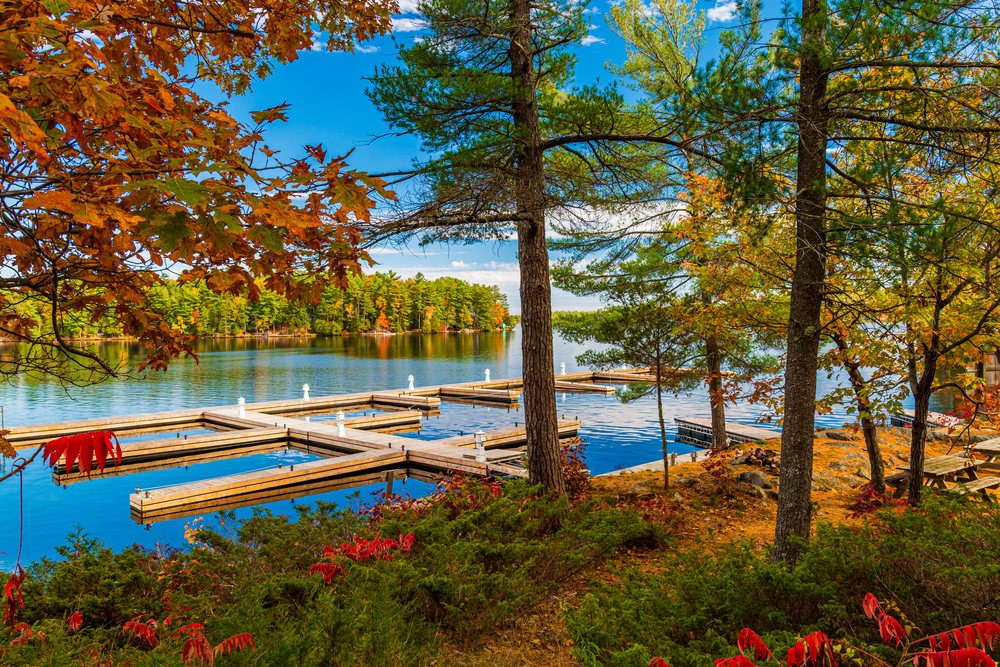 Peterborough — located only an hour and a half from Toronto — is known for having the largest wilderness preserve south of the Algonquin, including well over a hundred lakes, including the famous Kawarthas.
Fun Things to Do
For those ready for a real autumn adventure, the Warsaw Caves are a fun-filled exploration of a subterranean activity park.
There's also the Norwood Fair, which has been an annual Canadian Thanksgiving tradition.
Late September through the end of October is ample time to take in the autumn vistas where colors are ubiquitous for weeks on end.
6. Algonquin Park in Whitney, Ontario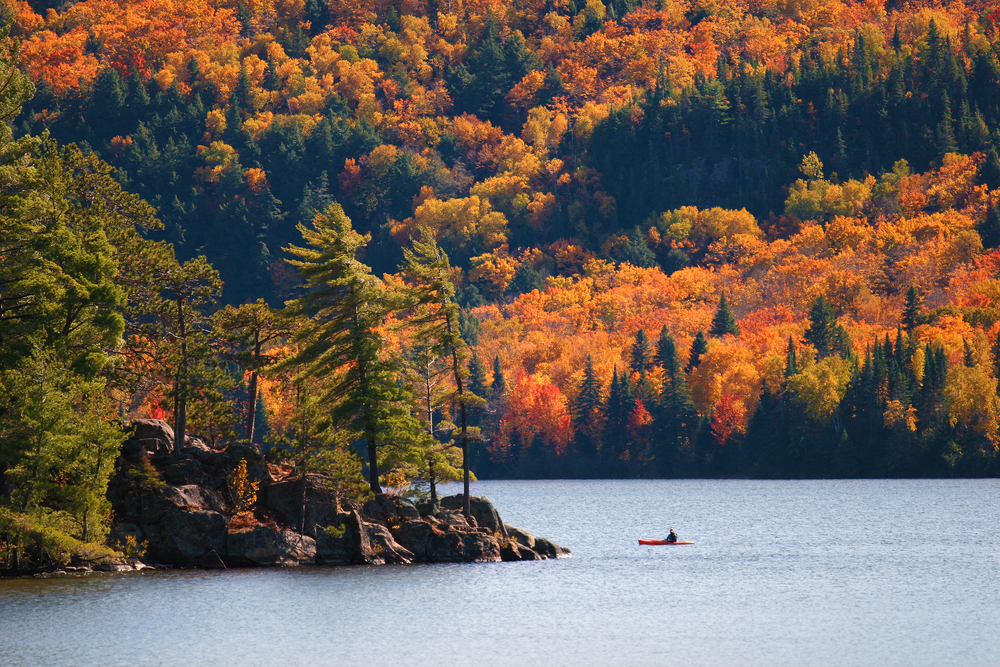 To say that Algonquin Park is overwhelming in the fall is an understatement. The 7,725 square kilometer park located about three hours outside of Toronto is a vast blanket of fall foliage offset by golden aspen trees, red oaks, and tamaracks. The park is also full of sugar maple trees that often peak in late September to early October.
Fun Things to Do
Fall is one of the best times to go hiking, camping, kayaking, and canoeing at the oldest provincial park in all of Canada. The park's backcountry is open year-round, however accessing the park requires a vehicle permit. If you plan on camping, you'll need to make a reservation ahead of time.
Give off-roading a try with Outdoor Adventures ATV Tours! Their knowledgable guides will take you through some epic backcountry in Algonquin Park. Packages include half-day, full-day, or custom adventures.
Go Leaf Peeping in Canada
Ready to plan a colorful fall getaway in Canada? Start planning your trip today to experience some incredible scenery that you'll never forget.