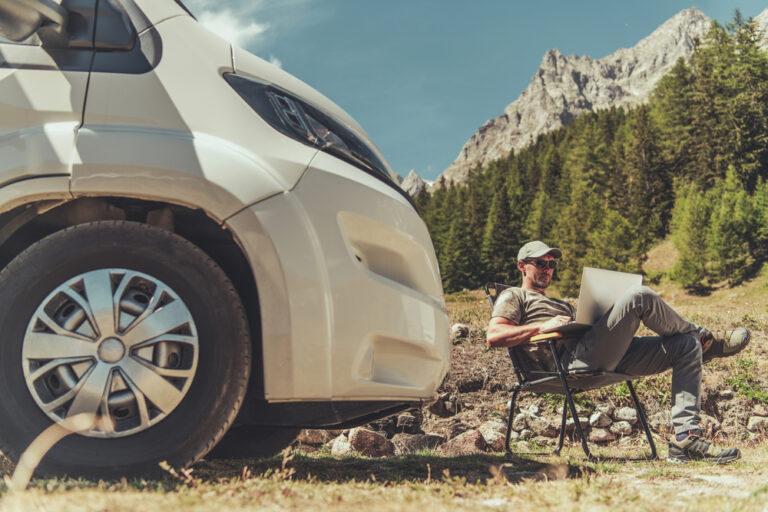 What is boondocking? If you've ever considered taking an RV road trip, we're willing to bet you've asked yourself a similar question. At first, the world of RVing can be intimidating, but once you find your lane, it's an extremely liberating way to travel. It's what dreams are made of — no joke — you have the freedom to choose how to spend your time and money. You decide where to go, how to get there, and where to stay along the way.
Understandably, it can be easy to get wrapped-up in the excitement of planning the perfect journey and forget about the finer details of RV travel. But it's essential to understand the unique requirements of an RV, like managing your water tanks and using dump stations. Take some time to consider how you'll adjust your driving style and campsite selection based on your RV's requirements. And that's just the tip of the iceberg of what you need to know before you hit the road. Continue reading for our full list of RV tips!
What RV is Right for Me?
There's no easy answer to that question, as it all depends on your situation, so it's important for you to think about your intended RV use. What are the must-haves vs. the nice-to-haves in terms of functionality, features, and amenities? Consider the tradeoffs between size and maneuverability, and which combination is right for you. If you're not sure where to begin, it's helpful to first decide upon your preferred RV class. We've summarized the four different classes below to give you a better idea of the strengths and weaknesses of each.
The largest of the RV options are Class A Motorhomes. Often used as celebrity tour busses, they offer a more luxurious experience with high-end finishes and slide-outs to increase your interior square footage when parked. The downsides are higher fuel costs and more limitations in where you can camp and park during your trip.
Class B Motorhomes are more commonly known as camper vans. You'd recognize popular models like the Mercedes Sprinter, Ford Transit, and Ram ProMaster. Think of it as the exact opposite of Class A – so you trade most of your indoor space and amenities for much more freedom in your travel routes and stop-over locations, making it the preferred choice for outdoor enthusiasts around the world.
Landing somewhere in the middle are the Class C Motorhomes. They're built on truck chassis and come in many different sizes, so it's more like driving a moving truck than a tour bus. This class offers many of the benefits of larger RVs in a smaller package, and usually at a more affordable price. For those same reasons, Class C Motorhomes are also a more common RV rental option.
Those classes all share one similarity: the living quarters are connected to the cockpit, so you can move freely about the cabin without stepping outside. It's an important distinction to make because that is not the case in the last category of RVs: Fifth Wheels and Travel Trailers. This class is non-motorized, but not to be taken lightly as these trailers are usually extremely large. Often behaving similar to a semi-truck, they must be towed behind a capable vehicle with an experienced driver at the wheel.
To Rent or To Buy?
It's clear that travelling by RV has a lot of benefits like saving you time and money, and you now know your preferred RV class, but a question remains. Should you buy an RV or rent one? While there are many factors involved in that decision, many of which are personal, we suggest considering some pros and cons below.
Pros of RV Ownership
Very simply, it's yours. You don't have to worry about rental availability, return timeframes, or how well it was cleaned after the last use.

You're familiar with your rig and know how to operate it – you know the height, length, and width measurements.

You can rent out your RV on

VacationRenter

when you aren't using it to generate additional income.
Cons of RV Ownership
They can be expensive. The down payment, plus monthly lease, and insurance costs are substantial for larger and higher-end RVs.

Storage options can be limited and costly if you don't have room on your property.

You're responsible for all repairs and on-going maintenance costs.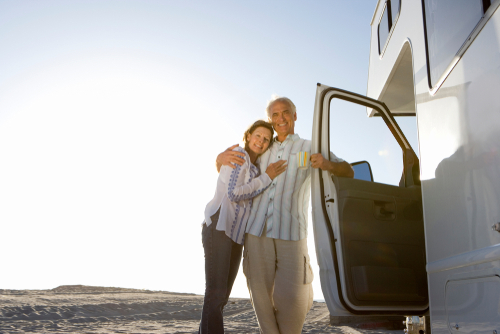 Pros of Renting an RV
You can try numerous types of RVs before buying one, so you can find the one that's right for your needs.

You don't have to worry about depreciation or maintenance expenses.

You have no storage needs, which is ideal if you live in a location with a high annual snow total.
Cons of Renting an RV
The possibility of renting from an RV owner or business that doesn't take good care of their product or customers.

You're unfamiliar with the RV so you need to learn how to drive it safely and operate it effectively.

You're vulnerable to market demands like the availability and price of rentals.
Picking the Perfect RV Campground
Still wondering what boondocking means? It's the term RVers use for camping without electricity, water, or sewer hookups. If you plan to go this route, keep in mind that you're self-reliant while you're out there. So a freshwater source and power generator are essential, but you'll also need to know how to effectively manage your tank levels and correctly use dump stations. On the other hand, if you expect to use hookups throughout your trip, you won't have to worry about any of those details.
You can camp at public sites, state parks, or RV resorts — all of which have different amenities. Public campgrounds can be free or require a small fee and have limited amenities. Private campgrounds usually have a higher cost, but also come with more amenities like swimming pools, Wi-Fi, and other entertainment options. There's a lot to consider so it helps to ask yourself the questions below to clarify your trip planning.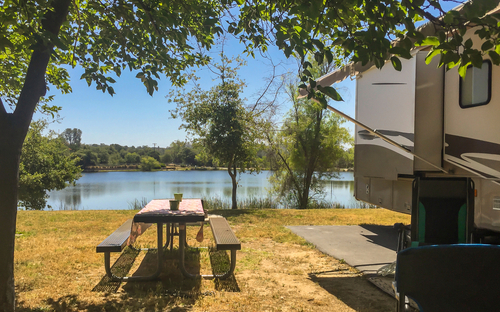 Which campgrounds have sites that are big enough for your RV? Try to find a campsite that doesn't require you to back-out when you leave, so you can avoid the hassle of reversing. If you have a classic model, be sure to check if entry is allowed for vehicles older than 2005.
Do you want running water and electricity, or prefer to rough-it without hookups? If you plan to boondock, be sure you know the size of your fresh, gray and black water tanks. We also recommend you have back-up batteries, a generator, and/or solar power charging capabilities.
Key Packing Items for RV Camping
We never leave home without our trip packing essentials, and travelling by RV is no exception. That said, there are other items that are equally as important to consider when packing for an RV camping trip. If you forget something, odds are good that you can find it at a local store along the way, but you never know. Pack these key items in advance to be sure you have what you need while on the road.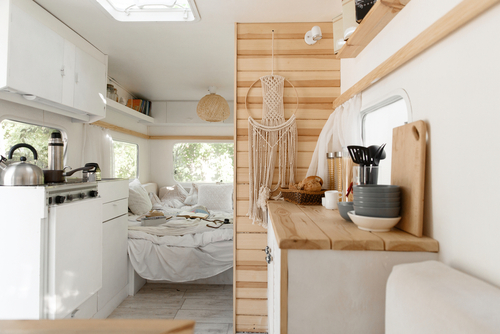 Road Trip Essentials
Healthy food and snacks

Reusable water bottle

Smartphone with routes saved to offline map app (Gaia GPS, OnxOffroad, etc.)

External battery pack or power bank

Day pack with small first aid kit
Cooking & Kitchen Items
Perishable and non-perishable food (consider shelf life and refrigeration needs)

Dishes, pots, pans, knives, and utensils

Dishwashing and cleaning supplies

Storage containers and trash bags
Bed & Bathroom Items
Personal toiletries

Pillows and Bedding

Toilet paper and tissues

Laundry detergent and hampers
Camping Essentials
Clothes (3 to 5 days' worth, depending on the duration of your trip)

Flashlights, headlights and lanterns

Multi-tool or pocket knife

Jacket to stay warm and dry

Sturdy and durable footwear

Bug repellent or mosquito trap

Sun protection (such as hats, shirts, or sunscreen)

Fishing gear, hiking boots, and other outdoor recreational gear
Insider Tips for Driving & Parking Your RV
When it comes to driving and parking — and overall RV life — practice makes perfect. Take it slow, keep it simple, and remember that everyone is a beginner at some point. Talk to other RVers and see what they've found helpful. You'd be surprised how friendly the RV community can be!
Remember that, contrary to popular belief, you can't park your rig wherever you want. Be sure to know the requirements of the campgrounds and RV parks that you plan to stay at during your trip. Get familiar with the height, length and turning radius of your RV. Know your limits and plan ahead to avoid potentially hazardous situations. For example, all roads in Colorado require that RVs are smaller than 8.5 feet in width, 45 feet in length, and 13 feet in height. It's also a good idea to check weight and length maximums of bridges, tunnels, and two-lane highways.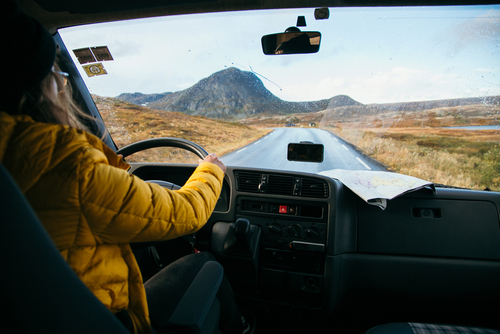 At the end of the day, the name of the game is to practice caution and use good etiquette while driving. An RV is not a Prius by a long shot, and even if you're used to an SUV, you're still thousands of pounds away from an RV. To stay safe on the road, we highly recommend you heed the advice below.
Please Do
Stay to the right.

Drive the minimum required speed.

Reduce turning speed

before

the entrance to the turn.
On the highway, the right lane is your home. If you need to pass a semi-truck or someone exiting then take the middle lane, and move back to the right as soon as possible. Drive at a safe speed, so you can safely take in your surroundings.

The purpose of a road trip is not necessarily the destination, but the journey. Don't rush the experience of getting to your campsite. And be sure to reduce your speed when driving through forests, mountains, or any other curvy roads — those yellow speed signs are specifically for you, heed them.
Please Don't
Ride your brakes downhill.

Get upset with other drivers.

Stress over breakdowns. There's usually a mechanic that's not far from wherever you are, but basic knowledge of RV maintenance would be helpful.
It's important that you don't ride your brakes as you descend hills – this only hurts the vehicle and reduces your breaking capacity, so you may not have brakes when you actually need them. You'll end up heating the pads and rotors above operating temperature without really reducing your speed. Then, as your brakes rise above operating temperature, they become slower and less effective, which is not exactly what you're hoping for in a braking emergency. 
Start Your Engines
Now that you have a solid understanding of RVs, you're probably feeling ready to get rolling. But before you hit the road, we have one last suggestion: plan out your fuel stops. RVs have large gas tanks, and a fill-up in a remote area with a single gas station could really cost you. To keep trip expenses low, consider stopping in larger towns along your route that have multiple options for gas and groceries. Finally, RV trips are all about embracing the unknown, so try not to overthink it and remember to have some fun along the way.