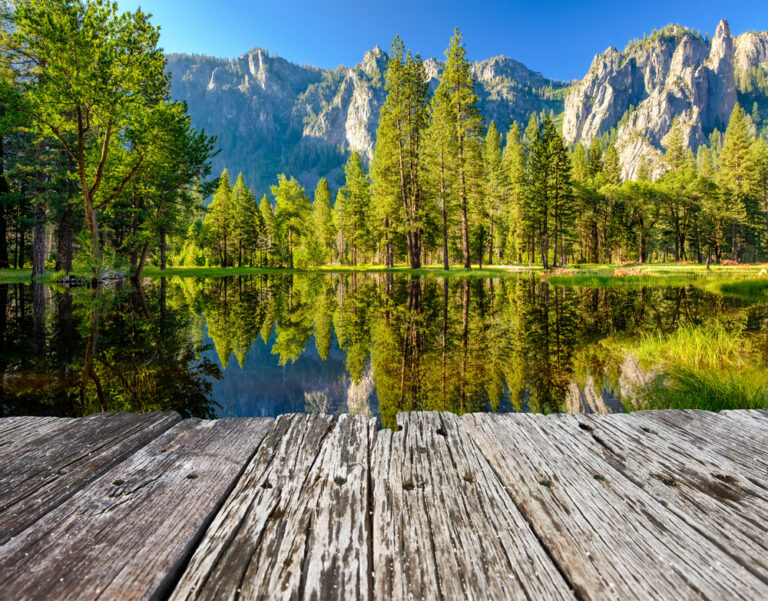 From beautiful, secluded beaches overlooking the Pacific Ocean to majestic mountains with stunning views, Northern California truly has it all! Apart from the breathtaking scenery and multiple national parks, Northern California boasts copious amounts of outdoor activities that will assuredly satisfy the more adventurous traveler — from skiing and snowmobiling to fishing and canoeing, and everything in between.
Step off the beaten path and immerse yourself in nature without compromising comfort. Each glamping destination offers a unique experience, from luxury tents and cozy campsites to treehouses and yurts. Rest assured there's something here for everybody. In fact, Northern California has so much to explore that you'll find yourself booking a second trip before you know it!
Big Sur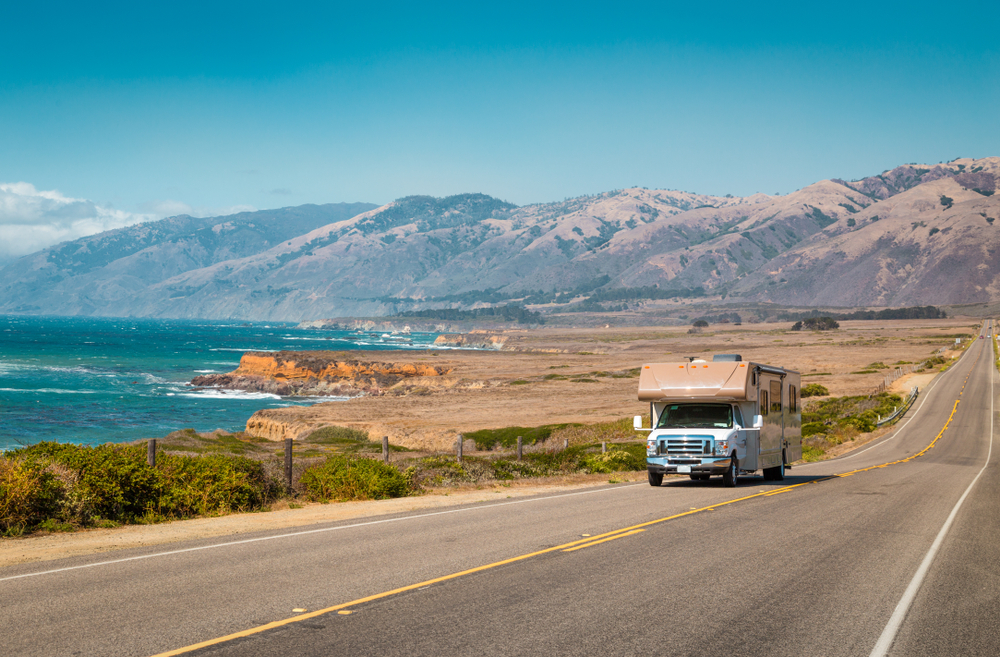 Big Sur is truly one of the most beautiful stretches of coastline in the country. It also makes for a spectacular drive with towering trees on one side and a bright blue ocean on the other. This expansive stretch of land spans around 90 miles down the central coast.
Fun Things to Do in Big Sur
With many hiking trails and charming bridges, glamping near Big Slur gives you access to a ton of activities and some amazing ocean views to go with it.
Head to a number of state parks in the area, such as Point Lobos, Pfeiffer Big Sur, and Andrew Molera.
Glamping Options
Carmel-by-the-Sea is also a short half-hour drive away if you want to explore this beautiful beach city complete with your own airstream camper.
San Francisco Bay Area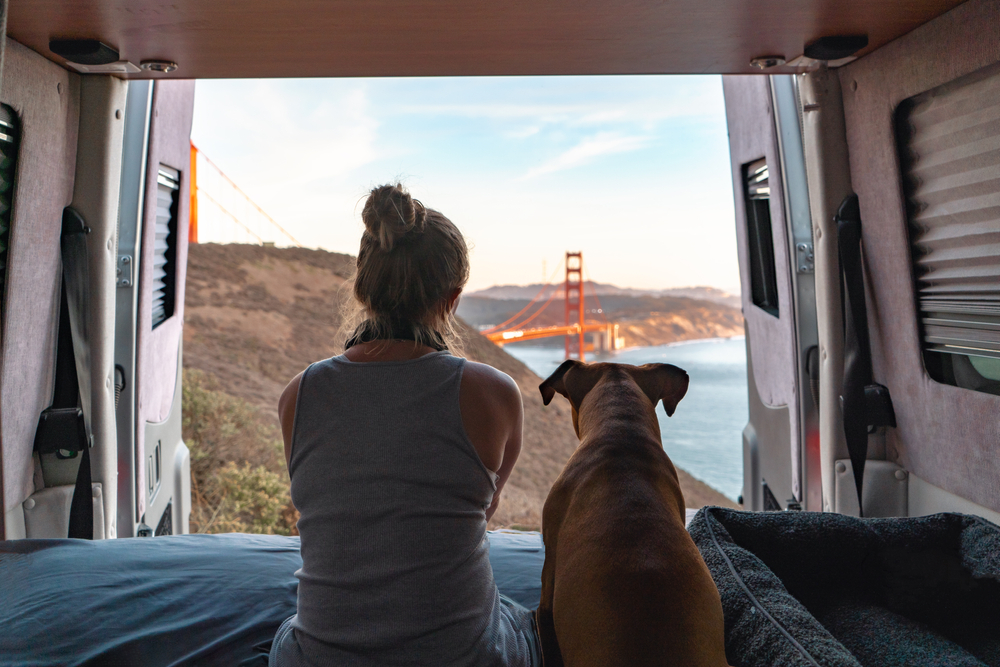 Known for its iconic Golden Gate Bridge, Victorian-style houses, and trend-setting cuisine, a San Francisco vacation might look completely different depending on who's doing the visiting. The San Francisco Bay Area is also home to some of the finest wines in the country, found in Napa Valley and Sonoma.
Fun Things to Do in the San Francisco Bay Area
Glamping Options
The San Francisco Bay Area is a gateway to a number of different outdoor activities, so it should come as no surprise there are a ton of great glamping spots to peruse. This Mercedes-Benz Sprinter, for instance, is great if you're interested in a mobile option to explore more than just the city.
Santa Cruz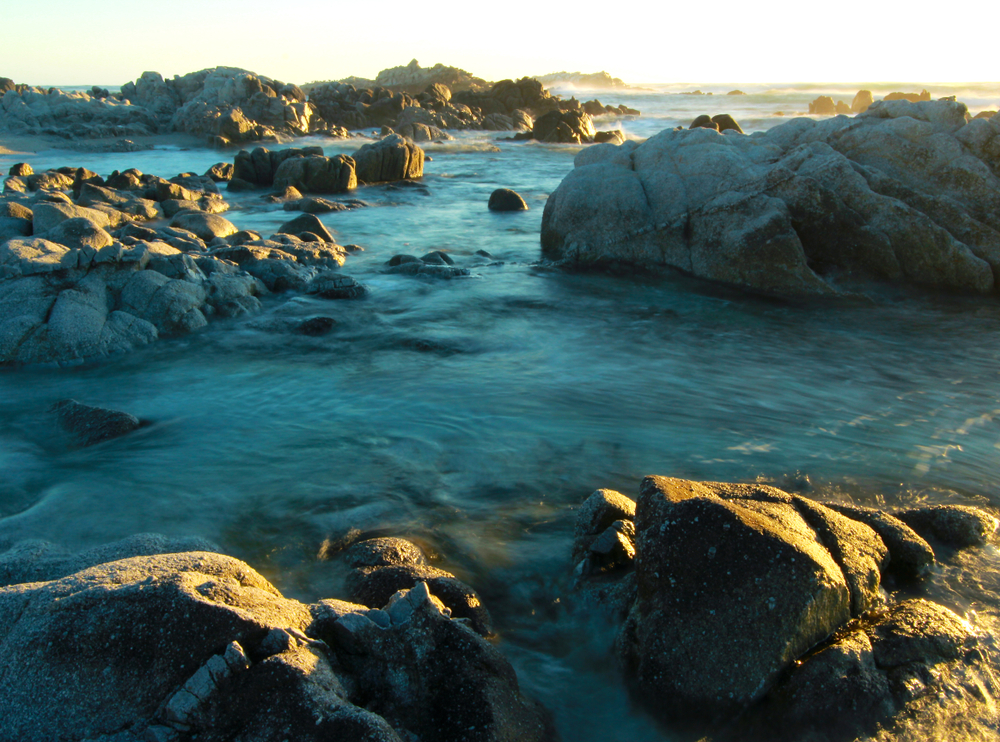 Does the idea of exploring secluded beaches and rolling coastal hills while being surrounded by acres of undisturbed wilderness excite you? Then you should absolutely check out Santa Cruz. From hiking and biking trails to horseback riding and kayaking, Santa Cruz and Pescadero ensure an unforgettable experience for everyone of all ages.
Fun Things to Do in Santa Cruz
Go wine tasting, bird watching, hiking, biking, horseback riding, or kayaking along California's scenic coast.
After a day of exploring either the city or the wilderness, you can go for a swim in Monterey Bay.
Glamping Options
Slow down for a weekend and just enjoy what nature has to offer while staying in your choice of a variety of accommodation options. Your choices vary from luxury to rustic, with amenities like king-sized beds, complimentary Wi-Fi, hot tub access, amenity-filled bathrooms, coffee stations, and much more!
Napa Valley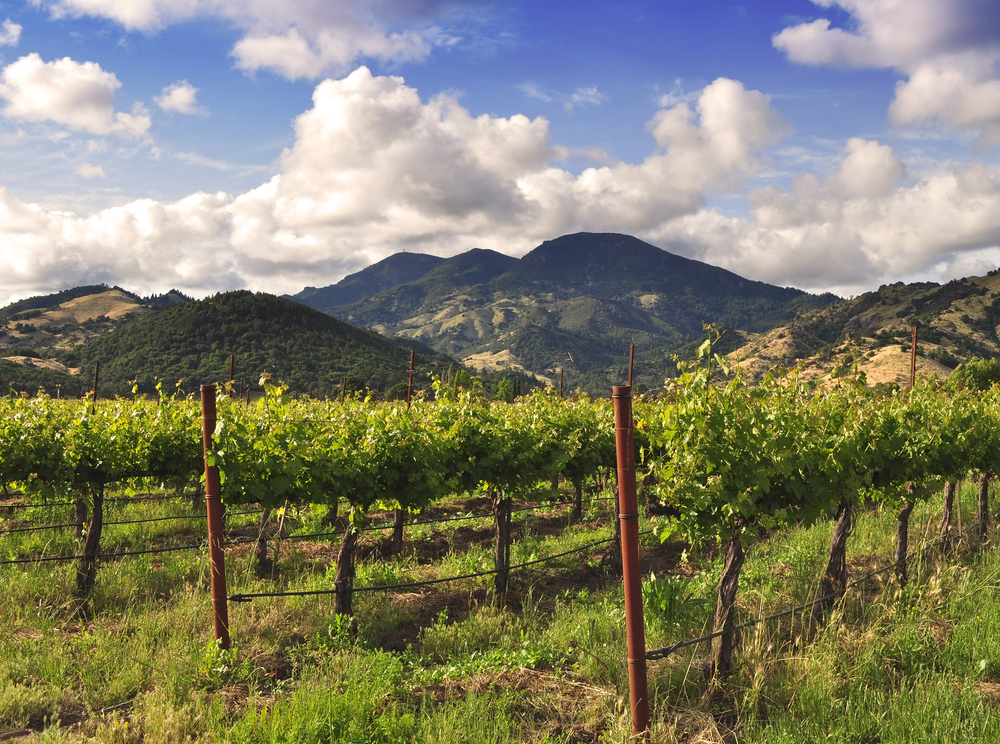 An approximate two-hour drive from San Francisco, Napa, located smack dab in the heart of this world-class wine region, is widely heralded for its abundant selection of wine. With more than 400 wineries to choose from, Napa offers something for everyone's taste buds. And thanks to its beautiful countryside and perfect weather, it's considered a popular destination all year round.
Fun Things to Do in Napa Valley
Explore the area in a unique way by climbing aboard the vintage Napa Valley Wine Train.
Take an electric bike on a full or half-day wine tour.
Attend one of the annual music festivals in this region, including BottleRock Napa Valley, Napa Valley Jazz Getaway, Festival Napa Valley, and Music in the Vineyards.
Take a break from all the vino and soak up some arts and culture by exploring Napa Valley art galleries, museums, and performing arts centers. If the weather is too nice to be stuck indoors, go on an art walk in Napa or nearby Yountville.
Glamping Options
The region's resorts and inns can get pretty pricey, but luckily there are plenty of RVs to choose from. These selections, on the whole, can be significantly less expensive. They'll also allow you to connect with nature in a way that a bed and breakfast or hotel just simply can't beat. Choices abound, from vans to luxury RVs that can fit a total of 10 people.
Sonoma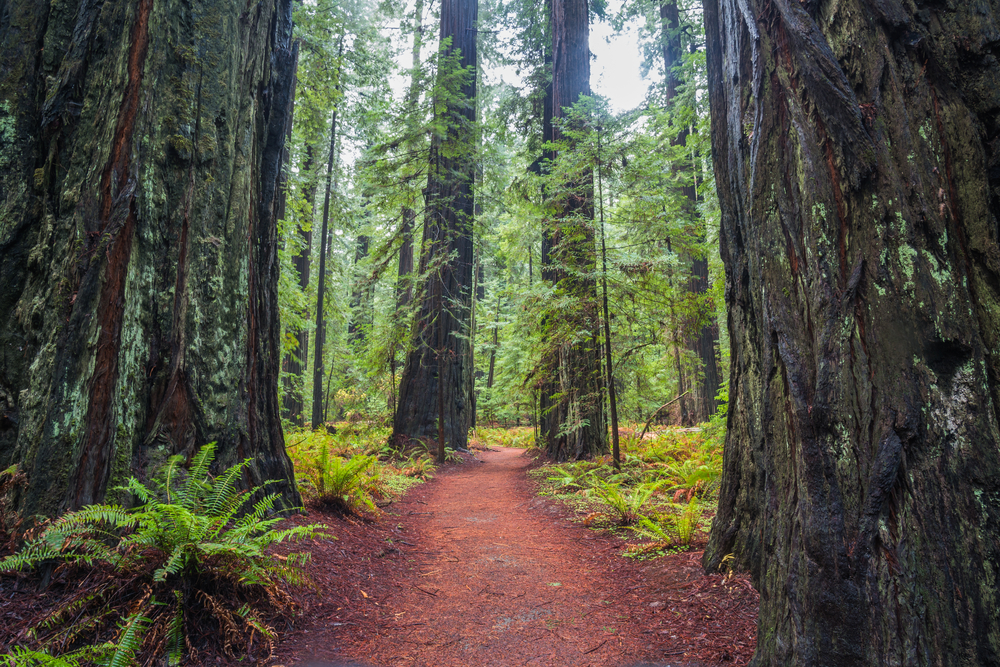 Located approximately 80 miles from the Russian River in Sonoma County's Alexander Valley wine region, Sonoma is a laid-back wine lover's delight. As to be expected, it offers plenty of glamping spots for those interested in exploring wine country and recharging in nature.
Fun Things to Do in Sonoma
You can look forward to enjoying one of the best wine country experiences by being in proximity to more than 425 wineries.
Go kayaking in the Russian River, hiking in Healdsburg, biking through Alexander Valley, fishing, and horseback riding.
Take a 40-minute drive to Santa Rosa, where you can explore additional wineries and visit the Armstrong Redwoods State Reserve.
Plan a day trip to Safari West, or the "Sonoma Serengeti," a 400-acre private wildlife preserve full of giraffes, cheetahs, flamingos, and so much more.
Glamping Options
From RVs to hidden cottages, the abundant choices here offer all the comfort you need after a full day of activities, typically including beds with linens, heaters, and electricity. With gorgeous scenery and a lot to do, you'll have no trouble guessing why Sonoma is such a popular glamping destination.
Mendocino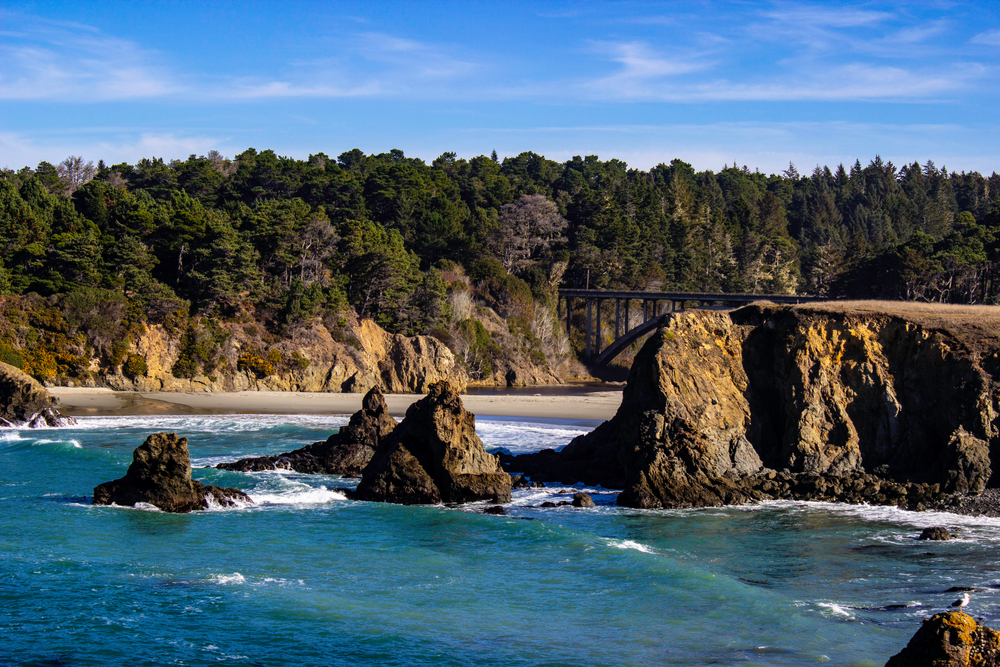 Mendocino is known for its cliffside trails, natural beauty, and ocean-front botanical gardens. With many glamping options to choose from, such as rustic wooden houses with a fire pit and amenities that include queen beds and crisp linens, Mendocino offers accommodations that will ensure an unforgettable weekend getaway for you and your loved ones.
Fun Things to Do in Mendocino
Head to the beach at Big River or take a stroll along the historic town strip, with its restaurants, shops, and museums.
Kick back and enjoy some ocean views and stargazing opportunities, or roast some s'mores at a campsite.
Glamping Options
After enjoying a day full of adventures, Mendocino Grove, located in the coastal woods of Mendocino, offers roomy, Safari-style tents with heated beds and crisp linens and two central bathhouses where you can enjoy a hot shower with a fluffy towel. There is even a dog wash for your furry friend! Mingle with friends in the Meadow Commons, or simply just relax with a book. This is also the spot where Mendocino Grove hosts their campfires, so be sure to bring marshmallows for some s'mores!
The Redwoods River Resort is only an hour and a half away and makes for an interesting road trip that is well worth it. It features an outdoor swimming pool, a restaurant, and a children's playground. This is the perfect resort to enjoy all the beautiful scenery found in the Northern California Redwoods, and they also offer accommodations for people traveling with RVs.
Lake Tahoe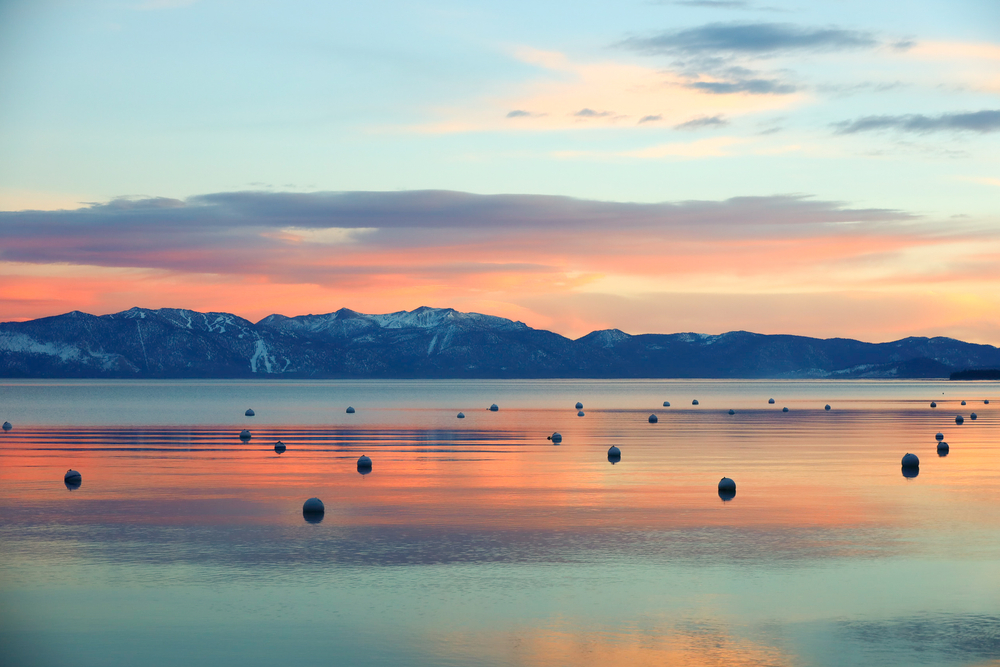 Lake Tahoe is the deepest lake in California. In fact, it's so deep that at its deepest point, it could easily submerge the entire Empire State building! Its also considered to be one of the purest bodies of water in the country. Its location in the Sierra Nevada Mountains means it's surrounded by beautiful scenic beaches and popular ski resorts. With clean air and crystal-clear waters, this area is a popular retreat for Northern California locals, but the north side of the lake has retained its rustic charm.
Fun Things to Do in Lake Tahoe
Depending on the season, you can enjoy skiing or snowboarding at Palisades Tahoe, or charter a private boat and explore the lake and surrounding area.
The calm waters of Lake Tahoe make a jet ski rental a memorable experience. Or slow it down and enjoy the sights with a kayak.
Glamping Options
Rockwood Roo @ Tahoe Blue is a charming RV that is located in South Lake Tahoe. It features three queen-sized beds with an additional dinette and sofa to house the entire family in comfort. With easy access to hiking trails, restaurants, casinos, beaches, and breweries, the area offers a little something for everyone to enjoy.
Nevada City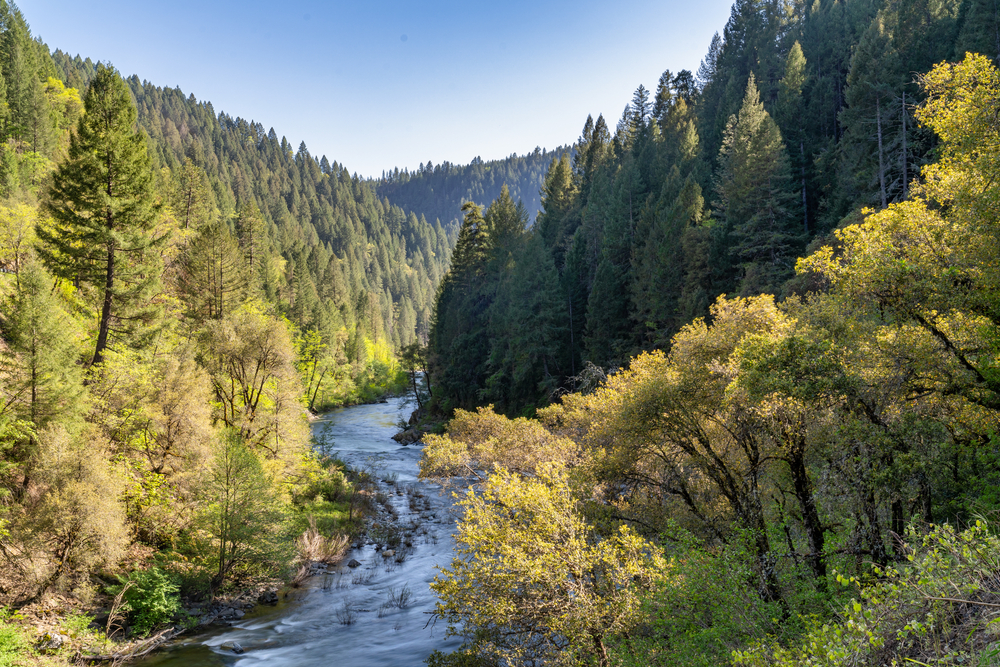 Located on the western slope of the Sierra Nevada, Nevada City is California's best preserved Gold Rush town. This small city is steeped in history, from the indigenous Nisenan people who first called it home, to the gold mining and timber harvesting industries that dominated this area in the 19th century.
Fun Things to Do in Nevada City
Attractions include the Nevada County Narrow Gauge Museum and the historic Gold Rush downtown area.
There are also plenty of outdoor activities just a short drive away, such as mountain biking in the Tahoe National Forest, hiking on the Deer Creek Tribute Trail, or merely just soaking up the moment and relaxing in the South Yuba River.
Glamping Options
Nevada City has great glamping spots for travelers itching to see and do a whole range of things, particularly for those who are looking to travel via RV.
Guerneville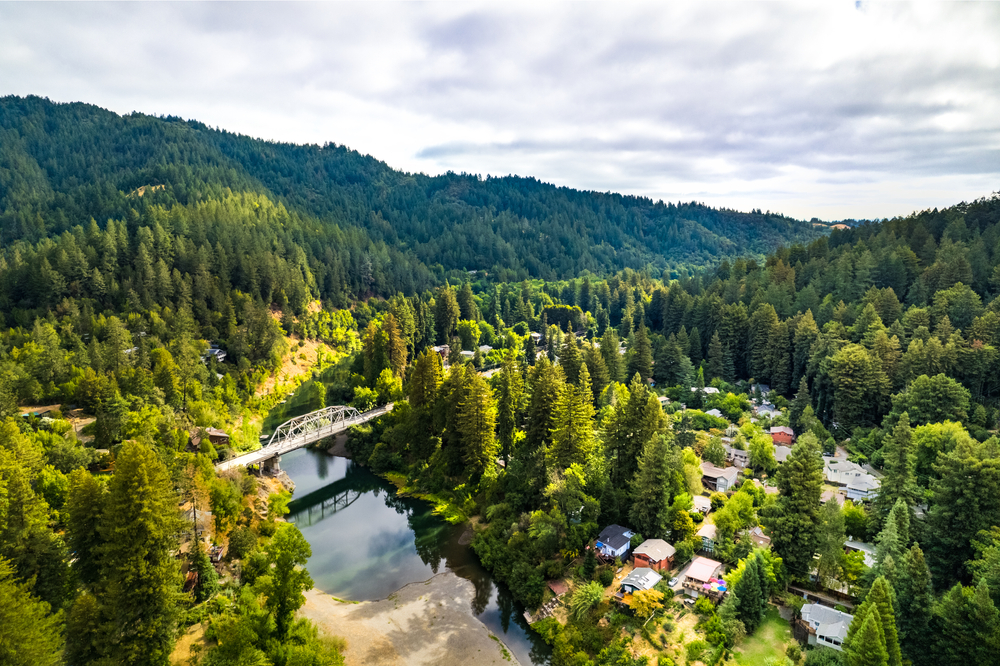 Guerneville, a rustic town full of charm, history, and many unique glamping destinations like this redwood retreat, is located along the Russian River. A trip to Guerneville will put you on to towering redwoods, placid river waters, laid-back attitudes, and within striking distance of Sonoma's wine country. What's not to love?
Fun Things to Do in Guerneville
Find serenity in nature with a glamping spot nestled among the old-growth redwood forest along the Russian River Valley.
Enjoy wine country or grab a bike and explore Armstrong Redwoods State Natural Reserve, a California state park practically right in your backyard.
If you'd rather be on the water, you can also go paddle-boarding or canoeing.
The Russian River has a mixture of sandy and gravel beaches and is a popular swimming spot.
Glamping Options
AutoCamp Russian River offers a unique way to enjoy the beauty of Guerneville and everything the town has to offer. It's a boutique luxury Airstream Hotel that is located in downtown Guerneville and offers amenities such as Wi-Fi, laundry, a kitchen area, a TV, air conditioning, and a patio to soak up nature without leaving the comforts of home.
Go Glamping in Northern California
When it comes to Northern California, your options for amazing glamping destinations are nearly endless. With so many breathtakingly beautiful areas along the coast and incredible parks to explore, it's understandable why so many people travel here to experience this natural beauty firsthand. Use VacationRenter to book an unforgettable rental.