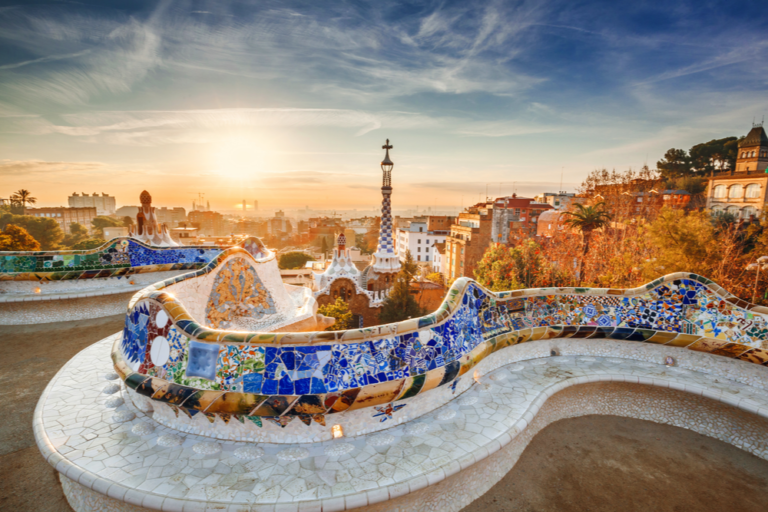 Dreaming of experiencing Antoni Gaudí's La Sagrada Família? What about walking the streets of the Gothic Quarter or watching Messi at the Camp Nou stadium? Whether you're an architecture fanatic, a foodie in search of tapas, or a soccer — a.k.a. football — fan, Barcelona might be the perfect destination for you.
With a population of 1.6 million people over 39 square miles, Barcelona — also referred to as BCN — is a huge economic capital for Spain. Aside from visiting gorgeous Catholic churches, scenic architecture, and classic museums, Barcelona has a killer nightlife and food scene.
Key Points
Six districts to stay in Barcelona city
Sightseeing opportunities within the city
Best dining for foodies in search of Michelin-rated food
Overview of the layout of Barcelona and public transport options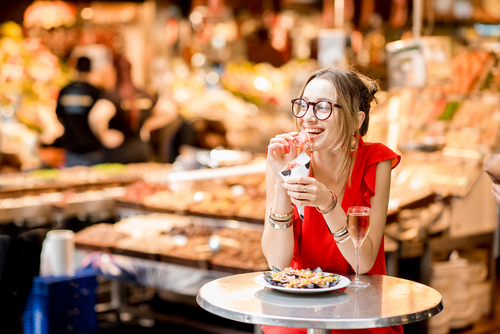 As a first-time visitor, are you unsure of where to stay? Read on to discover our picks for the best neighborhoods in this Catalonian city.
How Is the City of Barcelona Laid Out?
Resting on the northeastern corner of the Iberian Peninsula was a city easily defensible and clearly defined. In 15 B.C., Roman settlers first built the small, gridded city of Barcino. From Barcino, Barcelona was later born. Although intentional and carefully constructed, Barcelona has always been compressed and dense.
Today, several of Barcelona's streets have been transformed into car-free spaces, with the goal of curbing pollution and improving health in the city. Under the city council's decision in November 2020, 21 streets and 21 road junctions will be converted into small parks. Although complete transformation could take up to 10 years, the change is already underway.
As a metropolitan city, Barcelona offers a variety of public transport options. Even though the use of cars is dwindling in some areas, you can still rent a car or get around by taxi. The city has around 11,000 taxis to help you get around.
Additionally, public transportation like the bus, metro, train, and tram is extremely reliable. When you visit the city, simply purchase the ticket type you're interested in or choose a travel card. Traveling by public transportation will be the most affordable and easiest way for sightseeing and getting around the city.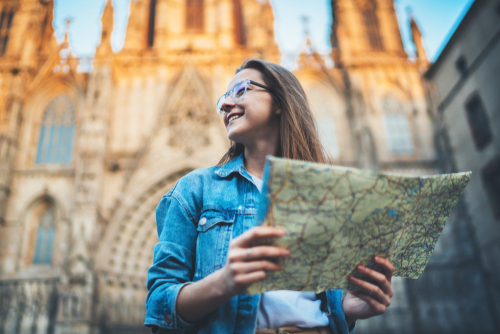 Is Barcelona Good for Couples?
With narrow streets, exceptional tapas bars, stunning beaches, and breathtaking city views, Barcelona is the perfect city for couples. Whether you care to visit cocktail bars within walking distance from your vacation rental or rent a private boat with a captain off the coast, Barcelona is ideal for dates, romantic vacations, proposals, and dream honeymoons.
10 Amazing Places to Discover in Barcelona
Barcelona city is made up of 10 distinct neighborhoods, otherwise known as districts. For tourists, the most notable places to stay reside within some of the city's main districts. Read on to see which district might be best for your trip to Barcelona.
Plaça de Catalunya
Want to stay in the heart of the city? Plaça de Catalunya is known for being an energetic central location and square, separating the Ciutat Vella and Eixample districts.
This is the perfect barrio — translating to "neighborhood" — with a bit of history and amazing shopping. In 1927, King Alfonso XIII opened the plaza. By 1929, the most luxurious theaters and bars were built around the Plaça de Catalunya. Today, the Plaça has large department stores (Cortes Inglés — a Spain must-see) and shopping centers.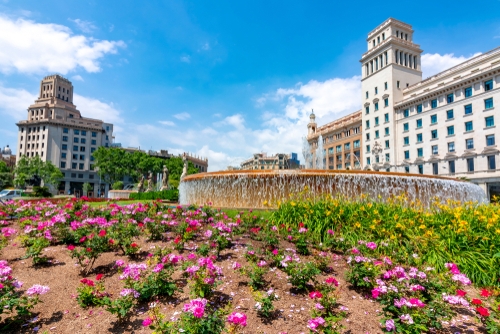 Las Ramblas
When you think of a large boulevard running through the heart of the city center, Las Ramblas is exactly that. Located 1.2 kilometers long with Port Vell, located close to the port terminal, Las Ramblas is located near the end of Plaça de Catalunya.
Las Ramblas has picturesque city views and is more family-friendly during the day.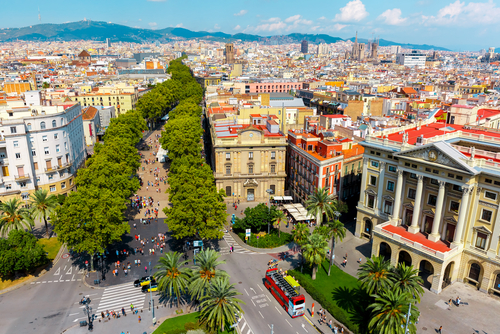 Las Ramblas has restricted traffic flow, meaning the traffic is predominantly pedestrianized. However, there are still two one-way narrow streets on both sides of central Ramblas Boulevard. When in Las Ramblas, visit the Plaça Reial for restaurants, nightclubs, and open-air concerts.
Old Town
Ciutat Vella, or the Old City, is where you can see many of the top tourist attractions. Many of the most popular destinations are within a short walk, allowing you to take the city in by strides.
In the Old Town, you can visit:
Roman Foundations
Santa Maria Del Mar (Cathedral of La Ribera)
Palau de la Música
El Raval and La Ribera districts
The Picasso Museum
Gothic Cathedrals
The Barcelona Museum of Contemporary Art (MACBA)
Plaça del Rei
Barri Gòtic
El Raval
One of the best neighborhoods in Barcelona is located within Ciutat Vella: El Raval. Due to historical reasons, El Raval was once referred to as "Barrio Chino," or the "Chinese Neighborhood." Today, El Raval is a unique neighborhood, filled with many international communities.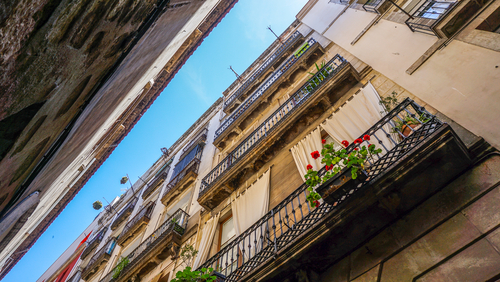 El Raval has character, providing an authentic and exciting experience in Barcelona's most controversial neighborhood. Vibrant and historic, El Raval can be a wonderful place to visit. Around the turn of the 20th century, El Raval was infamous for housing the city's red-light district. However, in 1988, the Barcelona government invested money into an urban cleanup project, which made the neighborhood safer.
In El Raval, you can visit modern art museums and enjoy sightseeing in this unique neighborhood. The district is centrally located, allowing travelers to meander from neighborhood to neighborhood. Nestled between two of the city's most popular food markets — Mercat de Sant Antoni and Mercado de La Boquería — El Raval is a foodie's paradise.
La Barceloneta
Historically, Barcelona was a fishing village. Today, La Barceloneta is one of the few parts of the city in which this is evident. In La Barceloneta, you can stay by the Mediterranean, enjoying the sea and sand. Regardless of whether you would like to have short walks on Barceloneta Beach or visit a few bars and restaurants, La Barceloneta is a fantastic district.
La Barceloneta is unique, as it's made up of a triangular piece of land. With sandy beaches on one side and Port Vell on the other, La Barceloneta is juxtaposed with Mediterranean cuisine and narrow balconies with clothes hung up to dry. With a bit of historic charm and modernism, travelers can enjoy the sea breeze, making it one of Barcelona's most popular districts.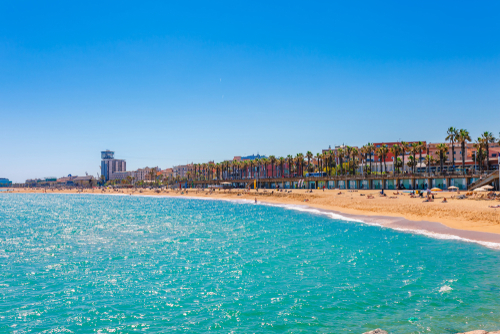 When visiting La Barceloneta, many enjoy the most renowned beaches the city has to offer. Tourists can watch the sunset and see fishing boats unload the day's catch, and visit churches, historic buildings, restaurants, and stores. Additionally, there are several attractions, including the Museu d'Història de Catalunya, the clock tower, a cable car that brings visitors to Barceloneta Beach, and the city's aquarium.
Sarrià-Sant Gervasi
No longer a first-time visitor of Barcelona? The Sarriá-Sant Gervasi district is best for seasoned visitors of Barcelona. This is the second-most expensive part of the city, filled with luxurious mansions and steep streets.
Even though it's a more expensive district, it has a lot to offer. As one of Barcelona's largest districts, Sarriá-Sant Gervasi is full of historic charm. It wasn't until 1921 that the former village was incorporated into the city. Providing visitors with a small-town feeling with narrow streets and small squares, this district is also known as one of the best recreation spots.
In fact, Sarriá-Sant Gervasi has a large amusement park, modern science museums, a large natural park called Parc de Collserola, and stunning buildings. In addition to daytime activities, there are quite a few local spots to dine and drink. Two popular cocktail bars in the neighborhood include Gimlet and Mirablau, which has a beautiful outdoor terrace.
El Born
Looking for the trendiest neighborhoods to stay in Barcelona? El Born, located between Parc de la Ciutadella and the Gothic Quarter, is home to some of the oldest buildings in the city while maintaining a boho and artistic vibe. El Born became part of Barcelona when the walls were extended in the 15th century and is historically located on the lower part of La Ribera.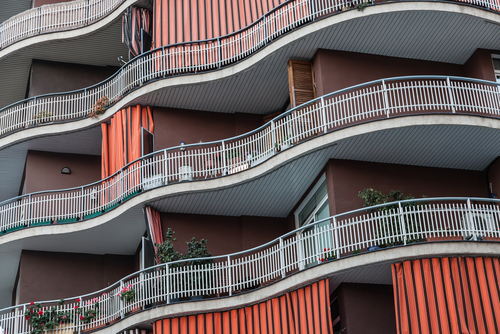 Due to the recent popularity of El Born, tourists from across the globe have been flocking to this area. Popular places to visit in El Born include:
Basilica of Santa Maria del Mar
Mercat de Santa Caterina
Palau de la Mùsica Catalan
El Born Centre de Cultura i Memòria
Eixample
As Barcelona's most iconic district, Eixample is full of world-class restaurants, cocktail bars, shopping, and nightlife. During the Industrial Revolution, Barcelona needed to improve sanitary conditions. One civil engineer won a project, which would make Eixample a new neighborhood for Barcelona.
Today, Eixample is the perfect place for tourists to visit because of its walkability. Tourists can go from shop to shop, restaurant to bar, and everything in between within walking distance. Some of Barcelona's most popular monuments are located within this district.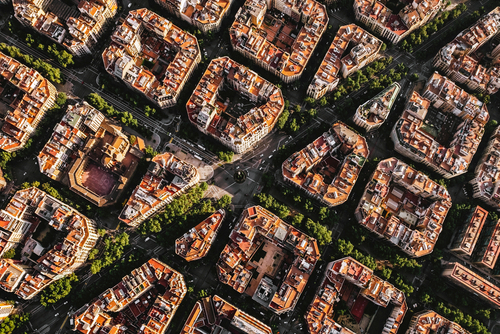 Experience the iconic modernist movement in Catalan, which became popular in Barcelona during the Industrial Revolution. Combining nature and asymmetrical shapes, modernism is an ornate cultural movement with decadent facades and murals depicting animals, flowers, and trees. Growing popular from the modernist architect Antonio Gaudí, many tourists flock to his most iconic work: Sagrada Família and Casa Batlló.
Other attractions include:
Passeig de Gràcia
Plaça de Catalunya
Avinguda Diagonal
Casa de les Punxes
Casa Milà (La Pedrera)
Montjuïc
Located opposite Tibidabo, Montjuïc is a historic part of the city. The 1929 World Fair and the 1992 Olympic Games were both held within this district. Montjuïc is filled with beautiful spots to picnic, take photos, and enjoy the city.
The Palau Nacional is the most popular place for tourists to visit in this region. Whether you want to see an Olympic swimming pool, watch movies projected onto the iconic building, or ride the Montjuïc Funicular, this part of the city is for you.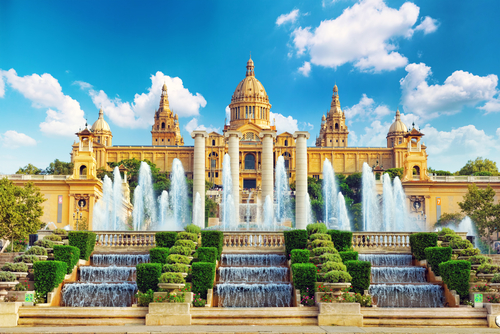 Poblenou
Experience Barcelona's creative heart, Poblenou. See the Mediterranean, visit Barcelona's Design Museum, or have a drink at a cocktail bar — Poblenou offers visitors a unique view into the city's most creative area.
When in Poblenou, visit:
Parc del Centro del Poblenou
Cementiri del Poblenou (an ancient cemetery)
Passatge Mas de Roda
Ciutat de Granada
The best time to visit Poblenou is during the Festa Major del Poblenou. Foodies can enjoy dining, while music lovers can dance to live music in the narrow streets. There's a place for everyone at the Festa Major del Poblenou.
Where to Stay in Barcelona
Filled with tasty tapas, cocktail bars throughout the city, and Michelin-starred food, Barcelona is a foodie paradise. Whether you visit for food, atmosphere, to experience modernist architecture, orto scratch La Sagrada Familia and Park Guell off your list, Barcelona is one of the best areas to do it all. With some of the best vacation rentals within walking distance from some of the most beautiful sites in Europe, Barcelona should be on your travel bucket list.
Discover Barcelona Rentals on VacationRenter
After reading about all that Barcelona has to offer, are you ready to book your trip? VacationRenter simplifies the vacation rental process. We know how much work goes into planning the perfect getaway, and the last thing you want is to end up in accommodation you don't like.
We bring together the best Spanish rental options from leading travel sites so you can quickly uncover the best areas to stay in the city. Whether you choose to stay in the trendy district of El Born, the heart of the city in Plaça de Catalunya, or see the Picasso Museum in Old Town, VacationRenter compiles the best accommodations Barcelona has to offer.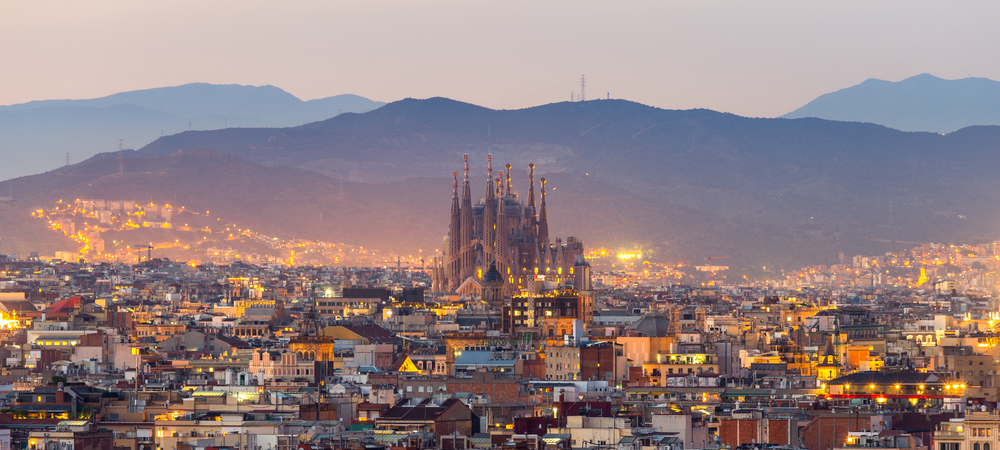 We've simplified the search for accommodations with advanced filters. Choose your price range, bedrooms, bathrooms, and amenities — such as Wi-Fi, a rooftop terrace, a pool, or accessibility. Visit our website to find your perfect vacation rental in Barcelona today!
Mentioned In This Article