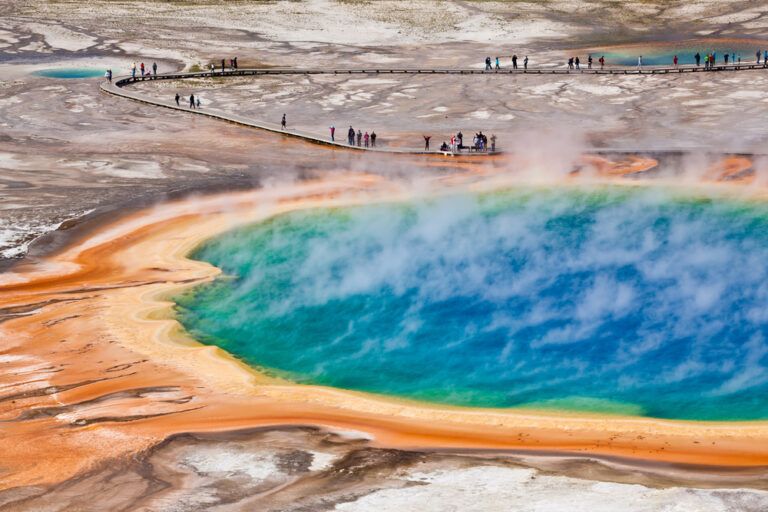 The United States is a massive country that has something to offer every type of traveler. From urban metropolises like New York City and Los Angeles to picturesque national parks full of stunning natural scenery, the diversity of options is astounding.

Key Points
The COVID-19 pandemic may still complicate international travel in 2022
The United States offers a diversity of sights, settings, and climates to suit every traveler's tastes
Discover the top locations in the USA for 2022
If you want to start planning your 2022 travel agenda, there's no need to fly around the world. The USA is a prime destination.

Choosing U.S. Destinations by Season for 2022
The United States spans nearly 2.3 billion acres, covering a huge land area that's also home to many different climates. So, it's important to consider the climate in your destination and plan your travel accordingly.
For example, southern areas like Texas share a border with Mexico and are ideal in the winter, as they'll still offer comfortably warm temperatures. Meanwhile, northern areas like Alaska may be preferable in the summer — you won't overheat, but you also won't have to deal with frigid temperatures.

17 Top U.S. Locations to Travel to in 2022
Given the ongoing challenges of the COVID-19 pandemic, international travel may still be tough in 2022. The good news is that you don't need to head to far-flung destinations in Europe or Asia if you're looking for an adventure. There are many locations worth putting on your bucket list in the U.S. Consider these hot spots when planning your next getaway!
San Diego, California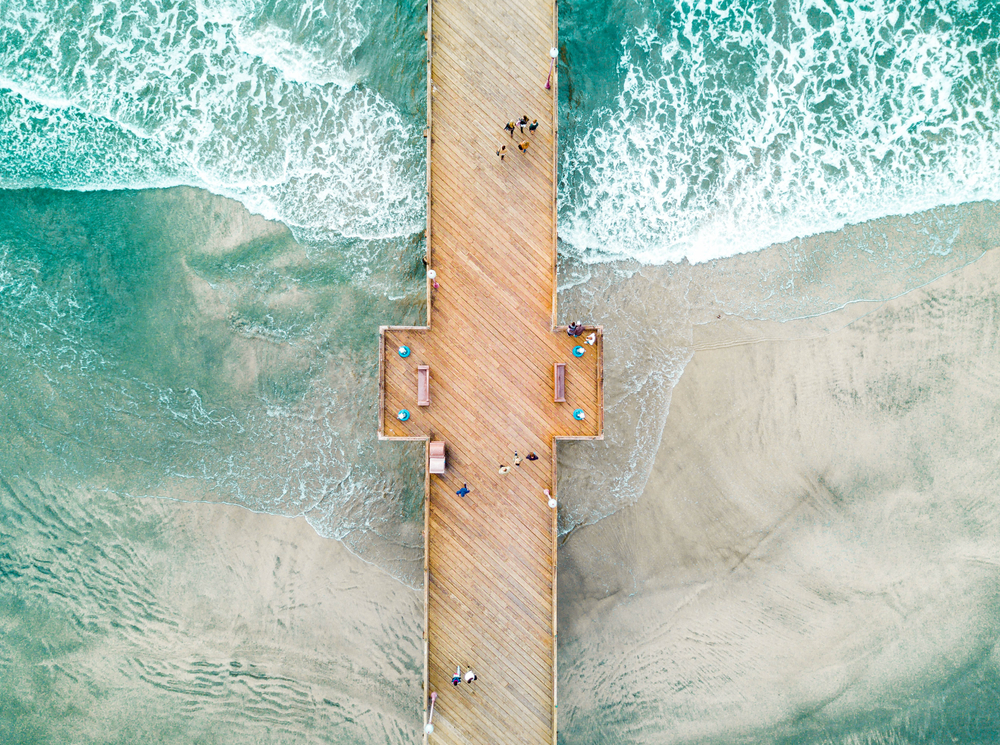 If you're looking for a more urban area to stay in, head to San Diego. You'll have the buzzy energy of a big city with easy access to the Pacific Coast. Visit one of the nearby beaches to dip your toes in the water or head out on a harbor cruise. You can also book private sailing excursions.
San Diego is also an ideal launching point for whale-watching tours. The San Diego Zoo is another highlight and a great pick for family vacations. Other attractions include the La Jolla Sea Caves and the USS Midway Museum.
Napa Valley, California
Having weathered the storms of COVID-19 and west coast wildfires, the Napa Valley is ready to welcome tourists again in 2022. Featuring hundreds of vineyards, this picturesque part of California is proof that you can find great wine in North America.
Take a road trip, hop between vineyards, or enjoy the region's scenic hillsides with a walking or biking tour. Napa also provides opportunities for outdoor activities, including kayaking, golfing, and hot air balloon rides. Find a centrally located vacation rental, and you can take advantage of all the activities the area has to offer.
San Francisco, California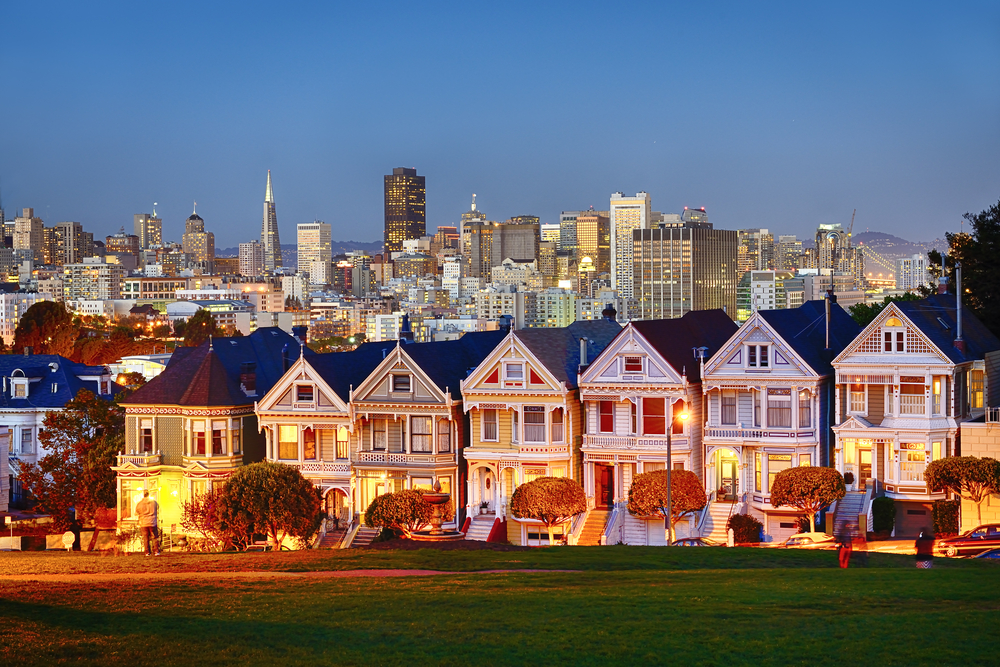 A visit to California isn't complete without a stop in San Francisco. Snap photos of the Golden Gate Bridge, ride the famous cable cars, and check out the views from the Twin Peaks conservation park. A trip to Alcatraz Island, home of the infamous Alcatraz Federal Penitentiary, is another tourist favorite.
Are you looking to soak up some culture? Pay a visit to the Palace of Fine Arts Theatre, The Exploratorium Science Museum, or — if you've got kids — The Walt Disney Family Museum. Finish off your busy day with a trip to Ferry Building Marketplace for food.
Las Vegas, Nevada
If you love the glitz and glam of casinos, Las Vegas is for you. The famous Vegas Strip features a diversity of casinos and accommodation options. Take in the sights from the Stratosphere Tower or marvel at the Fountains of Bellagio — as featured in "Ocean's Eleven". You can even skip the trip to France and visit a half-sized Eiffel Tower replica.
Other noteworthy attractions include the Bellagio Conservatory and Botanical Garden, the Hoover Dam Bypass, and the nearby Red Rock Canyon National Conservation Area. Finally, don't forget to stop for a snap in front of the iconic "Welcome to Fabulous Las Vegas" sign.
Yellowstone National Park, Wyoming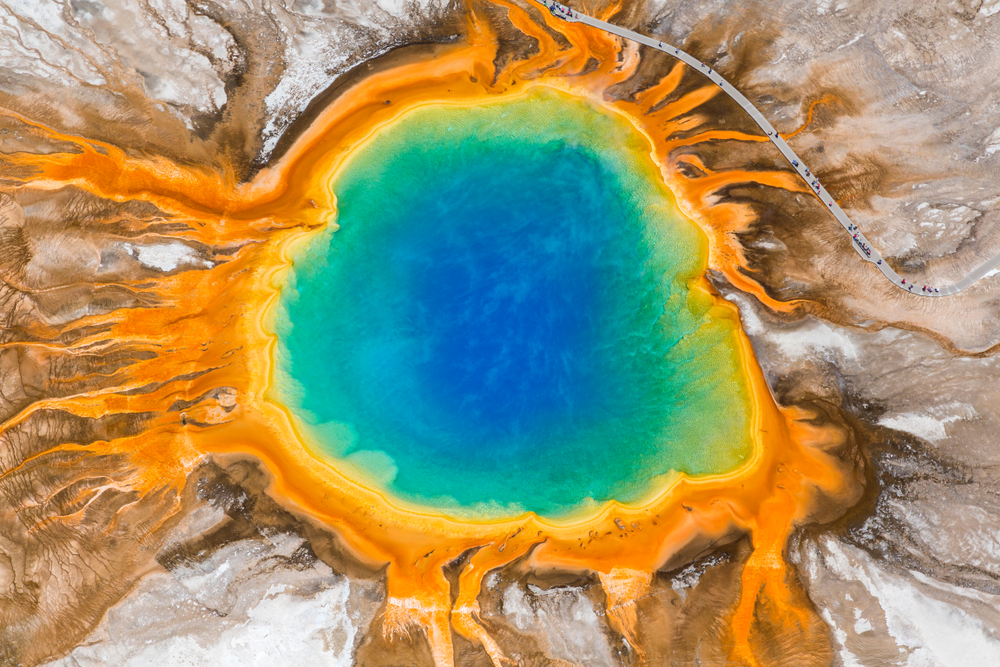 If you're looking for an outdoor adventure, Wyoming's Yellowstone National Park is the obvious answer. The park features the Rocky Mountains, hot springs, the Old Faithful Geyser, and hundreds of massive waterfalls.
Of course, there is also plenty of wildlife — from cougars to grizzly bears, coyotes, and more. Make sure to plan your rough-and-ready adventure accordingly and take the necessary safety precautions, especially if you plan to camp (but a vacation rental might be more comfortable). If you want to explore additional outdoor sites in Wyoming, head to Grand Teton north of Jackson.
Salt Lake City, Utah
If you enjoy winter sports, Salt Lake City is a great pick. It features plenty of outdoor recreation and skiing opportunities nearby, all from the comfort of a major city with plenty of accommodation options. The city itself offers many sights worth seeing, like Red Butte Garden, The Natural History Museum of Utah, Temple Square, and Clark Planetarium.
Utah is also home to many members of the Church of Latter-Day Saints (LDS). Tourists interested in history and religion might be interested in visiting The Tabernacle Museum, which covers LDS history, or the Salt Lake Temple.
Phoenix, Arizona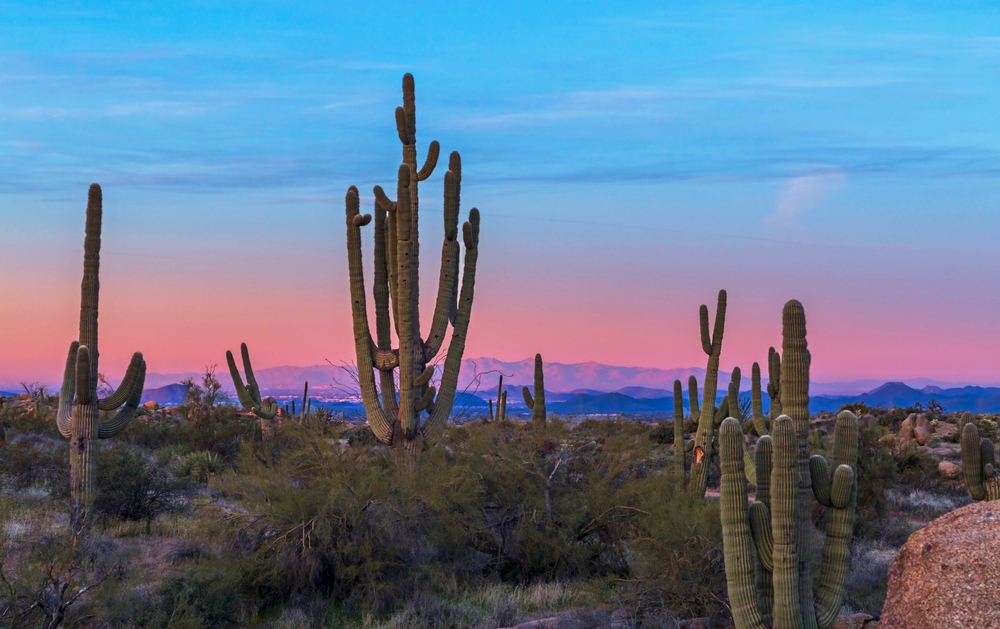 Start your Arizona journey in Phoenix, where you can enjoy cosmopolitan accommodation with access to all of the city's sights. Favorites include The Musical Instrument Museum, Desert Botanical Garden, and Heard Museum. Phoenix also offers many opportunities to explore the great outdoors nearby, such as South Mountain Park and the Camelback Mountain hiking trail.
If you want a less metropolitan hub to stay in, head to smaller Sedona. Hike Bell Rock, take jaw-dropping shots of Devils Bridge, and catch the view from Airport Mesa. Finally, when you're in Arizona, you can't miss the Grand Canyon. If you really want a once-in-a-lifetime experience, spring for a helicopter ride over the gigantic gorge.
Chicago, Illinois
Situated on the shores of Lake Michigan, Chicago offers something for everyone. Take in some culture by visiting the Art Institute of Chicago or The Museum of Science and Industry. Sports fans can't skip a visit to iconic Wrigley Field, while shoppers must pay a visit to The Magnificent Mile.
The city also offers plenty of opportunities for pictures, with beautiful backdrops like Millennium Park and Cloud Gate. Before you head back to your Chicago accommodation, make sure to try some of the city's signature dishes for dinner, like a deep-dish pizza.
Miami, Florida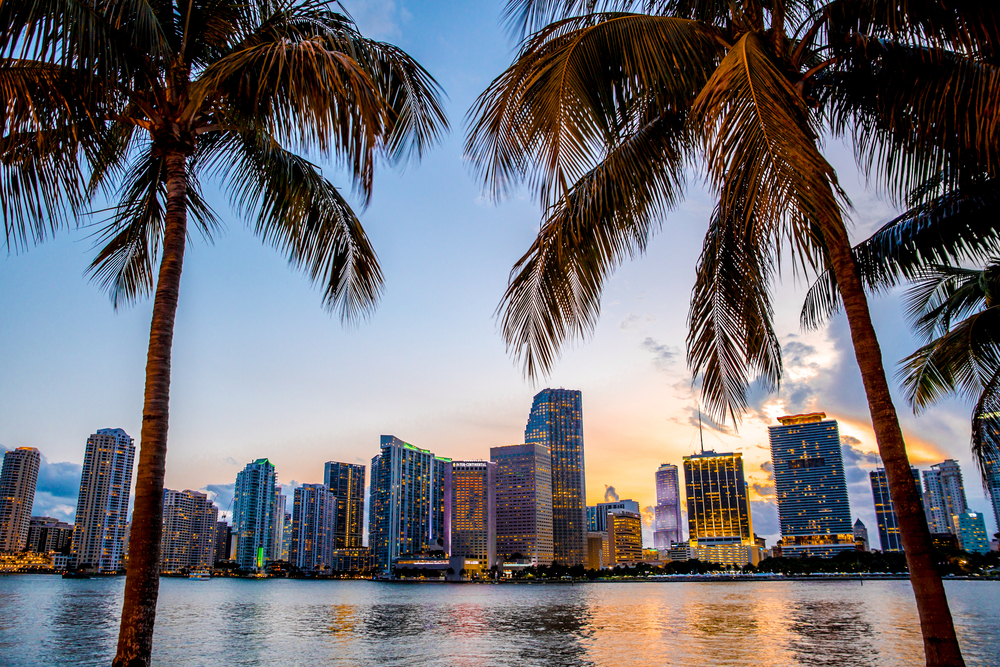 Book a stay in Miami for the perfect mix of partying and relaxing. This coastal hot spot also offers plenty of opportunities for water activities, from cruises to sailing, lounging on the beach, and watersports. Miami is also renowned for its club scene, giving you plenty of options for entertainment when day turns to night.
If you're looking for quieter activities, though, the city's arts scene has you covered. Head to the Wynwood Walls, Vizcaya Museum and Gardens, or the Miami Design District for a culture fix. If you have kids, the Miami zoo is a must-see. Finally, don't miss the historic Little Havana neighborhood.
Denver, Colorado
The capital of Colorado, Denver is known as the "Mile High City" thanks to its great elevation. Popular attractions include the 16th Street Mall — a mile-long pedestrian walkway — historic Denver Union Station, and the capitol building. Families can slot in time at the Elitch Gardens Theme and Water Park or check out the historic railroad.
If you want to get away from the city, you can also take hiking trips in the Rocky Mountain National Park or enjoy activities like rafting. Finish off your day in nature by dining in one of Denver's many restaurants before crashing into one of the city's comfortable vacation rentals.
Anchorage, Alaska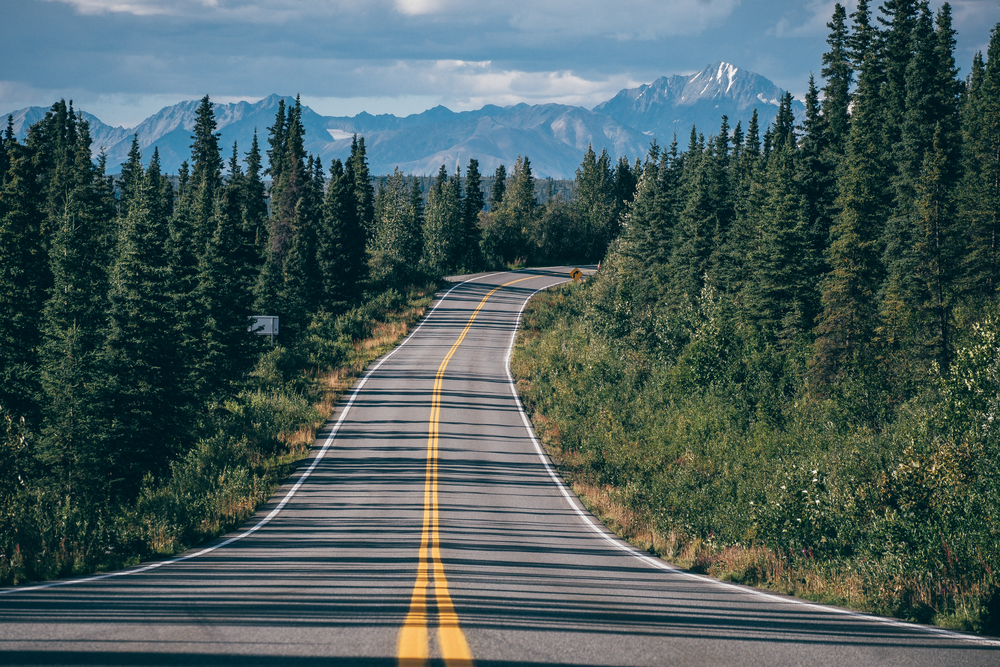 Anchorage is Alaska's metropolitan hub, housing nearly 40% of the state's population. It's the perfect jumping-off point for a variety of outdoor adventures, like visiting Portage Glacier or hiking The Tony Knowles Coastal Trail. Also worth a visit is The Alaska Native Heritage Center, which is dedicated to showcasing and preserving the culture of Alaska's native peoples.
Get a look at local wildlife by visiting The Alaska Wildlife Conservation Center or hitting the Alyeska Ski Area slopes. Last but not least, make sure to book a cozy place to sleep, so you stay warm in the chilly Alaska weather!
New York City, New York
You have to see the Big Apple at least once in your life. New York City has tourist attractions that are recognized around the globe, from Broadway to the Empire State Building and the Statue of Liberty. Other attractions include The Metropolitan Museum of Art, the 9/11 Memorial, and the Brooklyn Bridge.
Just because you're in the big city, though, doesn't mean you can't spend some time in nature. Take a break from the concrete jungle and visit Central Park to soak up some greenery. Pro tip: New York can be pricey, so save money on accommodation with a vacation rental.
Boston, Massachusetts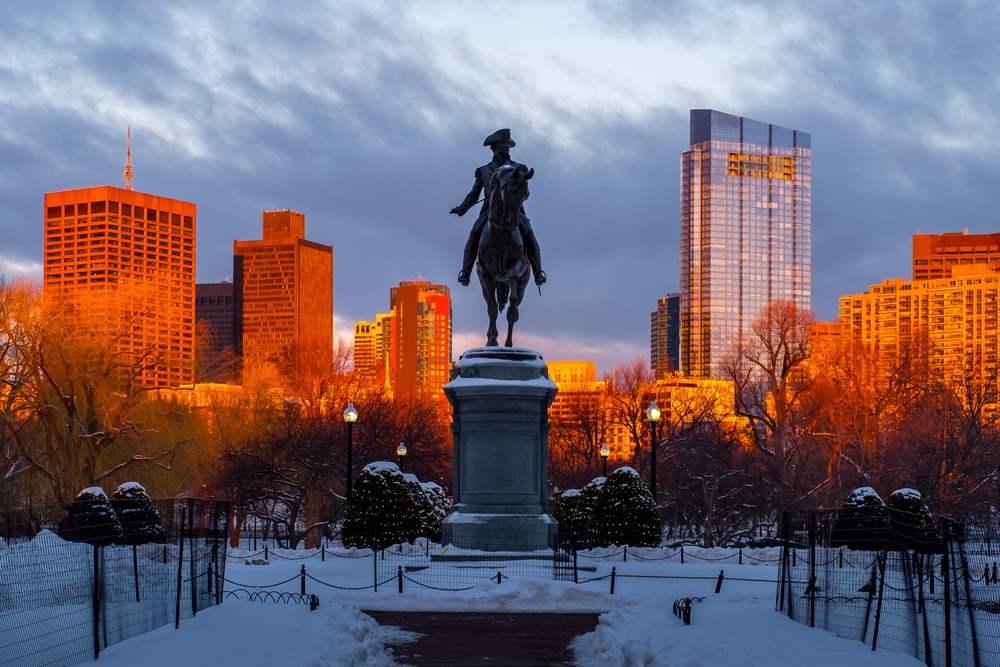 If you want a taste of New England, head to Boston. As one of the oldest cities in the country, it's full of historical attractions from the Freedom Trail to The Boston Tea Party Ships and Museum. Other popular sights include Fenway Park, The Boston Museum of Fine Arts, Boston Public Garden, and the picturesque North End neighborhood.
Boston also offers fantastic food — especially seafood, fresh from the harbor. Try a lobster roll or a New England clam chowder. If you book a rental with a kitchen, you can even try preparing some Boston classic dishes yourself. Pay a visit to the Boston Fish Market to get the goods you need.
Washington, D.C.
Political buffs can't miss a trip to Washington, D.C. — the nation's capital. From the U.S. Capitol to the White House, you can see where all the big decisions get made. D.C. also offers many museums, including The Smithsonian National Museum of Natural History, The National Museum of African American History and Culture, and The Holocaust Memorial Museum.
Other noteworthy sights include The Lincoln Memorial, Vietnam Veterans Memorial, Korean War Veterans Memorial, and the National Mall. Suffice to say, you won't get bored in D.C. so make sure to arrange comfortable accommodation where you can rest after a busy day of sightseeing.
New Orleans, Louisiana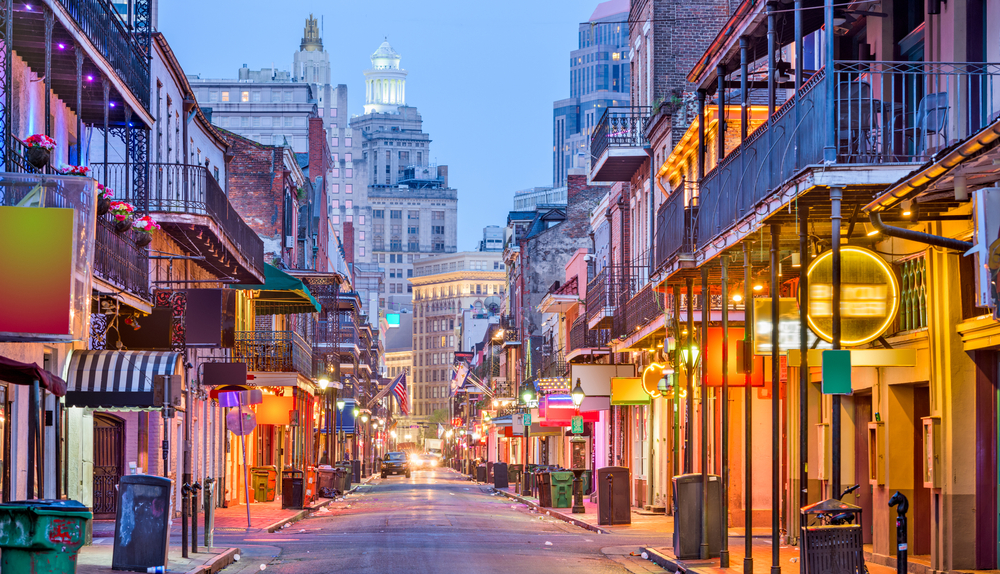 Finally, if you want an American adventure with some unique southern charm, head to New Orleans. This unique city is known for its beautiful southern architecture, vibrant bar scene and amazing local music. Other highlights include the New Orleans antique streetcars, The St. Louis Cemetery, and The Audubon Zoo.
For a truly once-in-a-lifetime experience, plan your New Orleans visit around Mardi Gras. Kicking off on March 1, 2022, the annual event features epic parades and parties. Mardi Gras is a busy time of year in the city, so make sure to book flights and vacation rentals well in advance.
Nashville, Tennessee
Country music lovers, beware: Nashville is your dream come true! Nicknamed "Music City," it's famous for its country music venues, including The Grand Ole Opry. Visit The Country Music Hall of Fame and check out The Johnny Cash Museum before heading on to catch one of the city's many live music shows.
If you want even more music, book a couple of nights in Memphis. You can visit The Rock 'n' Soul Museum, stop by Sun Studios — also known as "the birthplace of rock 'n' roll" — and take a look at Elvis Presley's famous Graceland home before closing out your trip with a riverboat tour on the Mississippi River.
Maui, Hawaii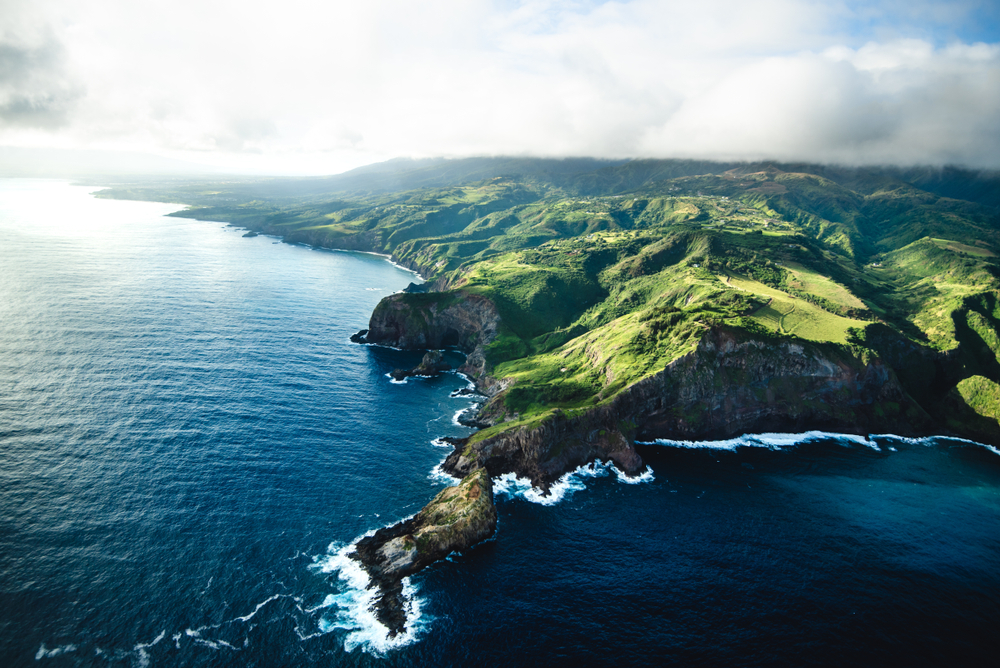 If snow and ice aren't your thing, Maui might be better suited to your tastes! This gorgeous Hawaiin island features stunning beaches, crystal-blue water, and plenty of outdoor activities to make the most of the fabulous weather. Visit famous Ka'anapali Beach, book a snorkeling excursion, and hike The Kapalua Coastal Trail.
If you have kids who aren't old enough for snorkeling, head to The Maui Ocean Center to give them a peek at what's beneath the waves. For dinner, attend a traditional luau to get dinner with a show. Hawaii is a tourist hot spot and expensive, so prepare in advance by finding affordable accommodation online.
VacationRenter Offers the Best Rentals Wherever You Go
As the above list makes clear, America truly offers something to suit every traveler's taste. Whether your dream vacation involves soaking up some sun on a beach or flying down a snowy mountainside on skis, there's a state for you.
Wherever you decide to go in 2022, trust VacationRenter to provide the accommodation you need. You'll find a diversity of options catering to everyone, from couples seeking a romantic getaway to families traveling with kids and pets. Find your dream accommodation today!
Mentioned In This Article