September officially marks the end of summer and welcomes the autumn equinox. In other words: the first day of fall will soon be upon us! That means landscapes throughout the country will transition from shades of green to vibrant hues of red, orange, and yellow. It's a marvelous time of year when the temperature cools down, and local cafés release their seasonally spiced pumpkin and peppermint coffee concoctions.
Commonly referred to as the Green Mountain State, the name Vermont derives from the french words verd mont, which directly translates to "green mountain." With the abundance of greenery sprawling throughout the state, it's pretty much a given that the state's earthy landscape becomes engulfed in golden tones once September rolls around. Check out these cities for a unique fall foliage experience.
1. Woodstock, VT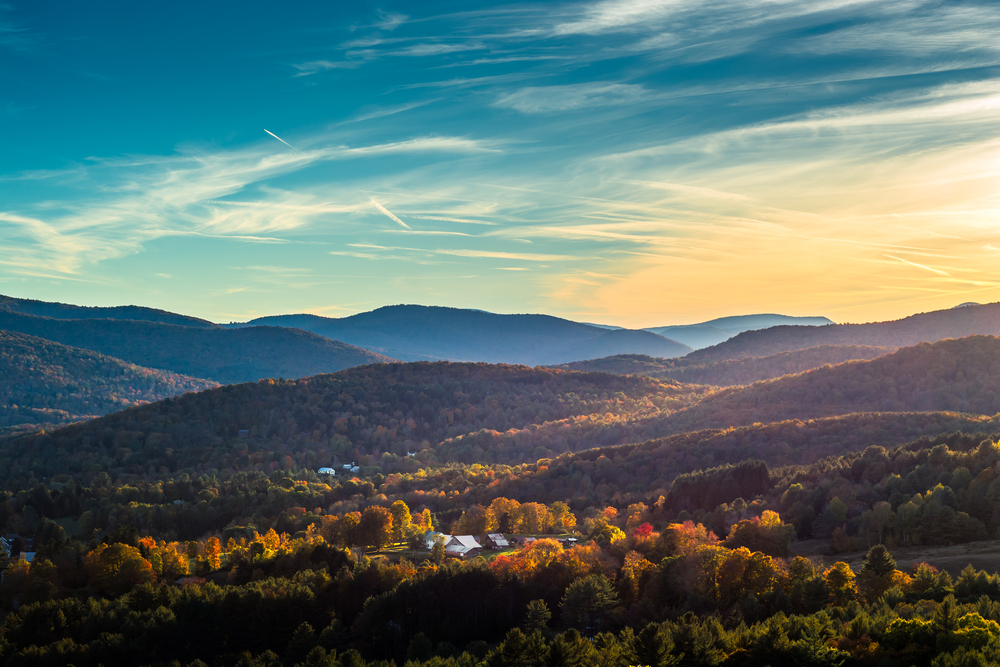 You'll come across a handful of activities in Woodstock that will allow you to embrace the feeling of fall. The first is a visit to Sugarbush Farm, where you'll get the chance to experience the three things Vermont is most known for, all in one place: cheese, maple syrup, and fall foliage. According to the people of Sugarbush, mid-September and early October are the prettiest times of the year, so take advice from the locals and plan accordingly!
Fun Things to Do in Fall
Outdoor explorers can get up close and personal to the plant life by hiking a five-mile loop around Mount Tom. The Mount Tom trail is located in Vermont's only national park called Marsh-Billings-Rockefeller National Historic Park, and grants you an aerial view of the reserved land, as well as the autumn leaves that surround it.
If you're not much of a hiker, then a horse-drawn carriage ride starting at Kedron Valley Stables is another way to experience the beauty of Vermont. These private carriage rides last 45 minutes to an hour, and take you through the state's countryside, in addition to Woodstock's most historic sites.
Upcoming Fall Events in Woodstock
2. Quechee, VT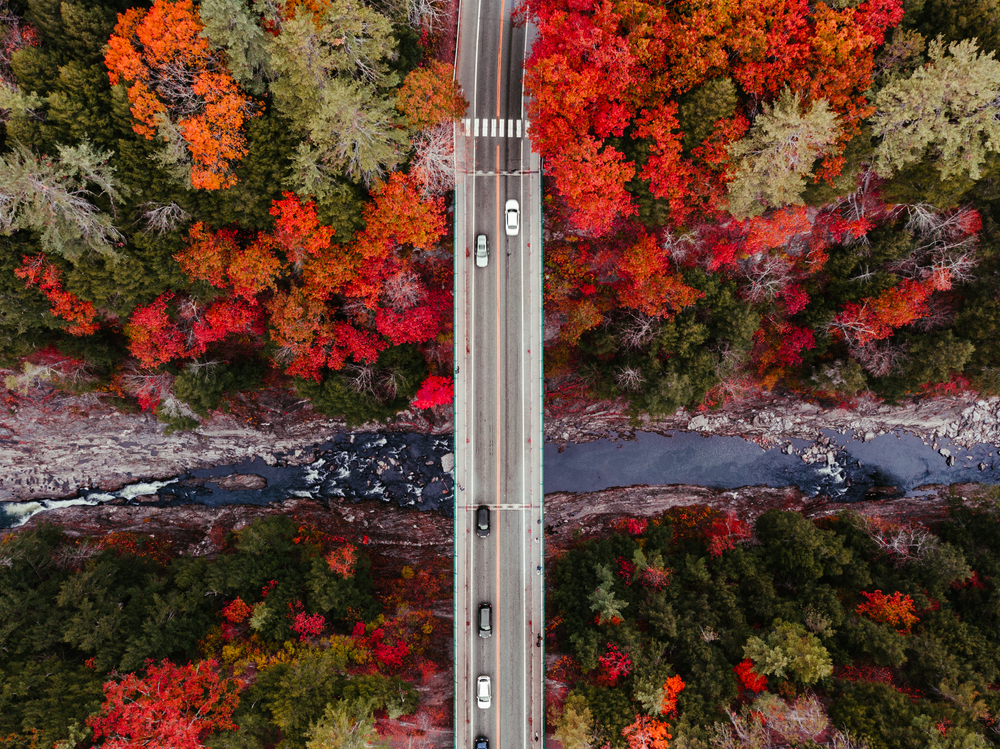 Quechee is a small village in between Woodstock and Hartford. Explorers are welcome to traverse Quechee State Park for more forest adventures. The park becomes especially beautiful once autumn rolls around. A hike around the Quechee Gorge — sometimes referred to as "Vermont's Little Grand Canyon" — is highly recommended. Explore the area by foot, or via segway tour. The gorge is an incredible sight in the fall; one that will surely take your breath away.
Fun Things to Do in Fall
If you want to explore Vermont from a completely different perspective in the most unique way possible, reserve a hot air balloon ride with Quechee Balloon Rides. If you visit in October, you can even get a Halloween-themed hot air balloon experience on Jackie the Jack o' Lantern! The balloon ride flies over Quechee Village, Vermont's Green Mountain range, and the Quechee Gorge. During any other time of year, you'll probably see a vast land of green under your nose, but in the fall, you'll get a spectacularly radiant sight right below you.
During your Quechee explorations, you might as well check out one of Vermont's many covered bridges propped right above the Ottauquechee River. It's located right beside Simon Pearce, your one-stop-shop to soak in true Vermont vibes. There, you'll find a glass blowing studio, pottery classes, home decor for sale, and even a restaurant with gorgeous views so you can sit back, relax, and enjoy a delicious meal by the river.
Upcoming Fall Events in Quechee
3. Killington, VT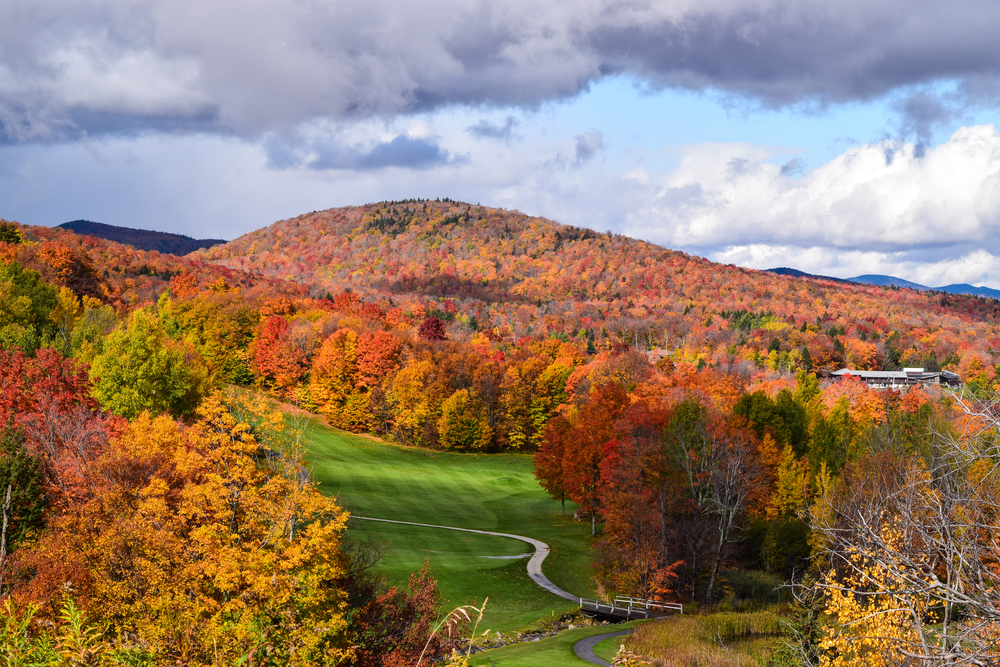 Less than 30 minutes east of Woodstock is Killington, where you'll find plenty of skiing, biking, and hiking trails all around. An incredible hike that gives you a bird's eye view of the vibrant trees below is the Killington Peak trail, which ascends the second highest peak in Vermont. Catch a glimpse of the view waiting for you at top with the Peak 360 Cam, displaying live footage of Killington Peak from 4,241 feet high.
Fun Things to Do in Fall
For an exhilarating ride through Vermont's mountains in the fall, take a guided ATV tour on a Polaris Razor. You're given the option to select between a one-hour or two-hour tour. If you're a thrill seeker who thrives on speed and adrenaline, it's hard to pass up on a fall foliage experience like this one.
One popular destination to see fall foliage is Gifford State Park. The ancient forest of Gifford Woods serves as a lush habitat for hundreds of 400-year-old trees. Now, imagine being surrounded by those trees in the fall, when the leaves change to crisp variations of orange and gold.
Upcoming Fall Events in Killington
Book Your Fall Getaway to Vermont
If the thought of autumn's arrival makes your heart sing, you may delight in planning a fall foliage trip in the next couple of months. Vermont is a fine choice, as it's packed with wonderful sites that are perfect for appreciating this colorful time of year. Find a cozy rental with VacationRenter today.