Dorsett Bukit Bintang Residence by De Space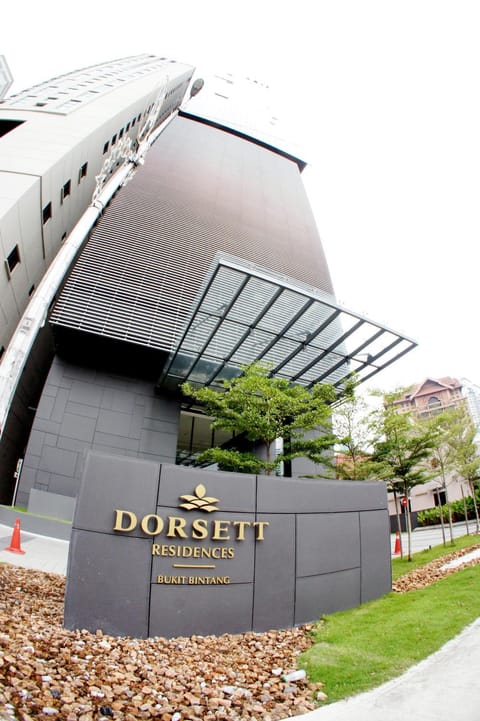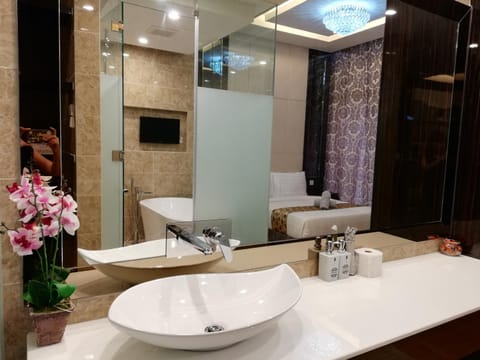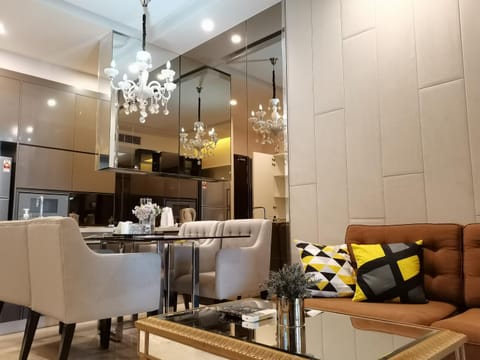 Apartment in Kuala Lumpur City
Pool
Air conditioner
Kitchen / Kitchenette
About this apartment 
rental
Located in
Kuala Lumpur City
, this attractive entire apartment for $52 per night is a great option for your next vacation. Situated within a 3-minute walk of Starhill Gallery and a 4-minute walk of Fahrenheit 88 in Kuala Lumpur, De Space Suite features accommodation with free WiFi and seating area.
Pool
Air conditioner
Kitchen / Kitchenette
Internet / Wifi
Parking
Laundry
Balcony / Patio
TV
Wheelchair accessible
Gym / Fitness Center
Garden
Family friendly
100% verified reviews
4.2 / 5

"Excellent"

(160 Reviews)
it is amazing. We only can recommend the place
Feb 2020
We had a great stay at this appartement. The location is excellent with good transport links. Check-in was smooth and communication very quick. and we also enjoyed the infinity pool at the top with fitness room. it is amazing. We only can recommend the place. It was perfect
Luxurious stay in the center of KL
Nov 2019
Very well-equipped, clean, luxurious apartment in a central location. - Pictures are as described. - Especially being able to make use of the pool and the gym at night is a plus.
It would have been great if the hosts would make time to show the beautiful apartment. - in the morning it tends to get very loud with the builders outside.
Very near pavilion..easy find food etc.. I will come again!
The best suite at bukit bintang,very near to pavilion and can spend time at LAPark food truck very awesome.
a great place near city centre
Apr 2022
The apartment is clean and location is good in bukit bintang.
Free parking a bit limited first come first serve.
The accomodation offered an easy way to collect the keys by contacting us through whatsapp prior to the arrival. The location is amazing, walkable distance to the main bukit bintang area, and jalan alor. The place was amazing, with a nice shower area and huge area for us.
A minor con is that the toilet paper holder was too near to me when I sat down. Everything else was perfect
Poorly maintained
Feb 2023
Second time staying here and it has been a disappointment. It has not been well maintained and still dusty (especially in the wardrobe). The whole place just feels very run down.
Definitely will repeat again..
Dec 2021
Overall satisfied..worth it..nice view..everything is ok including room setup..🥰👍👍👍
Super location, very helpful staff !!
Aug 2022
Our stay was great but what I loved at the property was their flexibility to accomodate us. Our flight was cancelled on short notice and we were able to shift our arrival date by 2 days without issue, we arrived late and could check-in on our own without issue, we needed to leave our luggage and received excellent service on that too, finally the staff helped us get a transfer service for our family to our next stop - great staff - would recommand ! The accomodation itself was as expected and we enjoyed the pool and small playground in the morning.
Missing cloth in the kitchen 😉
NOT RECOMMEND TO STAY
Jan 2022
1. the room not clean 2. tv remote not function, tv can't watch 3. heater malfunction, water not hot enough 4. bathtub pop broken and drain cover malfunction 5. don't have bottle water for customer 6. hair dryer small and not friendly for long hair
No hassle quick self-check in. Modern and comfortable apartment. Love the roof top swimming pool. Good location - near La Park and Bukit Bintang shopping belt.
always keep it clean
Jan 2023
nice place and bed so comfortable
Love the bath tub. Really love the view. Excellent service and their security very friendly. Easy to check in .
Thoroughly enjoyed the stay and appreciate the fast replies from the host via WhatsApp
Jan 2023
Good location but need better maintenance.
Jun 2022
Location was okay. Would have been better if a map of the area was provided so visitors can know which roads to avoid.
The overall maintenance of the room could have been better. Toilet roll holders were loose, no proper hangers, moldy floors, taps that could not stay open.
apartment is dirty , the floor like more then a week never sweep and mop , and the bedsheet make my skin itch and mattress and toilet leaking full night, the sound make me full night cannot sleep. No have enough car park lot , just have around 10 parking lot for all the apartment unit . The host is reply fast but we give them feedback they give a lot of reason say is not their problem .
How much does this apartment cost compared to others in Kuala Lumpur City?

The average price for a rental in Kuala Lumpur City is $39 per night. This rental is $13 above the average.
Is parking included with this apartment?

Yes, parking is listed as an amenity at Dorsett Bukit Bintang Residence by De Space. For more information, we encourage you to contact the property about where to park.
Is there a pool at this apartment?

Yes, a swimming pool is available for use at Dorsett Bukit Bintang Residence by De Space. Enjoy the water!
Is Dorsett Bukit Bintang Residence by De Space pet friendly?

Unfortunately, this apartment is not pet-friendly. Try searching again and filter for "Pets Allowed"
What amenities are available at Dorsett Bukit Bintang Residence by De Space?

We found 12 amenities for this rental. This includes pool, air conditioner, kitchen / kitchenette, internet / wifi, and parking.