אורה דירות אירוח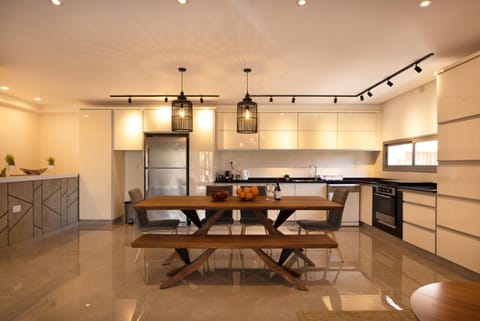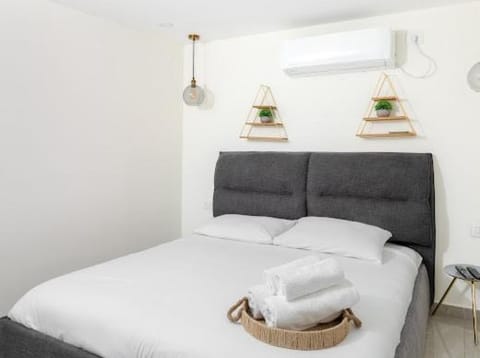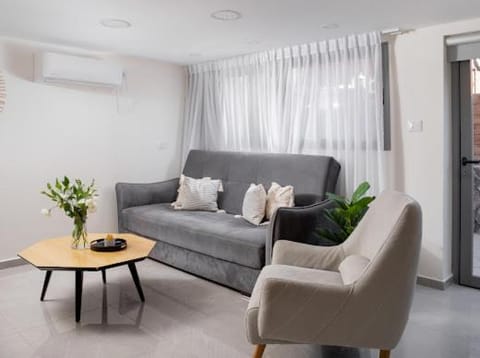 Apartment in Eilat
Air Conditioner
Kitchen / Kitchenette
Internet / Wifi
About this apartment 
rental
Situated in
Eilat
, this lovely entire apartment for $99 per night is a fantastic choice for your next break. Located in Eilat, 1.1 km from Papaya Beach and 1.1 km from The Pearl Beach, אורה דירות אירוח provides accommodation with free WiFi, air conditioning and access to a garden with a terrace.
Air Conditioner
Kitchen / Kitchenette
Internet / Wifi
Parking
Laundry
Balcony / Patio
Dishwasher
TV
Garden
Family Friendly
100% verified reviews
4.6 / 5

"Outstanding"

(370 Reviews)
Very comfortable place and caring host
Oct 2022
Yoni, the house keeper was very caring, called to make sure we know how to check in. Informative and useful guides for nearby restaurants and supermarket etc. Spacious. Air conditioning was very comfortable. Plenty of street parking right in front of the property. The terrace of my apartment was an added bonus.
There were removable lime residues in the kettle.
First time in an apartment instead of a hotel. Very positive experience. Would do again.
Mar 2021
Very spacious. Great for a family to cook and eat comfortably. Easy parking outside the apartment.
Need more kitchen and bathroom towels
nice place for short stay
Aug 2022
Very good location all is new . Very good service. We received gift from appartaments desert it was vary tasty !!!!
Nothing. All is the best !!!
great value for money
Dec 2022
very clean and well organized.
Very clean, and have a nice balcony. The appartment is pretty big. And has great facilities. The location is great as well. Great hosts, always available and very pleasant.
Totally enjoyable and met our expectations. Such a cute apartment in so little space.
Mar 2022
The place was speckles, comfy, pleasant and well arranged. Our host was VERY welcoming and helpful. He approached us and arranged for us to come earlier than usual (upon our request) and when we were late he wrote and asked if everything is well. When we arrived he explained clearly how to enter the building and how to get the key although we had written instructions. Overall the place was awesome and we enjoyed very much. The bathroom was very clean and very well facilitated. The bedroom cozy, not very roomy, but nice. The whole place is decorated nicely and feels like home.
The specific apartment we had is on the main street and the window is at the sidewalk level. So if you're a fan of privacy, quietness _and_ fresh air, you'll have to give up one of them. If you plan (like we did) on using the kitchen for actual cooking - some basic utensils are missing (especially large and small bowls, a good kitchen knife, paper towels etc.). We didn't ask for them, so we can't tell if the host would have given them to us upon request. Just so you know... Other than that, the kitchen was really great as well.
Really great stay, would definitely recommend.
Jun 2022
The place was modern and spacious and the bed was really comfortable. The host was also great with communication and made a very nice gesture by leaving some drink and chocolate after we had a minor inconvenience!
A very nice apartment in Eilat
Feb 2022
The place was clean, comfort and had all the necessary features. It just matched exactly to what we were looking for.
The owner is really helpful and talkative. ( He recommended a lot of good place to visit) The kitchen was well-equipped,there is a living room with TV, where you can watch everything. (Like netflix☺️)The bedroom is next to the bathroom. The bathroom is so sunny 🙂 the apartment has a very good location with a view of the sea.
Good value for money
Feb 2022
The host has very thoughtful and answer to every request. The apartment is beautiful and has a high standard and had everything we needed .
nice place which requires some little adjustments
Jun 2022
The b&b is in a very useful position, beds are comfortable, the room is freshly renewed.
The place is new and well done, though it's advisable for two persons more than four, even if there are 2 double beds. windows don't have mosquito nets (not only against mosquitos, but against all kind of insects - in a subtropical country there can be several, not poisoning, but still), the room is on the street, ground floor, so we had to sleep with closed windows and air conditioning switched on the whole night. somebody can like it, but unfortunately that's not our case. the toilet is quite tiny. nice potential, however.
Good value for a short stay in Eilat
Mar 2023
The appliances are new, the shower is greet and you can leave the bikes on the small balcony.
The apartment is small and needs more coffee capsules. The main window to the street requires a net so you can keep it open during the night.
Nice apartment with a lot of space
Nov 2022
The apartment was really nice and clean. There were televisions in the livingroom and in the bedrooms. The kitchen was also very big.
Wonderful stay - would highly recommend!
Sep 2022
The apartment was great and had everything that we needed as a family of three. The room was a bit tight with the crib, but it definitely was enough space and was well equipped with everything that you could need. It was super easy to find and get into and the communication was always quick and responsive. The location is also great, walking distance to a lot of restaurants and shopping and other activities.
The room was a bit tight with the crib but very doable. The bathroom door is a bit awkward but again very manageable.
The apartment was clean and cozy. Comfortable beds.
The apartment is too small for four people—no place to put the luggage.
Spacious apartment. Nice design. Looks like a recently renovated place, Nice spacious balcony where you can sit and drink the morning coffee. There was a probelm with the air conditioner drainage that made a little puddle on the floor, but the owner gave us the impression that he cares and tried to fix it immediately.
The bed was extremely uncomfortable
Noise from the close road, bad is not comfortable
Perfect aparttment with nice garden. Everything was new and clean. Very well designed and comfortable. Plenty of parking. The host was super nice and he called us to see if we needed anything.
How much does this apartment cost compared to others in Eilat?

The average price for a rental in Eilat is $163 per night. This rental is $64 less expensive than the average.
Is parking included with this apartment?

Yes, parking is listed as an amenity at אורה דירות אירוח. For more information, we encourage you to contact the property about where to park.
Is there a pool at this apartment?

We didn't find pool listed as an amenity for this apartment. It may be worth double checking if a pool is important for your stay.
Is אורה דירות אירוח pet friendly?

Unfortunately, this apartment is not pet-friendly. Try searching again and filter for "Pets Allowed"
What amenities are available at אורה דירות אירוח?

We found 10 amenities for this rental. This includes air conditioner, kitchen / kitchenette, internet / wifi, parking, and laundry.