Rani Kothi Heritage Residency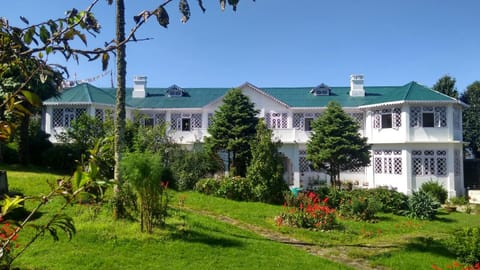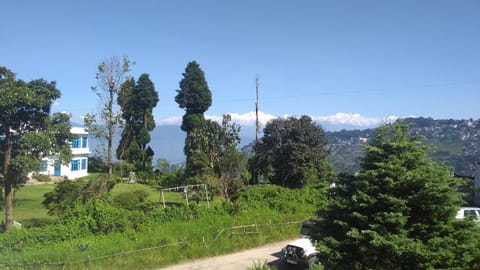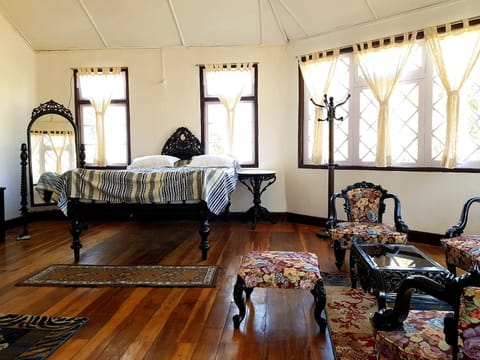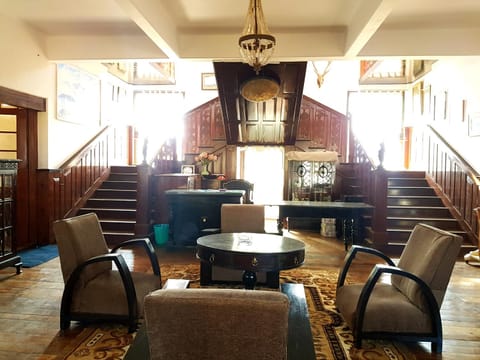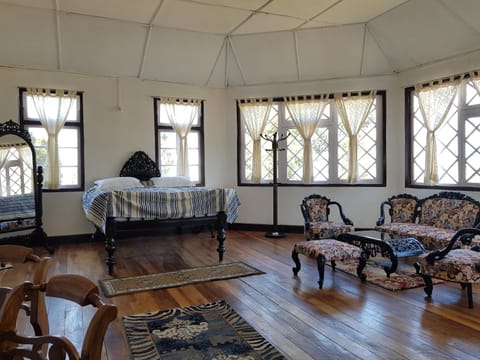 About this guesthouse rental
Nestled in
Darjeeling
, this charming guesthouse for $30 per night is a great option for your next trip. Featuring a garden, Rani Kothi Heritage Residency is situated in Darjeeling in the West Bengal region, 11 km from Tiger Hill and 2.1 km from Himalayan Mountaineering Institute And Zoological Park. Boasting family rooms, this property also provides gu...
Amenities
Pool
Pets allowed
Kitchen / Kitchenette
Internet / Wifi
Fireplace
Smoking allowed
Parking
Laundry
Balcony / Patio
Hot Tub / Spa
TV
Wheelchair accessible
Garden
Family friendly
Reviews
3.8 / 5

"Good"

(62 Reviews)
100% verified reviews
Would love to stay here again, when I travel to Darjeeling.
Sep 2023
100+ years old property but well maintained. Very helpful staff. Manager Mr Shailandra was very courteous and cooperative. Cooking was nice and homely.
A little fix here and there is needed.
I didn't find anything to like in this property. My expectation was different since it's a heritage property. But nothing I found 😭😭😭
I didn't find anything to like in this property.
Staffs are very good, courteous. The food was awesome.
A little far from Darjeeling but the experience worth it.
The heritage feel and house
Improper maintenance for such a heritage property and must ensure proper facilities.
Jun 2023
The property with such a heritage background.
PoorcService and cleanliness.
Lovely experience
May 2023
The atmosphere, the feel, the property, location little far form city crowd. Greenary, garden, heritage look, the food, everything was excellent.
Everything is great. But they need to pay little attention towards maintanence.
Full of character but not much more
May 2023
character and history. huge rooms with lovely views,
Service was shambolic. Lots of staff for a small number of guests but rooms were not serviced. No hot water for a day.
Falls short on several parameters of a good hotel
Apr 2023
The property size, heritage look, huge rooms.
The place and building were superb, but I would like to comment on the following points 1. The Staff should put a lot of effort into cleaning the rooms and stack up the essentials in the bathroom and room. 2. The breakfast should be available from 7:30 am onwards and not 9 am 3. The approach road is very narrow, and that makes things worse as it is difficult to reach the property. 4. A little more maintenance work is required.
Perfect stay in the lap of mighty himalayas
Apr 2023
perfect location and lovely view of Kanchenjunga. The rooms are big and clean. It is perfect place for a holiday with family.
I think booking should not recommend this propoerty
Apr 2023
We booked for 4 days but left after a miserable night
Feb 2023
Other tgan the staff there is nothing that we liked. Will describe an honest accessment in the next section
a) The building shown in the photos is NOT the one where we were given a room. So watch out b) The hotel is old and very poorly maintained c) Its located in the middle of nowhere with very narrow road for more than a mile d) No heating whatsoever but staff gave us a heater but plug point was more than 12 feet from bed e) The bathroom was terrible and dirty .... 😡 We gave an honest opinion about the place to the staff
Great place nice staffs- Specially Prewan and Santosh.
Jan 2023
The heritage feel The courteous staffs The food which is exeptional Great focus on providing guests the best service
Location is far off the mall. But it all depends on personal preference. Also request the management to carry out a scheduled maintenance excersise.I prefer not to highlight minor stuffs which i can manage with, but may not be same with others.
If anyone wants to spend some quiet time out from the busy city life, this is the best place to stay. The calmness away from the city, accompanied by Kanchanjangha mountain, makes you feel satisfied with your stay in Darjeeling. Time spent in the palace was peaceful, and all the staffs were remarkably docile. We sure will visit again 😁.
Honestly, there is nothing we didn't like or to be hassle about, but I think the suit where we stayed, a little dusting, can do better. Overall we are satisfied with our stay here. 😁
Wonderful place, service need to be improved, overall good experience..
Prewan the caretaker was excellent he took very good care of us . The view was exceptional.
it's a classic elegant place for those who want to live the glory of past Maharajas.
Jul 2022
The location and the classic palace ambience
Small bathroom and electrical maintenance.
The place is good for the people who like calm and peace. It is actually home away home. The staff member are praisewort
Jun 2022
Ambience and the people of the Residency, especially the Manager - are very cordial and approachable. The manager takes cares of all the requirements of the boarders.
The location is not good as compare to the Mall Road. The approach of the place is very narrow. Two days we got stuck while returning back from Mall Road after 9 pm.
The location and view very beautiful. Hospitality is very good.
Okay. Not fulfilling my expection
Apr 2022
No variety about food. Staff are not professional. At this price other very good options are available.
Locational disadvantage. You have to spend Rs.600 per day while going to main place. Room tariff is very high as compared to facilities and at this price you get other good hotels near to the central place
great place to be if only they fix the basic issues
Mar 2022
the property is nice with a old darjeeling charm away from the maddening crowd. gives a good feel of old house charm
the amenities. the tv was not working… linen and pillows were worn out and the worst is water crisis. the hot water never came through and i could not take a bath.
Honest unbiased review.
Mar 2022
Liked the location and the size of the rooms. Also like the decor of the rooms. It felt like a lavish holiday home. Additional food on order is cheap and tastes like home cooked food. Staff is friendly and arranges everything whenever requested
One of the room which was beside the kitchen was a bit damp and stinky. Also the geyser was not working on the 1st day. Road leading to the stay was a bit narrow and needs expert driver to be driven by. The rooms may be pretty cold during winter considering that the rooms are pretty big and the property does not have enough infrastructure in place to keep the guests warm.
The place is not clean at all.
Jan 2022
The place is not clean at all.
The place is not clean at all.
FAQs
How much does this guesthouse cost compared to others in Darjeeling?

The average price for a rental in Darjeeling is $39 per night. This rental is $9 less expensive than the average.
Is parking included with this guesthouse?

Yes, parking is listed as an amenity at Rani Kothi Heritage Residency. For more information, we encourage you to contact the property about where to park.
Is there a pool at this guesthouse?

Yes, a swimming pool is available for use at Rani Kothi Heritage Residency. Enjoy the water!
Is Rani Kothi Heritage Residency pet friendly?

Yes! This guesthouse is pet-friendly. For more information, we recommend contacting the booking provider about animal policies.
What amenities are available at Rani Kothi Heritage Residency?

We found 14 amenities for this rental. This includes pool, pets allowed, kitchen / kitchenette, internet / wifi, and fireplace.