Font Andorra Hostel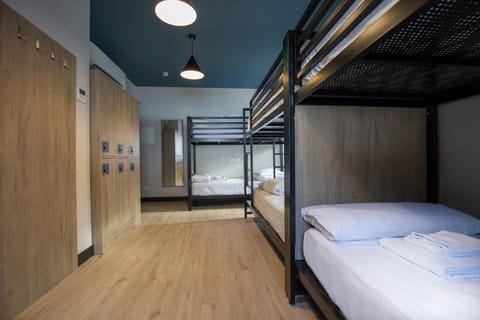 Guesthouse in Andorra
Air Conditioner
Kitchen / Kitchenette
Internet / Wifi
About this guesthouse 
rental
Situated in
Andorra
, this attractive guesthouse for $160 per night is a great option for your next vacation. Font Andorra Hostel is next to the cable car leading to Andorra's Vallnord Ski Resort. The hostel is in the centre of Massana, an ideal base for exploring the Pyrenees. The hostel is 5 km from Caldea Spa and from Andorra la Vella.
Air Conditioner
Kitchen / Kitchenette
Internet / Wifi
Laundry
TV
Ski In / Ski Out
Family Friendly
100% verified reviews
4.5 / 5 (681 Reviews)
Affordable choice if you don't mind taking the bus
Oct 2022
Well equipped kitchen & plenty of room to relax and eat downstairs. Staff was friendly & helpful.
Outside of Andorra La Vella (La Massana) but very close to the bus stop (only takes 10 min.)... So it's not a big downer. Bunk bed springs seemed to always make noise when I moved.
Easily reachable by bus from Andorra La Velle and has rooms too - good for short stays
Jan 2023
We booked the double room (with single beds) in the hostel and loved it. The room is on the top floor and the facility includes a lift. Everything was clean and comfortable. Good for a short stay and easily reachable by bus from the capital Andorra La Velle.
The check-in closes for a good 4 hours during the afternoon, which makes it difficult to leave behind bags in the locker or if you arrived sometime in the afternoon. Take this into account when reserving to stay at this place.
Very modern hostel with nice rooms and friendly staff
Common areas are closed from 10pm to 9am
i got here walking 40kilometers from the french boarder and felt great to rest in such a clean setting
Sep 2022
very clean, great location, friendly staff
nothing, one of the better hostels i have stayed
This was my 2nd time staying here, this time spending 2 weeks in a 4 bed dorm. Highly recommend this place, value for money, super friendly staff, good vibes and place is continuously kept clean.
Modern and friendly hostel in a perfect location to visit Andorra
Jul 2022
This is the kind of hostel you always hope to find when visiting someplace abroad. The hostel is situated in a very central location, just a few meters from the bus stops that take you to the different parks. Modern hostel with very friendly staff and state-of-the-art facilities. Plenty of areas to relax and have some food, and the hostel organizes film nights for all guests. Super close to a minimarket. Dorms are clean and my roommates were generally quiet, so I had good nights of sleep.
The kitchen - even though spacious and well maintained - lacks some essential features such as a hob and an oven, significantly limiting the options food preparation.
My favourite hostel!
Mar 2022
This hostel has been one of my favourite ones I have stayed in. It is a 1 minute walk to the gondola to the slopes. The staff were really helpful and polite and seemed invested in you as a guest. As I was staying for 5 nights they moved me to a bottom bunk which I really appreciated! The hostel was clean and tidy and the rooms were a good size with plenty of storage space and lockers. There is a bar downstairs where everyone goes after being on the slopes so the atmosphere is brilliant. I travelled alone but made some really good friends at the hostel. Can't wait to go back!
Nothing my stay was perfect!
Affordable clean and spacious dormitory-type accommodation. a stone away from ski resort
Dec 2021
The unit is spacious and clean. There's a common dining area in their basement where you can eat, a vending machine too where one can buy water, soft drinks and chocolates. It's a stone away from the ski resort.
Because there's a bar just outside the hostel, you can hear loud voices and laughs from outside the window. Its not really disturbing especially when you're so tired and sleepy.
The staff, the Beds, the bathroom, the lockers, the lift and the common areas, everything was perfect. I'm so grateful for the usb ports and the light next to each bed.
A pleasant surprise in the heart of La Massana - affordable, clean and comfortable accommodation
Aug 2021
The room was exceptional - a recent refurbishment was done to a very high quality level with an excellent bathroom and efficient aircondition in the room. The lift and entrance areas were likewise in a very good condition.
Great place for a great price
Sep 2022
The proximity to the ski lift and to the town center. Also having chill and common areas were you can read, watch a movie, etc. The wifi connection perfect, fast and with coverage in the whole building. The cupboards had a pin number and were very useful in the shared room
The cooking area could be a little bit bigger but already had a fridge, microwave, water boiler. So eventhough it was not said that had the cooking area, it was very helpful to have this 3 elements
Recommended Front Hostel in Andorra
Dec 2022
The property is situated in a main road in Massana you can't missed it. The bus stop just few yards away. The people was excellent and very very helpful. They got your answer on their lips . Beds comfortable and clean . They have a locker in a room , shower in the room. Excellent stay. They have a fridge and a kitchen. I-recommended this place.Good value for money!
Our stay was great! We loved it!
Jun 2022
The place was great! We stayed with the intention of taking the ski lift up to Valnord Bike Park and it was right around the corner. The location has a storage area for bikes too. Place was really comfortable, great WiFi connection, very good facilities and very helpful staff.
The room we stayed in was right next to a dorm room, and we could hear their door open and close quite loudly. The kitchen doesn't have a hob/burners available to do some cooking - so we always had to eat out.
Great place and clean
Aug 2021
The people in charge are very nice, they make sure everything is clean. I actually witnessed them cleaning the elevator twice in my 4 night stay. The location is epic, especially if you want to go to Vallnord like we did, just around the corner you get the gondola to go up the mountains. Perfect place for bikers to go in vallnord. Next to the hotel there's a bar with decent prices good food, but can be a bit noisy till around 12am, but with the windows close, it's all good.
Great Location. Great Staff. You get less than you pay for.
Sep 2022
The location to access the chair lift is brilliant. And to rent mountain bikes as well. The staff were super helpful.
The rooms are smaller than they appear online. We were a family of four with no room to spare. We were sardines. The breakfast is a waste. Don't bother. Lack of a parking strategy is a big issue if you bring your car. We got a ticket because no one informed us that the ticket has to remain in the vehicle even though the parking machine records your registration number when you pay. Plus you have to constantly move the car.
The location is great, right next to it there is a super bar where you can hang out. Kitchen and rooms are very clean. Staff and everyone is very helpful and sweet.
The location and staff were great. Really enjoyed my time there thanks to Gonzalo. The rooms were really comfortable and well setup. The communal areas were also nice to chill in. I will be back again!
It would be nice to have a kitchen and somewhere to dry clothes. There was a microwave though and you can get pasta from the supermarket next door!
The hostel is in a good location, with everything you need (supermarket, restaurant, bar). But for me the best thing about this hostel is the staff. Gonzalo and Guilermina are two excellent persons, always ready to help you. Thank you so much for everything. I'll be back for sure
The Font Andorra Hostel was very clean and had a lovely communal area for eating. It's location was second to none as it was right next to the ski lift - perfect for families.
There were no radiators to dry wet Ski gear!
great find in Andorra
Jan 2022
The courtesy of the workers and the cleanness
I felt at home and I don't change it for anything
Aug 2021
the atmosphere of the place is great, friendliness, comfort, cleanliness, I have been at home. Guillermina's attention is phenomenal, professional and friendly, I will return without a doubt. Thanks Font! My 5-star rating!
Super friendly staff, very well located for skiing, hiking trails etc. Local transports very easily accessible from hostel to all the other cities. Just loved the stay. Will definitely recommend this hostel.
thank you, would stay again.
Feb 2023
staff super friendly, location is amazing and couldn't be easier to catch the gondola and rent gear. rooms clean and tidy activities were cool, valentines treats and dance lessons
the breakfast was a let down and I found the bed hard
Convenient location with friendly staff!
Dec 2022
Really nice and friendly staff. 1 min walk to ski lift/ supermarket/ ski rental shop. Common area is really clean, spacious and nice.
Kitchen only has microwave and kettle, no stove/knife (plus point is that kitchen area is very clean). Laundry services is about 10 min walk away and quite expensive.
Really friendly staff. Accommodate two booking changes
Nice location and clean rooms
Oct 2021
The only thing that can be added is a wardrobe.
How much does this guesthouse cost compared to others in Andorra?

The average price for a rental in Andorra is $117 per night. This rental is $43 above the average.
Is parking included with this guesthouse?

Parking is not specified as an available amenity at Font Andorra Hostel. For more information, we encourage you to contact the property about where to park.
Is there a pool at this guesthouse?

We didn't find pool listed as an amenity for this guesthouse. It may be worth double checking if a pool is important for your stay.
Is Font Andorra Hostel pet friendly?

Unfortunately, this guesthouse is not pet-friendly. Try searching again and filter for "Pets Allowed"
What amenities are available at Font Andorra Hostel?

We found 7 amenities for this rental. This includes air conditioner, kitchen / kitchenette, internet / wifi, laundry, and tv.