Motel 6 - Pensacola West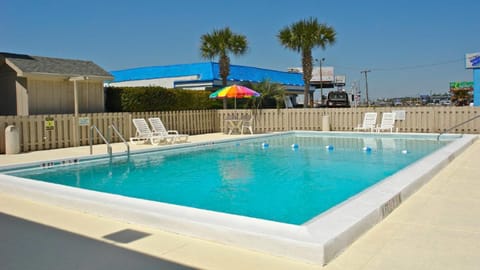 Hotel in Pensacola
Pool
Air conditioner
Pets allowed
Situated in
Pensacola
, this lovely room in hotel for $80 per night is a great choice for your next trip. Located off Interstate 110, this Pensacola motel is 13 miles from Pensacola Beach. Guests can relax in the outdoor pool and stay connected throughout their stay with free Wi-Fi. All guest rooms feature a cable TV and a small seating area.
Pool
Air conditioner
Pets allowed
Internet / Wifi
Parking
Laundry
TV
Family friendly
100% verified reviews
2.9 / 5

"Average"

(344 Reviews)
The staff were very nice and the room itself was quite nice. It's very simple but had everything we needed for a good stay.
Rooms do not have hair dryers. Honestly that's fine for me but just a heads up to anyone else. Ladies, if you need one, remember to bring your own.
Very nice and clean and quiet
Aug 2022
The staff was so nice and it was really clean
The smell and the roaches.
A basic and simple room was good, but it needed to be a bit more comfortable.
Mar 2023
The price was decent. It was a simple room but had all I needed.
The bed was rather uncomfortable and might have had bed bugs (woke up with bites).
The other guest in others rooms where fighting all night and morning
The housekeeper Irene was the sweetest lady ever I hated to go she just made our stay awesome there.the pool was very nice ,checking in Chris the lady at the front desk also was out standing,friendly everyone we spoke with who worked there was just out going and it made our stay terrific and we will stay there any time we are back in that area,I wanted to hug them all when we was leaving,it was like leaving faimly..🥰🥰
The beds were a tad small,and the toilet sometimes didn't flash to good but other that that it was good
The hot water and toilet worked!
The room I had was awful! The television did not work, the bed was uncomfortable! Me and my partner struggled resting due to the noise of others! Every twenty minutes or so a strong odor of marijuana filled the room! You could smell it as soon as you get out of your vehicle! The overall experience was just horrendous!
Memorial Weekend last minute.
Jun 2021
The decor was simple clean and there was no complaints other than the mariachi music but that's not y'all's fault.
We scoured for hours reading reviews and chose this location based on that. For memorial weekend it was a great value. Staff was extremely nice, especially Irene, and we would stay again.
The staff was awesome but the facility needs a lot of work.
Sep 2021
The best thing the hotel could offer is the front office staff. They were very respectful, friendly, and courteous. Breakfast wasn't included in the stay. The location is easy enough to find, which was great, but the pool location is not ideal as everyone can see the guests in the pool who are not even staying in the hotel.
We booked online for a non-smoking room but received a smoking room. The noise from the hallway and the pool can easily be heard from our room. We weren't able to sleep well because of it. The rooms are older and need to be updated more. The room seems clean at first glance but the a/c was very dirty as well as under the bed. The wall in one of the bathrooms had a hole in it, and the shower was dirty. There was hair balls in one of the rooms we stayed in as well. For the rate, which is comparable to extended-stay hotels, it did not include basic stuff such as a coffee maker, hairdryer, and breakfast. Regarding safety, some of the doors' double locks were not secured properly or are missing screws, or are loose. It did not make us feel safe at all.
Over all satisfied thanks to Tabby
Feb 2022
That the lady who checked me in was amazing. Thank you Tabby for making feel like I mattered.
the floor in my room was dirty.
Staff was friendly.good value.convenient For work.
Check the light fixtures
Mar 2022
Staff was friendly and it had a pool.
The light fixture right outside the bathroom was disgusting. Looked like it hadn't been cleaned for a year. The remote for the T.V. didn't work very well.
The price was right the people friendly I felt safe made friends. I'd go back
May 2021
Staff was awesome 👏 Room was super clean pool was cold but clean Everyone we met there was cool. Felt safe. Looked ghetto at first sight but was really awesome. Would highly recommend for one night or my friend n I stayed for 3. 45 minutes to beach give or take but the price was right!! And it was safe and us two old redneck girls felt safe!!
The towels could've been better but who's complaining. Room was clean!!
The room was gross. Over priced.
not a good stay at all.
Jul 2022
Manager of the hotel is not helpful at all. I reserved a room and already paid for it but didn't sleep on that room I returned the key after a couple of minutes. I talked to the front desk lady and told her that I wanna speak to the manager because I want to get a refund but the manager didn't even bother to talk to me to solve the problem. I'm not too happy of my stay on this property. I will not book again.
Bugs on the bed. Filthy. Front desk clerk was so nice and apologized profusely
beer was spilled all over the floor,room smelled of beer. It was late we slept and got up and left.
Bed place for the cost. To much to bad place for stay
How much does this hotel cost compared to others in Pensacola?

The average price for a rental in Pensacola is $146 per night. This rental is $66 less expensive than the average.
Is parking included with this hotel?

Yes, parking is listed as an amenity at Motel 6 - Pensacola West. For more information, we encourage you to contact the property about where to park.
Is there a pool at this hotel?

Yes, a swimming pool is available for use at Motel 6 - Pensacola West. Enjoy the water!
Is Motel 6 - Pensacola West pet friendly?

Yes! This hotel is pet-friendly. For more information, we recommend contacting the booking provider about animal policies.
What amenities are available at Motel 6 - Pensacola West?

We found 8 amenities for this rental. This includes pool, air conditioner, pets allowed, internet / wifi, and parking.