Omart Hotel - Gallery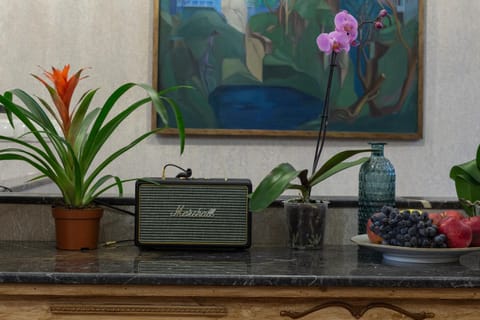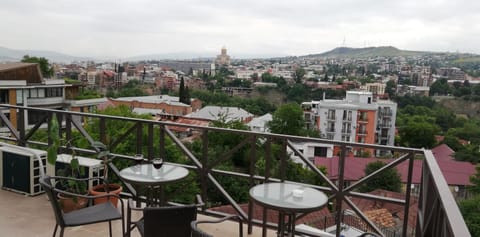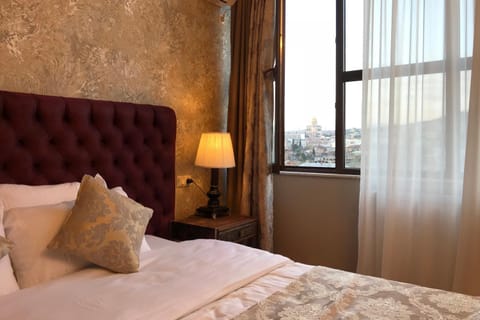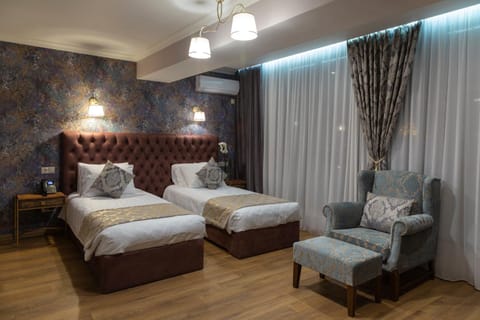 Hotel in Tbilisi
Air conditioner
Kitchen / Kitchenette
Internet / Wifi
Nestled in
Tbilisi
, this lovely room in hotel for $114 per night is a great option for your next break. Omart Hotel - Gallery has a garden, shared lounge, a terrace and bar in Tbilisi City. Boasting a concierge service, this property also provides guests with a children's playground.
Air conditioner
Kitchen / Kitchenette
Internet / Wifi
Smoking allowed
Parking
Laundry
Balcony / Patio
TV
Garden
Family friendly
100% verified reviews
4.8 / 5

"Outstanding"

(103 Reviews)
Truly a good place to stay at. Within walking distance to Sulphur Baths and Old town. Yet peaceful.
Dec 2019
We like the size of the rooms, the location and the staff was extremely helpful. It feels like home away from home!
Nothing -Just everybody should know about this gem!
Very nice stay at Omart Hotel
Aug 2021
We have spent some fantastic days at the hotel. The owner (Ana) and her family are lovely. They have treated us with familiarity, politeness and professionalism, something that we love when we are in a boutique hotel. Huge, fresh and succulent breakfast with local specialties every morning. Renovated room, huge, very well equipped (the tv had over 300 channels!?). Very comfortable. Unpolluted. every day reviewed and cleaned to the millimeter. they strictly enforce COVID protections. Two days the hotel was full, but we did not hear our neighbors. Good views over the city. The truth is that the experience in Tblisi improves enormously if you are comfortable in your Hotel. Very quiet neighborhood
We had such a comfortable stay at this hotel. The location was great, the room was super clean and all of the staff were so hospitable. We loved it! Thank you Tamar :)
We enjoyed our stay at this little family owned hotel very much. Everyone was very kind. They tried there best to make sure we have a pleasant stay. Breakfast was homemade and everyday we enjoyed another specialty. The room was spacious and the size of the bed was huge. The hotel is located up on a hill, so the view over the city is great, but keep in mind you have to walk up the hill everyday - if you want to get there by foot. Of course you can also take a taxi or bolt.
We could hear the neighbors walking above us - depends on how noise sensitive you are.
very very good staff, breakfast and location.Thank you
Great place for stay in Tbilisi
Mar 2020
Very nice hotel in quiet place but not too far from there center. Room was clean warm and comfortable, decor like in real Gallery. Food for breakfast always tasty and fresh. Special thanks to Tamar for responsiveness and care.
Highly recommended!
Jun 2022
Very cozy family hotel. Clean rooms and amazing view to Tbilisi. There is a roof terrace where we practiced yoga in the morning. Super tasty breakfast which was cooked by Tamara. Highly recommended!
Great base to explore Tblisi.
Mar 2023
Very comfortable and clean room. Huge breakfast.
reception area and breakfast room were cold and unwelcoming. put some music on.
Perfect end of the ski holiday in Georgia
Jan 2022
The hotel is small, but has emotional interior. All images are originals. The piano in the lobby is playable, but should be tunning a little bit. :-) The rooms are beuatifull, beds comfortable, everything perfect clean. The breakfasts at the morning was fresh and pancakes better, than I have from my wife at home usually :-). Thank you Anna and Tamara for hospitality. 😘🎹
the family room was perfect
The city view from the room and terrace is amazing, the room is big enough and cozy. The bed is good and it's the most important thing for me when I travel. The art on the walls creates special vibes. Thr owners are super hospitable and helpful. PCR test was organized and taken right in the hotel. Close to Narikala, Sulfur baths and other tourists places. Good breakfast 😋 Great people! ❤ I highly recommend this hotel!
None. Everything was perfect!
The beautiful boutique hotel is situated on a quiet street tucked away from the old town and gives a grand view of the city and holy trinity cathedral church. The room which we stayed in was spacious, beautifully decorated,adorned with paintings and was super comfortable. As a matter of fact the entire property is full of beautiful paintings(made by Tamar-the owner's father) and vintage furniture. The best part of our stay was Tamar who made it a very homely and welcoming stay. She was attentive to our needs, be it providing us with a big spread of breakfast, printing our documents or any other inquiries that we made. She and her family made it a memorable experience for us and we would love to come back to this property again.
Excellent place to stay in Tbilisi
Jul 2021
Positives: - The place is really clean and well cared for. - It's tastefully furnished with no spare of expense, which makes for a luxurious experience. - The room is convenient to live in: beds are really comfortable, bathroom is functional, you have everything you need, and if something is lacking the staff will happily provide it. - They serve fresh homemade breakfast that will satisfy various tastes. The breakfast always looks instagram-worthy and tastes even better than it looks - The staff is really friendly and attentive, they will cater to your every need and note how you like things to be, so next time you don't even need to ask. - Room service is frequent and discreet. - Every wall inside the hotel is decorated with interesting works of art from local artist. The paintings vary in style and theme. It really makes the place unique. - They have a rooftop terrace with a beautiful view of the city, which is a private, quiet spot! Seriously you can just sit there, sip wine and admire - The rooms facing north also have great view from the windows. Neutrals: - The Hotel isn't located in the city centre but also not far; it's a short walk (abt. 10 mins). The immediate neighborgood isn't attractive in itself, but it's safe and quiet during night. The nearby little streets going up and down form a maze so take care not to get lost the first time around. You can also easily reach the place via taxi. - The staff speaks fluent russian and basic to intermediate english. Negatives: none.
- One of the most unique hotels I've ever stayed at. It's owned by a very nice family. The owner personally picked us up from the airport and was very accommodating to our needs. We flew to Tbilisi overnight and were exhausted from the flight, so we asked for early check-in. Our room wasn't available, but they gave us another room (which was even better) and let us check in early and rest. - Rooms are gorgeous and have everything you need. - Delicious breakfast was cooked for us individually by the owner. - Staff is amazing, super friendly and accommodating. - Quiet area around, my elderly mom enjoyed being able to rest and relax. And still very close to city center with all the cafes and restaurants. - Definitely recommend and would stay here again <3
Very minor, but drinking water wasn't always re-filled in the room. But I'm sure if we asked we would be given water :)
We had a memorable stay and kids also enjoyed.
Sep 2022
It was a wonderful stay, Calm and home-like feeling. Breakfast & Staff were very good. We enjoyed the stay and will prefer to stay here if we return.
You have to carry your luggage to the 1st floor as there is no lift. But that's ok.
It was an unforgettable and satisfying time of my life . Only this Khachapuri is worth coming here. Very good atmosphere, the hotel is located in a quiet and beautiful place, close to the center. "Omart Hotel Gallery ", you are the best, I recommend everyone to visit this beautiful hotel.
Amazing family-run hotel
Mar 2022
It's a family hotel with the owners actually running it. Tamara and Georgiy are amazing hosts who do everything to make you feel like you're visiting your family! Breakfasts are cooked every morning and are very plentiful and tasty! The hotel features a terrace with an astonishing view of the city. Overall, I highly recommend this hotel if you want to have an unforgettable stay in Tbilisi !
Best hotel to stay in Tbilisi
Sep 2021
I had an amazing experience. Delicious breakfast, everything sparkling clean. Beautifully designed room, magical paintings. Everything was so cozy and nice that I didn't want to leave the room and go outside. Very good location, not too close to all the noise, but still close to the old town. As for the lovely, warm hosts, they have been a huge help. When my flight got canceled, if it had not been for them, I don't know what I would have done. I would recommend this hotel to anyone and will definitely stay there when I come back to Tbilisi!
If you want to get the best service, enjoy the views of old Tbilisi, get into a real art gallery, sleep peacefully and comfortably, eat a delicious breakfast and get to know georgian hospitality, you should definitely visit Omart hotel. Thank you very much.
Special and shocking new hotel in old Tbilisi
Jan 2020
I am excited for such a cozy hotel. Early check-in - no problem 😉. There are works of art everywhere. Large balcony, very warm and clean bathroom, WiFi very fast, I asked for breakfast in the room and they were served for free. Even they hosted me a georgian sweets Churchkhela and Gozinakhi 🇬🇪. Feel like home. I'll be back soon.
Great place in Tiflis
Jul 2021
Great place run by a cultured, educated family.
Absolutely recommanded
Sep 2022
Great hotel with a large, well equipped and tastefully furnished room, rich and varied breakfast and a personal and kind atmosphere. Thanks to Tamara and her Family(-:
great food, helpfull staff, superclean room
One of the BEST!!
Jul 2022
Good quality mattress, pillow, and furnishings in a beautiful room with an amazing view (if you get city facing). Nice rooftop terrace. Wonderful, warm hosts who provide a lush breakfast. Good lighting, good wardrobe, convenient plugs, museum quality art, flowered garden space, and great bathroom! Only a 10 min walk to attractions, but super quiet area.I wish I could have brought everything about this place with me when touring the country.
The amazing view is because the location is halfway up the mountain. This isn't a flaw, but be aware if you're not up for that. Also you'll need to be ok with tall stairs.
Comfortable and cosy
May 2023
Extraordinary hotel that exceeded all expectations. Most important — the spacious and nicely decorated room with breathtaking view. On top of that: impeccable hospitality, delectable breakfast, convenient parking. Highly recommended!
Everything was excellent. Good location, breakfast, rooms, service
Lovely and perfect
Aug 2022
Don't go there!!! - if you are not looking for the perfect hotel! We stayed at Omart Hotel for 12 days and the experience was excellent. It is a quiet little hotel with about 6 very large rooms (so you will never have annoying room neighbors) which are realtively newly decorated and kept always very clean. The rooms facing the street offer a fantastic panorama of the city, which you can also admire from the roof terrace while sitting together. In the courtyard, you'll find a charming little garden to linger in, while inside the hotel is laid out as a pretty little gallery with a 24-hour reception. The hotel is family run and just as friendly and accommodating we were treated without exception :) Whether tips, help, advice on excursions, shuttle service or just the nice conversation in between, Tamar, Ana, mom and Co. have made our stay as perfect as possible. The breakfast was always freshly prepared and very varied, who still felt hungry afterwards has done something wrong. From the hotel you can reach the old town relatively quickly, the sulfur baths are only about 10min walk away. Here you can also find plenty of restaurants of all kinds and also a small travel agency (Ushba Travel) with day trips (about 20-30 euros) at relatively fair prices. And if you still feel thirsty in the evening, you will find something in the many mini stores around the hotel or in the larger market 10min further. If we come again then definitely here. Many greetings, Kristin + David
Clean. Nice location. Tasty breakfast.
Perfect for me as a solo traveler
May 2023
Boutique hotel run by a very nice family - hallways and rooms are decorated by original paintings made by the family. Located amidst several hotels close together and conveniently close to Old City
Beautiful, quiet and unique place to stay in Tbilisi!
Aug 2021
Amazing breakfast and great location - walking distance from key attractions. Very clean and well maintained property. A very special thanks to Ana for her incredible hospitality and making me feel like I am at home! Looking forward to come back!
How much does this hotel cost compared to others in Tbilisi?

The average price for a rental in Tbilisi is $39 per night. This rental is $75 above the average.
Is parking included with this hotel?

Yes, parking is listed as an amenity at Omart Hotel - Gallery. For more information, we encourage you to contact the property about where to park.
Is there a pool at this hotel?

We didn't find pool listed as an amenity for this hotel. It may be worth double checking if a pool is important for your stay.
Is Omart Hotel - Gallery pet friendly?

Unfortunately, this hotel is not pet-friendly. Try searching again and filter for "Pets Allowed"
What amenities are available at Omart Hotel - Gallery?

We found 10 amenities for this rental. This includes air conditioner, kitchen / kitchenette, internet / wifi, smoking allowed, and parking.