FabHotel New Central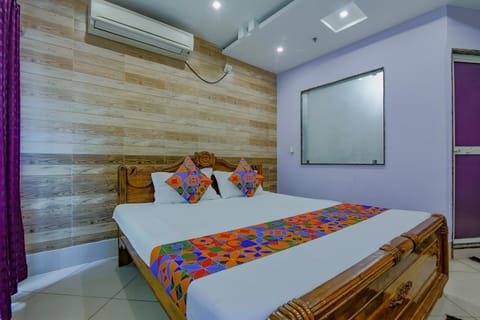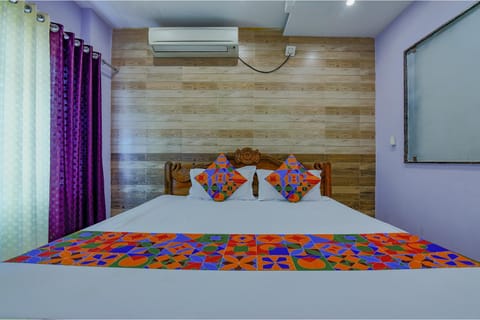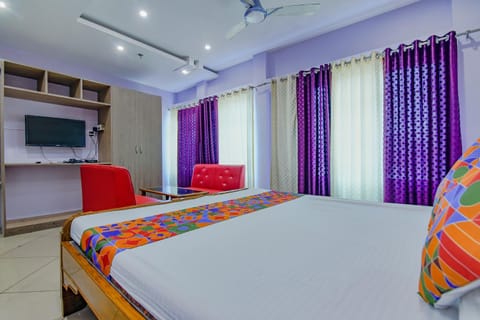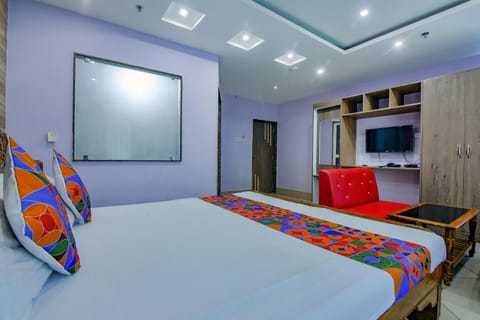 Hotel in Bhubaneswar
Air conditioner
Internet / Wifi
Laundry
Nestled in
Bhubaneswar
, this charming room in hotel for $21 per night is a great choice for your next vacation. Featuring 3-star accommodation, FabHotel New Central is situated in Bhubaneshwar, 1.5 km from Bhubaneswar Station and 20 km from Janardana Temple.
Air conditioner
Internet / Wifi
Laundry
TV
100% verified reviews
2.7 / 5

"Average"

(100 Reviews)
Overall it is good, but could have been better.
Jul 2022
Value for money Very friendly staff
Cleanliness - Foot mats are dirty, floor was also not cleaned properly. No hot water facility
Solo Travellers stay.
Jun 2022
The Room is comfortable with a strong AC. Television is there.
Sheets were not cleaned. Television is only having free channels. Overpriced rooms. I recommend to first check the rooms in that locality. You will get a better priced room.
Worst hotel full of cockroaches, everything is dirty, bedsheet, towel and there is no hand wash.
Dec 2022
There is nothing to like. It's a pathetic room and hotel with full of cockroaches on bed and table.
Even after telling staff about cockroaches they were smiling as if i am praising them for it.
Comfort of home away from home is missing in the hospitality offered by the hotel.
Sep 2022
The location of the hotel is good.
The room was not clean, Linen not changed, washroom too small and dirty (stains all around). Room air-conditioner was working but not cooling effectively. Room tariff included complimentary breakfast, but neither was served on time nor was given option to choose from.
The hotel staff were good.
There were cockroach in room n bathroom. Daily cleaning of room was needed.
Excellent Services
Apr 2022
The hotel provided me with a wonderful experience. The staff was quite friendly and accommodating, and the facilities were excellent. The accommodation was lovely, spotless, and ideal for a holiday celebration.
The hotel lift would keep on stopping in the middle of the journey they had drunk people around please don't stay there
Service, place and also the price was way too much for such a property
Had a nice stay overall
Jul 2022
The beds were soft and comfortable and all the bedding used was clean. Lighting of the room was also nice. The hallways, bathrooms, rooms everything was neat and clean.
Very good service
Feb 2021
Near to railway station,bus stand. It is fine
Staffs are good people...
Cleanliness could be better...
Staff courtesy, price, Central location
Cleanliness, facilities, ambience, decor
Service & hospitality
Sep 2022
Rooms were a good size and nicely furnished. It was very quiet, barely any noise from outside except for the occasional wedding nearby. The bed was excellent quality, I slept well the whole trip. Also as a solo female traveler, I felt very safe and comfortable.
Room service & staff approach was very good. House keeping responded very politely & on time for services. Hotel ambience & food was good
Not value for money, hygiene issues
Feb 2023
Room and rest room size was good
Bed sheet, pillow cover and blankets were not cleaned. Room had very bad smell.
Wash room was not clean & broken as well... Room was not clean upto the level .
The service is very poor. Room is filled with cockroaches. They forced us to use the soiled bedsheet. Complementary water bottle was given after 4 times of request. No soap or towel was given for the stay. The light inside the room is very insufficient. The staffs are very non-cooperative mostly the house keeping. Even the rooms dont have allout or mosquito repellent.
rooms were not clean at all not expected this from fab chain atleast
Hopeless staff. My booking was confirmed by paying 25% of the amount & when I reached the Hotel, they say your booking has been cancelled at approximately 9pm. It was such a horrible condition they kept me. Lastly, @10:45pm got a room in other hotel after so much of trouble & paying high rickshaw fare. But they don't care as doing business. No customer oriented but business oriented. Mailed for the refund but awaited.
Dirty bed, room, fan & AC Told staff to add a channel for fifa thet kept saying yes sir but didn't add.
Very poor restaurant
Feb 2023
Complimentary breakfast was having only upma and tea
Ac was not worked.. So that I asked them why Ac is not working... They told me it's got damaged ... It's a summer time how can I manage hot weather with fan ... I checked out after 2 hour's of staying... It was a very bad experience...They didn't even give the oyo bathroom kit ... Really disgusting.
How much does this hotel cost compared to others in Bhubaneswar?

The average price for a rental in Bhubaneswar is $39 per night. This rental is $18 less expensive than the average.
Is parking included with this hotel?

Parking is not specified as an available amenity at FabHotel New Central. For more information, we encourage you to contact the property about where to park.
Is there a pool at this hotel?

We didn't find pool listed as an amenity for this hotel. It may be worth double checking if a pool is important for your stay.
Is FabHotel New Central pet friendly?

Unfortunately, this hotel is not pet-friendly. Try searching again and filter for "Pets Allowed"
What amenities are available at FabHotel New Central?

We found 4 amenities for this rental. This includes air conditioner, internet / wifi, laundry, and tv.