Paradox Kunshan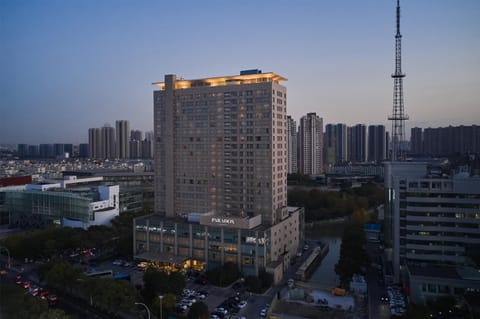 Hotel in Shanghai
Pool
Air conditioner
Kitchen / Kitchenette
Situated in
Shanghai
, this attractive room in hotel for $70 per night is a great option for your next trip. Luxury and famed hospitality is waiting at Paradox Kunshan. The hotel is conveniently located in the centre of Kunshan, within walking distance of shopping districts.
Pool
Air conditioner
Kitchen / Kitchenette
Internet / Wifi
Smoking allowed
Parking
Laundry
Hot Tub / Spa
TV
Wheelchair accessible
Gym / Fitness Center
Family friendly
100% verified reviews
4.4 / 5

"Excellent"

(19 Reviews)
2 days to take care of business in the area
Dec 2022
the sales manager or the front desk manager spent almost two hours with me, to help me get through the apps needed to comply with china covid testing
The equipment and environment are the best
Sep 2021
The equipment and environment are the best
There are some dishes that cannot be served on the room service menu. If you can't, you should remove it from the menu. I drank the paid water in the room, so I said "water" in English many times, but I couldn't get it and started to get into trouble. If you are not good at English, you have to say it honestly from the beginning. When I was taking a bath in the daytime, the clerk rang a chime, so when I opened the door in a hurry, a female clerk stood. And the clerk of the woman went home with a big laugh when she saw me wet without telling me anything.
My stay was great in general.
Jul 2021
The breakfast was good. The location was good,too.
I wasn't able to charge my phone near to my bed. It's just a small thing anyway.
Staff on the frontdesk were helpfull, specially Mary and Arial.
Apr 2023
I liked the Staff most, very helpfull. Special thanks to the guys in the grill bar. They made my stay very nice. Special thanks to Mary and Ariel at the front desk for arranging my transport.
Great location and facilities
Bussiness and leisure hotel together.
Sep 2021
Excellent location and professional staff.
employees are very nice and efficient
bed is really comfortable
no menu for room service.
How much does this hotel cost compared to others in Shanghai?

The average price for a rental in Shanghai is $43 per night. This rental is $27 above the average.
Is parking included with this hotel?

Yes, parking is listed as an amenity at Paradox Kunshan. For more information, we encourage you to contact the property about where to park.
Is there a pool at this hotel?

Yes, a swimming pool is available for use at Paradox Kunshan. Enjoy the water!
Is Paradox Kunshan pet friendly?

Unfortunately, this hotel is not pet-friendly. Try searching again and filter for "Pets Allowed"
What amenities are available at Paradox Kunshan?

We found 12 amenities for this rental. This includes pool, air conditioner, kitchen / kitchenette, internet / wifi, and smoking allowed.