POD Camps Bay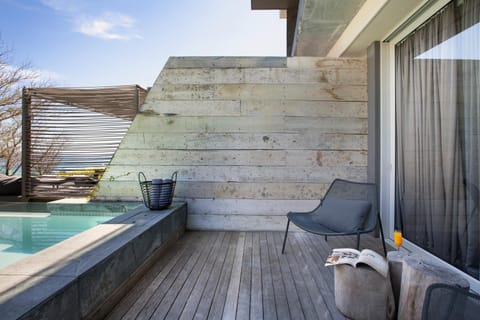 Hotel in Camps Bay
Pool
Air conditioner
Kitchen / Kitchenette
Located in
Camps Bay
, this attractive room in hotel for $148 per night is a fantastic choice for your next break. Located 50 metres from the famous Camps Bay beachfront, POD Camps Bay offers a 5-star boutique hotel accommodation near trendy restaurants and bars. All air-conditioned rooms are spacious and fitted with deluxe bedding.
Pool
Air conditioner
Kitchen / Kitchenette
Internet / Wifi
Smoking allowed
Parking
Laundry
Balcony / Patio
TV
Beachfront / Waterfront
Gym / Fitness Center
100% verified reviews
4.8 / 5

"Outstanding"

(337 Reviews)
POD Camps Bay is an incredible place to stay!!!!
Oct 2022
We LOVED everything!!! The hotel itself is gorgeous - modern and sleek, but cozy and comfortable. The location is perfect just around the corner from all Camps Bay has to offer, but tucked away from the hustle and bustle. The staff is unparalleled!!! Truly a 5 star experience from the moment you walk in the door. They helped us arrange dinner reservations, private tours, had great advice on things to do, and always went the extra mile to be sure we enjoyed every minute of our stay.
Relaxing and understated, highly recommend on the beach with great restaurants in the area
Sep 2022
Well located, attention to detail with a very private personal touch, fantastic staff
perfect for my wife's birthday
May 2022
warm welcome of the staff and their overall assistance.
very nice and neat and with amazing team everyone was very supportive and had an amazing treat
Very lovely location ideal for access to Camps Bay beach and the strip. The staff were incredible and made our stay unbelievable. We have travelled quite a lot and have never experienced such superior service! Thank you!
An exceptional hotel in a very convenient location with fabulous staff.
Oct 2022
This is a smart, classy, small hotel with staff who all go above and beyond their duties in an exceptional way. We loved everything about it but especially the room with all it's extras and an extremely comfy bed. We also loved being able to walk 5 minutes to nearby restaurants and seeing the 12 apostles from our room balcony.
That we only spent one night there.
The staff were honestly the making of the stay. They were extremely helpful and friendly and nothing was too much effort. The hotel itself is very nice and in a fantastic location for Camps Bay and Cape Town.
The only thing that was a tiny let down is the hotel is next to an eye sore of a building. It is the only "high rise" in the area and it is bang next door. No fault of course to POD but was a little unexpected given the balcony position, although you do have the lovely sea view right there too so we soon got over it!
The staff were amazing - incredibly helpful, friendly and knowledgeable. Made a massive difference to our stay
Best hotel staff ever …
Dec 2022
The staff were all amazing, so friendly and helpful. Location excellent. Overall, a very relaxed vibe.
Perhaps the set up of the bathroom being open plan.
worth every penny
May 2023
the staff was phenomenal, cannot beat the service and the facility is v modern and clean! we WILL be back
THE TELEVISIONS NEED TO BE UPGRADED TO ULTRAS HD
Magical stay with best staff
Dec 2021
The space is just magnificent and location wise you're close to all the best beaches in Cape Town. Beautiful view from the pool. The staff really go out of their way to make your stay as relaxing and pleasant as possible. in particular Brent and Stephen were just amazing, making sure whatever we needed or wanted was possible. All the little details for the guests go a long way - the beach bag with beach bats, the treats in the room, always popping waters in your car etc.
Nothing! We loved our stay.
A beautiful property in a beautiful city! Highly recommend it to anyone visiting Cape Town.
Dec 2021
The property was very responsive with their communication as I had arranged a shuttle from the airport and I had to change the pick-up a few times. Upon arrival, my room wasn't ready yet (arrived really early) but the staff stowed my luggage and provided a complimentary breakfast. Everything, from the room, to the breakfast and the staff was exceptional.
the Property was clean and worth all the cents. The stuff was very friendly and soo professional
The staff is friendly. Top tier service
Jan 2022
The furniture is very modern and the rooms are spacious and luxurious
The contemporary design and aesthetic is captivating. However this is superseded by exceptional service from the exemplary staff who attend to every aspect of hospitality with meticulous detail.
We loved our stay thoroughly
The Architecture and Interior Decorating of this hotel is Modern and stylish. The Staff is simply the best - helpful and friendly beyond comparison. The Breakfast was scrumptious, and the coffee excellent.
Unfortunately our "Seafront" room's view was the back of an old block of Flats , the sea was only visible from the righthand third of the Balcony!! Even when we had our curtains completely open , the block of flats is what we saw! What a pity for a "Sea-fronting" hotel. That is a pity , because that will be the reason we will not visit again.
fab stay made by the staff
Feb 2022
staff were incredibly helpful, to the point of Uber not working one night so one of the concierge staff drove to collect us from our restaurant free of charge.
Staff was incredibly helpful and friendly.
Light coming into the room early in the morning
So much attention to detail. They've though about things that make you comfortable and ensure that you aim to come back
Service, attentiveness and friendliness of the staff is absolutely first class.
Jan 2023
Service and attentiveness of the staff was first class. Complimentary water and hot drinks. Incredible location
Really cool location. Had everything we needed and more. Staff went out of their way to make us comfy.
How much does this hotel cost compared to others in Camps Bay?

The average price for a rental in Camps Bay is $259 per night. This rental is $111 less expensive than the average.
Is parking included with this hotel?

Yes, parking is listed as an amenity at POD Camps Bay. For more information, we encourage you to contact the property about where to park.
Is there a pool at this hotel?

Yes, a swimming pool is available for use at POD Camps Bay. Enjoy the water!
Is POD Camps Bay pet friendly?

Unfortunately, this hotel is not pet-friendly. Try searching again and filter for "Pets Allowed"
What amenities are available at POD Camps Bay?

We found 11 amenities for this rental. This includes pool, air conditioner, kitchen / kitchenette, internet / wifi, and smoking allowed.