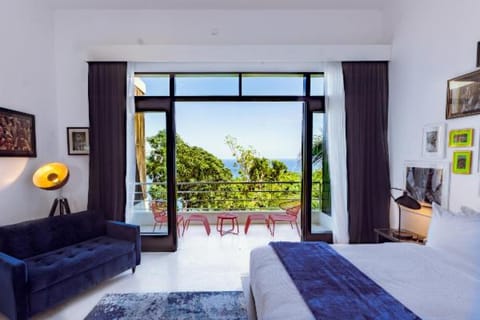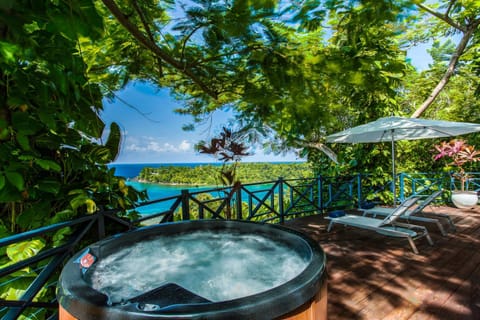 Hotel in Portland Parish
4-Star Hotel
---
Reasons to book
People love it here
Guests give this property a top rating
Includes essentials
Garden, Pool, Kitchen / Kitchenette and more
Book with confidence
We partner with the top travel sites so you know you're getting a great deal on the perfect rental
---
About this hotel
Situated in
Portland Parish
, this attractive room in hotel for $350 per night is a great option for your next break. Located on Jamaica's San San Estate, this tropical retreat lies on the beautiful shores of the Caribbean Sea. It features a spa, an on-site recording studio and a restaurant.
Amenities
Pool
Air conditioner
Kitchen / Kitchenette
Internet / Wifi
Smoking allowed
Parking
Laundry
Balcony / Patio
Hot Tub / Spa
TV
Beachfront / Waterfront
Gym / Fitness Center
Garden
Family friendly
Hotel in Portland Parish
4-Star Hotel
---
Reasons to book
People love it here
Guests give this property a top rating
Includes essentials
Garden, Pool, Kitchen / Kitchenette and more
Book with confidence
We partner with the top travel sites so you know you're getting a great deal on the perfect rental
---
Reviews
4.8 / 5

"Outstanding"

(59 Reviews)
100% verified reviews
The atmosphere was so relaxing. Friendly staff and good food. I love the views from my cottage and the steamer was a great touch.
The Perfect Getaway
Jul 2023
Preservation of natural resources, several trees surrounded my room. The view from the swimming pool was breathtaking. Staff were pleasant and ensured I thoroughly enjoyed my stay.
Paradise at the top of the world.
Jul 2023
Geejam is a magical place. We chose this place to be able to adventure in and around Portland. However, once we got there, it was impossible to leave the grounds. we spent our entire time there. At the their private " beach" they have a lifeguard who is also known as the turtle whisperer, and takes you on private snorkeling tours to see the reef and get up close and personal with the turtles. The rooms were stocked with everything you could think of, including cold beers to end your day with and a coffee press with 100 % Blue Mountain Coffee to be able to wake up and make yourself a really good cup of coffee to start your day off right.
If you make it down to the beach, be sure to bring some drinks with you as there are no drink options once you get down there.
The view from the pool is beautiful and some of the rooms are very special (the jacuzzi at night is great). It's close yo Frenchman's Cove beach which is one of the best ones in Jamaica (it's paid and it's open until a certain hour in the afternoon). You can walk (15-20 min) or you can take a taxi, it's uphill going back. The food at the restaurant was good. Service was also overall good.
Be prepared that there are a lot of stairs within the property and if you want to go to their own beach which I think is worth it, be mindful of this in case you have any sort of health problems.
my stay was pure perfection
May 2023
I love everything especially the view and how secluded it was.
parking sucks and their private beach is not worth going. Go around the corner to Frenchman Cove, pay the entrance fee and it's well worth it.
I thought it was well worth the money.
May 2023
My husband, had a small complaint about cold item on his breakfast plate
Apart from cold plantain we had a wonderful stay
The place was absolutely beautiful
Apr 2023
The food was great - we both enjoyed it. The view from the restaurant was amazing. It was so cool and there was always a wonderful breeze.
Exclusive tropical setting for rest and relaxation with great service from accommodating staff.
Mar 2023
The breathtaking views were amazing. The secluded yet accessible location helped us unplug while having access to great amenities.
The incline and walk to the beach and the rooms was no joke. No more than 2 Rum punches if one is planning to navigate the terrain.
We had a brilliant time at GeeJams which exceeded expectations.
Mar 2023
Loved the location, setting, delicious food but most of all the staff were exceptional.
best place i ve ever been
Mar 2023
best hotel i v ever been. position and view from there are priceless. food is great, vibes are so f good. Steve, the owner, is such a host
Relaxing stay in beautiful surroundings
Mar 2023
1. The situation in a forest but with fabulous views from every angle. 2.The food which was varied and delicious 3. The pool was a delight to swim in. 4. The music in the restaurant was brilliant 5. The staff were friendly, helpful and polite
It was on a very dusty road which had been dug up for repairs. Walking on it was quite uncomfortable and there was nowhere else you could go for a walk. It was very expensive, but probably the best hotel in the area. Service in the restaurant could be quite slow, but then it was a very nice place to wait for your food. Finally my laundry came back unironed!
Happy and laid back luxury.
Mar 2023
Luxurious rooms, great staff, friendly and laid back vibe. Wonderful Jamaican breakfast. GREAT birds both on the property and in the surrounding area if you bird watch.
Nothing. 10/10. Please note if you are mobility impaired there are lots of steps.
Great location, close to frenchmans cove and blue lagoon Hotel staff were so helpful and nice The views from the room were spectacular The private beach was really pretty- do go paddleboarding to see the turtles The room was nicely decorated, big with a comfy bed. All round a really lush setting.
The gym was really basic. The restaurant service was pretty slow. There wasn't anything that had an impact on our stayed. Loved this place.
Beautiful place and vibes
Dec 2022
the rooms, service and restaurant
mixed drinks and amount of stairs
https://youtu.be/4V9SxlBRhSc says and shows it all.
Dec 2022
It was a trip for my birthday. And celebrated with new friends just made. https://youtu.be/4V9SxlBRhSc The staff makes you feel like family....the pool view is amazing...and the room is one of the best. French Cove was a very cozy crystal clear beach.
Be prepared for a 3 hour shuttle or taxi at best from the airport. Due to winding narrow roads, pot holes...etc. But once there you're all set.
The room and the staff were great. Will definitely go back.
Nov 2022
The room was beautiful and the views were stunning.
The distance from the airport.
Our stay was ABSOLUTELY AMAZING!!!!!
Oct 2022
Cleanliness of the room and all facilities Amazing rustic vibe to entire property
Great property, exceptional staff! Hugely welcoming, and the location is stunning.
A casually luxurious spot, unique in Port Antonio area.
Aug 2022
The staff's friendliness and professionalism is unparalleled. The beach access that includes kayaks and paddle boards is an excellent amenity.
The restaurant is fantastic, but the prices feel high.
went for a bday had a great time
Jul 2022
clean and beautiful location, great food
amazing views,amazing friendly knowledgeable staff, amazing food
Jul 2022
RUMBA room was exceptionally clean,landscape was secluded,clean,and beautiful
what is there NOT to like at GeeJam? NOTHING! 5 stars
My stay at Geejam was exactly what I needed. Quiet and connected to nature. The staff were absolutely fabulous! Loved th
Jul 2022
The property was beautiful and well maintained.
A peaceful paradise
May 2022
The most stylish, comfortable hotel room I have ever stayed in. Truly wonderful. We also loved the hotel beach, it's utterly stunning. Shame it was neverending rain when we were there (rainy season came early!) and we did some snorkelling and paddle boarding which we loved.
Nothing we didn't like about the propert. As Geejam is a little out the way, and a drive from the nearest town Port Antonio, we were hoping for more people and atmosphere - not least as the rain limited what we could do - but that's not the hotel's problem!
Beautiful, cool, unique hotel!
Apr 2022
We ordered the breakfast as room service and it was one of the highlights of the day! Fresh juice, blue mountain coffee, fresh fruit overlooking a breath taking view - just a magical way to start the day! Nick, Newton, Kristina and all of the staff we met were friendly, attentive, helpful with a wide network of local contacts. Newton booked our group on the most magical Rio Grande boat tour complete with traditional Jamaican stone cooking lunch and Nick arranged a fantastic tour of the reach waterfalls with a local guide. Kristene and Rose made sure our transportation and covid tests were taken care of in advance. Every meal we had was lovely and the bar staff lovely. I also enjoy a hotel where the (co) owner makes the effort to greet guests, and it was lovely to meet Steve who gave us some background re the hotel! Always good music playing and a great vibe to the place. I already miss the evening games of pool over a rum cocktail - I'll be sure to come back and enjoy this fabulous, lush resort again! Thank you Gee Jam team for making our stay just perfect!!
Nothing! Although one thing I have to remind guests is that there can be rainfall in Jamaica in April (this is why San San is so lush and green), so pack a brolly and waterproof just in case. Didn't interfere with our plans though as it rained during the night.
Amazing place, the best hotel in Jamaica
Apr 2022
Amazing, comfortable hotel in the most beautiful part of Jamaica
Apr 2022
Great hotel that has thought of all the little ways they can make a stay efficient and seamless. Geejam is awesome, among the tree tops but also a short walk to the beach. The rooms in the hotel are large and comfortable with all the amenities you need. Villas even better, I'm sure. Breakfast was complimentary which was a great add on and good value, food was excellent overall. The beach is lovely and secluded and has kayaks and paddle boards that guests can take out for free (well worth doing to see turtles in the cove).
Not related to the property but the drive to the hotel isn't great towards the end, prepare yourself… But it's worth it!
elated experience
Mar 2022
A lovely four day stay at Geejam.
Mar 2022
Breakfast was excellent. All staff were very friendly.
The bathroom needs a hook for hanging toiletry bag or dressing gown on. Beach was very uncared for. Very poor selection of white wine available. Only a few from the wine list available and they were the most expensive ones.
Location and roads to get there
We stayed in the SKA cabin and it was spacious & comfortable with amazing views. Loved the outdoor couch and jacuzzi. The service was great and the food was excellent.
There was loud music coming from another property nearby consistently each night, really ruined the serene nature vibe they had going.
great place to stay for nature lovers
Dec 2021
FAQs
How much does this hotel cost compared to others in Portland Parish?

The average price for a rental in Portland Parish is $100 per night. This rental is $250 above the average.
Is parking included with this hotel?

Yes, parking is listed as an amenity at Geejam. For more information, we encourage you to contact the property about where to park.
Is there a pool at this hotel?

Yes, a swimming pool is available for use at Geejam. Enjoy the water!
Is Geejam pet friendly?

Unfortunately, this hotel is not pet-friendly. Try searching again and filter for "Pets Allowed"
What amenities are available at Geejam?

We found 14 amenities for this rental. This includes pool, air conditioner, kitchen / kitchenette, internet / wifi, and smoking allowed.